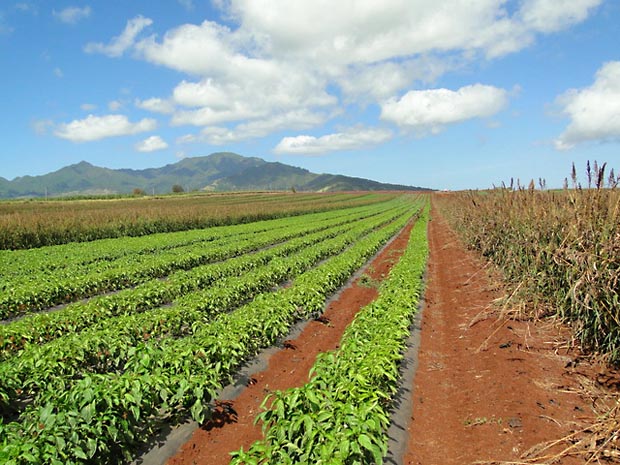 "My thing is, you never turn away what the Legislature gives you."
That's what state Agribusiness Development Corporation (ADC) executive director James Nakatani told then-Department of Agriculture director Scott Enright five years ago, when Enright asked why, out of all of Castle & Cooke's inventory, the ADC board was being asked to authorize the purchase of a seemingly less-than-ideal 91-acre lot for $2.3 million in funds provided by the Legislature.
But what if the Legislature gives you way more than your handful of staffers can handle?
Over the past several years, the ADC has spent $81,737,925 in legislatively appropriated funds to acquire 3,752 acres in Central Oʻahu, to help meet Sen. Donovan Dela Cruz's dream of turning Whitmore Village into an agricultural hub.
With that money, the ADC protected a huge swath of land from urban development. But it also became responsible for fixing a host of problems: poor soil quality, limited or no access to irrigation water and some of the parcels themselves, overgrowth, squatters, and abandoned vehicles and trash, to name a few.
It was only a matter of time before the largesse, coupled with the slow progress toward making the lands productive, drew criticism over whether that was money well spent. And after failed attempts in 2017 and 2018, the Legislature finally passed Act 28 in 2019, which mandated a performance audit of the agency.
The Office of the Auditor's January report on the ADC revealed some shocking mismanagement. It also determined that the agency has fallen far short of the mission it was supposed to fulfill after the Legislature created it in 1994.
The ADC has jurisdiction over tens of thousands of acres of former sugarcane and pineapple plantation lands, mainly on Kauaʻi and Oʻahu. The agency was intended by the 1994 Legislature to spearhead programs facilitating the transition of agricultural infrastructure from plantation use to other agricultural uses, to conduct marketing analyses to direct how the state's agricultural industry should evolve, and to "provide the leadership for the development, financing, improvement, or enhancement of agricultural enterprises."
The ADC has been able to keep its Kekaha, Kauaʻi lands productive largely with the aid of its tenants, organized as the Kekaha Agriculture Association. The association manages day-to-day operations and maintenance of the vast former sugarcane plantation irrigation system.
While the ADC has been criticized by environmental groups and others for management at Kekaha (it's even been sued), those lands were already owned by the state. 
In Central Oʻahu, on the other hand, the ADC started purchasing thousands of acres of land in 2012 during a kind of fire sale by former pineapple plantation land owners, mainly the Galbraith Estate, Dole Foods, and Castle & Cooke.
"[A]s of December 2019, ADC has licensed 534 of Galbraith Lands' 1,227 acres. Eight years after acquiring the Galbraith Lands, more than half of those agricultural lands remain unlicensed," the audit states. 
"Finding new tenants for its other former plantation lands purchased from 2013 to 2019 has been similarly difficult,"it continues, noting that more than 1,700 acres of ADCʻs Central Oʻahu lands are vacant.
Office Mismanagement
The audit notes that the ADC's senior executive assistant, former state deputy attorney general Myra Kaichi, admitted that the retirement of its longtime secretary Cindy Doi left its file management lacking.
"[W]hile some documents were housed in filing cabinets, they were not necessarily organized by tenant or subject matter; rather, they were randomly stacked on cabinet shelves 'wherever there was an empty space,'" the audit states.
ADC staff also informed the auditor that documentation of its land management policies, land acquisition guidelines, inventories of landholdings, tenant listings, and complete tenant files were nonexistent.
Of the 83 tenant files that were prepared in response to the auditor's questions, "Sixteen tenant files were missing contracts, 21 did not contain the board approvals to issue tenant contracts, and more than half of the files contained no evidence the tenant had complied with insurance requirements," the auditor found.
What's more, the auditor found contracts that executive director Nakatani entered into with tenants for the use of ADC lands were inconsistent with what the ADC's board of directors had approved. For example, in 2014, the ADC board approved a 35-year license for a lot at an annual rent of $100 per acre for the first three years. The executed contract is for a different lot at an annual rent of $200 per acre," the report stated.
"Because of the poor condition of ADC's records, we could not determine if these discrepancies were the result of clerical errors or if documents accounting for the differences were misfiled or never created in the first place," the report stated.
"Poor documentation could render the corporation unresponsive, unable to account for its actions, or both, and increase the risk of fraud, waste, and abuse going undetected," it added.
Minimalist Developer
During the audit, Kaichi also admitted that the agency was bad at land management, and said, "Development is what we do. It's not our role to oversee the day-to-day activities of farmers."
But a glance at the listing of land in Central Oʻahu the ADC is about to offer up to prospective licensees suggests that development isn't something the agency does either, at least not yet.
The ADC board last month authorized the solicitation of bids for five sites. They range in size from 91 acres to more than 500, totaling 1,482 acres. The staff reports identify only 547 of the acres as farmable. 
All five areas need to be cleared of overgrowth. Three of the five areas are littered with abandoned vehicles and other junk. Most of the lands lack an on-site water source managed by the ADC and would require farmers to procure water from Dole or the Honolulu Board of Water Supply, or somehow develop a new source and infrastructure on their own.
Gates securing the 91-acre, former Castle & Cooke parcel at Mililani Mauka have deterred illegal dumpers and will stop most thieves, but the steep and narrow access road to the property makes it difficult for large trucks and equipment to get through, a staff report states.
For this parcel, as well as a 230-acre lot purchased from the Galbraith Estate, the ADC staff has not even determined the farmable area. Even so, rent would start at $100-200 per acre per year, although rent credits for land improvements may be applied.
It's anyone's guess when the state will see a penny in rent, given that costs of clearing the land, securing water, and establishing adequate access are just the start for any successful bidders. At last month's legislative briefing, Nakatani explained that preparing former pineapple land, which these lands are, is much harder than preparing former sugarcane land. There's no irrigation and it takes a lot to de-acidify the soil, he said.
On one of its more problematic Whitmore parcels, the ADC has towed off more than 150 abandoned vehicles, but it's taken awhile to even start clearing the area. The ADC's Ken Nakamoto told legislators that criminal activity there was out of control. "It wasn't because of a lack of effort. We were literally outgunned," he said, noting that squatters had enough firearms and heavy equipment that law enforcement officers didn't want to enter.
Another distraction from preparing the lands for farming: meeting the needs of the surrounding community.
"Security is an unfunded mandate. A very expensive one. The residents reached out to ADC for help. Kupuna were being harassed by thieves and stray dogs," Nakamoto said. "We took action. It's these kinds of unfunded mandates that take a lot of time and effort away from staff. For a staff of four it really takes a toll."
He said that the ADC plans to solicit potential farmers for its Central Oʻahu lands this spring. Whether the lands will be in much better shape than they are now remains to be seen.
Whether it will even be around to manage those lands is also up in the air. A bill seeking to transfer its land and staff — except Nakatani — to the DOA was still alive at press time.
Rep. Amy Perruso, who introduced the bill, asked Kaichi and Nakatani about finding ways to get more small farmers onto the ADC's lands. Kaichi said that the ADC has been talking with the DOA for years about how to do that, but one problem has been, if they are organic farmers, "how do we buffer them so they don't get contaminated" she said. She added that she's not sure if the DOA would be able to manage that.
"Would we get 100 percent success on the small farms? I'm not sure about that, but if anybody knows how to accomplish that, that would be great," she said.
In any case, managing more small farms will be expensive, she warned. "When we are addressing the needs of 100 farmers on 10 acres each, the cost goes up … compared to one farmer on 1,000 acres," she said.
"If we had the funding , we could probably do more," she said. She suggested that perhaps ADC can give a license to a group of farmers and allow it to figure out how to set up their irrigation infrastructure so that they can do more with less, and keep things affordable.
"We can get 10 farmers together and have them make it work with five meters," she said, adding that's something the DOA may not have the flexibility to do.
Perruso worried that these kinds of conversations are being contained within state agencies and haven't included community associations, the farmers union, the farm bureaus, and the University of Hawaiʻi.
"Would ADC and DOA be open to a broader discussion [that] looks at how we can move forward? I worry we tinker on the edges … and we end up in 10 years saying that was a lost opportunity. … There are a lot of interesting and exciting ideas coming from the community," she said.
"That's spot on. We've actually been talking to a lot of people," Kaichi replied. She added that the ADC board recently approved a strategy to address the audit's 28 recommendations.
— Teresa Dawson
For Further Reading
All are available free at environment-hawaii.org.
"ADC Finally Starts Charging Fees to Galbraith Tenants for Well Water," EH-XTRA, June 2020;
"Whitmore Village South Parcel: More Trouble Than It's Worth?," and "ADC Improves Standards, Outreach In Effort to Secure Quality Farmers," February 2019;
"Water May Be Limiting Factor On Former Galbraith Ag Lands," December 2013;
"ADC: Tobacco License, Galbraith's 1st Lessee, and More," June 2013;
"ADC Supports Intent to Buy Whitmore Village Lands," February 2013;