When the state has made it a priority to purchase as much of your property in North-Central Oahu as possible, there's really little incentive to budge on your asking prices, even for lands that are in questionable shape. That may explain why on February 26, 2015, Dole Food Company, Inc., was able to sell to the state Agribusiness Development Corporation (ADC) 257 acres in Whitmore Village for $2.2 million more than the initially appraised value.
In July 2012, state Sen. Donovan Dela Cruz first raised with the agency's board of directors the prospect of buying the two parcels that make up the area known as the Whitmore Village South parcel. He noted that the purchase would secure for the ADC access to Lake Wilson, which was being eyed at the time as a major source of irrigation water for the agricultural hub he hoped to develop in and around Whitmore Village, an area he represents.
Dole's 2013 asking price for the land was $5,637,000, and according to City and County of Honolulu property tax records, the ADC paid $5.6 million for it. This was despite a 2013 tax assessed value of $4.58 million and an initial 2014 appraised price of $3.4 million. Before staff brought a request to its board to approve the purchase, Dole had a counter-appraisal done, which set the market value at $5.7 million.
Normally, state agencies are restricted by law to paying no more for and charging no less than fair market rates for "public lands." When the state Department of Land and Natural Resources' Division of Forestry and Wildlife purchased four parcels totaling 2,881 acres from Dole earlier last year, the original asking price for them came to just under $15 million. An appraisal by John Child & Company, however, determined the fair market value to be $16.56 million. The state ultimately negotiated a price of $15,163,800.
Lands held by the ADC, however, were exempted by the state Legislature in 2003 from the state's definition of public lands. Even so, ADC staffer Ken Nakamoto says that while the ADC is not limited to purchasing lands at an appraised market value, "we believe it is a prudent practice."
When dealing with a dispute over fair market value, the DLNR often resolves the matter by having a third appraisal done by an appraiser agreed upon by both parties. In the case of the Whitmore South parcel, however, when ADC staff requested board approval in December 2014 to purchase the lands, the only appraisal analyzed in any detail was Dole's.
A staff report acknowledged that it had received appraisals estimating the value at $3.4 to $5.7 million. It added that the lands were specifically chosen for their proximity to other farmland under ADC control, existing infrastructure and industrial space, and access to water. The report also stated that the property's facilities would allow the ADC to immediately generate revenue.
"Currently, there are no other parcels available in the area with these unique features," it stated, adding that Dole had agreed to pay for an environmental assessment and title survey, which was estimated to cost about $113,000.
The board approved the purchase, but the property has since turned out to be a hornet's nest of sorts, forcing the agency's tiny staff to negotiate encroachment agreements with angry neighbors, clear trees over dozens of acres, and battle a host illegal activities, from trespassing and trash dumping to drug dealing and prostitution.
A recent ADC staff report states that a portion of the land along Uluwalu Circle that abuts the Whitmore Circle apartments has been "plagued with criminal trespassing for years," resulting in some of the problems there today. The February 14, 2014, appraisal for the property, prepared for the Trust for Public Land by John Child & Company, fails to mention any such issues. The only improper use of the land noted in the appraisal was the construction by Waihii Farms, a tenant on the land for decades, of several unpermitted structures on 16 acres along Kaukonahua Stream.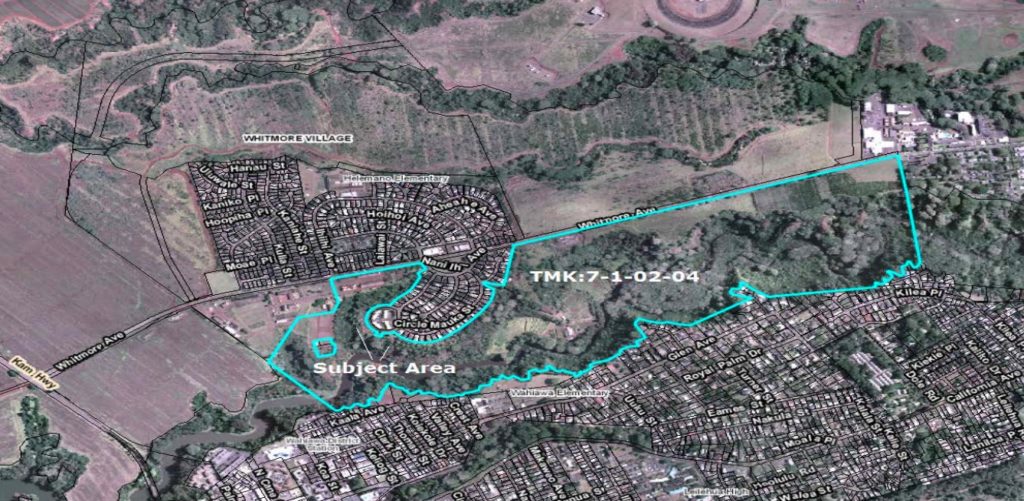 Encroachments
The ADC is no stranger to problematic occupants or conditions on its lands. It inherited several illegal piggeries when the DLNR transferred to it thousands of acres in Kekaha, Kauai, as well as a contaminated former pesticide mixing area near the old Kekaha Sugar Mill. The ADC struggled for years to resolve both issues to the satisfaction of the state Department of Health.
In the case of the Whitmore Village South parcel, the ADC had received complaints from area residents about "rampant criminal activity occurring in the gulches and usable areas of the property," a December 12 staff report states. ADC staff worked to erect barriers and install 'no parking' signage to minimize illegal access to the property.
In the course of delineating and fortifying its property boundaries, the ADC discovered that several adjacent residents had been using portions of the former Dole land for years, decades even. Various pens and structures occupy the land, as well as crops, chickens and goats.
But when the agency sent notices to those landowners on August 13 informing them that the encroachments and any unclaimed property would be removed in 30 days, the backlash was harsh and swift.
Whitmore Village residents turned out in force to public meetings on the ADC's plans for the parcel. The vast majority of them expressed their dismay at the way the encroachment issue was handled. A few sovereignty activists asserted that the state did not legally own the land.
The ADC backed away rather quickly from its plan to sweep out the encroachments and began discussions with community members on a solution. The agency asked the city to consider establishing a community garden under the Department of Parks and Recreation's program, but was denied due to financial constraints and concerns over access by emergency vehicles.
"We're going out of our way trying to help these guys," the ADC's Ken Nakamoto said at the board's November 28 meeting. He'd already reached out to more than two dozen residents and planned to talk to more about what should be done.
"We're going to try to come up with a permit. The livestock might be an issue. There's issues about health and safety. Where's all the poop going?" he said. Nakamoto said he wanted to ensure the ADC did not incur any fines from the Environmental Protection Agency.
"Everybody has fighting chickens, swimming pools …," he continued, stressing that figuring out how to manage these things is not part of the ADC's mission. Even so, he said he wanted the residents to know, "We're willing to work with you, but you've got to meet us half way. We can't take all the liability and you take all the benefit."
A Deferral
At the board's December 12 meeting in Wahiawa, Nakamoto presented his proposal to issue non-transferrable, month-to-month revocable permits for home gardening to Circle Mauka residents for up to 3,000 square feet. Annual rent would be a nickel per square foot.
In addition to complying with all city, state, and federal laws, permittees would have to be insured, allow occasional inspections, and indemnify the state.
"Although gardening is not part of ADC's mission, it is open to having discussions with the Whitmore residents about possible long-term plans to establish a community garden that the whole community can enjoy," ADC executive director James Nakatani wrote in a report to the board.
Nakamoto said permittees would have to submit a yard plan for ADC approval. "We cannot allow anything illegal. If [their use] gets fined, the fine comes to us because we're the landowner," he said.
A number of residents submitted written testimony supporting the idea of a permit. At the ADC's meeting, Jazmine Corpuz, one of the residents whose family keeps goats and chickens, proposed allowing the broader range of uses allowed on agricultural land. And rather than issuing short-term permits to individual landowners, she suggested that a community non-profit organization that would sustain the culture and traditions of the area – not unlike Mao Farms in Waianae – could take responsibility for tending the encroachment area, via a license or a cultural easement.
"We like do 'em right. We like the kuleana. Nobody complaining about us gardening … and farming." She described how one of her neighbors who also has encroachments opens his yard to the community when he makes an imu.
She said her family took on the goats to keep brush and weeds down, adding that she also has taro and banana patches there.
"That is ag land. That is not residential land. You cannot say we can cannot have goats," she argued. "We do all kind vegetables that feed our whole street. … That whole street is taken care of by all the neighbors."
With regard to the ADC's efforts to crack down on the other illegal activities in the area, "I agree. Mahalo, mahalo, mahalo," she told the board.
Following Corpuz's testimony, one member of the public — a supporter of the Polynesian Kingdom of Atooi — tried to argue that the property under dispute was crown land. ADC board chair Letitia Uyehara then quickly pounded a large gavel she had brought with her and demanded order. Which she got.
As far as she was concerned, the ADC's title to the land was clear, she said.
Before the board voted on Nakamoto's proposal, Corpuz urged board members to delay. "It's not going to hurt to take a little more time to work with the community … instead of shouting like this at meetings," she said.
Nakamoto explained that the ADC intends to continue working on a long-term solution and the permits were a way to allow for that.
In the end, the board deferred the matter, which Corpuz took as a victory.
Nakamoto says that since that meeting, his office has not received any proposals that provide specifics.
Held Up
One of the main reasons for acquiring the Whitmore Village South parcel was because it could give tenants on ADC lands access to potentially important irrigation sources. But that's not likely to happen anytime soon.
Years ago, the Legislature appropriated several hundred thousand dollars to develop an irrigation system that would take water from Lake Wilson and/or the Wahiawa Wastewater Treatment Plant, which has long been capable of producing high-quality recycled water. But new federal food safety regulations have since set higher water quality standards for irrigation water.
Now, simply having an R1 designation — which is the cleanest type of recycled water under state guidelines — may not be good enough to use on all manner of crops.
Nakatani told the ADC board last year that he traveled to Arkansas to observe how farmers there treat reservoir water to "bring it to a standard so it's safe." With his agency in the midst of constructing reservoirs for lands purchased several years ago from the Galbraith Estate, Nakatani said that maintaining water quality is going to be a big problem in the future.
While the ADC's lands in the Whitmore area do have access to some well water, the agency is still seeking to use water from the WWTP, which has used lake Lake Wilson as an outfall during emergencies. The state Department of Health has demanded that the WWTP have adequate secondary storage to retain effluent during emergencies and the ADC has committed to developing that storage on its lands. The City and County of Honolulu, however, has not signed a memorandum of understanding with the ADC to allow work to begin, according to ADC staff.
"We're waiting for the city. Maybe they don't want to commit themselves. We've been waiting for months," the ADC's Myra Kaichi told the board.
In the meantime, the ADC is proceeding with the necessary environmental studies. "We're just waiting for the MOU. Without that, we don't have a project," he said.
Kaichi added that without a finalized MOU, the state Department of Budget and Finance will not release the funds that have been appropriated for the Lake Wilson irrigation project.
"The ADC has been ready to proceed since July 2018. To date, we have not received a response from the City and County of Honolulu," Nakamoto stated last month in an email to Environment Hawaii.

— Teresa Dawson
For Further Reading
"Water May Be Limiting Factor On Former Galbraith Ag Lands," December 2013;
"Bringing Water to Land ADC Acquired Near Whitmore Could Top $11 Million," July 2015;
"Agribusiness Corporation Eyes Effluent to Irrigate Former Galbraith Estate Lands," October 2016.