Land Board Fines Trash Hauler $62,000 for Leaving Full Roll-Offs On State Land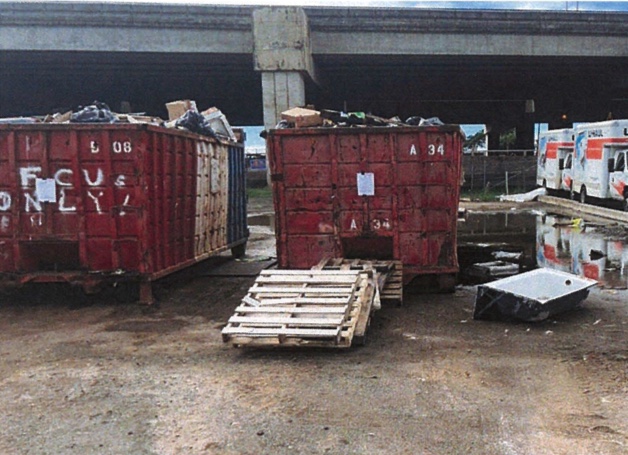 Being contrite might have helped, but John Guinan, Jr., owner of The Trash Man, LLC hauling company, chose to fight.
He ended up with a fine nearly twice what he had been facing a month earlier.
At the October 23 meeting of the Board of Land and Natural Resources, the company faced a $36,000 fine for leaving two full roll-off containers on a vacant parcel of state land in Mapunapuna, Oʻahu, last winter. Guinan, through his attorney, requested a contested case hearing, arguing that he shouldn't pay any fines or state-incurred cleanup costs, and that the Department of Land and Natural Resources actually owed him money for disposing of one of the roll-off containers that sat on the lot for nine months.
He later decided not to pursue the hearing, choosing instead to plead his case at a regular Land Board meeting last month. But by then, the Department of Land and Natural Resources' Land Division administrator Russell Tsuji had a chance to rethink his recommendations.
Administrative rules would have allowed for a fine exceeding $100,000 in this case, but Tsuji recommended a much lower amount because he thought his staff could have tried to resolve the matter much sooner than it did.
At the board meeting on November 23, however, Tsuji expressed his regret for going so easy on the company.
"I want to point out, he didn't stop at the first bin. He came back a month later and dropped the second bin. So whatever reason he may have, it's nothing to do with 'my truck broke down.' This was planned. He had found this lot, figured, 'The state is not around every day, I'm going to target this lot and I'm going to dump anytime I want,'" Tsuji said.
Given that, Land Board member Jimmy Gomes suggested that a higher fine might be justified.
"I was trying to be reasonable," Tsuji replied. Rather than imposing the daily fines of $500, he had recommended a $5,000 fine, repayment of about $3,000 in disposal costs, and payment of about $26,000 in rent.
"After reading his testimony, I felt like I shouldn't have done it, or we shouldn't have gone that way, because he is [acting] as if he has a right to put it on our land and later saying, 'I didn't take it off because I had to get permission first.' Wait, wait. You put it there, first. You didn't ask permission. So, yeah, I mean, I think I would have no problem if the board was to grant a full fine or maybe 75 percent of it," Tsuji said.
Board member Kaiwi Yoon said the company's actions were pretty egregious. Gomes added that he would support a fine of at least 75 percent of what was allowed under the department's rules, "just because of the attitude … of the person that did this."
Guinan explained that he was leaving a job — he claims it was a DLNR job; Tsuji disputes that — and heard a loud pop as he made a left turn from Sand Island onto the highway. He found pieces of his truck's leaf springs on the ground. He admitted the container was "grotesquely overweight and illegal," and was "leaning horrifically."
"It would have been incredibly unsafe for me to take it onto the freeway," he said. Because he said it was a DLNR job, and he knew of a lot owned by the DLNR in Mapunapuna, "I thought it was better to take it to a DLNR facility than drop it on the street," he said.
"I dumped absolutely ZERO material on that property. I set a roll-off can on that property, which was completely self-contained. … Anything that was accumulated on that property was most certainly from the homeless or illegal dumping, which the property has a grave history of suffering from," he continued.
"Everyone's of the impression I'm some wild coyote. I just randomly, after 20 years plus in the hauling business, I just randomly decided to drop a container for no reason on DLNR property and abandoned it. … I've NEVER done that before.… It was 100 percent motivated by safety," he said.
He added that he later left a second container on the property, for just a day, because it was difficult to maneuver in the tight, flooded streets of Mapunapuna.
He did admit that leaving the containers on the property certainly drew others to leave their trash on the lot.
Even so, he said he left the first container on the lot for months because he believed "we were shut down. Everyone was frozen," because of the coronavirus pandemic.
"If I had a pattern of doing this … I can see the board throwing the book at me," he said.
(Although it was not in the Land Division's report to the board, The Trash Man does have a history of illegal dumping. He was warned in 2008 and cited in 2011 by the state Department of Health for operating an illegal solid waste transfer station in Pearl City. Inspectors found construction and demolition waste stockpiled along the edge of a stream embankment with nothing to "prevent leachate contaminants from leaching into surrounding soils and the nearby stream," the department's notice and finding of violation states.)
Gomes said that after 20 years in the hauling business, Guinan should have known the container was too heavy. "To begin with, it shouldn't be moved," Gomes told him.
"That's your opinion. You weren't there," Guinan replied. He then explained that roll-off trucks can handle loads that exceed the legal limit for state highways.
He said the container that he left on the state lot had carried excessively heavy loads for many years.
"I'll tell you what I think. I think the springs were broke already. They just broke more," because the load was so heavy, Gomes said. "If it's heavy, why deal with it?"
"So I should have left it on DLNR's property? Is that what you're saying, Jimmy? … If the leaf springs didn't break, what motivation would I have to drop the container? To piss everybody off?" Guinan replied.
Guinan's attorney, Thomas Zizzi, interjected that he believed the DLNR did not give proper notice to Guinan regarding the violation for illegal dumping. He said that while statutes allow for posting the notice on site, which it was, it's only when the owner cannot be known or determined. In this case, Zizzi argued, the DLNR staff was eventually able to identify The Trash Man as the owner of the containers.
To this, board chair Suzanne Case asked Zizzi when Guinan placed the first container on the property.
Zizzi and Guinan both said it was in December of last year.
"Did you notify DLNR you had placed the container on the property?" Case asked.
Guinan replied that he had not.
"So you placed a container on the property and then a month later another container on the property and never notified DLNR," Case said.
While that was true, Guinan pointed out that he ceased his efforts to retrieve the first container there after Land Division's Robert Medeiros told him on February 11 not to do anything with it. By then, Medeiros explained to the board, he had begun enforcement actions after being frustrated with Guinan's slow progress in removing it.
The container was not removed and the site cleaned by a state contractor until early August. In the meantime the property became littered with even more garbage.
Board member Yoon noted that Guinan was trying to foist off responsibility to everyone else. That included DLNR staff and the contractor who overloaded his roll-off. "What do you think is your part in this?" Yoon asked.
Guinan admitted that he could have been more aggressive in following up with the DLNR between February and August.
In the end, after an executive session, the board voted to fine The Trash Man the maximum daily fine of $500 a day for the period covering the time from when Guinan placed the first container on the state lot, December 17, through February 11, when Medeiros advised Guinan not to do anything further. That totaled $28,000.
For the 117 days between February 11 and August 5, when the container was finally removed, the board applied one third of the maximum daily fine for a total of $29,500. Case argued that during that period, The Trash Man was only partly responsible for why the container remained. Land Division staff and the COVID-19 situation were also responsible, she said.
The board also chose not to charge any back rent.
Total fines and costs amounted to $62,536.54.
Board member Chris Yuen was the sole dissenter. "I do think this is a little bit high," he said.
---
Board Continues Water Permits for East Maui Stream Diversions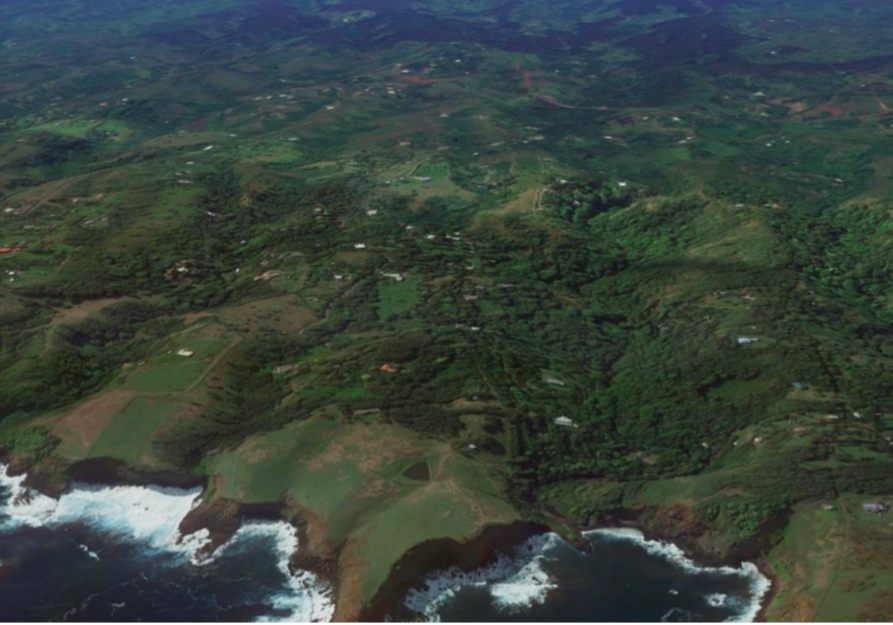 On November 13, the Land Board approved the continuation of revocable permits that allow Alexander & Baldwin, Inc. (A&B) and East Maui Irrigation Co., Ltd. (EMI) to continue diverting up to 45 million gallons of water a day (mgd) from four license areas in East Maui.
Most of that water is intended for use by Mahi Pono, which co-owns EMI with A&B and which has plans to develop diversified agriculture on tens of thousands of acres of former sugarcane fields in Central Maui. The county Department of Water Supply also relies on a portion of that water to meet agricultural and municipal needs in Upcountry and Nahiku.
While representatives from the county and the agricultural community testified in support of the permits' renewal, the Office of Hawaiian Affairs (OHA), the Sierra Club of Hawaiʻi, the Haiku Community Association, Maui Tomorrow, and others opposed it.
OHA's Wayne Tanaka said that the report the Department of Land and Natural Resources' Land Division submitted to the board supporting a recommendation to approve the permits contained some "pretty fatal defects." Contrary to the department's determination that the permits were exempt from environmental review, Tanaka said that such an exemption is only allowed for actions with minimal or no significant impact. With the permits having a total diversion cap of 45 mgd, "entire streams basically could be completely diverted," he said. That would affect stream life, as well as native plants, even if the permits covered just one year of diversions, he argued.
He also suggested that without verifying what Mahi Pono's actual water needs are, the board could not meet its duty to protect the public trust. "When you do a public trust analysis, the first step [is] you need to first verify the actual demonstrated needs of the stream diverter. Then you can talk about balancing needs. You don't have this. … You have a very generalized water claim of what Mahi Pono thinks will be used over the next several years," he said.
According to the Land Division's report, the company's estimated water demand for 2021 is only 32.3 mgd. What's more, based on EMI's last quarterly report to the board, for the period ending on September 30, 11.7 mgd, or 60 percent of the water diverted, was used for neither diversified agriculture nor municipal needs. Instead, that water fell into the company's catch-all category of "reservoir/fire protection/evaporation/dust control/hydroelectric." EMI also included system losses in that category.
Although it did not estimate the amount of system losses in that quarter, EMI admitted that it was more than the 22.7 percent rate the state Commission on Water Resource Management determined to be reasonable.
"This is primarily due to the need to continue to maintain water levels in the reservoirs largely for the County of Maui's fire suppression needs. Seepage losses from the reservoirs are thus expected and continue to occur in the unlined reservoirs just as they did during sugar cultivation. This water is not being irretrievably 'lost,' however, or 'lost' at all, since it is being returned to the underlying aquifer, which is the source for the brackish water wells that supplement the current and future irrigation needs of the Mahi Pono farm plan as well as other users in Central Maui," the company stated.
And then there are the historical/industrial uses that may or may not be allowable under the permits. EMI's report indicates these uses accounted for 1.1 mgd of the 18.9 mgd that had been diverted that quarter. There are nine different users, most of which are tenants of A&B, EMI or Mahi Pono. The uses include concrete batching, fire suppression (again), dust control (again), and water for bathrooms, animals, and pasture.
The Land Division's Ian Hirokawa told the board that it was questionable whether or not industrial use is allowed under the permits. The permits also require that all uses of water be reasonable and beneficial.
While Mahi Pono's Grant Nakama said that the companies had complied with all of the permit's conditions, A&B vice president Meredith Ching urged DLNR staff to reach out to those historic/industrial users to "see if they are indeed providing a reasonable and beneficial use … before the decision is made to cut them off."
To address the system losses, the Land Division recommended that A&B/EMI submit a plan for proposed irrigation system upgrades no later than June 30, 2021. It also recommended that the board "amend its previous requirement prohibiting the waste of water to specifically exclude system losses and evaporation," its report states.
With regard to the historical/industrial uses, the division asked the board to require the permittees to identify the specific uses of the water and explain how they are "ancillary to agricultural operations or are otherwise reasonable and beneficial."
"Given the Permittee has complied with the board's requirements to be transparent about the water use, staff recommends no adjustment to the current 45 mgd limit provided that the Permittee continue to provide timely and thorough quarterly reports," the division stated. It also recommended that if the board determined that a use of the diverted water was not reasonable and beneficial and did not comply with the permitted uses, A&B/EMI would have to cease that use within a timeframe as determined by the department.
To David Frankel, attorney for the Sierra Club of Hawaiʻi, the Land Division's proposed solutions were unacceptable. The group is in the midst of a lawsuit over the board's 2018 and 2019 approvals of A&B/EMI's permits. Arguments concluded earlier this year, but no ruling had been issued by press time. The case centers in large part on the fact that the board has chosen to allow the full diversion of about a dozen East Maui streams that were not part of a 2018 Water Commission decision to amend the interim instream flow standards of about two dozen other streams that serve native Hawaiian taro farmers and cultural practitioners in the area.
Frankel questioned whether the Land Board should allow A&B to drain 100 percent of the base flow of those 13 streams when most of that water is lost or wasted.
"We've provided you the data synthesized that your staff hasn't done for you that shows that most of this water is actually not used. We went though this in the trial," he said.
He asked the Land Board not to approve the Land Division's recommendation to change the definition of waste. "It is Orwellian. It is Trumpian. If the water is not being used, it is wasted. … What the staff is asking you today to do to is eviscerate any meaning of waste so they can lose more than 22.7 percent of the water. In fact they can lose 70 percent of the water. That is so inappropriate when streams are being drained completely dry," he said.
"There is a better way," he continued. Frankel then proposed that the board require A&B/EMI to line their reservoirs. "Take six for this year and start lining them," he suggested.
If not, "if you're going to let the water seep, pump the aquifers. … Have them drain into the aquifer. Have a loop cycle. But to take them from East Maui streams and have it wasted is criminal," he said.
He pointed out that Caleb Rowe, counsel for Maui County, testified earlier about the improvements the county has made to its own systems to reduce water loss. "Why are we not having the applicant do the same? The county lined their reservoir. It reduced losses," he said.
Since EMI stressed in its report that the reservoirs are being filled to meet the county's fire suppression needs, Frankel encouraged the board to ask county fire department officials to identify which of EMI's 40 reservoirs are needed for firefighting. "Identify the specific ones so that it is not the excuse A&B uses to waste so much water. They do not need to have all 40 reservoirs filled, seeping into the ground, to fight fires. Ask the fire department how much water they need to fight fires," he said.
With regard to the historic/industrial uses, Frankel said the Sierra Club testified to the board last year that East Maui stream water was being used for making concrete. "And now, a year later, your staff says, oh, it looks like they may be using this water to make concrete. HC&D's executive testified under oath at our trial, they are using East Maui water to make concrete in direct violation of the terms of the permit. You should do something about that. Not change the terms of the permit to allow this use to occur. Get the information you need to before approving the continued use and cite them for violating the terms of the permit," he said.
13 Streams
Mahi Pono's water resources director testified in the Sierra Club case that the company draws most of its water from the 12 streams in the Huelo license area, which was not part of the Water Commission's 2018 IIFS decision. The 13th stream, Puakea, lies within the Nahiku license area, he said, and the Sierra Club has not provided evidence that EMI diverts water from it.
At the Land Board meeting, Ayron Strauch, a hydrologist with the Water Commission's stream protection and management branch, presented the results of his agency's surveys of those 13 streams. In short, it found that restoring water to them wouldn't improve things much.
Strauch pointed out that high amounts of fog drip contribute to East Maui's aquifer recharge. He also noted that many of the streams — all but three — end in terminal waterfalls, which would seem to prohibit the migration upstream of indigenous stream species.

The Water Commission's 2018 CWRM IIFS decision, which required the partial or full restoration of a number of streams, protected 77.2 percent of habitat in East Maui identified by A&B consultant Dr. James Parham, he added.
Finally, simply adding water back into the streams the Sierra Club is concerned about may not be enough to create good habitat, he argued, since problems such as invasive plant species and parasites would also need to be addressed.
Frankel, however, argued that all 13 streams were, indeed, important. And the DLNR's Division of Aquatic Resources (DAR) determined that a few of them — Oʻopuola, Nailiʻilihaele, Kailua, and Hoʻolawa — had a high restoration priority, despite the fact that all but Oʻopuola end in terminal waterfalls. Maui DAR biologist Skippy Hau even found two species of native gobies in Nailiʻilihaele during a stream check in October.
"Although this is an evaluation of streams, the status of an estuary is directly tied to the status of the stream that feeds it. Therefore, estuary species such as aholehole (Kuhlia xenura), amaama (Mugil cephalus), moi (Polydactylus sexfilis), and others are also considered of great importance. To a lesser extent prawns (Macrobranchium lar) are considered. Although introduced, this species serves as an important food resource, consumed by many rural communities and adds to our State's food security," the division wrote in its testimony to the board.
"It is disillusioning to see the post hoc rationalization that Ayron Strauch provides to argue that these 13 streams should not be restored in any way whatsoever. He argues that the Water Commission argued that 90 percent of A&B's needs should be fulfilled. The Water Commission decision says nothing of the sort. … He suggested terminal waterfalls are a problem for native species. They are not a problem for five native species. And in fact some of the streams restored by the Water Commission end in terminal waterfalls. That is a red herring to talk about terminal waterfalls," Frankel said.
Recognizing the differences of opinion between the Water Commission and DAR on the value of restoring at least some of the 13 streams, the Land Division recommended that board require A&B/EMI to cooperate with the two agencies "in studies, site inspections and other actions as necessary to address the streams in the license areas not covered by the CWRM order."
Final Words, Or Not
In his testimony in opposition to the permits, Albert Perez of Maui Tomorrow argued that A&B/EMI had access to plenty of water outside the four state permit areas. But if the board decided to approve the permits, he urged it to include conditions that Mahi Pono has already agreed to for the use of water from streams in Central Maui known as Na Wai ʻEhā. (Because Na Wai ʻEhā has been designated as a surface water management area, allocations of water are governed via water use permit by the Water Commission. East Maui is not a designated water management area, so allocations are governed by permits and water leases or licenses issued by the Land Board.)
In a settlement agreement joined by Maui Tomorrow, Mahi Pono, Hui o Na Wai ʻEhā, and OHA, the company agreed to limit its water usage to 2,500 gallons per acre per day for efficient diversified agricultural operations, he said. "Based on the 5,700 acres Mahi Pono said that they need to irrigate with East Maui stream water by the end of 2021, that would result in 14.3 mgd and they would be fine if they were irrigating efficiently," he said, adding that Mahi Pono also agreed to verification of acreage planted by a licensed surveyor and to line a reservoir that had seepage losses of between 6 mgd and 8 mgd.
Lucienne de Naie, president of the Haʻikū Community Association, also stressed the need to line the reservoirs and expressed her concern about the DLNR's apparent acceptance of EMI's system losses.
To transport East Maui stream water 60 miles to seep into the aquifer in Central Maui, "I can't agree with that. … We want our streams to flow to recharge our aquifer," she said.
She added that the advisory group the Land Board established more than a year ago to discuss East Maui water issues does not include residents of the Huelo permit area."These folks are not represented by the county, not represented by OHA because they're not Hawaiian. They're just left off the table, yet you're making decisions about streams they use every day," she said.
Acknowledging her complaint, board member Chris Yuen, in his motion to approve the Land Division's recommendations, added a condition to include a representative of the Huelo community in the advisory group. He also recommended that in reviewing efficiency upgrades to their irrigation system, A&B/EMI work with the fire department to determine its exact needs.
Finally, Yuen wanted to include a statement of the board: "The board intends to deal with the restoration of the non-IIFS streams and efficiency upgrades to the system no later than the time the board considers going out to auction for the final lease."
Yuen explained why he thought restoration of the 12 or 13 streams the Sierra Club wants to see restored was not necessary right now. The streams do not provide water for taro, he said, and "recreational uses are co-existing right now with diversions that have been taking place for a long time."
With regard to the purported benefits of restoration to stream biota, Yuen cited the Water Commission's report on the 13 streams, which concluded, "[T]he non-petition streams support limited to no recruitment or reproduction and existing diversions have minimal impact on the life history of the native aquatic biota."
"This is not necessarily the last and final word. This is sufficient for us to go ahead with continuing to allow diversions from these streams for the coming year," Yuen said, adding, "We've had a lot of discussion of system upgrades regarding seepage losses. … To require expensive upgrades on a one-year permit is really not the way to go."
A few days after the meeting, the Sierra Club of Hawaiʻi filed an appeal of the Land Boardʻs decisions to renew the permits and to deny the groupʻs request for a contested case hearing.
—Teresa Dawson
For Further Reading:
"Court Holds Final Arguments in Case Over Stream Diversions in East Maui," October 2020;
"Decades-Long Dispute Over Maui Water Finally Reaches State Supreme Court," and "New & Noteworthy: 'Ohi'a Rust Rule, Another East Maui Lawsuit," June 2020;
"Board Talk: Board Denies Contested Case Over East Maui Water Permits," February 2020;
"Board Talk: Water Permits For A&B, KIUC, and Others," November 2019;
"Sierra Club Seeks Contested Case On Diversion Permits for East Maui," December 2018.