Finally! An 'Ohi'a Rust Rule: In 2005, a new invader to the islands was discovered on trees in the myrtle family, including Hawai'i's iconic 'ohi'a tree. Some species, especially rose apple, were devastated by Puccinia psidii, a rust-type fungus that appears to have hitched a ride to the islands on imported ornamental plants.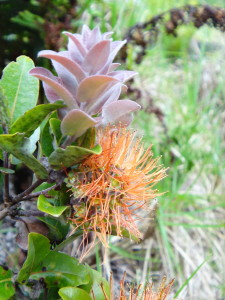 In 2007, the state Board of Agriculture imposed a one-year emergency rule restricting imports of Myrtaceae plant material. That expired in 2008, and it wasn't until February 2015 that the BOA approved a draft rule for review by various agencies before taking it to public hearings.
More than four years passed before the BOA approved a final version of the rule, which was then sent to desk of Gov. David Ige for his approval, necessary before the rule could take effect.
Last October, the Department of Agriculture advised shippers and importers of the pending rule. In a news release, Phyllis Shimabukuro- Geisler, BOA chairperson, expressed her hope that "the industry will see an opportunity to grow and source flowers and foliage from within the state to help decrease the risk of importing other plant pests and pathogens." Finally, on May 8, fifteen years after the potentially devastating rust was first detected in Hawai'i, Ige signed the rule, which took effect May 15.
The rule applies to domestic shipments.
A similar rule that would restrict international imports has yet to be promulgated by the U.S. Department of Agriculture's Animal and Plant Health Inspection Service.
(Environment Hawai'i reported on the delays extensively in April 2015. The article is available free of charge at environment-hawaii.org.)
The Other East Maui Case: On August 3, a jury-waived trial for the Sierra Club of Hawai'i's case against the Board of Land and Natural Resources is scheduled to begin.
The organization sued the Land Board in 2019 after the board voted to issue revocable permits to Alexander & Baldwin and its subsidiary, East Maui Irrigation (EMI), for the diversion of up to 45 million gallons a day (mgd) of stream water from 33,000 acres of state land in East Maui.
Those permits are central to another case we discuss elsewhere in this issue that has focused on whether an environmental review should have been done.

The Sierra Club's case focuses on the fact that the Land Board, in its 2018 permit renewal, did not provide for the protection of 13 diverted East Maui streams that were not part of the Commission on Water Resource Management's recent efforts to establish interim instream flow standards.
"Their decisions allow the removal of all the baseflow from these 13 streams. They have allowed A&B to drain these streams completely dry and reduce the habitat units by – according to A&B's own consultant – 85 percent," David Frankel, the group's attorney, stated in a filing to the court last month.
The Maui Department of Water Supply relies on A&B for the delivery of a few to several million gallons of water a day for municipal use and has advocated for the company's continued ability to divert water from East Maui.
Frankel argued that A&B is using the county as "a human shield" and stated that the Sierra Club has no desire to diminish the county's water supply.
He pointed out that the county has been receiving less than 2.52 mgd.
"The Sierra Club has not opposed the continued diversion of ten times that amount (25.75 million gallons) to ensure that the county's needs, and some agricultural needs, are met," he wrote.
The Sierra Club is asking the court to prevent an increase in the amount of water diverted from East Maui. "An injunction will allow the BLNR defendants to properly fulfill their trust duties and strike an appropriate balance," Frankel wrote.
1st Circuit Judge Jeffrey Crabtree held a hearing last month on motions for summary judgment from the group and from A&B/EMI. He had not issued a ruling by press time on whether to grant or deny either of those motions.