"The situation on O'ahu regarding erosion is really terrible," state Office of Conservation and Coastal Lands administrator Sam Lemmo told the City and County of Honolulu's Climate Change Commission at its meeting last month. The Wai'anae Coast is experiencing serious erosion; the North Shore has soft armoring along beachfront homes; and on the east coast, Kamehameha Highway is a giant seawall, he said.
He is convinced sea level has risen a couple inches in the last decade, but "we've not been able to measure it correctly," he said.
More than a year ago, the commission recommended that the city start factoring into its Special Management Area boundaries and planning documents the 3.2-foot and 6-foot sea level rise exposure areas (SLR-XA) identified in the state's 2017 Sea Level Rise Vulnerability and Adaptation Report (SLR report) and online viewer. The SLR-XA maps show the areas throughout the state that will likely be chronically flooded due to the combined effects of passive flooding, annual high wave flooding, and coastal erosion.
More recently, Honolulu Mayor Kirk Caldwell has sought additional advice from the commission on how to regulate shoreline areas in the face of sea level rise. At the commission's October meeting, it became clear that wouldn't be an easy task.
Kaua'i and Maui counties have already begun using the SLR-XA maps to guide planning and amend regulations, but have run into some trouble. As we reported in May, those maps proved too crude for Kaua'i planners to feel comfortable using them for development regulations that would affect individual landowners, but good enough to inform broad policy decisions.
"The SLR-XA was sort of raw," Lemmo told the commission. Rather than investing in refining the maps, however, his office and coastal experts with the University of Hawai'i (including commission member Dr. Chip Fletcher) will be working over the next year to develop guidance on how to interpret the maps.
Lemmo suggested that they may need to address each hazard — passive flooding, erosion, and high wave flooding — separately.
Erosion may require heavy-handed mitigation, high waves may require something lighter, and for passive flooding, "maybe something in between," he said.
The team may end up creating an addendum to the SLR report, he said, adding that it will include counties to the greatest extent possible.
Even without additional guidance, Maui County has begun the process of working the SLR-XA into its shoreline setback regulations. Honolulu, on the other hand, is developing new erosion rate-based setback regulations similar to Kaua'i County's. The city's current regulations were last updated in 1992 and require coastal setbacks of only 40 feet.
Lemmo suggested that counties should move away from erosion-based setbacks and start looking at other hazards such as passive annual flooding. Honolulu Land Use Permits Division chief planner Katia Balassiano, however, said the city may not be able to incorporate the SLR-XA maps into its setbacks because of the lack of clarity over how to interpret them.
That being said, she recognized Caldwell's 2018 directive to use the 3.2-ft. SLR-XA as a baseline for planning. "We are forging ahead, taking sea level rise head on," she said.
Balassiano said her department lacks funding for community outreach on proposed setback regulations and for expert help with updating the city's Special Management Area regulations and the daily review and processing of permits.
"It would be good to have a Sea Grant person [from the University of Hawai'i]. My planners are generalists," she said.
Asked about the city's effort to assess sea level rise impacts on the elevated rail line being built, Balassiano said it's "a work in progress."
"We're in that uncomfortable situation where transit-oriented development (TOD) plans did not incorporate sea level rise when they were drafted. We are revisiting those plans, asking whether the density we envisioned would be appropriate," she said. The Downtown TOD plan, for example, was approved in August 2017, months before the SLR Report came out. "We are overlapping TOD and SLR-XA maps and seeing what we come up with," she said, adding that since some of the rail stations will be within the SLR-XA, the issue of whether it will be financially feasible to move roads and utilities out of harm's way is also being discussed.
"At least the rail is elevated," state Coastal Zone Management Program planner Justine Nihipali said.
The city has secured federal funding to work with a team — that includes Lemmo's office, Fletcher, and commission chair Dr. Makena Coffman, among others — on the setback regulations update.
It is also in the midst of updating its development plan for the island's primary urban center (PUC). "We are coming to the conclusion [there will be] some areas from which we will not be able to retreat and there are other areas where we would prefer to see those legacy beaches maintained," she said.
In December 2018, the University of Hawai'i Sea Grant Program issued a white paper on sea level rise in the PUC. Using the SLR Report, the program found that 3.2 feet of sea level rise, if unmitigated, would cause "chronic flooding in 1,727 acres of land potentially impacting 1,627 buildings, displacing 4,325 residents, and flooding 24 miles of road," the white paper states.
Lemmo said that in East Coast states such as South Carolina and Massachusetts, government agencies are tackling flood threats holistically, working on strategies to address coastal inundation as well as drainage issues.

Regarding shoreline setbacks, Lemmo warned of the danger of adopting regulations that would be considered a taking of private property. The state's Department of the Attorney General has opined that the loss of property through erosion is not a taking. However, Lemmo said that is different from a government agency adopting a setback rule that would render a lot unbuildable. That's exactly what members of the South Carolina Coastal Council did decades ago to coastal landowner David Lucas, and "they lost miserably," Lemmo said. The South Carolina Supreme Court rejected Smith's takings claim, but in 1992, the U.S. Supreme Court overturned that decision.
Technically, for property owners on O'ahu's North Shore suffering from erosion, Lemmo said the state could decide to stop letting them install protective sand burritos on the beach and say, "It's not our problem. It's nature working itself out." However, he said, it could also continue to grant emergency permits to allow for some fortification. "We don't know how long we can sustain that situation," he said.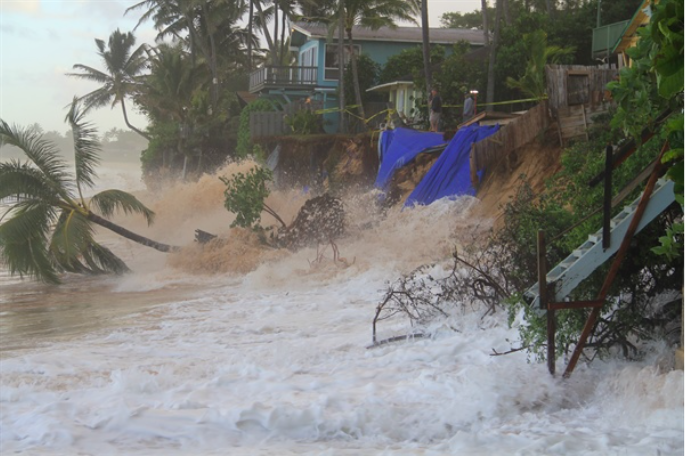 For some property owners in 'Ewa Beach, planning efforts to minimize erosion may be moot, since the U.S. military is planning to build a large seawall there. Lemmo said local government agencies often don't have much say in what the military does because of "federal supremacy." "They're not going to come to us or the county," he said.
When asked by an 'Ewa Beach resident whether such a seawall would affect adjacent properties, Lemmo replied, "Of course it would."
In her presentation to the commission on managed retreat, Nihipali said that even if low-hazard receiving areas are identified, people won't voluntarily move unless it's to somewhere better than they are. "Someone living on the coast may not want to live in a TOD [transit oriented development] infill area," she said.
She said there are more questions than answers about the circumstances under which managed retreat would occur: Should we have a government mandate? What's the purpose? To remove people or protect beaches? Should infrastructure be moved to infill areas or other lands to keep communities intact?
In some cases, cities may have to simply be abandoned.
Commissioner Bettina Mehnert mentioned earlier in the meeting what everyone at a recent resiliency workshop on the East Coast was talking about. "They debated when is the time to abandon Miami. Sea level is infiltrating their water supply," she said.
While he advocated for regulators to work towards easing the cost and social disruption of sea level rise, Lemmo said he believed that the market will ultimately drive a lot of what actually happens. "The insurance and reinsurance industries, FEMA, investors … Miami will keep building higher until they can't do it anymore and there will be an exodus," he said.
— Teresa Dawson