For the second legislative session since the state unveiled its Sea Level Rise Vulnerability and Adaptation Report, bills based on the report's recommendations largely failed.
Among those were bills that would have forced sellers of real property to disclose whether their lands lie within the 3.2-ft. sea level rise exposure area (SLR-XA) identified in the report.
At last month's meeting of the state Climate Change Mitigation and Adaptation Commission, Office of Conservation and Coastal Lands administrator Sam Lemmo said he was disappointed those measures, as well as ones aimed at incorporating sea level rise concerns into the Coastal Zone Management Act, died.
Getting the disclosure legislation passed was one of the commission's top five priorities identified last year. But as Kaua'i planning director Ka'aina Hull revealed at the commission meeting, the SLR-XA may not yet be ready to be used as a tool to impose regulations on individual landowners.
The SLR-XA maps, which depict vulnerable areas under various levels of sea rise, are both in the report and available for finer scale, interactive viewing on the Pacific Islands Ocean Observing System (PacIOOS) website.
While drafting an incentive package to encourage more affordable housing in the form of small-scale Additional Rental Units (ARUs), Hull said one County Council member proposed removing ARUs from areas vulnerable to sea level rise effects.
"That's where we got into problems," Hull said. He showed the commission a map of Kapa'a town with the 3.2-foot sea level rise exposure area shaded in dark blue: A narrow strip hugged the coast, then sprawled inward, forming a jagged-edged blob surrounded by long, thin branches and errant patches.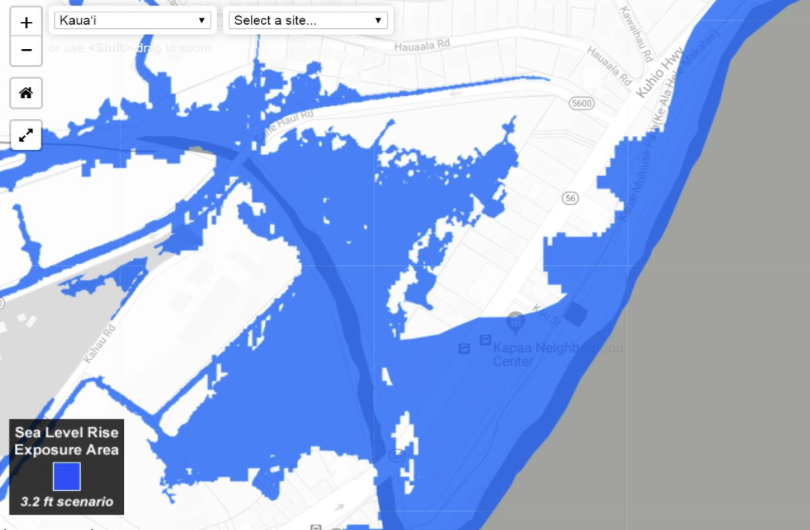 "That's the lines we've got, so … How would you actually tell a property owner, 'You can have an ARU here, but not here?" he asked.
"Aside from it being all over the place, the mapping is not a high-resolution mapping. … The surveyors were telling us, 'Do you want us to draw it pixelated?'" he continued.
With hundreds of thousands of dollars worth of development at stake, the exposure area line wasn't smooth enough and the proposal was halted, he said.
Despite its drawbacks, Hull said the exposure area was useful in guiding policy. For example, the population on Kaua'i is growing, albeit slowly, and the county general plan recommends accommodating that growth in developed areas rather than allowing urban sprawl.
The problem is that some town cores are situated in coastal areas, Hull said. "Is that an appropriate policy to have? Should we be sending all of our infill development into the [exposure] area?" he asked.
In Kekaha and Waimea on the island's west coast, the exposure area overlaps 20 percent of the town core, he said. The county is updating the area's community plan, which is expected to also include zoning regulations.
Hull said public opinion against more development in the exposure area for those towns was overwhelming. And based on that, the plan may target areas mauka of the exposure area for intensive development, and possibly down-zone lands makai.
"We're trying to figure out the best area to limit or prohibit [development] in the sea level rise exposure areas," he said.
He added that there was a lot of state land nearby that could be transferred to the county and be used to facilitate a managed retreat from the shoreline.
Because the county's shoreline setback ordinance prohibits hardening, landowners have an incentive to move, he suggested, noting that he's already seen one structure fall because the owner could not build a seawall.
Rather than threatening condemnation, Hull said the county can tell landowners, "We can exchange this land for our land. By the way your structure is going to be in the ocean in a few years."
While retreat is one option, Hull suggested leaving at least Kekaha alone is also being considered.
"Kekaha town is in the wetland. There are pumps right now pumping water out of Kekaha," he said. But there is also a seawall along the highway fronting the town, "protecting the asset," he added.
"Is this an area you're going to preserve in place because infrastructure is already there?" he asked.
Hull said his office was still having "deeply heated and contentious debate" about the plan, but assured the commission that a draft would be released on July 4.
"With fireworks," Climate Change Mitigation and Adaptation coordinator Anu Hittle quipped.
University of Hawai'i professor Chip Fletcher, a vice-chair of the Honolulu climate commission, later advised Hull to consider adaptive design in areas mauka of the exposure area, since "sea level rise is not going to stop at 3.2 feet."
"That is going to be monumentally one of the most important aspects of how we design our towns," Hull replied.
Setback Pushback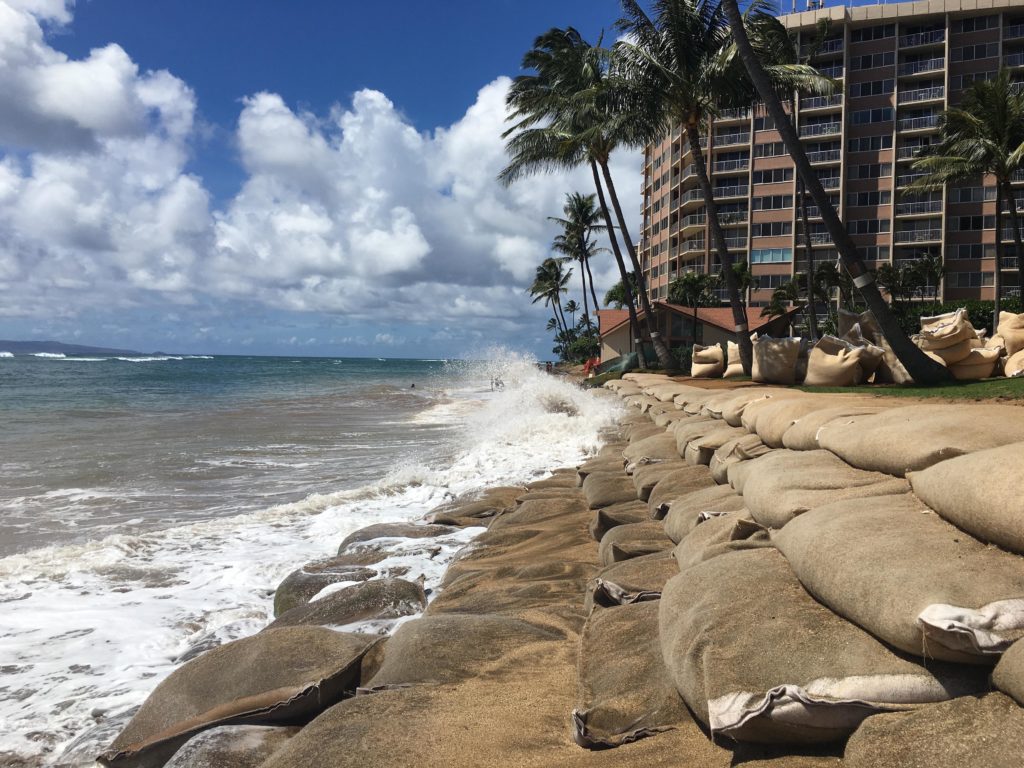 Speaking of fireworks, Maui landowners are lighting up the county Planning Department for trying to incorporate the SLR-XA into to shoreline setback regulations.
"We asked Kaua'i County what they're doing. They said, 'Well, we're waiting to see what you're doing,'" Jeffrey Dack, the department's senior planner, told the commission.
So late last year, Maui went first. And it did not stop at setback rules.
The proposed rules would amend two of the three options landowners have to establish setbacks. They could locate them at least 40 feet inland of erosion hazard lines in the PacIOOS sea level rise viewer, or at least 200 feet from the shoreline as mapped by the department if there is no erosion hazard line. The option of establishing setbacks so they constitute 25 percent of lot depth for irregularly shaped properties, extending up to 150 feet inland, was left unchanged.
Other proposed amendments to the shoreline and Special Management Area (SMA) rules would require permit applicants to include the 3.2-foot SLR-XA and the red erosion hazard line from the PacIOOS viewer into their development site plans.
According to Dack's presentation to the commission, the amendments would also require landowners to agree to forgo shoreline hardening for construction that requires a setback variance, repairs to structures within the setback that cost more than half of replacement costs, and repairs to damage caused by waves, among other things.
Landowners are brimming with questions, Dack reported:
What will happen to existing structures that may now be partially or entirely in the setback area? How many properties would become unbuildable if hazard lines were adopted? Will repairing seawalls be contrary to managed retreat?
Some also believe the rules, if adopted, would constitute a land taking, he said.
"That just gives you a flavor of what's hitting us," he said, adding that his agency is preparing "reasonable responses to all of those."
Next Steps
To resolve the kinds of problems Hull raised, Lemmo suggested that his agency, which spearheaded the effort to develop the sea level rise report, could prepare an addendum that would explain how the report should be used.
"As Ka'aina mentioned, it's not clear," he said. "Are we going to do remodeling? Are we going to smooth lines? Are we going to write guidance … for people who want to apply it a little more seriously?" he asked.
Lemmo and Hittle proposed convening a team of experts — from the Department of Land and Natural Resources, UH, the state Department of Transportation, the Honolulu Board of Water Supply, and elsewhere — to develop that guidance.
Commissioner Bruce Anderson, who also heads the state Department of Health, said he hoped some guidance would be developed for counties as to how the SLR-XA should be considered when approving wastewater systems.
"Honestly, we're not doing it right now, not looking at septic systems, and leach fields," he said.
Lemmo acknowledged that agencies and entities throughout the state are already working on various aspects of climate change adaptation and mitigation. Coastal Zone Management program manager Justine Nihipali noted that the University of Hawai'i Sea Grant program is developing guidance on how to apply the SLR-XA to community resiliency planning.
Lemmo said he envisions a more centralized body, located in one place, "where we can grow a small unit that can basically serve as a resource for doing climate adaptation work."
Nihipali said that the state Office of Planning already has a framework that brings together officials from various government agencies, mainly planning departments.
"Currently what's limited is funding. … We got folks at the table that participate through this process already," she said, adding that she had reservations about "creating something brand new."
To this, Hittle replied, "I don't think we're creating anything brand new. We're just continuing the work. We don't have funding."
— Teresa Dawson