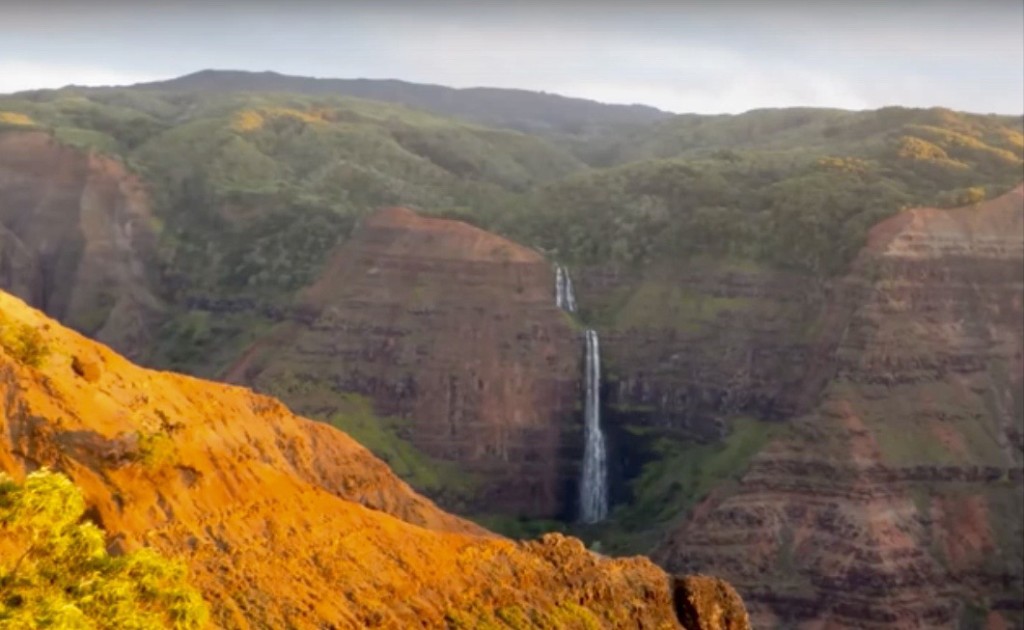 From the discussion at the August 11 meeting of the Commission on Water Resource Management, it looks like allegations of water waste in West Kaua`i will likely be resolved only through a contested case hearing. Both sides in the dispute said they're willing, even happy, to try to mediate a solution, but neither seemed very optimistic. Some of the Water Commission members shared their pessimism, as well.
"Who knows? Maybe sprinkle some fairy dust and everything will change. I don't know how far romanticizing it we should go,"commissioner Jonathan Starr said of the potential for successful mediation.
Starr's skepticism stems in large part from responses submitted to the commission in July by the state Agribusiness Development Corporation (ADC) and its tenant organization, the Kekaha Agriculture Association (KAA), to questions posed by Water Commission chair Suzanne Case about who uses the diverted water and how it's used and moved around via the Koke`e and Kekaha irrigation systems.
As commissioner Kamana Beamer put it last month, "The responses were not too robust."What's more, ADC's and KAA's responses made it clear that they won't readily part with even a drop of the water they currently divert from streams in West Kaua`i that would otherwise feed Waimea River.
In 2013, community group Po`ai Wai Ola — West Kaua`i Watershed Alliance accused the agencies of dumping unused diverted water and asked the Water Commission to end what it saw as waste. The group also petitioned the commission to amend the interim instream flow standards of the headwaters that feed Waimea River, as well as Waimea River itself, to allow for the streams —diverted for agricultural purposes for the past century —to be restored.
A consultant hired by the Water Commission to investigate the waste complaint later found that, among other things, ADC and KAA are, indeed, dumping unused water collected from several streams into Koke`e Stream, creating a constant waterfall that would otherwise be dry most of the time. Although attorneys representing the community group have argued that that is an obvious waste of water that could be immediately rectified, ADC and KAA insist that none of the water is being wasted.
Their responses to the commission provided only estimates of the amount of water the ADC's agricultural tenants in Kekaha use. And whether or not those tenants need all of the water, ADC and KAA argued that a constant flow through the system is necessary to maintain it and to feed hydroelectric plants that power pumps that keep the Mana Plain arable and prevent floods in Kekaha town and the Pacific Missile Range Facility.
Before the responses had been submitted, commissioner Mike Buck had drafted a letter that he thought would provide the parties with some much needed guidance on how to mediate a solution. The letter encouraged the parties to "help identify and quantify reasonable and beneficial uses for any waters diverted from the Waimea watershed."It also listed some "hopeful outcomes."They included the following:
"The return of quantities of currently diverted water to the Waimea River, ensuring its connectivity mauka to makai;
"Ensuring the seasonal connectivity of all the tributaries feeding into the Waimea River, where feasible;
"Ensuring the proper and efficient functioning of the Koke`e Ditch, which is important to supply water to Hawaiian Home lands;
"Ensuring that any water diverted out of the Waimea watershed is not wasted and is used for reasonable and beneficial purposes; and
"Bringing the Pua Loa [sic] Reservoir to safe condition and increasing its capacity for public recreation, fire control, and water storage for Hawaiian Home lands."
At the August 11 meeting, Water Commission staff had recommended that the commission "review and finalize"the letter.
Commissioner Starr said he appreciated the spirit of getting the parties and the community to collaborate on a solution, but didn't feel there was a great likelihood of solving the issues that way.
"I felt a lot more strongly about that after reading the responses to the request that commission staff had sent out,"Starr said. The ADC's and KAA"s responses "just seemed like it's all kind of taking the 5th rather than providing the information, which is part of what needs to be provided under the Water Code,"Starr said.
Starr recommended that the commission set a definite time period —30 days —for mediation "so it doesn't end up delaying our public trust duties."
Commissioner Beamer also seemed skeptical about the benefits of mediation, "especially when the power situation and dynamics aren't equal."
"Given that one party is exclusively delivering the water and has been for 100-plus years, I'm not sure if that mediation can be on equal ground,"he said.
"If there were a little bit of movement, even a bit of acknowledgement [by ADC and KAA] that these waters were a public trust resource and historic practices may not be the norm ad infinitum into the future and wastage isn't a good thing, that would be a reasonable first step,"he said, adding that short of that, he didn't think there was much to discuss and the commission should act on the waste complaint.
It's Waste!
Earthjustice attorney David Henkin, representing Po`ai Wai Ola — West Kaua`i Watershed Alliance, added that the responses ADC and KAA gave the commission made it difficult for his client to participate in mediation.
"In order for us to participate in some sort of mediation, we're going to need access to information. …We need to have experts evaluate things,"he said.
He suggested the commission approve a scope of mediation outcomes similar to, but much more robust, than those listed in Buck's letter.
"For those who have looked at the information responses, you will note they consistently take the position, 'We may not currently have any use but we need to bank the water to fulfill some future need for diversified agriculture or the [Department of Hawaiian Home Lands].'We need clear direction from the commission that when you're talking about waste, it's what's happening today, not in the future. The [Hawai`i] Supreme Court made that very clear in the Waiahole case," Henkin said.
When it comes to waste, anything more than the minimum flows required for off-stream use must remain in the stream, he said.
Henkin noted that in a February presentation by the commission's consultant, Steve Spengler of Element Environmental, "it was identified there were several headwaters being diverted virtually in their entirely …[and] being dumped back into Koke`e Stream."The reason the water is being dumped is because it cannot be allowed to flow into the state's Pu`u Lua reservoir, which, for safety reasons, cannot be entirely filled.
Henkin then went on to list other instances of apparent waste of millions of gallons of water a day, including the fact that more than 400,000 gallons of water a day is being sent through a sluice gate just to keep the gate clean.
He later noted that KAA's responses to Case's letter excluded "very important information,"including information on all water users, daily flow by dams on the Kekaha system, and electricity use by the irrigation pumps.
"They tell the commission, 'We need the flow to power pumps.'There is no information to verify that claim,"he said.
He continued that KAA's responses to questions regarding water use by association members contradict each other. Its initial response claims that three members  —BASF, Pioneer Hi-Bred International, and Syngenta —have an estimated use of nearly 14 mgd. But later submittals from those tenants make clear they don't use that much, he said. BASF said it uses less than .5 mgd, Pioneer reported it used only 1.16 mgd, and Syngenta estimated that it used at most 2 mgd and an average of 1.79 mgd, for a total of less than 4 mgd.
"Pioneer in their response, even though you asked for data for several years, they said we're not gonna give you data from 2013-2014 because those were unusual years. …I'm assuming it was very low, which is why they don't want to share it,"he said.
Henkin then went on to criticize KAA's water use estimate of 12,000 gallons per acre per day for Wines of Kaua`i. He said that was double the amount used on sugarcane (a very thirsty crop), four times what's generally used for diversified agriculture, and five times what the Waiahole ditch proceeding determined was needed for diversified agriculture.
"On their face, these numbers were not credible,"he said.
Finally, he took on ADC's and KAA's argument that continued diversion of water is needed to power the hydroelectric plants to power the pumps that prevent flooding. Henkin pointed out that those plants generate ten to 100 times the electricity needed by the pumps.
"They're using an entire river to generate power and …selling [it] to KIUC, not to run those pumps,"he argued.
Despite all of his complaints, he said his client was happy to mediate, but without direction from the Water Commission, resolution won't happen on its own.
He noted that immediately after his client filed its petition in 2013, ADC director James Nakatani made various statements to the press that the agency wanted to stop waste. And at a later Water Commission meeting, Doug Codiga, representing KAA, and deputy attorney general Myra Kaichi, representing the ADC, "said we should promptly address these waste issues [and] we've had the same conversation at every meeting since,"Henkin said.
"They're very nice people, but we're not going anywhere because they hold all the cards,"he said.
He urged the commission to act quickly on what he thought was ample evidence, collected by Spengler, of waste.
"If at some point in the future, the DHHL or anyone were to come in saying we need this water, then the commission would exercise its discretion to balance the public trust. But in the meantime, there is no use for this water,"he said.
Should the commission decide to order mediation, rather than order ADC and KAA to show cause why they should not have to restore unused water, Henkin said, "we should be given a very short leash to perform and produce. We're going to need access to the sites, we're going to need to be able to get into the ditch. So we're not just taking their say so."
Commissioner Beamer asked Henkin whether it would be helpful if the commission directed the parties to devise a plan to eliminate waste from Waiakoali Stream while maintaining the Pu`u Lua reservoir at capacity.
Henkin replied that he'd agree to that, with an implicit finding by the commission that there is no arguable use of that water.
"I think the commission needs to say we find that it's waste and the parties need to work on a solution,"he said.
No, it's not!
When it was his turn to testify, Codiga, representing KAA, told the commission that Henkin's presentation "took us a lot closer to a contested case hearing" and opposed any attempt by the commission to make a decision on the waste complaint without a more complete record.
"Our submission does not support the relief that was suggested [by Henkin]. It does not,"Codiga said. "We think this can be done without a determination .. that there is such a thing as waste."
KAA consultant Basil Gomes then took issue with Henkin's claims about the amount of water diverted.
"He gave you a lot of very large numbers of how much flow is being diverted from the stream. …They are representative of a snapshot in time, not flows of a day-to-day basis,"Gomes said.
Gomes added that if the flows are reduced below maintenance levels (which he could not quantify), it would be extremely unlikely, given the costs, that the upper reaches of the irrigation system would ever function again. (Henkin later rebutted Gomes'claims, noting that Spengler found one of the diversions had been concreted over. "It wasn't designed to take 100 percent of [Waiakoali] Stream,"he said.)
Although she acknowledged that KAA and ADC had provided a lot of information, Case asked if there was any information the KAA didn't provide.
"All relevant information was provided,"Codiga replied.
Commissioner Beamer, however, reminded Codiga that KAA member Pioneer Hi-Bred chose not to provide estimates of its 2013-2014 water use because those years were atypical.
"We asked you for all relevant data. One of your parties chose not to provide two entire years,"Beamer said.
Codiga's suggestion that obtaining data for those years could be handled by a follow-up request from the commission seemed to upset Beamer, who said the KAA had already asked the commission to provide a written request for information, which Case did in May.
"Now you're giving us data leaving out two entire years and now you want another request?"Beamer asked.
He continued that KAA failed to provide any justification for why it was taking water from Waiakoali Stream and dumping it into Koke`e Stream, other than that continuous flow is needed to preserve the ditches.
Deputy attorney general Kaichi attempted to explain, in part, the apparent incompleteness of the submittals by KAA and ADC.
"The question is how much [water] have we been using now. …Whether that information was proprietary, we had a lot of discussion on that. The seed companies disclosed what they could,"she said.
Moving Forward
Although it seemed nearly impossible for the attorneys involved in the case to agree on anything, Kaichi did echo Henkin's suggestion that some "low-hanging fruit" could be addressed in mediation.
Restoration could occur gradually, "not go from 9 mgd to 2 mgd"as Henkin had suggested for one portion of the irrigation system, she said. "The risk of decreasing the water flow by 75 percent is too high. We don't know what the damage would be, what the cost would be."
Kaichi envisioned that mediation could produce a plan where the parties would be "slowly chipping away at each little fruit"and where water would be restored "board by board, drop by drop."
"I don't believe we are ready to throw in the towel,"she said, although she admitted that resolution may be reached only after a contested case hearing.
Starr, however, saw ADC's and KAA's wish to proceed with mediation as merely a stall tactic.
"I really have great difficulty in seeing how this is going to go anywhere. The diverters are saying there's no wastage and there is no need to provide more information and have difficulty providing access. …This is just an attempt to kick the stone down the road and give them a few months to use or abuse public trust waters without any action,"he said.
He again recommended giving the parties a month of discussion and requiring them to report back to the commission.
"Perhaps some magic will happen,"he said, but added, "I see nothing but red flags here."He then recommended that staff evaluate KAA's and ADC's responses and start drafting an order to show cause letter that the commission could approve at a later date.
Case encouraged the parties to proceed on their own with discussions and report back to at the commission its September meeting.
At the September 16 meeting, the commission would gage the progress that had been made and "we [will] have a good sense by then whether we need to take affirmative action,"she said.
— Teresa Dawson