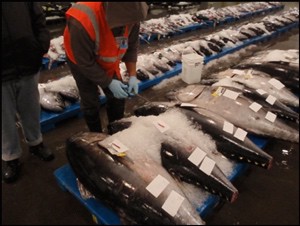 The National Marine Fisheries Service has finally published its proposed rule that will allow Hawai`i longline vessels to continue to catch bigeye tuna in the Western and Central Pacific Ocean from now through the end of the year.
The rule sets a territorial catch limit of 2,000 metric tons for each of the three U.S.-flagged territories in the Pacific: American Samoa, Guam, and Commonwealth of the Northern Mariana Islands. If the rule is approved, up to one-half of the territorial catch limit can be assigned to the Hawai`i longline fleet. This would have the effect of nearly doubling the quota assigned to the longliners by the Western and Central Pacific Fisheries Commission (WCPFC), the international agency which, by treaty, manages fishing in the region.
That quota, as it now stands, is just over 3,500 metric tons. As Environment Hawai`i has reported, the Hawai`i longliners reached that limit in record-setting time this year, forcing NMFS to close the fishery on August 5.
The proposed rule would not require any of the fish caught by the longliners to be landed in any of the affected territories. Rather, the only constraint on the longliners would be that they would have to catch the bigeye in waters outside the limit of the U.S. exclusive economic zone around Hawai`i.
NMFS is being challenged in court on this practice of quota-shifting, as Earthjustice has labeled it. Earthjustice, which is representing the Conservation Council for Hawai`i, the Center for Biological Diversity, and Turtle Island Restoration Network, has argued that the this practice violates the international treaty, ratified by the United States, giving WCPFC authority to establish measures to conserve bigeye tuna and other ocean-going fish in the region.
In its motion for summary judgment filed in July, Earthjustice attorney David Henkin admonishes the court to "reject NMFS's invitation to enter 'Superman Comics' Bizarro world, where reality is turned upside down' and a conservation measure that expressly mandates reductions in bigeye catch by all commission members is transformed into a license for Hawai`i-based longliners to fish without limit."
For its part, NMFS and the Hawai`i Longline Association, which has intervened in the case, argue that the courts have no business in deciding whether or not executive agencies of the United States comply with international treaties. HLA goes another step, arguing that the plaintiffs have no standing to bring the lawsuit in the first place.
Arguments will be heard in federal court in Honolulu in September.
In the meantime, to comment on the proposed rule, or on the draft environmental assessment NMFS has published to cover the action, visit: http://www.regulations.gov and enter the docket number in the search bar: NOAA-NMFS-2015-0077. Comments are due by September 8.