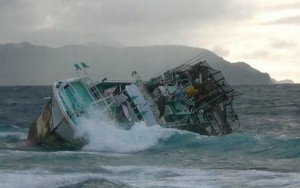 Coast Guard officials in Honolulu report that all fuel has been removed from the Taiwanese-registered longliner Sea Hawk 68 that reefed outside Pago Pago, American Samoa, on May 26. Rough seas and foul weather caused salvage efforts to be delayed. The government of American Samoa is overseeing salvage operations now, according to the Coast Guard.
The Sea Hawk 68 was reported to have been loaded with around 75 tons of fish. This, plus the prospect of salvaged gear, has lured several boatloads of Samoans to the wreck. The crew of 22, mostly Indonesian nationals, was rescued with only slight injuries reported.
Samoa News reported that the vessel is owned by Tri Marine International Taiwan, part of Tri Marine, a global supplier of tuna which also recently opened a renovated tuna processing facility in Pago Pago. Tri Marine is also supervising salvage operations and has provided temporary shelter for the crew. According to the vessel log maintained by the Western and Central Pacific Fisheries Commission, the vessel is owned by Ming-Chang Huang of Taiwan.
Monica Miller of Radio New Zealand International reported that, according to information provided at a Coast Guard briefing, "the captain may have fallen asleep and by the time he woke up … the boat was already on the reef."