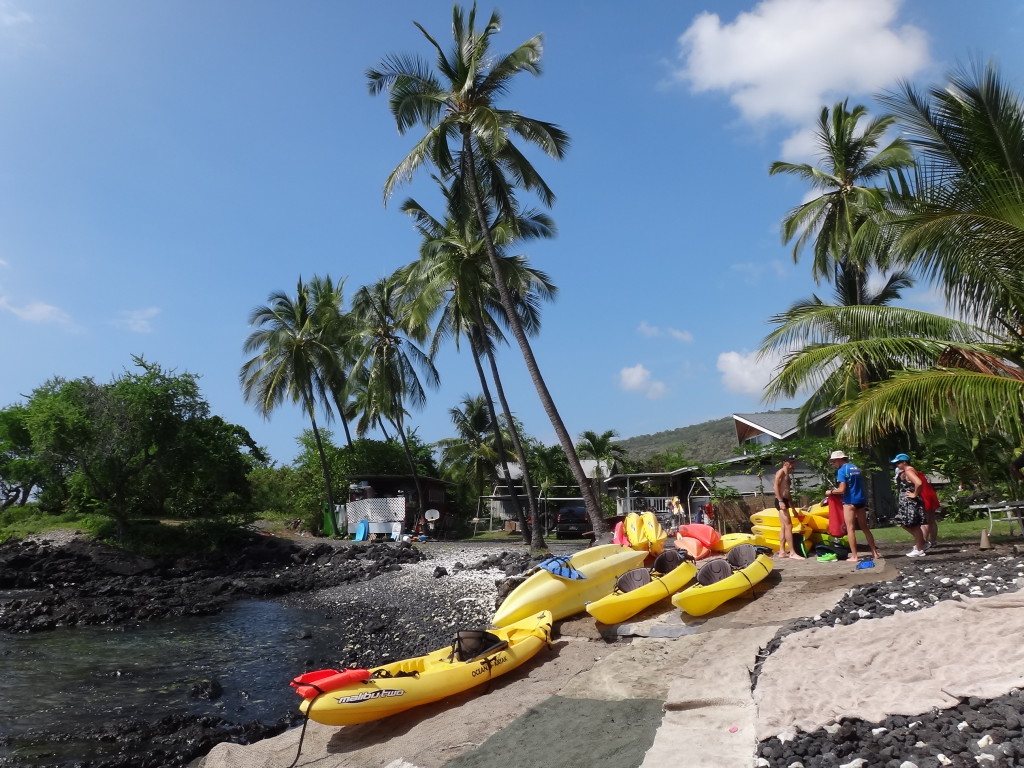 A real-life game of Whack-a-Mole is being played out in and around Kealakekua Bay, on the Kona Coast of the Big Island.
Two years ago, the state Board of Land and Natural Resources strictly limited the number of kayak companies that could launch from Napo`opo`o Pier, on the bay's south end. The move was intended to address many of the problems that had developed over the years, including the sale of illicit drugs, proliferation of unpermitted commercial tours, harassment of resting spinner dolphins, and accumulations of trash and human waste at the unserviced, archaeologically sensitive Ka`awaloa Flat near the Captain Cook monument.
Now just three commercial kayak companies are each permitted to launch no more than two guided tours daily from the pier, crossing the bay and landing at Ka`awaloa Flat. Ten more kayak outfitters, having a total of 74 kayaks, have permits to transit the bay (though they are not allowed to land at Ka`awaloa Flat), according to Curt Cottrell, assistant administrator of the Department of Land and Natural Resources' Division of State Parks.
But while the situation at Napo`opo`o Pier has improved thanks to the new permitting system, that at a small boat ramp in a residential neighborhood on Kahauloa Bay, a few hundred yards to the south, has worsened.
On most days, dozens of parked rental cars line the narrow county roads along the south side of Kealakekua Bay. Many belong to guests at the dozens of vacation rental houses in the area, but even more belong to customers of commercial kayak companies that launch from a small boat ramp at the unpaved end of Kahauloa Road. Until recently, a bright turquoise porta-john sat in the middle of the county road right-of-way immediately mauka of the boat ramp. A crew of local men keeps busy helping tourists launch and land at the boat ramp, covered now in carpet to avoid scratches to the kayaks' plastic hulls. Visitors are told to "tip" the locals $5 for their assistance, according to several reviews published on travel sites such as TripAdvisor.
From dawn (the earliest tours launch at 6:30) till dusk, kayakers in a steady stream make the journey from their parking spots, often blocks away, to the boat ramp.
While the operators of guided tours are limited to two tours per day, other kayak companies have no similar limits. Cottrell was asked whether these companies are limited only by what they can sell. "Yes," was his one-word response.
Lots of Talk
Altogether, about 350 vessels – kayaks, stand-up paddleboards, zodiacs, and other vessels – hold six-month special use permits that allow transit across Kealakekua Bay, Cottrell said.
The permitting system, he added, has given his division a robust database of all vessels that may have an interest in entering Kealakekua Bay.
"For example," he continued, "we received a call that a zodiac was following a whale and calf last year, in violation of the law. DSP [Division of State Parks] sent out an email to all of the zodiac vessel owners who have [special use permits], saying that if the vessel was identified they would lose their permit. The behavior changed. So the permit process has improved upon the accountability of behavior a bit – but … kayak vending in a new location is an ongoing issue."
Some of the companies that launch from the Kahauloa boat ramp have sales offices in nearby towns. Other permittees, Cottrell says, "are launching from wherever they can and soliciting patrons from their vehicles – mainly in the Kahauloa Bay area."
To address that, Cottrell said the DLNR discussed the matter with Wally Lau, managing director of the County of Hawai`i. A few weeks ago, he said, "we had a telcon with a county rep and, at DLNR, with the interim chair, enforcement staff, and our staff on the other line … but nothing was really determined." The county had looked into creating a new parking area, he continued, "but that fell through. There was a subsequent meeting on the Big Island with DSP staff and others, but I have not heard if there were any results or strategies developed. For now, it is status quo."
Environment Hawai`i requested to speak with Lau, but he had not returned calls by press time.
Maile David represents the area on the Hawai`i County Council. In a phone interview, she said she was well aware of the problems caused by customers of kayak operators parking along the crowded shoulders of county roads in the area.
The issue "is consuming a lot of time," she said. "We're trying to address the kayakers and other activities as well. … People who come to the area, whether to kayak or visit Manini Beach, park in people's driveways. It's a safety issue; ambulances and other emergency vehicles can't get in."
"We have to do something," she continued.
In mid-April, David reported that she had met with county engineers in the Public Works Department. "They did a site visit and [the department] is working on mapping out a location for no-parking signs," she said in an email. "I also understand that they are working as fast as they can and will keep me posted."
A Paper Park
The parking problem as well as the dearth of public recreational areas in and around Kealakekua could be alleviated if the county Department of Parks and Recreation were to take advantage of a sizable tract of land it controls at the northern end of Kahauloa Bay, where it meets up with the larger Kealakekua Bay.
More than 60 years ago, the territorial government of Hawai`i ceded control of the 5.6-acre site to the county government, with the intention that the area be used for "a public park and playground."  While it appears on some maps as "Napo`opo`o Park," the land itself has been little changed since June 1, 1953, when Executive Order No. 1566 was signed by Gov. Samuel Wilder King.
Over the last several years, Hawai`i County has pressured the state to turn over additional park land, including the cabin area at Hapuna Beach and part of the Mauna Kea State Recreation Area. In 2014, it succeeded in getting approval from the state Board of Land and Natural Resources to assume management of the latter, and since last summer, the county has taken out building permits for roughly half a million dollars in work at the site. (All of that has been used to improve park restrooms – the only public comfort station available to travelers on the heavily trafficked Saddle Road linking Hilo and Kona.)
But when Ken Van Bergen, deputy administrator of the county's Parks Department, was asked about a park at Napo`opo`o, he said nothing was in the works.
Why not?
"It's just a matter of prioritizing things," he replied. "Right now, the department is going to the [county] council for a sixty- or seventy-million [dollar] bond. The park expansion is as large as it's ever been. We've got the pedal to the metal, man, and can only do so much."
He said there were no plans to develop the area.
What's more, council member David added that area residents were opposed to developing the set-aside land as anything other than a "passive, walking park" and most certainly didn't want a "recreational park" with a parking lot.
"The community down there is adamant about not having that parcel be used for parking," she said.
"If this was a cultural park, it wouldn't take too much to [improve] it. You wouldn't have to alter the ground. I'd like to see a community effort to clean it up," she said.
According to Jason Armstrong, public information officer for the Parks Department, "several area residents have complained in recent months that they don't want the park land developed. The residents, whose numbers seem to be growing, are worried the land will become a parking area for kayak vendors and their customers. … Rogue kayak operations have been occurring in this area for years, and that continued activity has upset many area residents."
The jurisdiction of the DLNR is generally limited to state waters, state park land, unencumbered state land, or land in the Conservation District. Most of the activity of the "rogue" kayak operators occurs on county roads or other land not under DLNR jurisdiction.
However, the permit issued by State Parks includes language that calls out language in the Hawaii County Code that bans the use of "any portion of a county street for the purpose of displaying, vending, hawking, selling, renting, or leasing any goods, wares, food, merchandise, or other kinds of property." The State Park permittees are "to abide by these permit conditions and all County, State, and Federal laws and regulations. Any violation of these conditions, laws, and regulations may result in immediate suspension of this permit."
Cottrell was asked whether a company displaying its rental kayaks on a county road would be in violation of the State Park permit and, therefore, subject to enforcement by the DLNR's Division of Conservation and Resource Enforcement.
"That is correct," he replied. "If a permittee is documented and sighted soliciting patrons and renting kayaks from a county road, they are in violation of the … permit. Revocation and/or civil penalties may be applied."
— Patricia Tummons