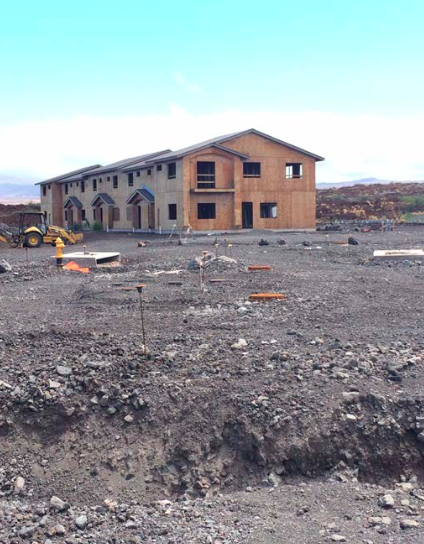 For `Aina Le`a, Inc., the prospect that it will be able to carry out its planned development on 1,000-plus acres in South Kohala is growing ever dimmer, with the company facing multiple foreclosure actions, potential downzoning of its property by Hawai`i County, and with a major shareholder (DW `Aina Le`a Development, LLC) recently losing its federal court case seeking $200 million in damages.
In light of the mounting claims by creditors and with little prospect of receiving a windfall judgment in federal court, `Aina Le`a ducked for cover. On June 22, it filed for protection from creditors under Chapter 11 of the federal bankruptcy code.
The claims in foreclosure litigation are around $32 million. But, according to the bankruptcy petition, that's not the full story. The top 20 unsecured creditors have additional claims approaching $4 million. The petition, signed by Robert Wessels, `Aina Le`a's CEO,  estimates the total number of creditors as somewhere between 50 and 99, with claims of up to $50 million.
The company's estimated assets, on the other hand, are said to range from $100 million to $500 million.
An Untimely Claim
In February of this year, DW `Aina Le`a filed a complaint in federal court, alleging it was owed $200 million following the vote of the state Land Use Commission in 2011 to revert around the area where the Villages of `Aina Le`a was proposed to be built from the Urban to the Agricultural land use district. (In articles dating back to that time, Environment Hawai`i has exhaustively described the reasons for that reversion vote.)
The state immediately asked U.S District Judge Susan Oki Mollway to dismiss the claim, stating that it was barred by the statute of limitations. DW `Aina Le`a, on the other hand, argued it could make the claim under a "catch-all" law, Section 675-1(4) of Hawai`i Revised Statutes, that allows the state to be sued for a period of up to six years following the date on which the event leading to the alleged damages occurred. That law, Mollway noted, "applies to cases 'of any nature whatsoever not covered by the laws of the state.'"
Mollway wasn't buying that, however, and in her decision issued June 13, she agreed with the state's argument that two other sections of Hawai`i law did, in fact, deal with the very sort of claim DW `Aina Le`a was making. "[T]his court rejects DW's contention that the six-year limitation in [HRS §657-7] applies to its state takings claim. Under either [HRS §661-5 or §657-7] DW's state takings claim is time-barred," Mollway concluded. "The motion to dismiss is granted."
DW `Aina Le`a has appealed to the 9th U.S. Circuit. The law firm that has been representing the company in its action against the state – Nixon Peabody – is one of the top 20 unsecured creditors, with `Aina Le`a acknowledging it owes the company $253,685 for services rendered.
The Zhang Claim
Chinese investor Ms. Libo Zhang loaned `Aina Le`a, Inc., $6 million back in November 2015, secured by a mortgage on a 23-acre parcel where `Aina Le`a has said it plans to build a 70 single-family houses in a development it calls Ho`olei Village.
A year later, the loan was in default and, on December 30, 2016, Zhang filed a foreclosure action. The judgment, entered on June 13, calls for the parcel to be sold at auction, with Zhang able to submit a creditor's bid.
The assessed value of the lot, according to Hawai`i County's real property tax office, is $2.5 million. Any winning bidder would also have to satisfy the property tax arrearage, which amounted to nearly $33,000 at press time.
The Romspen Claim
The Romspen Investmentment Corporation of Toronto loaned `Aina Le`a, Inc., $12 million back in July 2015, in what, like the Zhang loan, was to be a short-term obligation, payable within two years.
Again, as with the Zhang loan, `Aina Le`a defaulted and Romspen filed a complaint to foreclose in May.
Romspen adopted what can only be described as a belt-and-two suspenders approach to securing its claim. Not only did it place a mortgage on the 23-acre parcel where `Aina Le`a intends to meet its affordable housing requirement with the construction of 385 townhouse units, but it also filed a claim against future sales of units in that development, called Lulana Gardens and obtained a pledge from Wessels of stock collateral.
To top it off, the claims were filed with both Hawai`i's Bureau of Conveyances and the Delaware Department of State.
The loan agreement also included a provision calling for `Aina Le`a to provide Romspen with a final subdivision map approved by Hawai`i County by January 16, 2016, and requiring completion of construction by a certain date – which, at the time of the foreclosure filing, had passed.
The foreclosure action had been set for an August hearing in 3rd Circuit Court, but in light of the bankruptcy petition, that is on hold.
The Bridge Claim
Bridge `Aina Le`a sold 1,011 acres in the Urban district to `Aina Le`a in 2015 for around $24 million. It financed a large part of that sales price by lending `Aina Le`a $14 million, at 12 percent interest. By July 2016, `Aina Le`a was in default, triggering an interest rate of 24 percent.
In April, Bridge filed a foreclosure action in 3rd Circuit Court. If judgment were to be granted in Bridge's favor, `Aina Le`a would lose the bulk of the property where its planned Villages of `Aina Le`a is to be built and title to that acreage would likely revert to Bridge, which also owns around 1,900 acres of land surrounding the Urban district on three sides.
The case was scheduled to be heard by Judge Ronald Ibarra on June 26. However, Bridge's attorney Matthew Shannon, making an appearance by phone, informed Ibarra that he had been notified "late last week" that `Aina Le`a had filed for bankruptcy protection.
Ibarra then did what he had to do – stay the proceeding until the bankruptcy case runs its course.
Meanwhile, in New York
A New York law firm representing a broker that `Aina Le`a retained to launch a public sale of stock in 2015 won a default judgment on June 16 for $158,600. The law firm, Gusrae Kaplan Nusbaum, claimed, among other things, that `Aina Le`a had violated federal securities law when it breached an agreement with the firm's client, Newbridge Securities, giving Newbridge exclusive rights to offer up to 2 million shares of common stock in Aina Lea. A little more than a year later, `Aina Le`a cancelled the agreement. Newbridge then assigned its claim against `Aina Le`a to the law firm.
In March, Gusrae Kaplan filed its complaint in federal court, alleging that, "throughout the offering period, … Robert J. Wessels, president and chief executive officer of Aina [Le`a], made misstatements of fact to Newbridge and the Plaintiff and failed to disclose … the existence of a finder's fee agreement with a … broker dealer."
On the list of creditors filed with the bankruptcy court, Gusrae Kaplain Nusbaum's claim is listed as $146,000 and is described as disputed.
In an filed with the U.S. District Court for the Southern District of New York, Christopher Albanese, an attorney with Gusrae Kaplan, lists repeated efforts to notify attorneys for `Aina Le`a of the need to respond. "On April 28, 2017, counsel for defendant contacted this office and acknowledge the complaint and that defendant must answer the complaint. On June 7, 2017, I contacted counsel for the defendant [and] notified them of defendant's default…. Defendant failed to respond. To date, the defendant has not answered the complaint and the time to do so has expired."
EB-5 Investors
In recent months, the efforts of Jared Kushner's family to attract Chinese investors through the use of EB-5 visas has gained attention. In Hawai`i, `Aina Le`a has attempted to use the same program to raise capital for one of its projects called Whale's Point.
In February, `Aina Le`a informed the Securities and Exchange Commission that it had closed "on a portion" of a $34 million loan from Whales Point Fund, LLP, on December 31. The loan, to be paid back at 6 percent interest over five years, "will be funded by the EB-5 investor program," `Aina Le`a stated.
At the time of that closing, it went on to say, "We were in violation of certain financial covenants of the Whales Point Fund loan agreement," but by February, `Aina Le`a had "entered into waivers with the lender which waived certain financial covenants until the commencement of sales."
The Whale's Point investment opportunity is being marketed through Golden Pacific Ventures, which describes itself as "an EB-5 Regional Center in Hawai`i."
According to Golden Pacific Ventures, "Whales Point is a luxury condominium-hotel project with 48 luxury villas on the Gold Coast of the Big Island of Hawai`i."
Each villa, or "condotel," includes a 3- and 4-bedroom suite, and access to a butler, maid service, spa, swimming pool, golf, and "everything the Big Island has to offer," the company states.
Foreign nationals who invest $500,000 in developments in rural or disadvantaged areas – and all Hawai`i counties except Honolulu qualify as rural – are eligible for visas allowing them to live in the United States and can qualify for expedited citizenship.
Golden Pacific Ventures, Inc., is based in Carson City, Nevada. The Whales Point Fund is a Delaware limited liability partnership.
— Patricia Tummons