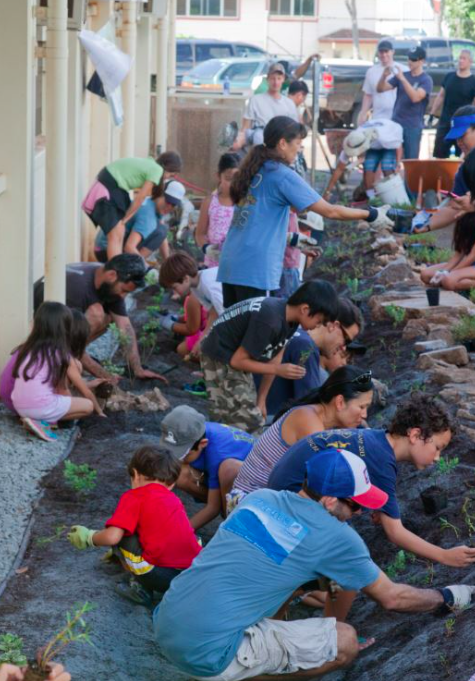 The first — and perhaps, only —slate of projects recommended for funding by the state's nascent Water Security Advisory Group includes a range of efforts to increase freshwater sustainability, from building catchment systems to re-engineering taro irrigation canals to installing smart water meters at farms and residences.
But the fact that well more than a third of the available matching grant money provided by the 2016 Legislature may be supporting state forest or watershed restoration projects could be problematic when it comes time for the 2018 Legislature to decide whether to extend the group's life, and funding, beyond its initial two-year trial period.
The state Board of Land and Natural Resources is expected to give its final approval to the projects on June 9.
The purpose of the Water Security Advisory Group, established in 2016 by Act 172, was to foster public-private partnerships to increase water security by providing matching funds for projects that would (1) increase groundwater recharge, (2) encourage water reuse and reduce potable water use for landscaping, and (3) improve the efficiency of potable and agricultural water use.
The Legislature appropriated $750,000 to the Department of Land and Natural Resources (DLNR) to administer the program. Only about $614,000 was available to grantees after overhead expenses and a five percent hold on appropriations by Gov. David Ige were deducted.
In March, as the group discussed how to achieve the act's goals, members noted that the state's various watershed partnerships would likely apply for some of the funds and could easily "suck up all that money." But state Rep. Ryan Yamane, who was instrumental in the act's passage, warned the group against using the appropriation to simply fund ongoing watershed restoration projects.
"If you use the money for existing projects for which there's funds in DLNR, watershed projects, … just be aware, this is not going to be extended or continued," he said. "We need to look outside the box and look at other projects."
When it came time last month to rank and vote on the grant applications that had been submitted, group member Kirk Saiki, chief engineer for the Kaua`i Department of Water Supply, said he had heartburn over the number of watershed projects that had been deemed eligible.
"We were warned …," he said.
One proposal seeking $70,000 for O`ahu's Wai`anae Kai forest reserve included the maintenance of a vegetative firebreak, native plant restoration, the installation of several water tanks, and community outreach and education. The project's catchment tanks would save 2,700 gallons of potable water. And by preventing fires in the reserve, the project would also prevent any fire-induced loss in recharge, which the applicant — the state's Division of Forestry and Wildlife [DOFAW] — estimated to be 102 million gallons of water per year.
Saiki expressed his concern that this was the type of project Yamane had warned against.
Group chair Jeff Pearson, who is also the director of the state Commission on Water Resource Management, agreed that the project "didn't really follow the intent" of the program, but went on to say that the funding was "much-needed."
The group had a similar discussion when considering a proposal by DOFAW seeking $73,535 for forest restoration at Kipahulu on Maui. The project was the last-ranked project to receive a grant recommendation and the group did not have enough to fund it fully. DOFAW's proposed actions were typical: ungulate removal, fencing, out-planting of native species, weed management, biocontrol. The agency estimated that the work would save about 40 million gallons of water a year in groundwater recharge.
The group agreed to allow Pearson to negotiate with DOFAW on a revised scope and funding amount.
Group member Barry Usagawa of the Honolulu Board of Water Supply recommended that in revisiting the scope of the project, DOFAW emphasize what was different about it. Otherwise, "this is one that's just another fence."
In response to Saiki's recurring concern that providing grants to typical watershed projects would endanger the future of the water security program and/or its funding, member John Richards pointed out that the act did not preclude it.
"We are in full compliance with the law," he said. "If [legislators] want to put 'no watershed' [in the law], they can. That's easy."
Representatives from DOFAW added that the Kipahulu project was unique in a number of ways. Managers would be testing a new method of reforestation, as well as using new techniques to spread strawberry guava biocontrol agents, among other things. They noted that the fencing work has already been completed.
The group ultimately decided to recommend that the Land Board provide about $56,000 to the project, which was all that was left of the total funds available. (Two other watershed projects were also recommended for funding: the Kaho`olawe Island Restoration Council's restoration of Hakioawa. The project would received the maximum funding allowable for an individual project — $100,000 — and included the planting of 10,000 plants and herbicide treatment of non-native plants. Estimated amount of water to be saved: 67,885,000 gallons. The group recommended granting the Ko`olau Mountain Watershed Partnership's request for nearly $20,000 for native plant restoration and the establishment of a cultural garden, as well.)
Act 172 is set to be repealed on June 30 of next year. Whether the Water Security Advisory Group continues beyond that time will be decided next year. The idea for the group came directly from recommendations made in 2015 by the Hawai`i Community Foundation's Fresh Water Council in its "Blueprint for Hawai`i's Water Future." The blueprint seeks to provide an additional 100 million gallons a day of freshwater by 2030 through increased increased efficiency, increased recharge, and increasing the use of treated wastewater.
While the blueprint called for an initial $5 million in state funding for the program, the 2016 Legislature provided a mere fraction of that, and according to Yamane, "we're just fortunate we got this amount."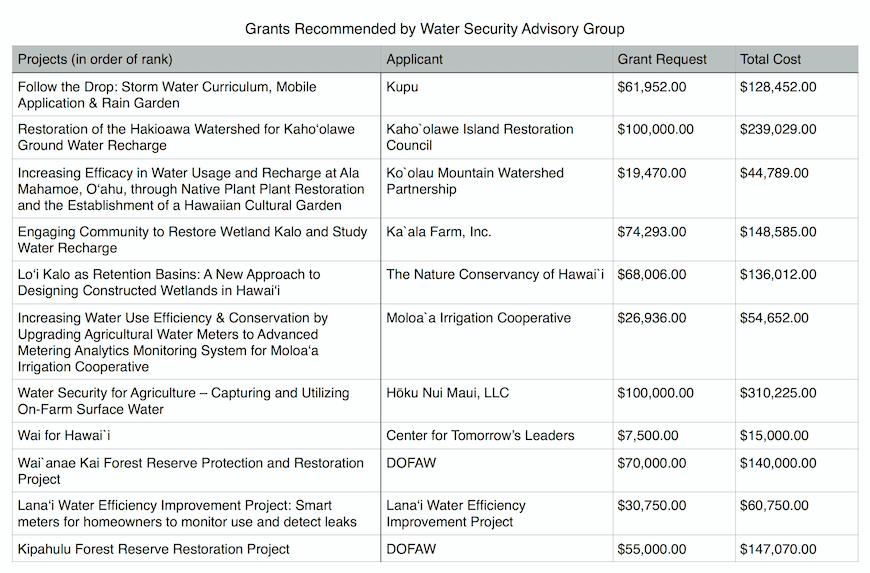 — Teresa Dawson
For Further Reading
"NEW & NOTEWORTHY: Iopa Seawall, Hu Honua, Water Security," January 2017;
"Legislature Sets Up New Panels To Advise on Water, Game, USTs," September 2016;
"Hawai`i Community Foundation's Council Unveils Blueprint for Freshwater Security," October 2015.
All articles are available at environment-hawaii.org.
June 2017