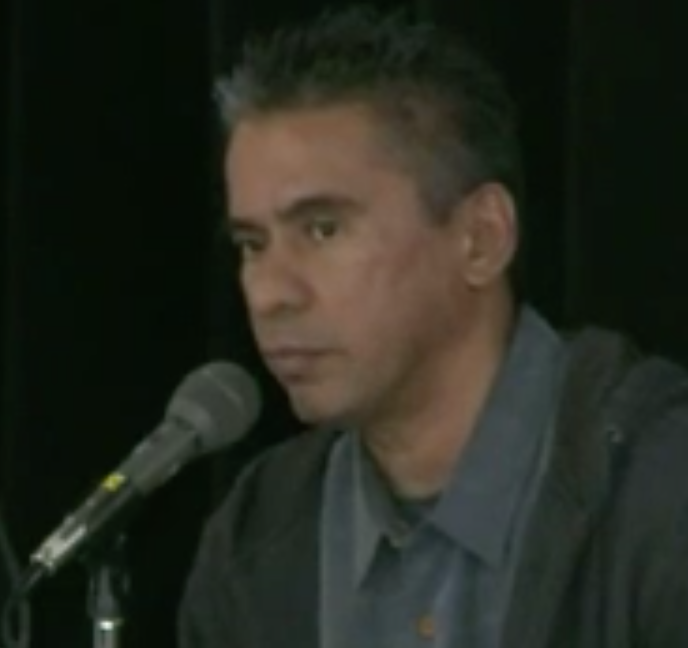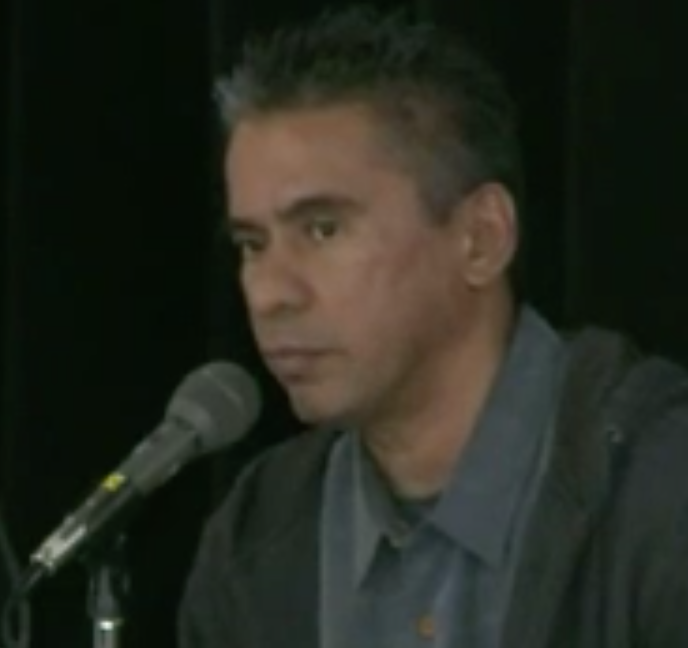 As the evidentiary portion of the contested case hearing for the Thirty Meter Telescope wound down last month, a witness whose testimony seemed to threaten the very foundation of the Conservation District Use Permit for the observatory near the Mauna Kea summit took the stand.
The witness, Brian J. "Kawika" Cruz, claimed to be the author of the Cultural Impact Assessment (CIA) undertaken to support the TMT environmental impact statement (EIS). Cruz said he would provide testimony showing that the draft EIS had included manipulated data, that his recommendations of no further actions had been excluded, and that, as a result, the critical EIS process was fatally flawed.
Cruz's very appearance in the hearing was controversial. He had not been included in KaHEA's final list of direct witnesses submitted to the hearing officer, retired judge Riki May Amano, by October 11. The first time he was mentioned was three days after that deadline, when he was identified as a rebuttal witness.
Not until January, when Amano was attempting to schedule witnesses through the end of the month, did Cruz pop up again, this time as a direct witness, with his written direct testimony submitted on January 17. The following week, Amano asked to be briefed on the issue of whether Cruz should be allowed to give live testimony.
KaHEA attorney Yuklin Aluli argued that Cruz's allegation "calls into question the adequacy of the EIS, and as an essential element, the sufficiency" of the Conservation District Use Application (CDUA). The removal of his recommendations from the draft EIS, she wrote, "is arguably the type of intentional data manipulation designed to circumvent the laws and rules of the environmental review process."
Ian Sandison, one of the team of attorneys representing the permit applicant, the University of Hawai`i, opposed having him testify. It was untimely; it would be "unnecessary, unduly repetitious, duplicative, and will provide no new material or relevant evidence that is not already in the record." Finally, there was the apparent effort of KaHEA to undermine the 2009 EIS. "This proceeding is not the proper forum for KaHEA to attempt to litigate issues that have already passed the time to legally challenge after acceptance by the governor," Sandison wrote.
On February 21, Amano heard oral arguments on the matter. She asked Dexter Kaiama, who, with Aluli, has been representing KaHEA since mid-October, why Cruz hadn't been presented as part of KaHEA's case in chief.
Kaiama responded by stating that Cruz "was only available at the time on Mondays," which, he added, "was why we listed him as a rebuttal witness." The other fact, he said, "I was not aware of Mr. Cruz until I came on board, and Mr. Cruz made himself available to me." As soon as that occurred, Kaiama said, he notified "these proceedings of his existence" as a rebuttal witness and not as a direct witness, since the deadline for adding direct witnesses had passed already.
Sandison then argued that Cruz's testimony was simply not relevant. Not only had the time to challenge the EIS passed, but, in addition, "Mr. Cruz's testimony would be speculative. … He was not involved with [consultant Parsons Brinckerhoff's] decision about publishing the draft EIS or the final EIS, so he would not have personal knowledge as to why something was done or not done."
But, Amano asked him, "the degree to which the CDUA relies on the final EIS is relevant and material to these proceedings, true?"
Sandison agreed.
"And that being the case," Amano continued, "the credibility of that final EIS is in question if there is someone purportedly testifying from his personal knowledge about that process or the information therein. I understand the process. Certainly we don't have the authority to set [the EIS] aside. But the degree to which I will be relying on the final EIS and all the testimony related to that in the decision on the permit application is material."
But, she added, "I do think also that this is rebuttal in nature" and Cruz would be required to testify only "from his direct personal knowledge."
Devastating Testimony…
On February 28, Cruz finally took the witness stand.
In his opening statement, Cruz said that "after six months of research and interviewing community consultants, cultural practitioners from Hawai`i island, the conclusion of my research, based on what the community had said and based on what the research had said, indicated a no-further-action on the summit of Mauna Kea because of the sacredness of the site."
A few days after he submitted his report, he said, Jim Hayes, an employee of Parsons Brinckerhoff who was overseeing preparation of the EIS, called him to request he remove that and several other recommendations from the report.
"I refused to remove it," Cruz said, "and in doing so, Jim Hayes, or Parsons Brinckerhoff – whoever – they took out all my recommendations, and on March 9, 2009, they published a draft EIS for the 45 day comment period without my recommendations, including the do-not-build."
When the final EIS was published in May 2010, he said, "the recommendations were put back in." He informed the state Office of Environmental Quality Control of "this discrepancy," but was told that there was little to be done. "After doing some research before I got here today," Cruz then stated, "according to Hawai`i Administrative Rules 11-200-17, it states that the draft EIS is required to include the mitigation measures and alternative measures or alternative actions. So I believe they should've left my recommendations in, which is required by law."
Under questioning by TMT opponents admitted to the contested case proceeding, Cruz elaborated on his assertions.
Kealoha Pisciotta, for example, asked about his claim that his recommendations were inserted only into the final EIS and not the draft: "Would that be considered not a best management practice?"
"Yes," Cruz replied. "I believe the final EIS does not have the integrity of every other project that we contributed to."
"Because not all the information was provided to those who are decision-makers, is that correct?" Pisciotta asked.
"Not just all the information, but the most important information from this cultural impact assessment was removed," he said. "I understand taking out bits and pieces here and there, but they took out the teeth from that CIA I wrote… No conclusion, no recommendations, no teeth."
Joseph Camara asked Cruz if, in his opinion, the draft EIS has integrity?
"The letter of the law states that it is required. I don't have to make an opinion that makes it invalid," Cruz replied. "We all should make that opinion."
William Freitas asked Cruz: "Are you testifying today under oath that the draft EIS was falsified?"
Cruz: "Yes."
… Or Not
After 45 minutes of what can only be described as friendly cross-examination, it was the university's turn. Attorney Tim Lui-Kwan began grilling Cruz on his education, his work background, and his residency in Hawai`i.
Cruz stated that he obtained a bachelor's in business from the University of Phoenix (2003) and that he was now enrolled at Leeward Community College, where he was pursuing a bachelor's of science in electrical engineering.
He worked at Cultural Surveys Hawai`i, he said, from 2008 until sometime in 2012. After a short period of unemployment, he began to work for a solar-energy company. Now he was a full-time student at LCC, where he also tutored students in math, he said.
Cruz said he was living in Wai`anae for the last year and a half, but for the 20 years prior, was a resident of Kaneohe.
Lui-Kwan asked Cruz about the statement in his written testimony that he was the author of the cultural impact assessment for the TMT. "Is that accurate?"
"That's correct," Cruz answered.
When asked about others who worked on the same project, Cruz said there were "three or four others."
"What percentage of this document, the initial or the preliminary draft CIA – what percentage did you actually write?" Lui-Kwan asked.
Eighty percent, was the reply.
"What if I told you that the amount of time you put in or charged to that project comes to less than 10 percent?" Lui-Kwan then asked.
That drew an objection from KaHEA attorney Aluli, but Amano overruled it. The question, she said, "goes to credibility and bias, and it's proper impeachment."
Lui-Kwan then showed Cruz work sheets from Cultural Surveys Hawai`i for the TMT cultural impact assessment. The total amount of hours charged to the project came to 2,004.25, Lui-Kwan pointed out. Just 236 of those were logged in by Cruz.
Time entries for Lisa Gollin, one of the CSH employees also working on the project, began in July 2008, Lui-Kwan noted, and, based on the time codes, she began writing the report in October of that year. The time sheets show Cruz first logged hours on the project on April 2, 2009.
Gollin worked a total of 375.25 hours on the TMT project, said Lui-Kwan, who then asked Cruz if that seemed about right to him.
As his supervisor, Cruz replied, Gollin "can charge hours in a supervisory capacity. So that's why she would have all those hours in October, because the project just came in. She's trying to do the preliminary data, figure out who's going to write the project, who's going to be the lead researcher. So although the hours look that way, it's not indicative of her actually writing the majority of the project or 50 percent or whatever. My time as her employee – she's my boss – are true hours. Those are the hours I spent writing and researching. Hers is supervisory capacity, which is different."
"I see," Lui-Kwan responded. "So she was your supervisor?"
"I never disputed that," said Cruz.
Lui-Kwan: "Well, you never stated that before now."
The last day Cruz worked on the project was August 31, 2009, but Gollin and others with CSH continued working on the cultural impact assessment into February 2010, when the final CIA – the one included as an appendix to the final EIS – was completed.
"Have you had a chance to go through completely the final EIS for the project?" Lui-Kwan asked.
"No," Cruz said. "It's three volumes. But I did go through the CIA portion."
In response to additional questioning, Cruz stated he had compared the preliminary CIA, which he claimed to have written, to both the draft CIA included with the draft EIS, and to the final CIA included with the final EIS.
"So, did you go through the draft EIS?" Lui-Kwan asked.
Again, Cruz said he only went through the draft and final CIAs.
"In that draft CIA," Lui-Kwan said, "you saw where there's references to the consultation work that was being conducted, correct?"
"Correct."
Lui-Kwan then pointed out that the draft CIA stated that the "CIA process is ongoing and the following is a summary of initial findings thus far."
Lui-Kwan: "Do you understand what that meant?"
Cruz: "Yes."
Lui-Kwan: "Did it mean that the interviews of those being consulted were still being done?"
Cruz: "It could mean that."
Among those whose advice had been sought for the CIA was Kalani Flores, another of the protesters and also a party to the contested case. Lui-Kwan showed Cruz a copy of an email exchange between Flores and a CSH researcher dated in April 2009 – after the draft CIA had been published – in which Flores asked to submit written comments.
Lui-Kwan noted that the draft CIA indicated that "consultations, including community members, will be ongoing" until the final CIA is completed. "Do you recall this being in there?" he asked.
"I don't recall it, but I agree it's in there," Cruz replied.
The EIS
Lui-Kwan then circled back to the subject of the draft EIS. Cruz admitted that he did not read it "in its entirety."
Lui-Kwan: "What part did you read?"
Cruz: "Only the CIA."
"So,' Lui-Kwan asked, "if mitigation measures and alternatives were actually in the draft EIS, you wouldn't have read it?"
Cruz's reply was puzzling: "I would have read it if they moved it, but they didn't have to move it, because it was in my CIA."
Lui-Kwan reminded Cruz of his earlier testimony that Hawai`i administrative rules require that alternatives and mitigation be disclosed in environmental impact statements.
"So, if [the discussion of alternatives and mitigation] is actually in the draft EIS, would that change your opinion on what you stated regarding the lack of recommendations?" Lui-Kwan asked.
"No," Cruz responded.
Lui-Kwan: "So is it your position that unless it's in the draft CIA attached to the draft EIS, that would be in non-compliance with the OEQC regulations" regarding environmental impact statements?
Cruz: "One hundred percent yes." When people read the cultural impact assessment, he continued, "they have to see what my results were and what my recommendations were… So you can't take it out of the CIA and move it somewhere else because if someone wants to specifically read my CIA and those are removed, they're not getting the full scope of my work."
Replying to further questions, Cruz acknowledged he believed that the administrative rules applying to environmental impact statements also applied to cultural impact assessments.
A Puzzling End
Lui-Kwan then returned to the matter of where Cruz had been living while employed by CSH, asking him several questions to establish that he did, in fact, reside at an address in Kailua at least part of the time.
Lui-Kwan then reminded him of his earlier testimony, when he said he had been residing in Kaneohe for the last 20 years.
"Correct," Cruz said, adding that he also "was in Kailua, back and forth."
Lui-Kwan then presented Cruz with a letter from the state Unemployment Insurance Division that had been mailed to him at the Kailua address in September 2012. (The letter stated that Cruz's application for unemployment payments had been approved.)
Cruz said he had never seen it before.
Lui-Kwan then asked if the letter stated that Cruz had been discharged because he did not meet the employer's standard for performance for the position he held. "Do you dispute that?" he asked.
Before Cruz could complete his answer, Amano interrupted. Lui-Kwan then said he would move on to his next question, which he prefaced in this way:
"I'll just ask, preliminarily – I'm going to ask you whether or not you understand you are testifying under oath today."
"Okay," Cruz replied.
"And anything you answer –"
At this point, Aluli jumped up. "I'd like to approach the judge right now," she said, responding to the implication that the line of questioning Lui-Kwan was about to begin might lead her witness into troubled waters.
After a short whispered sidebar conference, Amano announced a ten-minute recess. During that time, the conference continued, with Lui-Kwan showing the judge documents that he apparently was intending to use to impeach Cruz's credibility.
When the hearing resumed, Lui-Kwan said he had no further questions for Cruz.
Douglas Ing, one of the attorneys representing the TMT, questioned Cruz briefly about his contacts with other parties to the proceeding.
KaHEA attorney Aluli was then given an opportunity to ask questions on redirect, the time when attorneys can attempt to rehabilitate witnesses whose credibility has been impugned or otherwise clarify issues arising on cross-examination.
"No redirect," Aluli stated.
As Cruz stepped down from the table where he had been testifying, the couple of dozen supporters of the protesters sitting in the audience broke into cheers and applause.
For the Record
Both the draft EIS and the final EIS for the Thirty Meter Telescope contain a discussion of alternatives (including a no-action alternative) and mitigation measures.
The documents that Lui-Kwan referenced in his cross-examination of Cruz are available online at a website maintained by the Department of Land and Natural Resources: http://dlnr.hawaii.gov/mk/documents-library/. They may be found under the heading "Evidentiary Hearing Submittals," in the category of submittals from the University of Hawai`i.
— Patricia Tummons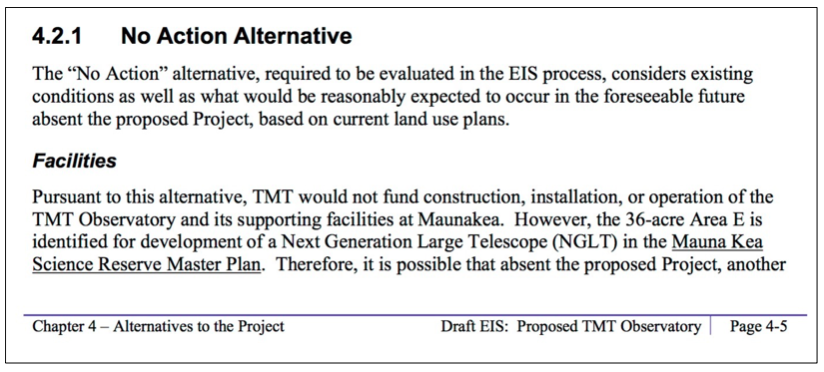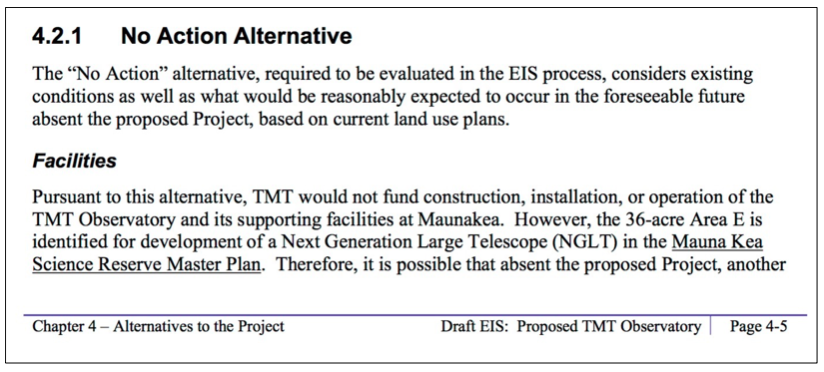 A screen shot shows the beginning of the discussion of the "No Action Alternative" in the draft EIS for the TMT.