Operators of Hawai`i's wind farms are poised to spend more than $4 million on efforts to fill critical knowledge gaps regarding the endangered Hawaiian hoary bat, and may eventually spend up to $6 million.
"We're starting a massive research push," said Jodi Charrier, a biologist with the U.S. Fish and Wildlife Service.
As part of mitigation required by their Habitat Conservation Plans, all of the wind farms in the state have had to commit funds to support research on the bats, which are killed by the facilities' turbines.
The state's Endangered Species Recovery Committee (ESRC), which includes scientists and representatives from the Fish and Wildlife Service and the state Division of Forestry and Wildlife (DOFAW), identified in 2015 its top research priorities with regard to the animal. Last September it approved a handful of projects from 17 responses to a request for proposals.
The projects will ultimately give resource managers a better picture of the bats' diet, range, habits, and genetic distribution, among other things.
With regard to the proposed genetic work, which may expand on recent studies suggesting that there may be two genetically distinct populations of bats, former committee member Sam Gon said at a recent meeting that the work could answer questions of how important the O`ahu populations are.
"If they're essentially homogeneous with the rest of the archipelago, then you worry a bit less about them," he said.
What none of the research projects directly addresses is whether or not the bat mitigation conducted so far has had any positive effect.
"Up to this point, there has not been a robust way of demonstrating that these projects have offset the take requested under the HCPs, or if the net benefit requirement has been met," DOFAW Maui branch manager Scott Fretz told the ESRC.
Committee member Jim Jacobi expressed some hope at its meeting last December that the results of the studies to be conducted will quickly be put to use in assessing the benefits of mitigation.
"We don't want to wait five years for that. We want to have that happen fairly quickly here because we have several projects where mitigation is doing habitat enhancement and we're sort of guessing," he said.
Also absent from the list of projects is any work on methods to keep bats away from wind turbines. Even so, Charrier said that work on UV lights and acoustic deterrents have shown they both have potential.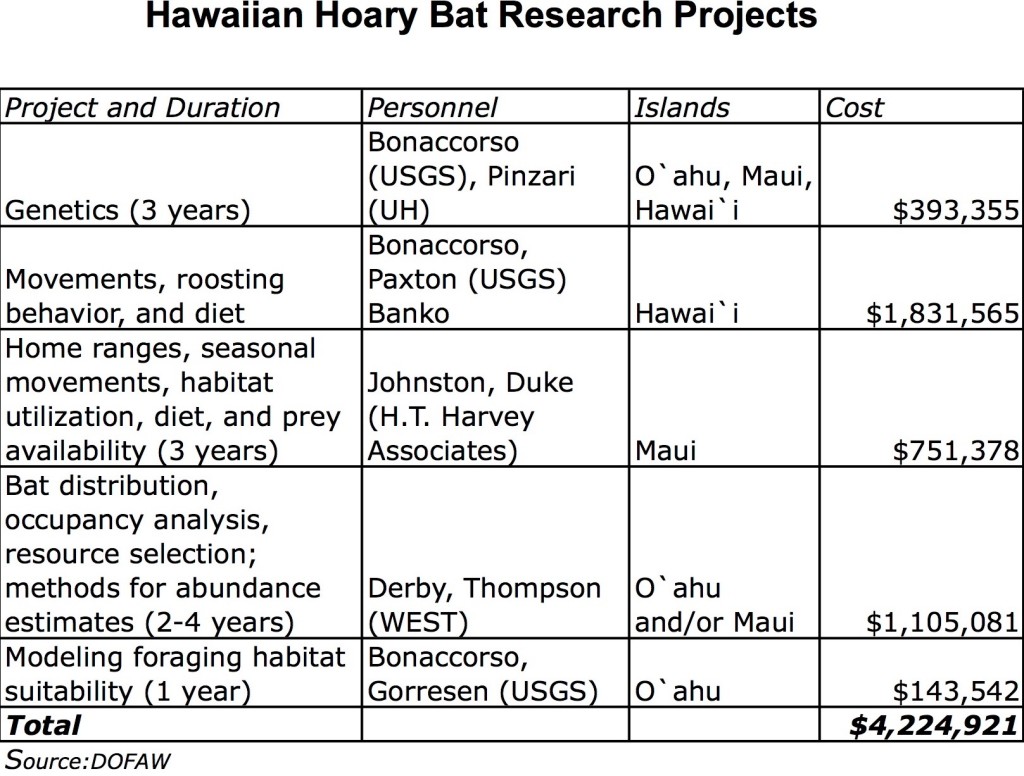 — Teresa Dawson