(This article has been revised to clarify 1) the number of compounds that could be considered CECs worldwide and their detectability, 2) the description of the model used in the study, and 3) the model's treatment of conservation lands.)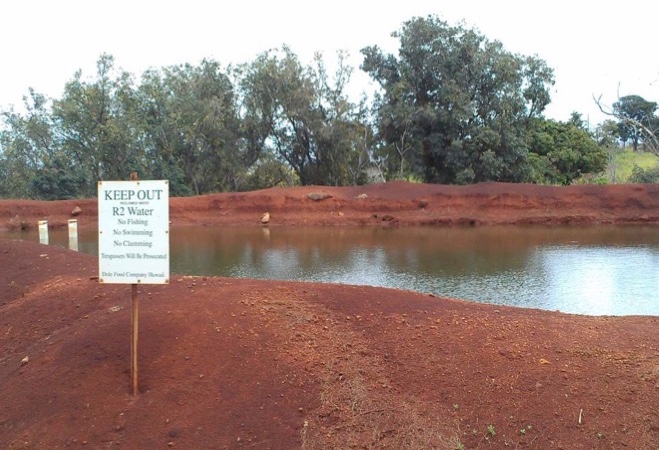 Of 11 pharmaceuticals commonly found in sewage, University of Hawai`i graduate student Jeffrey Murl has recently determined that seven of them have the potential to leach into O`ahu's groundwater, one poses an uncertain risk, and the remaining three — which are perhaps the most likely to impact humans and animals at low doses — are unlikely to leach into any aquifers.
Whether or not those "micro-pollutants" pose a threat to human health remains to be seen. Using his research, as well as recent studies conducted by other scientists with the university's Water Resources Research Center (WRRC), the state Department of Health (DOH) is planning to revise its guidelines on wastewater reuse to ensure that any health effects are minimized or avoided altogether.
Murl's findings are part of an effort by the Health Department to determine how and where recycled wastewater should be used, given that it is likely laden with contaminants of emerging concern (CECs).
CECs are ubiquitous and include everyday products such as detergents, cosmetics, antimicrobials, insect repellant, and drugs. As they've only become detectable since the early 2000s, no federal regulatory standards exist regarding their release into the environment, yet studies have shown CECs pose a risk to ecological health. Impacts to humans — from CECs and their metabolites, alone or in combination with others — is poorly understood, although several studies suggest levels in effluent are perhaps too low to have any effect.
What is known is that wastewater treatment processes do a poor job of removing CECs.
No regulatory standards for CECs exist, so government regulatory agencies do not often test for them in treated wastewater, drinking water, or in the ocean. The state DOH has done some limited testing for CECs in coastal and surface waters in Hawai`i. Studies done on the mainland by the U.S Geological Survey have shown that CECs are commonly found in streams near wastewater treatment plants and in drinking water samples.
Nearly 40 years ago, the WRRC first assessed the potential for drinking water contamination as a result of irrigating crops with treated wastewater. Testing then for things such as nitrates and viruses on experimental plots of sugarcane in Central O`ahu, researchers concluded that pollutants in effluent were unlikely to find their way into the aquifers below.
Murl's research, however, suggests that may not be the case with respect to CECs.
The department's current guidelines, last updated in January, are "not very restrictive," the DOH Safe Drinking Water Branch's Robert Whittier said after Murl presented his findings during a WRRC talk last month. As the state encourages more widespread reuse of wastewater, Whittier continued, the DOH would like to monitor CEC levels to ensure any necessary action is taken before they become a problem.
Although Murl says CEC levels found so far in effluent are so low they probably wouldn't even be considered trace contaminants, he cautioned, "We need to keep monitoring these compounds. They have poorly understood impacts, but are frequently detected."
Future Plans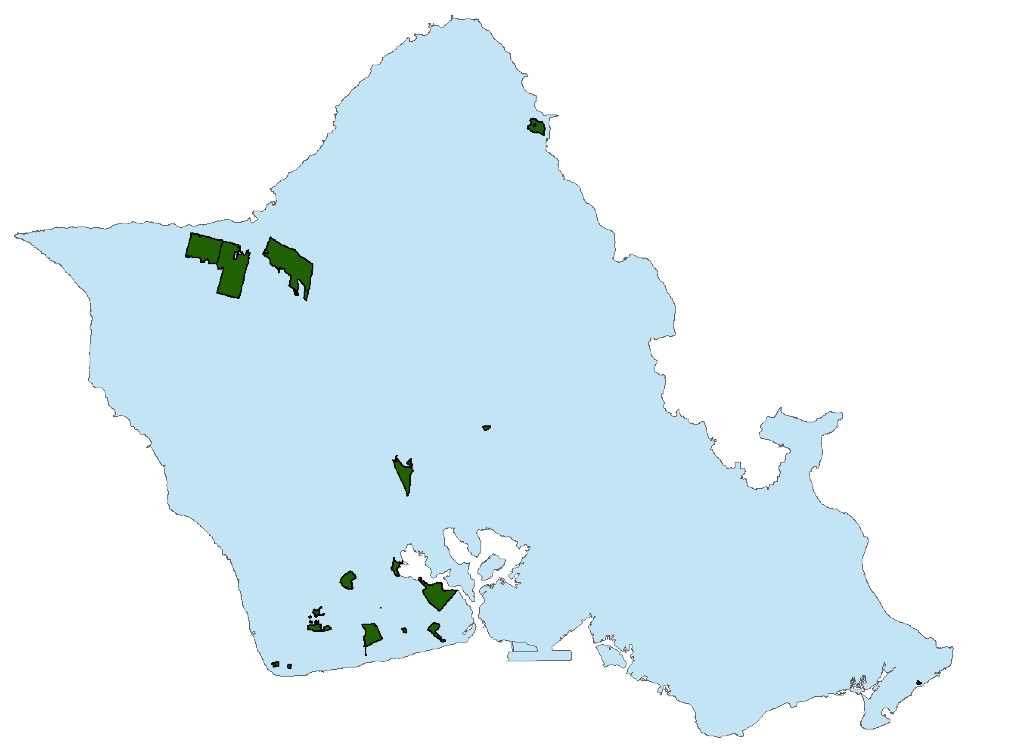 Treated wastewater has been used for irrigation in Hawai`i for nearly a century. According to a 2013 water reuse plan developed for the state Commission on Water Resource Management, recycled water was used on sugarcane fields in Waialua, O`ahu, as early as 1928. And in the 1960s and '70s, the Pioneer Mill Company on Maui blended chlorinated effluent from the Ka`anapali sewage treatment plant with groundwater to irrigate 400 acres of sugarcane fields. By the late 1970s, effluent from nearly 20 wastewater treatment plants was being used to irrigate golf courses, crops, and lawns across the state, mainly on O`ahu. In total, the plants supplied about 10 million gallons a day (mgd).
Over the years, recycled water use has climbed steadily. By the early 2000s, the use of wastewater for irrigation had more than doubled to 23 mgd. By 2011, it had reached than 30 mgd, which is still less than 20 percent of the total amount of treated wastewater.
As state and county agencies seek to protect potable water supplies, the use of recycled wastewater will probably continue to grow. On O`ahu, in particular, an ordinance instructs the Honolulu Department of Water Supply to require large, landscaped areas such as golf courses, parks, schools, cemeteries and highways be irrigated with non-potable water if it's available. What's more, the Commission on Water Resource Management's 2014 Central O`ahu Non-Potable Water Master Plan identifies treated effluent as the main non-potable water source for state agricultural lands purchased from the former Galbraith Estate and for lands surrounding Kunia Road. Together, those areas are expected to need nearly 20 mgd of non-potable water.
The plan, prepared by the consulting firm Brown & Caldwell, acknowledges concerns surrounding impacts of recycled water use above aquifers used for drinking water, and it notes that the DOH, WRRC, the state Department of Agriculture, the U.S. Geological Survey, and the Honolulu Board of Water Supply had all initiated studies — including Murl's — to assess "the safety and efficacy" of irrigation with treated wastewater, giving particular attention to CECs.
"Once completed, the three studies will result in additional data and further guidance on the issue of long-term application of treated effluent over the potable water aquifer. More definitive information on whether emerging contaminants of concern will impact the underlying potable water aquifer from the application of treated wastewater will help to design and develop appropriate monitoring and further proactive risk assessment modeling, as needed," the plan states.
Narrowing the Field
"Anywhere we're searching for these compounds, we're finding them around the world," Murl said last month during a WRRC talk on his research. Referring to results from a recent USGS-BWS study, where the agencies tested for 62 CECs in Wahiawa Wastewater Treatment Plant effluent, Kaukonahua Stream (which receives  the effluent via Lake Wilson), and waters in Haleiwa, he said, "they looked for 62 CECs and found 62 CECs."
What's more, he noted that in the effluent and the stream, one the CECs found — the antibiotic sulfamethoxazole (SMX) — exceeded the level at which environmental effects have been found.
Although the DOH has never tested drinking water for CECs, Murl said he thinks they're probably there. If they are, it's likely their levels are relatively low. Whittier of the Safe Drinking Water Branch noted that, first of all, recycled water in Hawai`i is applied mostly downgradient from drinking water wells and, second, the further the effluent has to percolate to an aquifer and the longer it takes, the lower the resulting CEC concentrations.
The total number of CECs worldwide may exceed 10,000, Murl said, but current technologies can detect just 600 of them. That makes testing for their presence far too expensive to be undertaken regularly by government agencies, Whittier suggested. "When the USGS did a study in North-Central O`ahu for CECs and other wastewater indicators, the cost per sample set was in the thousands of dollars."
To determine which CECs the DOH might want to test for, Murl chose the 11 drugs that are most frequently detected in effluent and which also are likely to pose the greatest environmental impact.
"The most damaging is estrogen, which can work in concentrations as low as 1 nanogram per liter," he said, citing cases where male fish exposed to estrogen in the environment have been found with eggs growing in their gonads. Estrogens are used in hormone therapy and birth control pills; Murl chose to assess three of them.
Given growing concerns worldwide about the development of antibiotic-resistant bacteria due to rampant antibiotic use, Murl also assessed six commonly prescribed antibiotics.
These "nightmare bacteria" can kill half of those infected with them, he said, adding, "If [antibiotics] leach or are applied directly into the water … we're throwing the dice on the next pandemic possibility."
Murl also assessed Carbamazepine (CBZ), an epilepsy medication that studies have found to be detrimental to mussels and block reproduction of non-biting midges.
"It's not a far stretch to say these CBZs are moving through food chain," he said.
Finally, Murl assessed Propranolol (PPL), a beta blocker used to treat high blood pressure and which has been found to lower egg production of some species of fish.
'First Order Swipe'
Using a modified model that was originally devised by the university's Department of Civil and Environmental Engineering to assess the likelihood of pesticides to leach past soils, Murl assessed the leaching potential of CBZ, PPL, SMX, Estrone (E1), Estradiol (E2), Ethinylestradiol (EE2), Azithromycin (AZM), Clarithromycin (CLR), Roxythromycin (RXM), Ciprofloxacin (CIPRO), and Ofloxacin (OFLOX) throughout all of O`ahu.
He found that CBZ, CLR, CIPRO, and PPL were all likely to leach throughout the island (except for conservation areas, where no wastewater is allowed or expected). OFLOX, RXM, and AZM were likely to leach through all but the southwest corner of the island. None of the estrogens were likely to leach. And as for SMX, the model found that it would likely leach in a few scattered areas, but it was uncertain whether it would leach in the rest of the island.
Given his seemingly dire results, one audience member at his recent talk asked whether they mean that wastewater shouldn't be reused on the island.
"I actually think recycling wastewater is great," Murl replied. "The model is just kind of a first-order swipe. It's not a definitive, 'this will happen; this won't happen.'" 
Whittier added that part of the motivation behind the study was to narrow down the number of CECs the DOH should test for. If Murl's results are validated with actual monitoring data, the department will be able to use the model to get a good idea of what's likely to be in the aquifer.
"We don't have the budget to sample for 62 CECs. We might have the budget to sample for five. We can take this large data set … and reduce it down to something manageable," he said.
Given Murl's results, Whittier said, "maybe we're applying the recycled water in the wrong spot. Maybe we should do it upslope rather than on the coast."
Keeping recycled wastewater reuse upslope increases the ability of soil to filter out CECs, gives the contaminants more time to degrade, and gives those degraded CECs a chance to be further diluted with groundwater before they're discharged into the coastal zone, he stated in an email.
What's Next?
Even though the DOH's treated wastewater use guidelines were revised recently, Whittier said the department will continue to update them and that it will, at some point, include testing requirements.
"Most states only require basic chemical tests that include pathogens, chlorine, nutrients, some organic contaminants, and disinfection byproducts. … Likely our requirements will be similar," he said.
As the state moves toward more widespread use of recycled water in upslope areas, the DOH intends to periodically sample recycled water as well as water in soils to determine where selected CECs go and what happens to them, he added, noting, "This will be likely be a collaborative partnership between DOH, the recycled water providers and users, and the University of Hawai`i."
In addition to monitoring efforts by the DOH, Michael Cooney, Marek Kirs, and Roger Babcock of the University of Hawai`i are investigating wastewater treatment options that could cheaply and significantly reduce CEC levels in effluent.
"Although technologies exist to treat wastewater to any degree of desired purification, the majority are cost prohibitive and thermodynamically unsustainable from an energy or materials consumption perspective," they write in an abstract of their study. "It is increasingly obvious that the expectation is to have large and massive centralized wastewater treatment facilities upgrade to degrade the emerging micro pollutants and in the process produce reuse water of sufficient quality. …
"Results from our work are expected to show that application of low-energy, low-chemical, anaerobic-aerobic biofilm reactors linked to downstream unit operations employing disinfection (i.e., UV irradiation) and advanced oxidation processes (i.e., UV plus H2O2) can cost-effectively produce reuse water devoid of these emerging pollutants."
Their project is expected to conclude in February of next year.
— Teresa Dawson
Volume 26, Number 12 June 2016