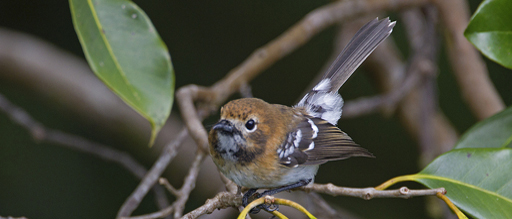 Pia Valley Approval: The state Forest Stewardship Advisory Committee (FSAC) has given its approval to the acquisition by the Department of Land and Natural Resources of a 300-acre parcel of forested land in East Honolulu. Pia Valley, which lies in the Niu Valley area of O`ahu, is owned by the Niu Conservation Group, whose member James Pflueger offered to donate it to the state.
When the FSAC met last month, its administrator, Irene Sprecher, informed committee members that the state "has a number of different ways [it] can manage lands – as a forest reserve, Natural Area Reserve, wildlife sanctuary, et cetera. [The Division of Forestry and Wildlife] has identified this as a potential Natural Area Reserve. But it would be a donation under the Forest Legacy program, which is our acquisition program."
As such, she said, "we would be working with some of our Forest-Legacy appropriated due diligence funding to close the project."
The area still is believed to be home to the `elepai`o and also has two of the remaining 10 species of Achatinella tree snails. The state's Plant Extinction Prevention Program has been working to conserve 14 species of rare plants in the valley for the last 10 years, while the state's O`ahu botanist has been collecting genetic material from five rare species for two years.
In July, the Natural Area Reserve System Commission held a special meeting and unanimously voted to approve the acquisition. The state Board of Land and Natural Resources will also need to vote before the acquisition can be closed.
Pflueger, the patriarch of the car dealership bearing his name, is best known these days for his actions leading to the deaths of seven people when the Ka Loko dam on Kaua`i was breached in 2007. Last year, in a plea bargain with the state, he was sentenced to serve seven months on one count of reckless endangerment. He was released to house arrest after serving six weeks, with the state citing Pflueger's frail health.
Pepe`ekeo Palace Update: Last December, Scott Watson and the Hilo Project (a venture co-owned by Watson and Gary Olimpia, a California lawyer) sued the Hawai`i County Windward Planning Commission over its refusal to grant changes to the Special Management Area permit covering the large house Watson is building along the Hamakua Coast, near Pepe`ekeo.
In early August, 3rd Circuit Judge Greg K. Nakamura ordered the case dismissed under Circuit Court Rule 28, which allows for dismissal if the case is not served on the parties within six months of its filing.
On August 12, Watson appealed Nakamura's dismissal. In his appeal, Watson claimed that service had in fact been made by his attorney at the time, Steven Strauss. Supporting Watson's claim was an affidavit from Strauss, stating he had personally served the county's Corporation Counsel office on December 22.
Another affidavit, this one from Watson, stated that negotiations with the Planning Department had been occurring continuously since the lawsuit was filed. "Gary Olimpia and I have engaged in intensive, frequent settlement efforts … including a settlement meeting with Appellee Planning Director Duane Kanuha as recently as yesterday, August 11, 2015," Watson wrote.
Calls for comment to Kanuha's office were not returned by press time.
Volume 26, Number 5 October 2015