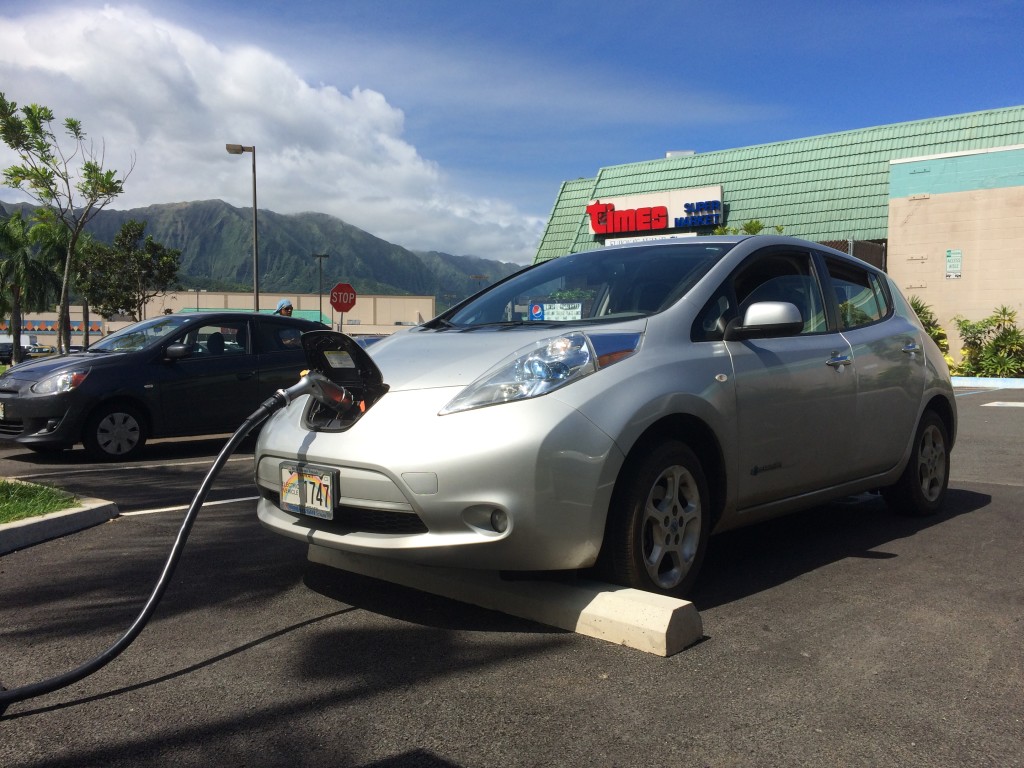 When it comes to meeting the state's goal of becoming largely energy self-sufficient in the next few decades, "we're not gonna get too far if we don't tackle transportation," says Chris Yunker, head of the state Department of Business, Economic Development and Tourism's new Energy Systems and Transportation Program.
Two thirds of Hawai`i's petroleum imports are used for transportation. In 2014, the sector consumed the equivalent of 863 million gallons of gasoline, according to a Transportation Energy Analysis DBEDT released in August.
Unlike the electricity sector, where the state has been exceeding its renewable portfolio standards targets with the rapid expansion of residential solar photovoltaic systems, the transportation sector has some significant ground to make up.
Reducing petroleum use for transportation has been a key part of the Hawai`i Clean Energy Initiative (HCEI), a joint state-federal program created in 2008 to help the state achieve its goal of meeting 70 percent of its energy needs with clean energy by 2030. But so far, the state has fallen short of meeting its goals for the transportation sector.
HCEI's 2011 Road Map identified four ways to achieve its target to shrink petroleum use for ground transportation by 70 percent by 2030: reduce vehicle miles traveled (VMT), expand the use of renewable fuels, improve vehicle efficiency, and expand the market share of electric vehicles (EVs). Although the Road Map's 2015 targets for renewable fuel use and vehicle efficiency have been exceeded, the state is far from meeting those for VMT and EVs. Overall, rather than reducing its petroleum use for ground transportation, Hawai`i has increased it by five percent between 2010 and 2014.
Between 2010 and 2013, "VMT increased quickly as the economy recovered,"the analysis states. Now, to reach the Road Map's VMT target of 5,370 miles per capita (it's now about 7,596 miles per capita), the average per-capita miles driven by Hawai`i residents would need to be reduced about 1,100 miles by 2030, according to the analysis.
When it comes to expanding the presence of EVs, Hawai`i just isn't seeing the growth anticipated by the HCEI 2011 plan. Although the state has made "significant investments"in 160 public charging stations that can accommodate 364 vehicles across the state, "with just over 1,000 EVs added statewide last year, the 2015 EV goals of 4,000 in sales and 10,000 on the road are unlikely to be met,"the report states.
The Transportation Energy Analysis, prepared for DBEDT by the International Council on Clean Transportation, identifies 22 specific tactics that could reduce petroleum consumption by 62 million to 72 million gallons a year (mgy) by 2030. But that accounts for only about eight percent of the state's current petroleum use.
Transit-oriented development accounts for most of the reduction, about a third, followed by vehicle efficiency, which is expected to reduce petroleum use by 16 mgy, the report states.
Increasing the number of EVs is the smallest part of ICCT's plan to reduce petroleum use in the transportation sector. All of the tactics to expand EVs —providing state rebates, requiring EV rental prioritization for government workers, and implementing time-of-use and EV charging rates —are expected to result in a reduction in petroleum use of less than one mgy. As a result, those tactics have been identified as "secondary targets."
Modeling EV Impacts
DBEDT's Transportation Energy Analysis assumes that only 43,000 EVs will be on the road in Hawai`i by 2030. But at the Asia Pacific Resilience Innovation Summit and Expo held in late August in Honolulu, Carlos Perez, director of Hawaiian Electric Company's Customer Technology Applications division, suggested that the state could see 100,000 to 200,000 EVs on Hawai`i's roads in the next few decades.
And recent modeling work by Yunker's office suggests that such large numbers of EVs could not only help reduce petroleum used for transportation, but may also help the electricity sector.
Currently, the state's utilities are sometimes forced to curtail the influx of electricity generated by solar photovoltaic systems because they produce more than the grids can handle. The utilities do not generally store that "wasted" energy, but they are exploring ways to do so. At the summit, Yunker said EV's can greatly benefit the electric grid if they are charged in the middle of the day, thereby decreasing the amount of renewable energy storage the utilities would need.
The idea of using EVs to shave peak loads and, thereby, reduce the amount of renewable energy storage needed is not new. But only recently has DBEDT been able to quantify how EVs would affect storage needs.
With its new modeling tool that can evaluate the combined impacts of thousands of energy technologies, DBEDT has determined that about 120,000 EVs charging off-peak on O`ahu could create a 20 percent swing in storage costs, according to Yunker.
At a briefing on the model, held immediately after the summit, Yunker described a scenario in which Maui and O`ahu grids are connected by a cable. If 70 percent of the electricity came from renewable sources and EVs made up 15 percent of passenger vehicles, the model determined that 1,682 megawatt hours (MWh) of storage would be needed if EVs charged at night. But if they charged during "smart charge" hours, the peak load would be reduced by more than 100 MWh, and the storage need would also shrink considerably, he said.
Because of the synergy among so many of the clean energy technologies, "how you do these things is really important," he said. "We want to make sure our transportation policies are in concert with electric policies."
Because the state supports EV's it's important to understand the impact and benefits of achieving higher levels of EV penetration, especially with high levels of renewable energy on the grid, Yunker says. "Understanding what could happen helps us to develop policies on integrating [EV] that increase their benefit to Hawai`i," he told Environment Hawai`i.
Although growing the number of EVs may only be a secondary target for DBEDT, HECO is moving on its own to make that happen.
In 2013, Perez reported, HECO started working on establishing up to 25 EV fast chargers by July 2018. (Fast chargers, or Tier 3 chargers, can fully charge a depleted EV battery in about half an hour. It normally takes about seven hours.) The first was installed at Dole Plantation on O`ahu. Others will be installed at Kapolei, Hawai`i Kai, and on the island's windward side.
"The Dole one is getting used quite a bit, a lot of it to do with the tourist traffic to the North Shore,"he said.
In 2010, HECO launched a pilot project to encourage EV charging during off-peak hours with special discounted electricity rates. Limited to 1,000 O`ahu customers, 300 Maui County customers and 300 Hawai`i island customers, the program offered two different rate schedules for EV owners that could save them about 6 cents per kilowatt hour if they charged during off-peak periods.
***
DOT Saves Big
With Energy Efficiency
"Energy efficiency is the first fuel," said Public Utilities Commissioner Lorraine Akiba, moderator of the Asia Pacific Resilience Innovation Summit's panel on efficiency. And with the state's new goal of generating 100 percent of its net electricity from renewable sources, efficiency is a critical component and "the number one grid resource," she said.
As organizations such as Hawai`i Energy and Honeywell work to improve efficiency in homes and businesses, the state Department of Transportation is in the midst of undertaking the largest energy efficiency project in the state: a massive overhaul of its airports, harbors, and highways.
The project, which will remedy years of deferred maintenance, is expected to reduce the department's annual utility bills by 30 to 50 percent, saving several hundred millions of dollars over the next 20 years, according to Larry Augustine of Johnson Controls, Inc., which is implementing the work.
Augustine, a presenter at the recent summit, reported that the upgrades at the state's 12 airports will cost $150 million and are expected to reduce energy use by 45 percent, saving the department $518 million over the entire 20-year term of Johnson Controls'contract. Those upgrades, which include replacing 74,500 light fixtures and installing about 9,000 photovoltaic panels, among other things, are two months ahead of schedule, he said.
A fact sheet released last month by the state Energy Office about the airports project notes that over the term of the contract, the energy saved could power 126,206 homes.
Similar upgrades at the state's harbors, which have not yet begun, will reduce energy use there by 53 percent and save the state $28.4 million over the contract term, Augustine said. And those for the state's highways, which began a few months ago, will reduce energy use by 43 percent, saving a total of about $126 million, he said.
As efficiency technology continues to advance and become more affordable, Armstrong said, state facilities have a lot of room to reduce energy use even further. At the Honolulu International Airport, for example, all of the lights Johnson has replaced or is replacing are not LED, but high-efficiency fluorescents.
If the project were to start over today, "we would be doing LED,"he said.
The potential to expand energy efficiency in residences and businesses is similar, according to some of the other panelists. Colin Bishopp of Renew Financial, a company that provides financing for efficiency or renewable energy projects, noted that every year, three to four percent of homeowners have something in their home break that relates to either their energy or water use.
"By the time it breaks again, technology advances so rapidly, we're going to need to be able to catch them again"to make sure they install the most energy efficient device, he said.
Hawai`i Energy's Michael Chang added, "Hawai`i renovates a lot more than it builds new. …The potential, it's there." However, he said, "you can't force people to do things they don't want to do, but maybe you can influence them."
Providing attractive financing options is one way. Bishopp described a number of federal and state programs that allow homeowners or businesses to pay for efficiency upgrades or renewable energy installations through their electricity bills or property taxes.
"You need utility on-bill [financing] to get to renters,"he said. "You can't just have one tool, you need multiple tools."
— Teresa Dawson