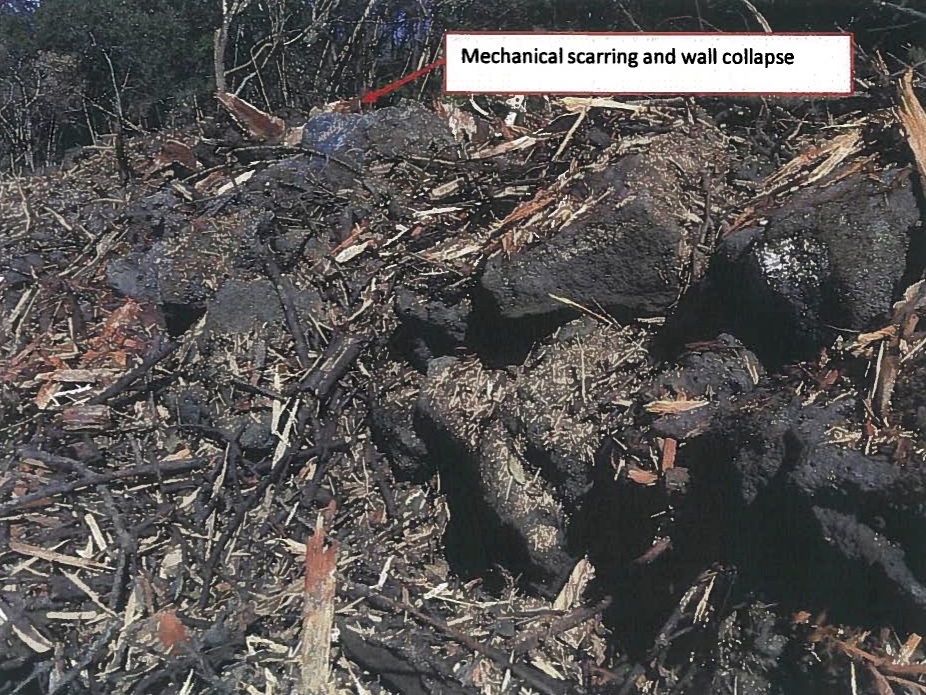 Board Imposes $9,400 Fine For Damages to Historic Sites
It's not every day that the state Board of Land and Natural Resources imposes fines for damages to archaeologicalsites and when it has, those fines have been pretty meager. So when the Department of Land and Natural Resources' State Historic Preservation Division (SHPD) last month recommended fines for damages to several historic sites in Kona that were a small fraction of the maximum, Maui Land Board member Jimmy Gomes made clear his disappointment. On September 11, the board unanimously approved a fine of $9,400, as proposed by SHPD, for damages Kona resident Richard Stewart caused to eight sites on his four-acre agricultural lot that are believed to be part of the historic Kona Field System. The field system is on the National Register of Historic Places and, according to SHPD administrator Alan Downer, is "one of the most important sites in Hawai`i."
In 2013, Hawai`i County and SHPD inspectors found that a contractor Stewart hired to clear overgrowth on his parcel had used an excavator to clear most of the property. In the process, the contractor had destroyed historic agricultural mounds and rock walls and damaged a stone platform, all without a grading and grubbing permit from the county or a SHPD-approved archaeological inventory survey (AIS), which is a prerequisite for the county permit.
At the Land Board meeting last month, SHPD proposed fining Stewart $500 per affected site, $5,000 for damaging the Kona Field System, and $400 in administrative costs. Gomes immediately asked SHPD staff how it determined those fine amounts and why it was not imposing the maximum fine of $10,000 per violation.
"Wouldn't you say this is a slap on the wrist?"Gomes asked.
Downer replied that his division had determined that the proposed fine was consistent with amounts previously assessed on the rare occasions SHPD pursued fines for violations.
"Moving forward, we should be looking at more significant penalties,"he assured Gomes.
But Gomes did not want to wait.
"I'd like to start here,"he said, adding that he believed the work on Stewart's property had proceeded with complete disregard for the rules.
Stewart bought the agriculturally zoned property at auction in 2007 and, according to a SHPD report to the Land Board, planned to rezone and subdivide it into six house lots. However, in 2009, SHPD advised him to refrain from any ground-altering work on the property until he received approval of an AIS.
Stewart testified to the Land Board that he didn't have the money at first to conduct an AIS, but had been able to obtain a "clearance letter"from the Hawaiian family who owned the property before he did, which stated that there were no archaeological sites or human burials onsite.
"Based on this letter, I thought it was pretty good,"Stewart said. He added that he also sought out archaeologists to conduct an AIS, but they all said the brush on his property was too dense to get through.
To make the area easier to survey and to minimize any fire hazard the brush posed, Stewart said he asked the county if he could clear the vegetation.
"They said if you're doing just brush clearing, you don't need a permit,"he said. With that, Stewart hired a contractor who had "a big machine that will mow the stuff from the top down."
Stewart then offered the Land Board the same arguments he made (unsuccessfully) to the Hawai`i County Board of Appeals when arguing last year against a grubbing violation for the same work: The machine had no blade, claw, bucket, or any other mechanism to uproot the vegetation; it simply "mowed"the brush from the top down, leaving chipped material in its wake. Therefore, he argued, he was not illegally grading or grubbing. (He did, however, admit that the clearing exceeded the county's one-acre limit for brush-clearing without a permit.)
Stewart told the Land Board that when he learned that his contractor had damaged archaeological sites, he felt terrible.
"Fortunately, there are no burials on that ground, no …heiaus, no sacred sites,"he said.
"I can now see under the laws that exist, that a violation may have occurred,"he admitted.
He told the board that he tried to act in good faith and hoped it would consider his side of the story.
"I'm disabled and get about $1,700 a month,"he said. He also claimed that he was "basically bankrupt."
Stewart's testimony did not, in any way, sway Gomes. First, Gomes argued, one does not cut a fire break by grubbing the whole lot. And with regard to Stewart's claim that his contractor'smachine was merely a very large mower, Gomes noted that he owned such a machine himself.
"I know exactly what that machine looks like. It's an excavator,"Gomes said, adding that the driver would have most definitely seen the rock formations that before they were damaged.
"You can't tell me he didn't see,"he said.
Land Board member Stanley Roehrig, an attorney, also took issue with Stewart's claims of bankruptcy.
"You keep saying you're almost bankrupt. If you're just saying that to impress us, I don't take it lightly. …If you have a financial statement, you should show us,"Roehrig said.
Stewart, who admitted he had not gone through any federal bankruptcy or receivership, agreed that he had used "a poor choice of words."
In the end, the Land Board voted unanimously to approve SHPD's recommendation. After the vote, however, Gomes added that, for the record, he disagreed with the staff's recommendation on the fine.
"I think it should be the max. …For me [the fine is] just a slap on the wrist,"Gomes said.
(For more background, see the story in our December 2014 issue, available at environment-hawaii.org.)
***
State Spends Tens of Thousands
To Remove Tsunami-Related Debris
Hawai`i has until next January to spend all of its $250,000 portion of marine debris removal funds provided by the government of Japan following the 2011 tsunami that devastated the country's coastal regions. So far, less than $58,000 has been spent, according to a recent report from the DLNR's Land Division to the Land Board.
The tsunami generated an estimated 1.5 million tons of marine debris, the report continues. And because that debris is expected to wash ashore throughout the Pacific for years to come, Japan gave the U.S. National Oceanic and Atmospheric Administration (NOAA) $5 million in 2013 to help with clean-up efforts.
NOAA distributed $250,000 each to Alaska, Washington, Oregon, California, and Hawai`i and reserved the rest of the gift for use on an as-needed basis. The states were given until January 2016 to spend their portions. Unspent amounts would then be returned to NOAA.
Alaska has already spent all of its funds and has repeatedly requested and received more, DLNR Land Division administrator Russell Tsuji told the Land Board at its September 11 meeting.
Hawai`i, on the other hand, has been slow to spend its portion.
At the meeting, where the Land Board belatedly granted its approval to receive the funds, Tsuji explained, "We have been very cautiously spending. We don't want to use the funds on non-Japan debris."He added that it's sometimes difficult to identify the origin of the debris. (Hawai`i sits at the center of the North Pacific Subtropical Gyre, making it a hot spot for marine debris.)
The DLNR, which decides how the state's portion is used, has spent $28,000 disposing of a large steel mooring buoy that made its way to the island of Hawai`i, about $12,000 removing a "utility transport vehicle"from O`ahu,  and about $7,000 disposing of a shipping container and conducting an invasive species survey on Kaua`i, among other things, according to the report.
The department plans some larger projects this fall, including an aerial survey of the Main Hawaiian Islands and debris removal from Kaho`olawe's Kanapou Beach and Ni`ihau's South Shore.
At-large Land Board member Chris Yuen commented that he thought it was extraordinarily generous of the Japanese government to provide the United States with such a gift.
"They have a tsunami that destroys [their coastline] …and they give us money. I don't know if the U.S. would do that,"he said.
***
Land Board Moves to Ban
Commercial Take Of Sea Cucumbers
Commercial fishing of sea cucumbers — except for the aquarium trade — may soon be illegal in Hawai`i if rules that have been recently approved for public hearings emerge unchanged.
Earlier this year, the  Land Board approved emergency rules banning the take of sea cucumbers when reported catches spiked after a dealer that sells to Asian markets began operations in Hawai`i. The rules, which expire in December, are aimed at protecting the local population of sea cucumbers from over-harvesting, which has occurred elsewhere in the Pacific.
To ensure  sea cucumbers continue to be protected after December, the Department of Land and Natural Resources'Division of Aquatic Resources proposed on August 28 to take rules banning commercial harvest to the public. However, the rules exempted collecting of up to 3,600 animals by aquarium collectors. DAR also proposed a requirement that anyone taking sea cucumbers register with the department.
"The proposed closure of the commercial consumption fishery will end the one existing dealer who was in operation at the time of the emergency rule adoption,"a DAR report to the Land Board states.
At the Land Board's meeting, board member Chris Yuen asked whether the registration requirement would turn individuals harvesting sea cucumbers for their own use or consumption into violators. Kaua`i Land Board member Tommy Oi echoed Yuen's concern.
"More and more, we're putting regulations on the everyday people because of illegal commercial taking. Why should every Tom, Dick, and Harry be subject to something commercial guys illegally did?"Oi asked before suggesting that the division simply impose a daily bag limit rather than require registration.
The rules, as proposed, do include a daily bag limit of three sea cucumbers for non-commercial human consumption and seven sea cucumbers for non-consumptive use "provided that [they] are released alive and in good health immediately after use. (The latter bag limit conditions address the non-lethal use of sea cucumber guts to treat wounds. Sea cucumbers, which can eject their guts as a defense mechanism, can also regenerate the organs.)
Board member Ulalia Woodside added her concerns about the justification of the maximum take for the aquarium trade. In DAR's report to the Land Board, the division recommended closing the commercial fishery "due to the continued concern that a sustainable take level is unknown at the present time. Without this information, there is uncertainty as to whether any level of commercial take is sustainable." However, when discussing take of the animals by aquarium fishers, the report states, "The current data indicates that this level of take is not a concern and
can likely occur without adverse impact to sea cucumber populations."
For confidentiality reasons, data on aquarium harvest of sea cucumbers were not provided to the Land Board.  Woodside, for one, asked to see some data after the public hearings conclude supporting DAR's proposed maximum take level .
DAR's report notes that since 2008, a handful of aquarium fishers has taken 1,500 to 3,500 sea cucumbers per year. Yet, to preserve the industry, the division proposed a take of 3,600 animals.
That number, Woodside said, "does feel a little out of thin air."When she asked whether the board could later adjust the maximum take level, DAR staff said the board could do that so long as the issue was discussed during the hearings.
To better assess an appropriate aquarium take level, Yuen said he'd like DAR to provide the board with the fishery's catch reports in executive session when the matter comes back for final approval.
The Land Board ultimately approved public hearings on the rules on the condition that they first be amended so individual, non-commercial fishers don't need to register. Land Board chair Suzanne Case asked DAR to instead use the public hearing process to explore ways the public can voluntarily provide information on the non-commercial harvest of sea cucumbers.
— Teresa Dawson
Volume 26, Number 4 October