Douglas Johnson, owner of a shrinking beachfront lot in Punaluʻu, Oʻahu, has repeatedly violated the terms under which the Department of Land and Natural Resources allowed him to install temporary emergency erosion control revetments over the years.
Most recently, on August 13, the Land Board imposed an $18,000 fine: $15,000 for modifying his existing sandbag seawall without proper approval, $1,000 for unauthorized encroachment onto public lands, and $2,000 for administrative costs.
The board also gave Douglas until next June to remove what he had put in, allowing him to get $10,000 back if he completed the work on time.
He also received another three-year permit for another temporary sandbag structure, with the clock starting August 13.
For the current structure, Douglas had received an emergency permit in November 2019. It allowed for the placement of 20 cubic yards of sand, a SEAblanket with geotextile fabric, and three rows of SEAbags. The entire structure was to extend no more than 9-12 feet seaward of the erosion scarp.
The work was meant to replace what he had been allowed to install under a previous permit.
A May 2020 inspection by the DLNR's Office of Conservation and Coastal Lands found that Douglas had way overbuilt his revetment.
"We found a 9- to 10-foot tall structure extending 24-27 feet onto state land; 10-13 rows of SEAbags and also use of Elcorock bags. … We have never recommended these Elcorock for temporary structures," said the OCCL's Michael Cain. Elcorock bags are mesh nets filed with rocks, and are used more often for permanent structures, while SEAbags are sand-filled and meant to degrade over time.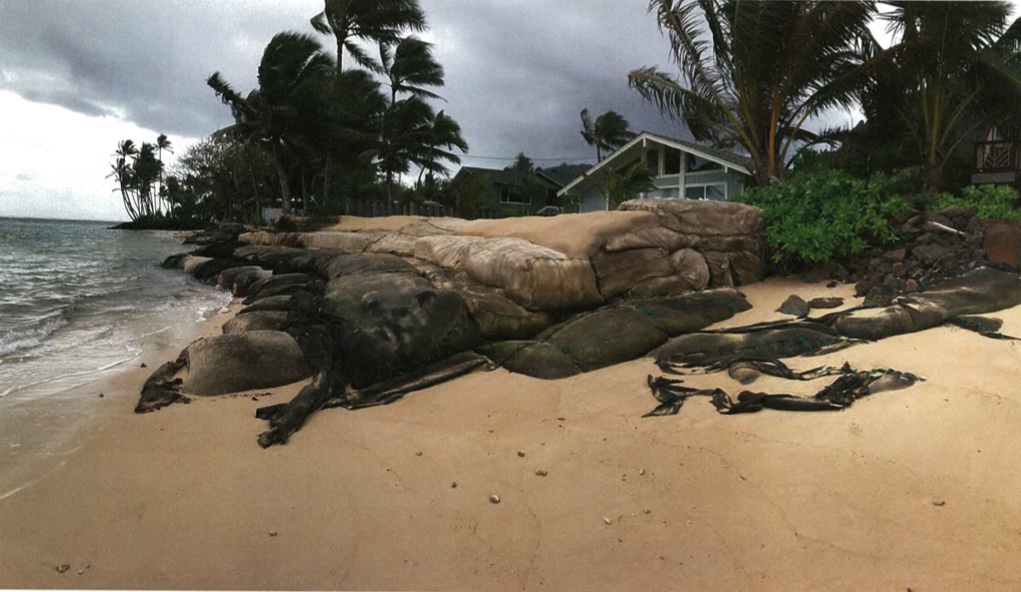 "This is a clear-cut case. There is a structure on state owned lands that was not permitted," Cain said.
"This is one structure out of what is turning into a systemic problem in the way we manage or don't manage coastal erosion on our shorelines," he added, noting that the OCCL had recently investigated 75 private shoreline structures that appear to be in violation of Conservation District rules. Some of those cases that have already been brought to the board are being disputed in contested case hearings or in court. Others have only recently been submitted to DLNR director Suzanne Case for review. The remaining 60 are still being investigated, but may wrap up soon, he said.
"We expect those who receive these discretionary permits to comply," Cain said.
Jeff Overton of G70, who has been working with Douglas and six adjacent landowners on a longer-term solution to the erosion of their properties, explained how unapproved materials came to be used. During construction, "the geotextile vendor could not provide any other material to satisfy the project except for Elcorock bags."
He added that the costs to install, remove, and replace the structure, in addition to the fines, would, in the end, reach around $200,000.
"That seems to me crazy for emergency protection for a lot like this,' he said.
With the city having already rejected his clients' proposed sloping rock revetment years ago, Overton said that the Punaluʻu homeowners are now proposing a pilot sandbag groin project, which he said is also being looked at as a solution in Lanikai.
At Punaluʻu, the project would include some beach nourishment, as well as a low-profile sandbag groin system composed of six to eight groins containing 20-25 sandbags per groin. Each groin would extend 40-50 ft offshore.
"Once these houses go, it becomes a state problem because the highway is right [behind them]," Overton warned.
Board members did not indicate whether or not they would be amenable to such a project.
— Teresa Dawson