Board Levies $272,000 in Fines Against West Hawaiʻi Aquarium Fish Poachers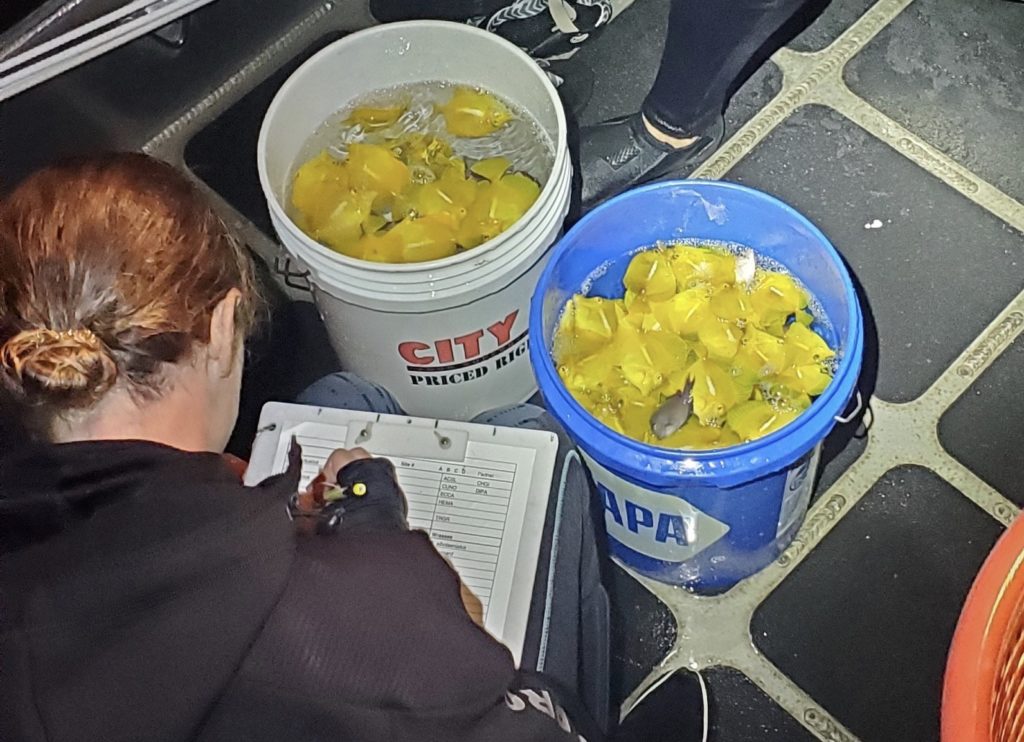 On February 26, the state Board of Land and Natural Resources levied a record fine against husband and wife aquarium fish collectors Stephen Howard and Yukako Toriyama.
The couple made headlines last September after Howard abandoned Toriyama and her diving partner, Hitomi Sasaki, as they illegally harvested hundreds of juvenile reef fish 30 to 40 yards off the western coast of Hawaiʻi island.
Enforcement officers with the Department of Land and Natural Resources (DLNR) had received a tip that Howard had launched his boat from the Honokohau Small Boat Harbor and was fishing within the West Hawai'i Regional Fishery Management Area, which has been off-limits to aquarium collectors for the past few years as a result of a court order.
When officers tracked Howard to a spot off Hoʻokena and asked whether he had any other passengers, he told them that he was alone on the vessel. The officers then confronted Howard with the fact that they had seen him pick up two passengers at the Kailua pier. Howard then lied, saying, "Oh, I just took them to swim with dolphins and dropped them back off," according to a DAR report to the Land Board.
One of the officers then conducted a safety inspection of Howard's vessel and found that the vessel registration had expired and that Howard lacked a boat operator's certificate and the required safety equipment. The officers instructed Howard to return to shore, but he hesitated. Another officer inspected his vessel again and found aquarium collection gear.
They asked Howard once more where his female passengers were. He denied that anyone else was with him and returned to shore, where he was again asked where Toriyama and Sasaki were.
DLNR Division of Conservation and Resources Enforcement launched a search and rescue mission, assisted by the county police and fire departments, the National Oceanic and Atmospheric Administration, and the U.S. Coast Guard.
Howard was arrested, but was allowed by officers to use his cell phone to make a call. "Howard, after allowed access to his cell phone, began to delete text messages from his phone. When the officers attempted to retrieve the phone from Howard, Howard threw it into the water," the report states.
The search and rescue mission ended after the women were spotted with their dive gear at a Kona-area gas station.
Directed by Sasaki and with assistance from NOAA's Office of Law Enforcement, biologists with the DLNR's Division of Aquatic Resources (DAR) recovered and released 235 fish of ten different species. Most of them were yellow tangs and their total retail value was estimated at $24,730.
At the Land Board's February 26 meeting, DAR staff recommended imposing a fine of $59,615 against Howard and $48,000 against Toriyama. The two were accused of committing several violations, including possessing aquarium collecting gear, an unregistered, fine-meshed lay net, and illegally collecting aquarium fish species. Howard also faced fines for several violations regarding the state of his vessel.
According to DAR's David Sakoda, the division refrained from recommending fines against Sasaki because she was instrumental in helping officials locate the trapped fish that had been harvested and left in baskets in the ocean, and in providing the information needed to bring violation cases against Howard and Toriyama.
For many of the proposed fines, DAR recommended a fraction of the $1,000 maximum because the couple were first-time violators, Sakoda said.
"We could fine them a lot more," said Maui Land Board member Jimmy Gomes. "Personally, I feel that's the direction we should be in, to really set a precedent. Whether they can pay or not is not the issue. It's what they've done."
Sakoda said the proposed fines were based on his division's guidelines on administrative sanctions, but added, "You do have the discretion. You're not locked into that."
Gomes asked whether the Land Board could suspend them or otherwise prevent them from obtaining a commercial marine license in the future.
Kauaʻi board member Tommy Oi suggested that in the event they don't pay the fine, the department find a way to confiscate Howard's boat, which probably cost about $100,000. Taking his boat would also prevent future violations and send a message to other potential violators that they could lose their boats, as well, he argued.
Sakoda said his division doesn't currently have the authority to seize assets, but that a court could order the seizure of a boat for unpaid fines.
Inga Gibson of Pono Advocacy testified that she has seen the trio illegally harvesting aquarium fish more than once and thought the fines should be much higher and include Sasaki. "To think this was an isolated incident is pretty outrageous," she said, adding, "Howard left two divers in the open ocean to avoid arrest. … Howard lied repeatedly to officers about their whereabouts."
She argued that since the court invalidated all aquarium collection permits more than a year ago, several people have been caught poaching aquarium fish. Last year, three aquarium collectors were caught with more than 500 fish taken from the off-limits area. Two of them eventually agreed to pay a $76,400 fine.
"We really need to send a message. … [Poaching] is the norm, not the exception. Any legal aquarium trade only provides cover for illegal activity," she said.
More than two dozen people submitted testimony calling for the imposition of maximum fines.
Gomes agreed and recommended that the board fine the couple the maximum allowed under the rules. That turned out to be a fine of $235,000 for the 235 fish taken, which both Howard and Toriyama would be responsible for paying. Howard faced additional individual fines of $28,000; Toriyama's additional fines were totaled $9,000. In total, they would owe the state $272,000.
The board unanimously approved the increased fines.
Howard and Toriyama are also facing criminal charges in Hawai'i District Court in relation to the incident.
Neither Howard nor Toriyama attended the Land Board's virtual Zoom meeting, despite multiple efforts by DLNR staff to serve them with notice in person and by certified mail, phone, and email. Sakoda said it appeared that Toriyama received one of the notices that had been mailed out, and staff attempting to deliver a notice to one of their residences was told by the new tenants that the couple had moved out a week earlier.
"Are these people considered flight risks? … If they up and go, what then?" asked board member Kaiwi Yoon.
"That's a good question," Sakoda said. He pointed out that Howard has been served with a criminal complaint and has a trial set for later this month. "From what I've heard, they may very well be flight risks. … They'd probably be in bigger trouble with the courts than the BLNR," he said.
Another Case
In another poaching case, the Land Board deferred voting on a proposed $69,800 fine against aquarium collector Jason Beevers. Beevers' boat was spotted within the West Hawaiʻi Regional Fishery Management Area by DLNR enforcement officers last August. Illegal collecting gear and more than 300 fish, mostly yellow tang, were found when an officer inspected the boat after it landed.
In advance of the board's February 26 meeting, Beevers requested a contested case hearing, forcing the board to defer any decision-making.
Dozens of Hawaiʻi island residents submitted written testimony asking the Land Board to impose the maximum fines against Beevers. According to a DAR report, that would total $349,000.
---
Kawailoa Wind Farm Habitat Conservation Plan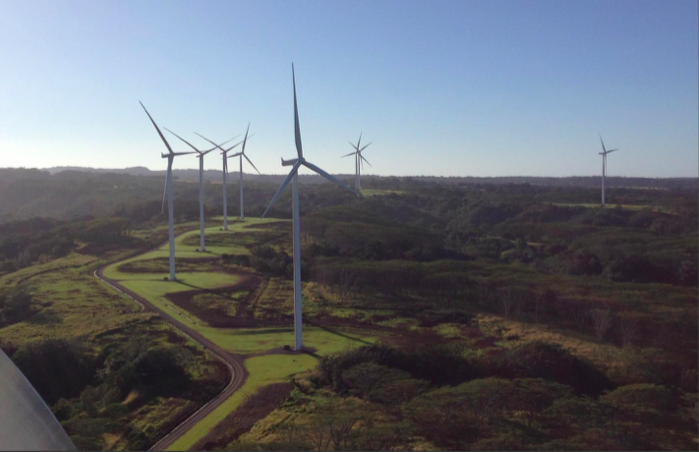 On February 26, the Land Board unanimously approved an amended habitat conservation plan (HCP) and incidental take license (ITL) for the 30-turbine, 69-megawatt Kawailoa wind farm on Oʻahu's North Shore.
The original plan and license for the facility, approved in 2012, sorely underestimated the number of endangered Hawaiian hoary bats that would be killed, and also did not anticipate that any threatened Hawaiian petrels would be taken.
The wind farm quickly exceeded its authorized bat take of 60 and also killed two petrels, which required it to amend its HCP and ITL.
To reduce its bat take, the facility has increased the periods of time, during low wind, when the blades do not spin. It also installed acoustic deterrents on each turbine in the summer of 2019.
According to a DLNR Division of Forestry and Wildlife (DOAFW) report, the facility has likely killed up to 94 bats to date. However, there have been no observed bat takes since October 2018.
The amended HCP allows Kawailoa to kill up to 220 bats, 19 adult/fledgling petrels, and 5 chicks/eggs.
In July 2019, the DLNR's Endangered Species Recovery Committee barely mustered the four votes needed to approve the amended HCP. Some members were unsure of whether the island's bat population could handle such a high level of take, given that it was unclear whether the mitigation measures proposed are sufficient to offset that take. The Land Board was set to vote on the plan and license in September 2019, but a contested case hearing request by the community group Keep the North Shore Country derailed that.
The group and the wind farm eventually agreed last November to a settlement calling for an expanded search area for downed animals and additional funding for petrel research. The settlement resulted in the Land Board's dismissal of the case in January.
DOFAW administrator Dave Smith told the Land Board last month that with the deterrents in place, he hoped there wouldn't be any significant bat take going forward.
"I'm really pleased to hear, whether due to deterrents or good luck, no bat strikes since October 2018," board member Sam Gon said.
Matt Stelmach, a biologist with Tetra Tech who helped draft the HCP, assured Gon that the lack of bat strikes isn't because there aren't any more bats in the area. "There are acoustic detectors at the site and nearby mitigation sites and the [bat detection] trend has been stable or increasing for all those sites," he said.
(For more background on this, "Wind Farm Barely Gets Preliminary OK To Kill 160 Additional Endangered Bats," from our August 2019 issue.)
---
Dispute Heats Up Over Ownership Of Kauaʻi Communications Tower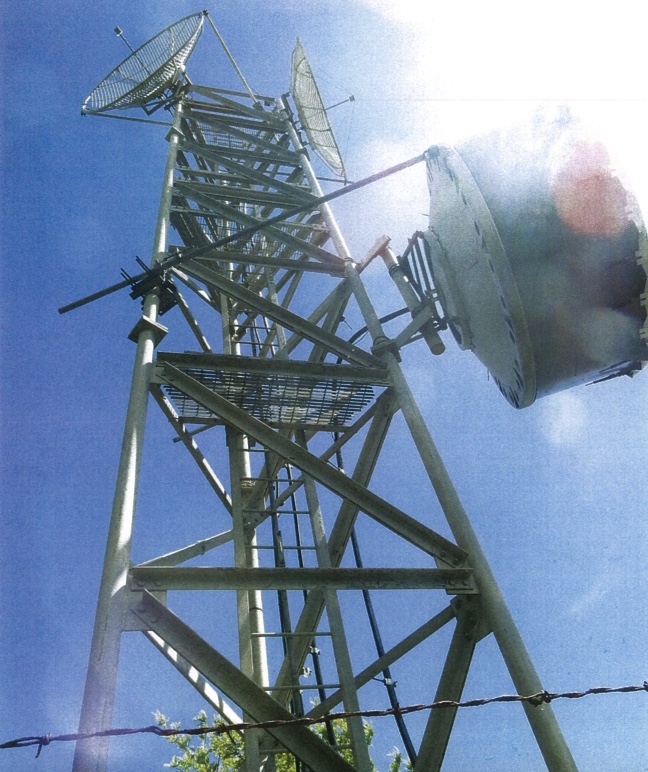 What happens when a squatter is providing a critical public service on state lands without a valid lease or permit to be there? What if that squatter claims it owns all of the improvements on the site (except the buildings) that the state plans to lease to a new service provider, and that claim is based on a notarized amendment to a now-expired lease?
How these thorny questions are answered may impact efforts to expand and improve emergency communication capabilities in and around Hanapepe, Kauaʻi. Whether they are answered in court or in negotiations remains to be seen.
The "squatter" in this case is InSite Towers Development, LLC, which years ago took over ownership of a number of Hawaiian Telcom's communications towers, including one at Hanapepe.
In 2013, the lease for that tower site expired, as did a one-year holdover that was never actually executed. Even so, InSite continued to manage the land and to lease space on the tower to Hawaiian Telcom, because its principals claim that it owns the tower and all improvements on the land, except for any buildings.
A standard condition in Department of Land and Natural Resources (DLNR) leases is that ownership of all buildings and improvements on the land reverts to the state when the lease expires. But in Hawaiian Telcom's 1963 lease, sold at public auction, the language requiring the surrender of improvements was crossed out, with the change initialed by a notary.
Why this was done remains a mystery. Counsel for InSite speculates that it was to give ownership rights to the lessee. The state disagrees, arguing the Hawaiʻi Supreme Court determined decades ago that such amendments to leases issued at public auction are prohibited.
So on January 8, the DLNR's Land Division recommended that the Land Board terminate InSite's use of the land and issue a direct lease to New Cingular. New Cingular plans to provide space on the tower to AT&T, which is the federal contractor to implement the FirstNet broadband network for first responders.
The board approved the staff's recommendation. InSite then requested a contested case hearing, but the Land Board denied that request at its February 12 meeting.
At the January meeting, InSite's attorney, Rosemary Fazio, urged the Land Board to give the lease to InSite and approve a license to AT&T. In the alternative, she asked the board to defer the matter to give the parties an opportunity to negotiate a fair settlement. She noted that AT&T had actually been working with InSite on renting space on the tower, but abandoned that effort when it realized that the tower's ownership was an issue.
Land Division administrator Russell Tsuji had argued that InSite is not eligible for a direct lease for two reasons: 1) it's currently not a Public Utilities Commission-certified communications service provider (although it has applied to be one), and 2) it owes the department back rent.
Even though it had neither a lease nor permit to use the land, InSite took control of the Hanapepe tower in 2014 and had been collecting rent for Hawaiian Telcom's use of it.
Until very recently, InSite paid no rent to the state, arguing that it was told by a Land Division agent that the state could not accept rent without a lease in place.
The law allows the Land Division to directly negotiate leases with communication service providers, but not with a company such as InSite, which merely rents space on towers to companies that are. As an alternative, the Land Division proposed holding a public auction for a lease of the site and issuing InSite a month-to-month revocable permit to keep using it in the meantime. Until a fair market rent could be determined, the division proposed charging InSite the same rent that Hawaiian Telcom had paid under its expired lease.
When presented with the proposal in 2016, however, InSite did not want to pay any rent until a fair market value could be determined by an appraisal, according to a January 8 report to the Land Board. That plan eventually fizzled, but InSite continued to operate the tower without paying any rent.
In 2019, as the company began working toward becoming a Public Utilities Commission-certified communications provider, the Land Division renewed its efforts to collect rent, and back rent, from InSite. Invoices the division sent went unpaid.
Then last May, the division sent InSite a demand letter advising the company to pay the interim rent within 30 days and provide evidence of its PUC registration within 60 days.
InSite did not answer until September 28, and offered only to pay a portion of the rent the Land Division said it owed.
In its January report to the board, the division noted, "Interestingly, InSite's September 28, 2020, letter with its offer to finally pay rent was sent not long after New Cingular Wireless PCS, LLC contacted Land Division about applying for a lease of the site in early August 2020." New Cingular had submitted an application for a direct lease of the site on September 1.
At the board's January meeting, Tsuji said he wasn't aware until recently that InSite has not paid any rent. "I said Jesus Christ, you're occupying the property, you're making money, and over five years you're not paying anything to the state?" he said. He added that InSite eventually sent a check for $15,524.18, which is about $700 less than what the Land Division had invoiced. What's more, the company made it clear that if the division cashed it, the state could not seek the remainder.
He added that before sending the check, InSite's counsel had offered to pay half of what was owed now, and the other half on the condition that it get a direct lease.
"They are not even qualified … and they owe us rent," another disqualification, he said.
With regard to InSite's claim that it owns the tower, Tsuji questioned whether the notarized change to the lease was even valid. "I don't know. It doesn't matter," he said, noting that the Hawaiʻi Supreme Court's 1963 decision in Kahua Ranch v. State determined that auctioned leases can't be amended.
Fazio countered that InSite has always been ready, willing, and able to pay rent. As a gesture of good faith, she said InSite has now paid every single dollar it received from Hawaiian Telcom.
She continued that the PUC has not yet acted on its certification due in part to COVID.
She said the facts of InSite's case are different from those in Kahua Ranch, where the DLNR had wanted to change the water rights in a lease after the ranch had won it at auction.
"That's not what we have here," she said, adding that she doesn't know what the public notice was in connection with the 1963 lease to Hawaiian Telcom, and whether it mentioned that the lessee would own the improvements. She also didn't know whether there were competitive bidders for the lease.
She added that InSite has made costly improvements to the site and the tower, "all on reliance upon the fact that it was a holdover tenant … while its PUC application was going to be approved."
"AT&T knew for the past two years that InSite owns the tower. It shouldn't be expected or allowed to scoop InSite's improvements for free. I don't want to sound like I'm making threats … Let's just consider the delays that would result if InSite is not acceptable for a new lease," she said. InSite would have to secure a Conservation District Use Permit to remove its tower. AT&T would have to get a permit to build one and it would likely cost about $250,000. "During all this time, what would happen to the HawaiianTel transmitter and the people of Kauaʻi who rely on HawaiianTel's service? … This is a matter of real public concern," she said.
Board member Chris Yuen questioned InSite's interpretation of the changes to the Hawaiian Telcom lease back in 1963.
"The language stricken out, let's say the striking out is valid. I don't see a clause that then says, the improvements belong to the tenant and may be removed. Am I missing something? … Having that clause [regarding improvements] stricken out, would that mean then that the ownership of the improvements is a matter of law, the law of fixtures specifically?" he asked. (Fixtures are not personal property, but real property that is transferred with real estate. Fixtures put in place by a tenant belong to the landlord if the tenant is evicted.)
"I agree the lease says just what the lease says. The relevant interpretation of the lease has to do with the intention of the parties. … How do you infer the intention of the parties when there is an affirmative striking and there is an obligation of the tenants to construct improvements? … That's the legal analysis I think a court would apply. … Hopefully, we're never going to get there," Fazio replied.
"Do you think the state has any obligation to continue leasing to InSite?" Yuen then asked, given that Fazio had suggested that in the five or six years the Land Division allowed the company to stay, it had given it an expectation that it would ultimately get a lease.
"Yes and no," she said, adding that it's the state's property and it can lease to whomever it wants to. However, "there is an anticipatory expectation in connection with all of the actions InSite has taken in good faith reliance that it was going to be issued a new lease if it could obtain PUC status. InSite has spent a lot of money and time on this project," she said.
If the board chooses not to grant InSite the lease, "a commercially reasonable settlement can be reached between AT&T and InSite," she said.
Board chair Suzanne Case said any settlement would hinge on the interpretation that InSite owns the tower. "There are other parties that are already qualified to get a direct lease. … Our obligation is to figure out what is in the best interest of the state," she said.
AT&T's Elizabeth Song noted that as the FirstNet contractor, it has been working to improve public safety communications throughout the state. "The surrounding area has been identified by Kauaʻi County as critical. … This site would give increased capability to call 911," she said.
Everett Kaneshige, of the state Department of Defense, who is the state's point of contact for the FirstNet project, added that Governor Ige decided in 2017 to be a part of it. "The state must work with AT&T to make sure terms and conditions are fulfilled, [including] additional tower sites to build out and improve coverage on all islands. This tower site falls into that and was proposed by AT&T to meet their quota as part of the tower commitments made to the state," he said.
"The other items brought to the board, quite honestly, are between AT&T and InSite. … From the public safety perspective, what we've been told, that is an area where coverage is poor. So whatever can be done to basically improve coverage and improve it quickly, that is the nature of the state's interest, from the DOD's perspective," he added.
In the end, the Land Board voted to approve the Land Division's recommendations with a few amendments to give New Cingular a revocable permit and right-of-entry to quickly occupy the site to ensure there is no gap in service. The board also affirmatively stated its position that it owns the tower, but added that if InSite chose not to remove the tower, that would not be interpreted as a waiver of its ownership claim.
"I think in the long run, InSite can go to court and ask the court to declare they own the tower. If they do, the counsel for InSite talked about negotiations. … Obviously, there's going to be a common ground between AT&T. InSite's options will be to remove the tower. AT&T's option is to buy the tower. … Our action today should not force them to take action to remove the tower between now and February 7. … I'm perfectly content to have this thrashed out in court at some point," Yuen said.
— Teresa Dawson