Board Continues Revocable Permits For Kaua'i Utility's Water Diversions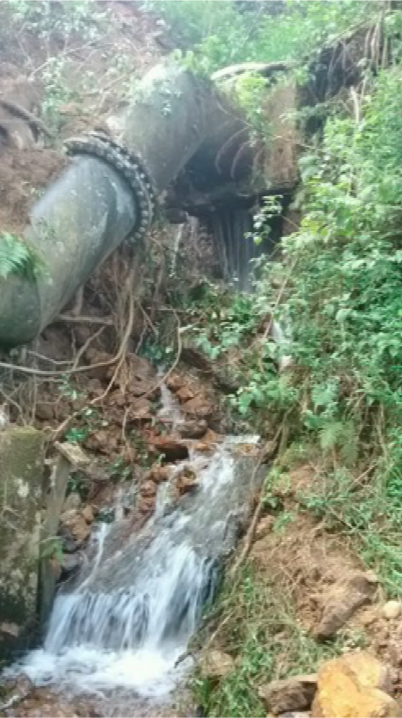 On December 11, the Kaua'i Island Utility Cooperative (KIUC) barely mustered enough votes from the Board of Land and Natural Resources to secure a revocable permit to divert water from Wai'ale'ale and Waikoko streams. The streams help feed two of KIUC's hydropower plants.
The utility has had a revocable permit allowing this for nearly two decades, but admitted in its renewal application that last year, it had not taken any water from the two streams because of damages to the 'Ili'ili'ula-North Wailua ditch system. The plants, KIUC reported, provided a little less than 1 percent of the island's power in 2019.
To members of the public who have long called for an end to the diversions, this past year proved that KIUC doesn't really need all — or, in fact, any — of the water it has claimed it needs.
"They [KIUC] offer no evidence of any detrimental consequence from the loss of this water. This confirms what we have always maintained every year we have objected to the renewal of RP7340, that the 40 [million gallons] diverted daily from state land and other Wailua streams is not necessary to meet the power needs of Kaua'i. For this reason alone [the permit] should not be renewed," wrote island resident and activist Bridget Hammerquist in her testimony to the board.
While it did not divert any water last year, KIUC still wanted to maintain its permit so that it could to continue ongoing repair and maintenance of the ditch system and eventually resume the diversions. It had also recently submitted to the Department of Land and Natural Resources' Land Division a final environmental assessment for a 65-year water lease.
In its report to the board supporting the permit renewal, Land Division staff noted that the use of water for hydropower "supports Hawai'i's Clean Energy Initiative, which sets goals for the state to achieve 100 percent clean energy by 2045 coming from locally generated renewable sources. Although hydroelectric projects are not an identified public trust use of state waters, the public trust concerns will be addressed in the processing of the water lease applications."
The current permit terms require KIUC to restore stream flow so that it meets interim instream flow standards (IIFS) proposed by state Commission on Water Resource Management staff in 2018. This condition addresses the issue of competing uses for the water, the Land Division stated.
The Water Commission's proposed IIFS for Waikoko and Wai'ale'ale streams, however, is the subject of an ongoing contested case hearing requested by KIUC.
"If the contested case results in a different IIFS, the allocation will be adjusted accordingly by the board for the long-term lease. In view of these considerations, staff believes that allowing the revocable permits to continue on a temporary basis in support of the state's renewable energy goals is consistent with the public trust," the Land Division stated.
Attorneys for Earthjustice, which represents Hui Ho'opulapula Na Wai o Puna in the contested case, argued in written testimony that the Land Board would fail to meet its public trust duties if it approved the permit as the Land Division proposed, and recommended denial or, at least a deferral.
Quoting the decades-old Waiahole Ditch contested case proceedings, they pointed out that under the public trust doctrine, off-stream water users have the burden to demonstrate their actual needs and "the propriety of draining water from public streams to satisfy those needs." "[A] lack of information from the applicant is exactly the reason an agency is empowered to deny a proposed use of a public trust resource," the attorneys wrote, citing a decision in the more recent Kaua'i Springs, Inc. case.
"As in previous years," they continued, "the staff submittal recommends that the board approve diversion of water from Wai'ale'ale and Waikoko, even though KIUC has not provided the Board with any information concerning its actual water use or electricity generation needs, let alone information about feasible mitigation measures and alternative water sources. Without this information, this board cannot exercise its public trust duties."
If the board chose to approve the permit, however, they asked that it impose conditions to enable it to better meet its public trust duties. "In short, the board should hold the diverter accountable to the public trust with meaningful obligations and deadlines, rather than simply rubber-stamping the diversions repeatedly and indefinitely," they wrote.
The conditions they recommended would require KIUC to install water gages for all diversions on the ditch system and establish deadlines for the utility to 1) develop and implement a plan to mitigate water loss from the system, 2) to develop a means to remotely shut down diversions following damage to either the ditch or the hydros, and 3) to report on alterations to diversion structures to allow year-round mauka-to-makai flows.
They would also require KIUC to report to the board details of its power generation from each of the two plants and to set a timeline to repair exposed rebar at the Wai'ale'ale diversion, "or any other public health hazards that may emerge."
Several Kaua'i residents, some of them native Hawaiians, submitted testimony echoing Earthjustice's recommendations.
Leina'ala Ley, one of the Earthjustice attorneys, told the Land Board, "The applicant has never shown it needs water from Wai'ale'ale and Waikoko for hydropower," adding that the utility has access to alternative sources of water from adjacent private land owned by Grove Farm. "There's some question of whether the production that does occur is in high flow season. … We ask they provide information more granular in terms of wet season and dry season and not just generalities," she said.
KIUC's Brad Rockwell countered that the utility has published an environmental assessment on the impact of its diversions and has responded to hundreds of public comments. The information KIUC has provided "is far and above any other revocable permit that I'm aware of, especially for an existing use," he said.
When asked by board member Kaiwi Yoon why there seemed to be such a divide between KIUC and members of the community, Rockwell argued that it wasn't because of a lack of information. "It's just a matter of two different agendas. I think there can be a balance. Native Hawaiian traditional and customary practices can be in the area. … I think there's others that see any diversion of water as not what they want to see in that area. That's where we sort of come to a head in that area. People don't want any water diverted," he said.
KIUC CEO David Bissell added that he did not agree with the characterization that the community is opposed to the diversions. "We don't share that view and our elected board doesn't share that view. … The greater community does support it. … The majority of people on Kaua'i," he said.
In the end, the board voted 4-2 to approve the permit as submitted by the Land Division (members Jimmy Gomes and Yoon opposed). Member Sam Gon abstained. The vote came after the board declined to grant contested case hearing requests made by Hammerquist and others, although board member Chris Yuen advised them that they could follow up with a written petition within 10 days of the board meeting.
Yuen also asked KIUC to provide Ley with more detailed information about how much energy is produced by hydros on a seasonal basis between 2017 and 2019.
---
ICA to Decide if Kahala Lot Is Part of the Public Trust
As we reported in November, the Land Board voted on October 23 to renew a revocable permit to ResortTrust Hawai'i (RTH) for 1.3 acres of filled, formerly submerged state land fronting its Kahala Hotel & Resort. This permit, like the previous one, allowed the presetting of 70 lounge chairs on the property and kept open the possibility of commercial use, should it ever be allowed by the city. But the board also added new conditions to address what members of the public had been complaining about for years and what at least one board member finally confirmed for himself: the land, while created for use as a public beach, was being managed in a way that might lead people to think it was the hotel's private property.
The board required the hotel to clearly delineate the boundary between its property and the public parcel and to install signs announcing to the public that it is welcome onto the public portion, known as Lot 41.
Although board chair Suzanne Case told hotel representatives that the lounge chairs should not obstruct public use, the board did not include any conditions making that a requirement.

At the time the Land Board made its decision, one of those concerned members of the public, David Kimo Frankel, had already filed an appeal with the Intermediate Court of Appeals (ICA) of a 2019 1st Circuit Court ruling that shot down arguments he raised in a lawsuit against an earlier renewal of ResortTrust's permit.
Frankel stated in written testimony, "Because Lot 41 has been dedicated to be used as a public beach, there should be no exclusive use of it by a private party. Hotel guests are free to use Lot 41 – to the same extent that local folks are. But they should not be privileged in having the hotel reserve the bests spots for them."
He also recommended that the board adopt conditions to the permit that explicitly banned commercial uses and guaranteed public access to both the sandy beach and grassed-over Lot 41, put an end to chair pre-setting, and require ResortTrusts's employees and contractors to comply and be responsible for any violations.
At least one member of the board seemed amenable to ending pre-setting, but the board ended up adopting condi- tions that sought only to inform the public of its right to access.
Opening Brief
The concession has not derailed Frankel's appeal of 1st Circuit Judge Jeffrey Crabtree's determination that public trust principles don't apply to Lot 41 because it is not in the state Conservation District. It's in the Urban District.
Crabtree's October 2019 order pointed out that the Hawai'i Supreme Court, in its decision in the Thirty Meter Telescope case, chose not to decide whether public trust principles should apply to lands outside the state Conservation District. Although a subsequent decision by the court in a case involving the Pohakuloa Training Area found that "all pubic natural resources are held in trust," Crabtree argued that the high court would have specified whether that language altered the position it took in the TMT case. But it did not.
Frankel has argued that the Land Board, in its crafting and lack of enforcement of the revocable permits issued to ResortTrust Hawai'i, has breached its public trust duties.
In his opening brief to the ICA, Frankel says the ICA should reverse Crabtree's decision not to grant Frankel's request for grant summary judgment because, "(1) Lot 41—as formerly submerged land, ceded land, public land, and land dedicated to be used as a public beach— is subject to public trust principles; (2) it is irrelevant that Lot 41 lies in the urban district for the purposes of public trust analysis; and (3) BLNR breached its trust duties when it allowed RTH to exclude the public from using portions of Lot 41, engaged in a flawed decision-making process, and failed to take appropriate enforcement action."
"[A]n administrative agency's action cannot supersede or preempt constitutional duties. … [The state Land Use Commission] [d]esignating Lot 41 as 'urban' does not magically free BLNR of its constitutional public trust duties on land that is (a) ceded and (b) public," he wrote. "[T]here is no sound reason to exclude our beaches from the public trust— particularly given the Hawai'i Supreme Court's long history of protecting our beaches," he added.
"Allowing RTH to hog cheese land set aside to be used as a public beach does not serve any public trust principle. Laying out empty chairs to be filled by RTH guests later in the day does not serve the public's interest. For every chair that RTH pre-sets on Lot 41, members of the general public are excluded from using that area."
The Department of Land and Natural Resources' Land Division staff has taken the position that the Land Board does not have a trust duty to keep the lot "wholly open to the public." "Staff does not agree that it is a breach of the public trust to allow RTH to use a small portion of the premises for pre-setting, especially when the public interest is so well served by the money and services that the State receives in return," it stated in a 2019 report to the Land Board.
At the Land Board's October 23 meeting, RTH's attorney, Jennifer Lim tried to explain how small of an impact a handful of pre-set lounge chairs would have on public access. Frankel replied, "I don't know what kind of hands Mrs. Lim has. Seventy chairs is not a handful."
In his brief to the ICA, Frankel explains that it doesn't even matter how much space the pre-set chairs would take up. "Neither the percentage nor the precise amount of public beach RTH is authorized to use exclusively (whether 3,000 or 6,000 square feet) is material. The revocable permit authorizes RTH to exclude the general public from using portions of Lot 41 to accommodate RTH's private commercial interests. … The Hawai'i Supreme Court has repeatedly emphasized that it is improper to prioritize private commercial interests over the public's use of public trust resources," he wrote.
He asked the ICA to invalidate the Land Board's decision giving RTH exclusive use of portions of the lot and to remand to the board the question of whether a new permit should be issued and whether conditions should be included to ensure uses are consistent with trust purposes and prioritize public uses.
"Before making these determinations, however, as a responsible trustee, BLNR should first assess the extent to which RTH failed to comply with its permit and what consequences should follow," he concluded.
For years, the hotel hosted paid events and weddings, ran a portion of a restaurant, and rented large cabanas and clamshell loungers on the parcel, even though its permits allowed for only recreation and maintenance. The DLNR never brought any enforcement cases to the board. Based on information Frankel brought to the department, the board did impose a penalty of $702 in late 2019 on RTH for renting clamshell loungers earlier in the year. However, it did not characterize it as a fine for a permit violation. Rather, it simply tacked it onto the company's rent.
—Teresa Dawson