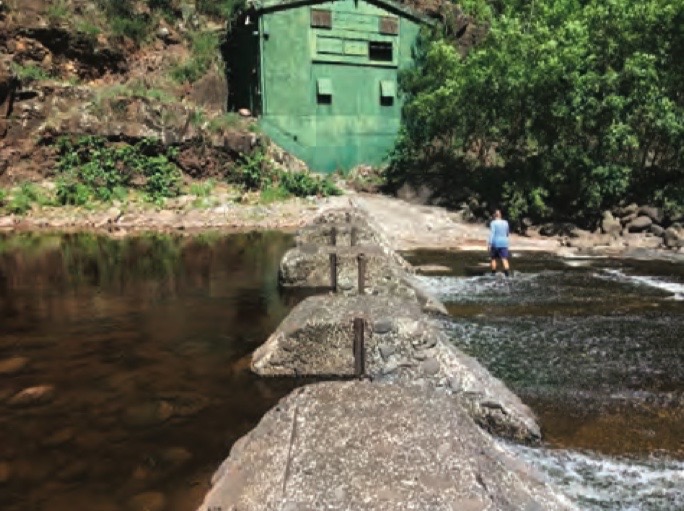 In April 2017, the state Commission on Water Resource Management voted to adopt the terms of a mediated agreement intended to end the years-long conflicts over the diversion and waste of stream water via the Kokeʻe and Kekaha ditch systems in West Kauaʻi. It would also help the Kauaʻi Island Utility Cooperative (KIUC) achieve its goal of developing hydropower projects there.
"Three-and-a-half years after this contemplated win-win-win resolution of the Waimea [interim instream flow standards] petition, compliance has really, sadly, fallen short," Earthjustice attorney Isaac Moriwake said at a briefing before the Water Commission last month.
The Waimea Watershed Agreement was to have resolved a 2013 petition filed by Moriwake's clients, Poʻai Wai Ola/West Kauaʻi Watershed Alliance, to amend the interim instream flow standards [IIFS] of the Waimea River, its headwaters, and tributaries, as well as a complaint and petition they filed seeking to end the waste of diverted stream water by the state Agribusiness Development Corporation (ADC) and the Kekaha Agriculture Association (KAA), which manages the agency's irrigation systems.
The groups alleged that water diverted by both systems was being wasted through system leaks and by being dumped into a different stream or onto the ground. In the meantime, stretches of stream bed were left dry or with inadequate flow.
Under the agreement, Koke'e Stream was to immediately be allowed to flow past Koke'e Ditch. The combined flows of three other streams diverted by the system were to total about 7 mgd. For streams diverted by the Kekaha system, the IIFS was set at 2 mgd for Koaie, 8 mgd for Waimea below one of the diversions, and 25 mgd at a U.S. Geological Survey meter.
KIUC was responsible for installing and maintaining real-time monitoring systems to track flows entering and exiting the Koke'e Ditch and for modifying diversions to ensure flows were restored to the maximum extent possible and allowed for the migration of stream species. The ADC and KAA had to do much the same along the Kekaha system.
If and when KIUC completed its renewable energy project, flow standards on the Kokeʻe system would be adjusted to accommodate the project's needs.
To date, adequate flow monitoring gages have still not been installed, system adjustments to ensure that the streams receive water in low flow conditions were only completed this year, and significant system leaks have resulted in repeated failures to meet the IIFS for the Waimea River.
In his briefing to the commission on the status of the agreement, Water Commission hydrologist Ayron Strauch said there have been a number of hiccups in implementation. The death of KAA's irrigation system manager, Landis Ignacio, was one. Without him, the organization lost institutional knowledge, as well as a willingness to manage things on the ground, Strauch said. 
Access, especially to the Kekaha system, was another issue, he added. In addition to road repairs, he noted that in 2018 and 2019, "there were a lot of wash-outs of road crossings that resulted in fewer site visits, intake adjustments, and operational fixes to meet agreement goals."
A lot of progress has been made in meeting the IIFS, in increasing stream flows and ensuring that stream needs come first, he said, adding that a lot less water is being dumped onto the ground by the Kokeʻe system. It used to be 1 mgd; now it's a trickle, he said.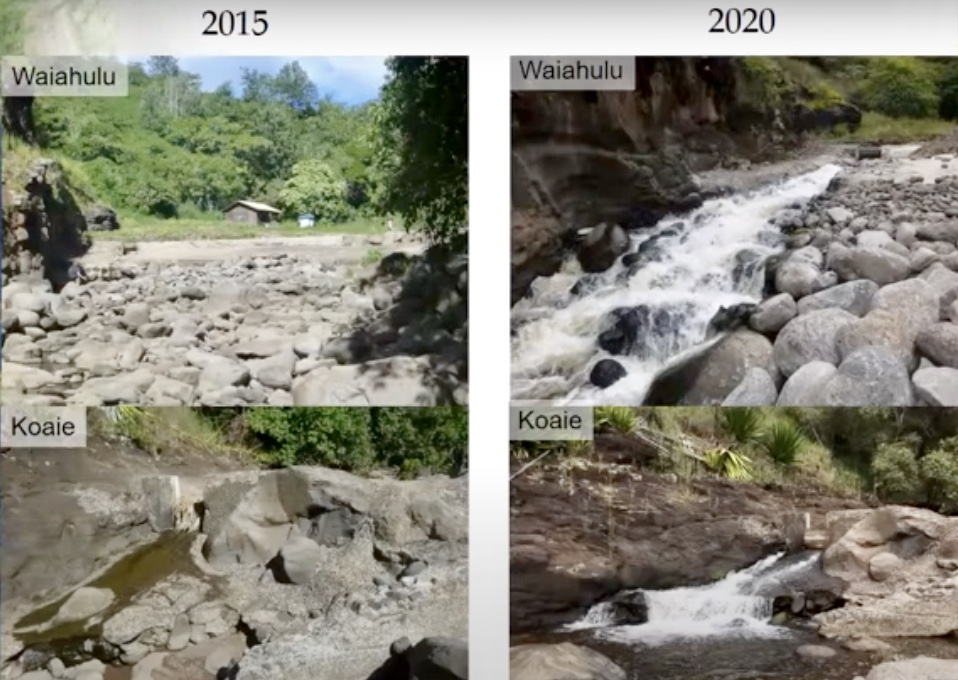 Strauch seemed frustrated, however, with the lack of progress on installing real-time monitoring gages. KIUC and KAA have blamed their failure to quickly install all necessary monitoring gages on the fact that they are tied to permitting for their ditch modifications, which is taking a very long time.
As a result, CWRM decided to go ahead and install its own monitoring system below the Waiahulu intake earlier this year, he said. "We've lost now three-and-a-half years of valuable data collection," Strauch complained.
Without the stream-flow data they thought they would have by now, Water Commission staff are unable to answer whether actual flows are anything like the modeled flows that were used to establish the IIFS. They also have no idea what the total system losses are or how much water is available on the Mana plain as a result of those losses.
"Although we made great strides in basic parts of the agreement, there are a lot of holes. If this comes before the commission again, we just don't have any data to provide for better management," Strauch said.
He pointed out that flow measurements that commission staff took in 2017 and 2018 along the Kokeʻe system showed that actual flows were at times significantly different than what had been modeled.
Measurements staff took on November 9 at various sites along the Kekaha Ditch show that there is significant leakage: 2.9 mgd along one section alone.
Strauch called the loss "outstanding," given that the agricultural demand for that water is only 1.79 mgd and the flow in the Waimea River was 2.4 mgd below the IIFS.
He noted that it's an old system that needs a lot of work, and KAA has already stockpiled the piping needed to fix some of the leaks. "There are plans to make improvements. It's clear agriculture needs to be supported and water is valuable. In order to expand agriculture, they are going to need to be better stewards," he said.
He said there are a large number of sections of unlined ditch and sections that have cracks. At Polihale, on the Mana plain, "there's a nice swath of green vegetation growing along the ditch. It's clear the ground is nice and moist there because of all the leakage," he said.
'Binding Law'
Moriwake reminded the commission that meeting the terms of the agreement is mandatory for KAA, ADC, and KIUC.
"This agreement is not just some handshake deal or a [memorandum of understanding]-type of agreement. … It's binding law," he said.
"It took really a lot of persistence over three years to get this far. … We can't be sure the IIFS are being met without monitoring. We literally saw that data for the first time today. … It's showing compliance with one of the Waiahulu IIFS for now," he continued.
He pointed out that in addition to failing to install adequate monitoring, KAA had 45 days to submit system modification plans, but took 16 months.
And at the lower Waimea River, he said there have been extensive violations of the IIFS. For more than 200 days, KAA was overdrawing, on average, some 2 mgd, he said. "This has improved over time, again through persistence, but it's ongoing," he said, noting that the violations continued through most of September.
With regard to system losses, he said the data — not including Strauch's November measurements — suggest to him that the Kekaha ditch flow measured after passing through a hydropower plant was around 12 mgd, but only 6 mgd was arriving at a lower spot to meet an actual agricultural need on the Mana plain of just 1.3 mgd.
"We need gaging in the ditch system to get to verify this either way. It's really a shame we don't have that now," he said. Without the gage the Water Commission staff installed and the measurements it made, and a USGS gage, "we'd be totally flying blind," he said.
He complained that compliance with the agreement has often been treated as if it was a matter of convenience rather than a legal obligation. "When push comes to shove, the IIFS takes a back seat. The burden falls on the community and staff to continually check and to hassle, rather than the diverter having to show cause," he said.
Moriwake called for more regular updates and public reporting of the kind of data Strauch presented. "I don't think we can be absentees, certainly not for another three-and-a-half year stretch," he said.
KAA Responds
"There's no way I can say we've hit all the timelines in the agreement, but it's certainly not from a lack of effort," KAA's board president Josh Uyehara told the commission.
Since 2017, he reported, KAA has spent more than $7 million on repairing or modifying the ditch system, installing some monitoring, and purchasing materials that will reduce system losses, among other things.
Uyehara said KAA spent $60,000 in 2018 alone repeatedly repairing the access to the upper diversions, "most times for access to wash out before we can use it."
He said the slow progress in getting the permits necessary for ditch modifications and gaging has been frustrating for them, as well. "There's literally no benefit to us dragging our feet. … If anyone knows a better way to get these things expedited, we want to hear about it," he said.
To date, most of the improvements that have been made were supported with state funds, since the system and the lands it serves belong to the state. Some funds have come from KAA, and Uyehara said that it is looking to privately financing some of the major projects in the future, knowing that state funds may not be readily available.
"It will be tough to completely renovate the system without state assistance," he said.
Despite falling short on meeting all of the agreement's requirements, he said that the KAA did take immediate steps after it was signed to reduce the flows in the ditch system to meet the IIFS. It couldn't tell if it achieved that since there were no gages, he added.
From getting funding to receiving permits, "obviously we've run into repeated delays," he said.
Commissioner Neil Hannahs asked about the delays in the gaging installation and the pulling of boards in some diversions to ensure that the streams receive flows first.
Uyehara first noted that KAA has installed some gages. Others that require modifications to the diversion, however, have been hung up in permitting, he said.
"We're relying on USGS for long-term gaging upstream of our diversion points," he said.
With regard to the boards, which were not pulled until earlier this year, he explained that, basically, the KAA was too worried that the space beneath the board would clog with debris, resulting in no flows into the stream until the water levels topped the height of the board. So it held off.
But this year, he said, KAA had regular access to the sites, so it decided to finally raise the boards and, so far, the passages have not plugged.

While discussion during the briefing focused mainly on the Kekaha ditch, Dawn Huff, representing KIUC, reported that its stream gage installation on the Kokeʻe system and streams is also tied into ditch modifications and obtaining all the permits for those. It is currently awaiting approvals from the state Office of Conservation and Coastal Lands, the Historic Preservation Division, and the Department of Health.
Ways Forward
"How hard is it to put gaging in your own ditch? You can't tell me you need permitting to do that," Moriwake asked after Uyehara's presentation. If KAA can't handle installing gages in its own ditch system, Moriwake suggested that perhaps Strauch should take care of it and KAA fund it.
Strauch said it was possible for the commission staff to install gages. "It's not easy to get to. That's an understatement. It would take a lot of effort. Travel is difficult. Day trips are fine. It would take a lot of day trips," made more difficult by the pandemic, he said.
"If it's all tied to their construction permits, then it's going to be a while. I take my direction from the commission," he said.
A number of the commissioners stressed how much they want the agreement to succeed, to show that people can work together and resolve their differences and not need to go through years-long contested case hearings or court battles.
"We've got to have more regular updates and we've got to see action before we find ourselves in situations we don't need to be in," Commissioner Kamana Beamer said.
— Teresa Dawson
For Further Reading
Environment Hawaiʻi has given extensive coverage to the controversy over diversion of stream water in West Kauaʻi. The following are all available at www.environment-hawaii.org: