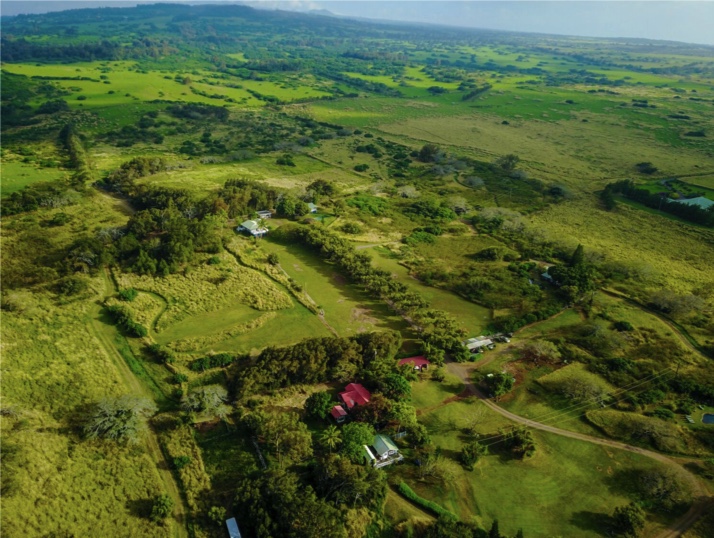 Last month, the Hawai'i County Leeward Planning Commission voted unanimously to approve the application of Kupunakane Ranch, LLC, dba Puakea Ranch, to run a hotel on 14.9 acres of land in the state Agricultural District in North Kohala. Plans call for seven cottages, housing up to 38 overnight guests, and construction of a pavilion and parking lot. In addition to hosting tourists, weddings, and other large events, owner Christine Cash has said she wants to use the facilities for horseback riding, cooking classes, and yoga retreats, among other activities.
The land is part of a larger 32-acre parcel that Cash purchased in 2006 and where she has operated a multi-structure lodge for at least the last 11 years. The 14.9 acres where the permitted activities are to occur are just shy of the threshold of 15 acres that would require approval from the state Land Use Commission rather than the county-level Planning Commission.
Some of the structures used as guest accommodations are old houses dating to the early 1900s that once accommodated workers at the former Puakea Ranch. At least two of them were moved to Cash's property from an adjoining parcel. The relocations were permitted by the county, but came with requirements to obtain permits before they could be occupied.
Cash rehabilitated them with new kitchens and furnishings, dug private pools, installed Jacuzzis, and built bath-houses alongside them. Beginning in 2008, she and her partners – James H. Nelson IV and Livmar Enterprises, Inc., all of Beverly Hills, California – rented them out to guests for several hundred dollars a night. Other structures were entirely new builds. An Airstream trailer was brought onto the property as well and used to house paying guests.
In none of those cases, however, did Cash receive building permits or other approvals from either the county Planning Department or Public Works Department. On January 13, 2009, following publicity about the operation as well as complaints from neighbors, the Planning Department sent inspectors to the ranch.
At that time, an employee of the ranch informed the inspectors that there were four dwellings on the site, but that Cash did not rent out any of them. He also told them that Cash was "fixing up the original house on the property known as Yoshi's house and will be moving into the house once it is finished," that she "does not have any web sites promoting a guest ranch," and that a second house "is for Ms. Cash's friends to use when they come to visit."
But five structures were identified by the inspectors: three dwellings, a garage with tool room, and another vacant structure. In addition, there were two swimming pools and a "tent-like structure" being used as a residence. Online advertisements for the ranch listed yet another structure, a "Luxury Tree House," that the inspectors had not noticed.
As for the statement that there were no websites promoting a guest ranch, planning inspectors found a listing on the VRBO (Vacation Rental by Owner) website, advertising at least three accommodations.
Then-Planning Director B.J. Leithead- Todd issued a Notice of Violation and Or- der to Cash and her co-owners on March 19, 2009. She noted that no occupancy permits had been issued for the two relocated structures. Furthermore, Real Property Tax Office records identified just one "salvaged building with a value of $26,000" on Cash's property, with that same office having no records at all for either residences or commercial buildings on the lot. Finally, the Department of Public Works had not issued any of the required permits for the two swimming pools inspectors noted.
Leithead-Todd informed Cash that she was in violation of the Hawai'i County Zoning Code by operating a guest ranch without a permit and by operating it "in structures for which no building permits have been issued and in structures for which no farm dwelling agreements have been executed." Cash was ordered to "immediately cease and desist" the operation of the guest ranch, cease occupancy of any unpermitted dwellings, and remove all online advertising for Puakea Ranch. And she was ordered to so by April 15, 2009.
The vacation rentals did not cease. The weddings did not cease. Instead, in 2011, Cash applied for the Special Permit needed to legally operate a guest ranch in the state Agricultural District. But the application languished with no follow-through while operations continued.
Another violation notice was issued in 2015, to no apparent effect. The county issued a stern warning letter in 2016. Again, there was no compliance.
In March 2017, and in response to a number of complaints from neighbors relating to noise from parties and celebrations held on Cash's property, the county once more issued a Notice of Violations, with each day of ongoing violation racking up a fine of $100. Cash filed an appeal with the county Board of Appeals, but dropped it before it could be heard.
Nothing changed at Puakea Ranch. In July of that year, Planning Director Mi- chael Yee reiterated the order for corrective actions listed in that March letter.
The order was ignored.
April 2018 brought yet another Notice of Violations, the fourth. This time, fines were levied at $500 for each ongoing day of non-compliance.
Still nothing altered.
Finally, in November 2018, the county sued Cash and her co-owners. At that time, the county calculated the total fines and related costs at $197,500. The complaint sought to enjoin the owners from using the property as a guest ranch, to enjoin further construction on the property without permits, and to enjoin the use of an open recreational pavilion that had been built without permits.
Facing harsher action than the Planning Department alone could impose, Cash and Co. agreed to submit an environmental assessment and apply for the Special Permit the county had been requesting for the past decade. At the same time, the county agreed to stay action on the complaint pending the processing of Cash's application for the permit.
At the time the stipulation was reached, last December, the county submitted to the court a declaration of Horace Yanagi, a Planning Department inspector. As of September 30, 2019, Yanagi stated, fines totaling $358,000 remained unpaid.
'Throwing a Hammer' – Not
"I've stepped into violations more than previous directors," Michael Yee, the current planning director, told the commission as he began presenting his own recommendations. Yee is the third director to have dealt with Cash and the unpermitted activities at Puakea Ranch.
"This was clearly a case with a long history," he said. "But if you get mired into the past, it becomes difficult to see a way out of the woods."
Yee described how in early 2017, soon after he was named to his position by Mayor Harry Kim, he met with Cash. "I went to the site and tried to understand the issues."
In explaining what some have described as a too-lenient approach to dealing with the violations, Yee said, "throwing a hammer of violations and fees to cure problems is not always the most successful approach. We have thousands of violations on the island and work with the owners to arrive at a solution. If you get mired into the county playing the enforcer, I'm not sure it gets the county to a better result."
In this case, he continued, "it has been trying to understand how we could get them to a Special Permit application. The violations eventually went into litigation and are off my desk. As those fines and fees have been accumulating over time, I want to say that there was a stipulation for Christie Cash to stop her operations – and that has occurred, in certain areas."
As far as the outstanding fines are concerned, "if we can find a resolution forward with a Special Permit, then we can address what will happen to the fines and fees."
Asked by commissioner Mark van Pernis whether any fines would ever be paid for past infractions, Yee explained that normally, he would have the ability to waive or reduce fines in connection with violations being cured.
"I will say, typically, of a lot of violations that get cured, when they're still sitting in my court and haven't gone to corporation counsel," Yee said. "I have a lot more leeway to reduce fines. In this case, it's a little more complicated. I wouldn't say anything's been waived yet, but, again, I'm apprehensive to throw down a penalty so large on anybody that it becomes a hole they can't get out of."
Cash then made her own plea to the commissioners to grant the permit. When she purchased the property in 2006, she said, the ranch "was in a state of neglect and disrepair. I did what I could to restore the buildings to their original condition." She obtained old records and interviewed former residents who shared some of their photographs with her.
Then her attorney, Doug Chin, the former state attorney general, made his arguments. Violations happen, he said, especially in what he called a "complaint-driven system." "By that I mean, … if you have a small number of vocal people, such as certain neighbors of Ms. Cash, who consistently barrage the county with complaint after complaint after complaint, that will result in violations. As the department well knows, these are daily fines. So the number, or the quantity of fines we are talking about, certainly it's a high number, but also something that occurs because of the number of com- plaints from people who want to make complaints."
Chin disputed claims that the accumulated fines approached the $500,000 figure mentioned by some people in their testimony opposed to the application. "It's completely wrong, completely fabricated," he said. "The only reference in court documents is something that accumulates to $197,000 dollars."
(As noted above, as of September 30, 2019, the amount was $358,000. In the time since that figure was calculated, 11 months have passed, with daily fines of $500 a day. At roughly $15,000 a month, that figure would have increased by $195,000, for a total of $553,000. The stipulation did not toll the accumulation of fines.)
Finally, Chin circled back to disparaging the neighbors who he seemed to blame for the problems his client was facing.
"There's a profound disconnect in terms of what people think is happening up there at Puakea Ranch. On the one hand, Christie Cash is a developer hold- ing drunken hot-tub brawls up there on the ranch, with rock music that's going on past 1 a.m., accumulating a half million dollars in fines from the county and basically just causing havoc in everything that she does. …. That pilikea – which was very upsetting to listen to, frankly, because so much of it was inaccurate, but also because it just sounded like people who are using this area as a retirement community to create gentleman ranches, that I'm not sure is really the ultimate policy of what Hawai'i County wants … but it's also people who are essentially saying the exact same kind of picture of a neighbor that they said in their testimony to the Pasadena community association or to the Menlo Park association at their other properties when they didn't like what their neighbors were doing."
Cash, he concluded, "just wants to restore an existing guest ranch [that's been there] for more than a hundred years, long before any of the McMansions that have been built up in that area."
Commissioner Michael Vitousek also referred to the property as having "always been used as a guest ranch," saying that "its continued use as a guest ranch is important to its maintenance and survival as a historic site." He asked, however, that acondition be included requiring Historic Preservation Division review of proposed alterations to the 14.9 acres of the Special Permit area and that an architectural inventory survey be done.
Commissioner Faye Yates expressed her support for the ranch's operation, saying that many local people used it for baby parties and other celebrations. She asked that, if the permit was granted, provision be made for allowing such uses to continue.
When all was said and done, the commissioners voted to approve Yee's permit conditions, with amendments suggested by Vitousek plus three proposed by Chin just two days before the meeting.
Property Taxes
In Hawai'i County, as in other counties across the state, property taxes are based on the value of land and improvements. And when permits for improvements are issued, the Real Property Tax Office is notified and the value of those improve- ments are then folded into assessments it makes and on which real property taxes are levied.
In the case of Puakea Ranch, at the time that Cash and others purchased the property in 2006, the only improvements that the Tax Office showed on the site were two utility sheds. Taxes for the entire 32.411-acre property were $249.67. Even now, the only improvements shown on the tax records are those two utility sheds plus three gunnite pools installed in 2019.
For 2020, even with the 13 structures and improvements that Cash has made, the tax bill is just $6,776.
Many of the individuals commenting on the draft environmental assessment that was prepared in connection with the Special Permit application noted the discrepancy between the obvious income-producing improvements Cash had made and the property tax bills she paid. The response letters stated only that Cash had fully paid all her legal tax bills.
Public Works Concerns
While the Planning Department's issues with Cash may have been addressed by the approval granted by the Planning Commission, there remains outstanding a Notice of Violation that was issued in July by the Department of Public Works.
The DPW sent inspectors to the property in October 2019 and found numerous violations. As stated in the Notice of Violation, the violations "include by are not limited to: unpermitted construction and/or modification of 13 structures, 2 hot tubs, and 2 pools."
A deadline of August 28, 2020, was set for corrective actions. Either Cash would have to obtain the required permits and allow inspections of the unpermitted work; or she would need to "submit a detailed corrective action plan and schedule for the necessary work, for review and approval" by the DPW; or "remove the violation."
Neal Tanaka, acting deputy chief for the DPW Building Division, said that in response to the notice of violation, he had heard from the owners and their attorney. In light of the then-pending decision of the Planning Commission, further action on the violations noted in the inspection report were placed on hold. Given Planning Commission approval of the Special Permit, he said, the applicants would then need to bring the structures noted in the violation into compliance with building regulations.
— Patricia Tummons