Last month, Environment Hawai'i reported on a $423,000 settlement the state Board of Land and Natural Resources approved to resolve several damage claims brought by its lessee, Pacific Marine Partners, LLC. The company had won a 10-year lease at public auction in the summer of 2018 for a nine-acre lot that was previously being used by Gentry's Kona Marina (GKM) as a boat storage yard at Honokohau small boat harbor.
PMP claimed, among other things, that it had lost revenue because equipment or other materials left on the property by GKM and its former tenant, Hotspots Welding and Fabrication, LLC, took up space that could have otherwise been rented out. PMP's attorneys claimed in May that PMP lost out on nearly $90,000 in revenue because of Hotspots' occupation.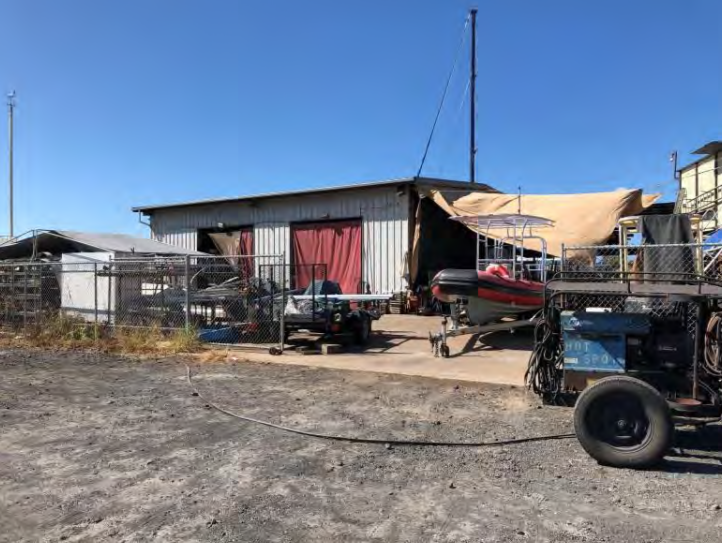 PMP also blamed the Department of Land and Natural Resources' Division of Boating and Ocean Recreation (DOBOR) for sticking it with the job of having to evict Hotspots, which had occupied the parcel for decades.
The state denied any liability for the damages PMP alleged, but agreed to the settlement amount proposed by PMP's attorneys to avoid litigation and to allow for the continued payment of rent by PMP, which was much higher than what GKM had paid for more than a decade.
But as our report last month suggested, the drama is far from over.
Even though Hotspots was evicted from the property in 2019, it did not remove all of its equipment from the boat yard. For example, Hotspots former co-owner Stacie Horst says she was unable to retrieve a 12-foot brake used to slice sheet metal because it is so massive that it would require a forklift to move. Cameron Noftz, with whom she purchased the company in June 2018, also says that all of his heavy equipment, welding tables, metal stock material, and more, are also still at the boat yard. He claims to own the building that houses all the equipment, as well.
They also allege that PMP has actually sold off some of its equipment and now employs one of their former workers to do the same kind of work they were doing, using their equipment.
And most recently, Noftz says, he got into a physical altercation last month with someone who he believes was going to bulldoze what was left and injure Horst. Police were involved at some point.
PMP's Jason Ho'opai denies their allegations and counters with his own: He says the couple broke into the boat yard and damaged and stole property.
"There are charges. They are claiming some equipment, but have no sales or purchase receipts. It's not an enjoyable situation for anyone," he says.
In Limbo
Horst admits that she and Noftz were aware of the risk they were taking when they purchased Hotspots, where Noftz had worked since 2016. Their landlord, GKM, Inc., had occupied the property for nearly 20 years under a month-to-month revocable permit, but its manager, Tina Prettyman, advised the couple before the purchase that DOBOR would be holding an auction for a long-term lease of the nine-acre property.
Because Hotspots had been there for 20 years, "we went ahead with the purchase," Horst says. The company was well-established and had done work for Hawaiian Airlines, the airport, the county, and even DOBOR. And when the auction finally came, and a new company won the lease, "We were encouraged to stay, by all parties," she says.
Although no sublease between GKM (or its predecessor) and Hotspots was ever approved by the Land Board, even when Hotspots was located on GKM's adjacent lease parcel, Hotspots had been allowed to operate for some 40 years in the harbor. When it relocated to the boat yard and built a warehouse 25 years ago, it was to a spot that was highly visible from a road leading to a section of the harbor.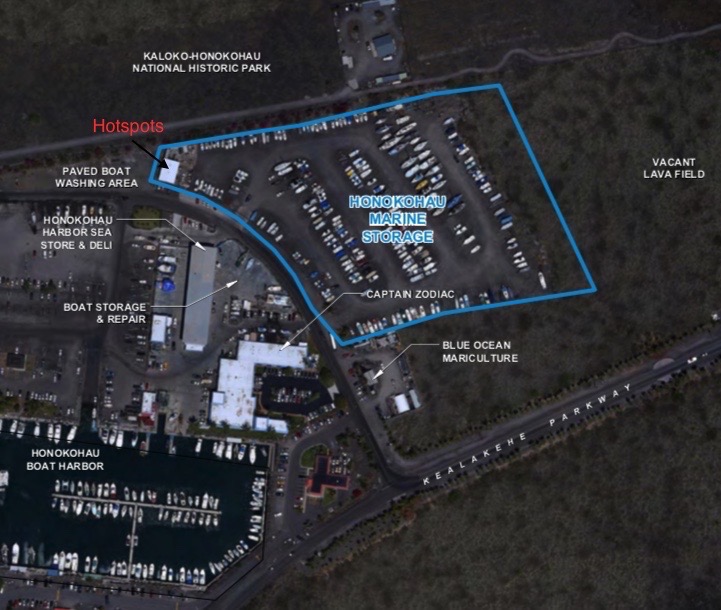 Horst says Ho'opai was at the auction, as were she and Noftz. While Ho'opai initially said he had a problem with Hotspots being on the property, since, technically, it would be an illegal tenant, he changed his mind after meeting them and recognizing the service they provided to the harbor, she says. "He's been to our home and eaten at our dinner table. … He said, 'The state wants you to go. I want you to stay.'"
She adds that the state also seemed fine with them being where they were, at first. "That's exactly how it was: Everyone wants you to stay, and then it was a big problem," she says.
Before PMP took control of the property in November 2018, GKM issued notices to all of its tenants — Hotspots, as well as everyone else storing boats on the property — that they had to vacate by mid-October to allow GKM some time to clear the property. As we reported last month, Prettyman testified to the Land Board that DOBOR undermined that effort by calling or emailing the tenants and posting a notice on the harbor office window telling boat storage tenants, "Regardless of what Gentry states, you do not need to remove-vacate your vessel. Please go to [PMP's] mahalo@honokohaustorage.com."
"The fact is GKM's revocable permit was cancelled and our customers were taken after 18 years of building our customer base and auctioned off. So much for private public partnerships," GKM stated in an email to Environment Hawai'i.
Included in that list of boat storage tenants was Hotspots, according to Noftz. He says GKM rented 16 boat slips to Hotspots' previous owner.
How Hotspots' welding operation could have stayed on a lease that allowed for only boat storage and vehicle parking, however, is unclear. Also, an environmental site assessment conducted for PMP in December 2018 uncovered other potential problems that eventually factored into the Land Board's decision to approve the settlement in July. Most concerning to PMP was an unpermitted sewage system — what appeared to be a cesspool or septic system — at Hotspots.
Horst says she walked the property with state attorneys and representatives from the EPA, and tried to work toward resolving the matter. She says she was encouraged by them to continue to do so. Noftz says he hired experts to inspect the system, which he believes is a septic tank, not a cesspool.
PMP made no coordinated move to evict Hotspots for months afterward. According to PMP's Jonas Ikaika Solliday, the company actually had Hotspots do some work for it and Noftz even borrowed Solliday's commercial air compressor for several months.
Hotspots issued Ho'opai an invoice in July 2019 for more than $30,000 worth of work on utilities, security lighting, and the construction of a large barbecue/smoker using a tank Hoʻopai provided. That invoice was never paid, according to Hotspots. The company also has invoices showing that it continued to do jobs for DOBOR harbor master Jeff Newton through early March 2019.
Turning Point
Whatever Hotspots' past relationship was with DOBOR, by mid-July of 2019, an attorney representing the state sent an eviction notice.
Hotspots stayed put for months afterward. In the meantime, the relationship between Ho'opai and Solliday deteriorated over their ownership interests, expenditures and individual management actions. The relationship between Horst and Noftz faltered, as well. Lawsuits among all parties ensued and have not yet been resolved, although Horst and Noftz, at least, seem to be working together to retrieve the last of Hotspots' property. As we reported last month, Ho'opai and Solliday will be entering arbitration in October.
In February, Noftz filed a lawsuit against Horst, Ho'opai, and PMP, claiming that Horst had defrauded him out of his business interest. In the lawsuit, he doesn't allege any wrongdoing by Ho'opai or PMP. Noftz does, however, say he believed Ho'opai wanted to buy Hotspots' assets and suggests that may have somehow influenced Horst's actions.
Ho'opai denies Noftz's claims and told Environment Hawai'i that he believes the lawsuit is meritless and just an effort to drain PMP's finances.
There has been no movement in the case since mid-July, when the court set aside a default judgment against the defendants that was issued in March.
"Hotspots never had a lease, agreement or contract to operate in the warehouse and it was determined by the state that they were illegal occupants," Ho'opai says. "After I learned that the purchase of Hotspots' business … lacked the due diligence to know what they did and did not own, it was clear their business purchase was poorly contrived. I spent more than $35,000 in legal efforts to find a state-allowed solution to save their butt. However, [the attorney general's office] and DLNR were not able to find a solution for Hotspots."
Correspondence between Noftz and Ho'opai indicate the two were still brainstorming ways to maintain some kind of working relationship in November. "When the state rejected their tenancy in totality, there was nothing I can do. Just trying to keep my relationship with DLNR was hard enough," Hoʻopai says. (Due to his own trials with Solliday, PMP fell behind on its rent and lost its lease earlier this year. It was later restored and back rent was paid as part of the settlement.)
Given that Horst and Noftz had been initially led to believe they could continue their business on the property, Ho'opai acknowledges that they felt violated when things turned out differently. "No hard feelings against either Stacie or Cameron. I just want them to move on," he states.
He also says that he has not hired their former employee, Gene Maluyo, and neither he nor Maluyo ever used the equipment he says Hotspots abandoned when it finally moved out on February 13. Maluyo registered a welding and fabrication company, Gene's Spot, on July 7 of this year, but the business address is a residence. Ho'opai says that he has allowed Maluyo to store some things on PMP's property, but says no sublease has been issued for the business. "There are no subleases allowed on the property without BLNR approval. It was temporary storage to help someone in need. We only sell storage," Ho'opai stated.
Hindsight
Could some of this mess have been avoided if DOBOR had enforced its lease and permit terms earlier, either decades ago or at least before the notice for public auction went out? It was required to conduct an appraisal of the property to determine the upset rent before the 2018 auction. Surely, a large, unauthorized business on the property would affect its value.
DOBOR now denies that it was ever aware of Hotspots' occupation of the boatyard parcel and that it ever told Hotspots that it could stay.
The address on Hotspots' invoices is not for the boat yard, but a space on GKM's adjacent property, also leased from the state.
When asked whether DOBOR was aware of Hotspots' actual location at the boat yard before the 2018 auction, GKM responded, "DOBOR has had so many property managers that came and went over the years, it's hard to say what they know."
Although it allowed the company to operate for decades, GKM denies ever issuing a sublease to Hotspots, stating in an email that the company was already on the property when GKM took over the revocable permit for the boatyard years ago. A June 2018 letter from GKM's Prettyman to Horst and Noftz indicates that Hotspots was renting space at the boat yard on a month-to-month basis to store its assets.
In testimony to the Land Board in June of this year, Sylva Rivera, an associate of PMP's Solliday, questioned why GKM and/or its predecessor never informed the DLNR or Land Board that there was a welding business located at the boat storage yard.

Whatever GKM did or didn't do, Noftz says it's insane that DOBOR now claims it never knew where Hotspots operated, especially given the amount of work Hotspots did for DOBOR, which often required the issuance of state "hot work" permits. "I replaced half the fence for the security gate at the Kailua pier," he says. A person familiar with the harbor also calls DOBOR's denial of Hotspots' existence pre-auction "ludicrous," given the operation's prominent location and size.
"It has been an interesting two years," Noftz says, adding that after he bought Hotspots, "DOBOR said it was all good; Gentry said it was all good."
He and others have pointed out that DOBOR staff who were involved with management of the harbor around the time of the auction are no longer employed there. DOBOR says they were not forced out, but left voluntarily. "[DOBOR is] not going to comment. I was told that as soon as the auction took place, they pretty much tried to act like they didn't know anything about Hotspots," Noftz says, adding, "I know the state would have to answer a lot of fucken' questions that they don't want to answer."
— Teresa Dawson