On August 13, the state Land Use Commission voted to grant Hawaiʻi County's petition for a declaratory ruling that short-term vacation rentals are not allowed for dwellings in the state Agricultural District. In so doing, it agreed with the county's position that the state law on agricultural tourism allows short-term overnight stays only in a county "that includes at least three islands" (i.e., Maui County). And even then, the overnight activities must "co-exist with a bona fide agricultural activity."
Exactly one week later, the Hawaiʻi County Leeward Planning Commission was scheduled to consider an application for a Special Permit to operate a 40-unit lodge, plus a two-story central kitchen and lounge area, on 14.9 unsubdivided acres of a 294-acre parcel in the Hokukano area of Kona. The proposed accommodations were prefabricated dome structures to be erected on platforms to be served by a total of 10 septic systems.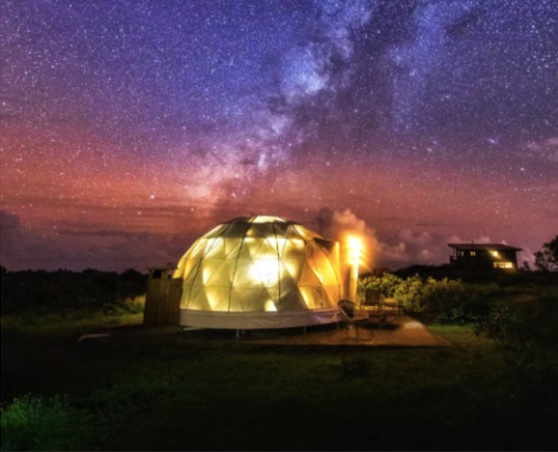 County Planning Director Michael Yee was recommending against approval. In his report to the commission, he noted that while a permitted house had been built on the property in 1997, more recently, the landowner, Fairview Avenue Hawaiʻi, LLC, had put up three dome structures and two enclosed tents. These had been advertised for short-term stays on AirBnB and other internet sites. According to one landowner in the area who submitted comments, there were already "at least seven airbnb's on the applicant's property" that were advertised online. (In the permit application, the owner's planning consultant, Zendo Kern, stated that three "demonstration domes" had already been built. He said nothing about the additional accommodations nor did he address the complaint that they were already being rented. Yee informed Environment Hawaiʻi that the county was undertaking enforcement action in light of the unpermitted structures and use.)
Dan Orodenker, the state LUC's executive officer, submitted comments, noting that the state's land use law allows "for short-term agricultural tourism overnight accommodations only for the county of Maui, when other pre-conditions exist. For the other counties, bed and breakfast operations, lodges, and transient vacation rentals in properties within the state Agricultural District would be considered overnight accommodations. It should therefore be noted that while 'agricultural tourism' may be generally allowed on a property if there is an ordinance in place, overnight accommodations are not allowed even though they may be proposed in conjunction with 'agricultural tourism.'"
Mary Alice Evans, director of the state Office of Planning, cautioned that "approval should be based on whether the lodge use would be considered as an 'unusual and reasonable' use within the Agricultural Land Use District. … A 40-unit lodge intended for short-term visitor accommodation is not consistent with the objectives of the Agricultural District."
A number of landowners in the Hokukano area also submitted comments; none was in favor of the proposal.
Just days before the Planning Commission was to hear the application, the landowners, based in Hayward, California, asked that the hearing be delayed until at least October, in order that the concerns of neighbors could be addressed.
On August 20, just moments before the Planning Commission began its meeting, the planning director was notified that the landowner was withdrawing the application.
Still, commissioner Mark Van Pernis, himself an attorney, had a question about the appropriateness of vacation lodgings in the Agricultural District.
"In light of the recent Hawaiʻi Supreme Court [sic] decision stating that the county can ban vacation rentals on agricultural land," he said, "my inquiry is, will this decision … prohibit such applications in the future? And the corporation counsel can deliver his opinion when available."
Deputy corporation counsel J Yoshimoto replied: "Just to restate the question, so I understand it correctly, in light of the recent Hawaiʻi Supreme Court decision regarding [short-term vacation rentals] on Agricultural land, the question is whether this affects any applications moving forward. Is that correct, Mr. Van Pernis?"
On hearing Van Pernis agree to that characterization, Yoshimoto said, "I'll work on that and advise the commission accordingly."
— Patricia Tummons