On August 14, the state Commission on Water Resource Management approved a Pearl Harbor Water Shortage Plan, which dictates how the commission will determine when there is a water shortage and the actions various types of permitted users of the aquifer area must take to help protect the resource.
In addition to drought declarations by the USDA and the Honolulu Board of Water Supply, declines in water levels in the state's six deep monitoring wells on the island may also trigger whether the commission declares a shortage watch, alert, or warning.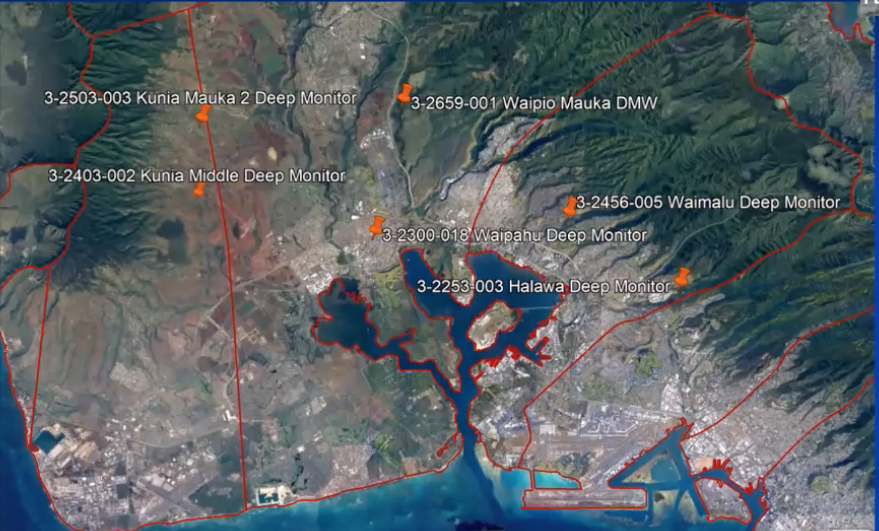 If a warning is declared, permittees who draw water for municipal or military uses will have to reduce their water use by 15 percent of their last reported monthly pump age before an alert was issued. Those with permits for industrial or golf course use will have to reduce their use by 20 percent. (Under the commission's administrative rules, permittees are required to submit monthly water use reports and violations are subject to a maximum fine of $5,000 per violation per day.)
Domestic users and those with permits for habitat maintenance will simply have to follow the water use shortage plan that they prepared as a requirement of their permit approval.
A water shortage watch would not require any cutbacks, and an alert would simply require all permittees to follow their individual water shortage plans.
Commissioner Wayne Katayama asked the planning branch's Lenore Ohye if the commission had the ability to control the military's water use. Commissioner Kamana Beamer mentioned that a recent water audit showed that the military was by far one of the largest water users on the island.
"According to the Navy, it's voluntary," Ohye said of its compliance with the water shortage plan. She said the commission has had a problem even getting the military to apply for the state water use permits. "We agreed to disagree. They submitted their applications," she said.
"They do have that trump card over the state," she said, adding that the Navy did submit a water shortage plan. "We're very appreciative of their cooperation," she said.
"Congratulations," Katayama replied.
In approving the plan, the commission added a condition that staff must reach out to the public for further comments and report back in one year. The addition was in response to testimony that the public had not had ample time to review the plan.
Rising Waters
Currently, freshwater levels in all six of the deep monitoring wells in the Pearl Harbor Aquifer Sector have increased since 1995, when Oʻahu Sugar Company ended its sugarcane operations, according to Patrick Casey, a geologist with the Water Commission's survey branch. Levels have increased 0.21 to 3.7 feet, depending on the well.
The wells penetrate hundreds of feet through the freshwater basal aquifer into the underlying brackish water and then to the salt water below. Up until the COVID-19 epidemic, commission staff would visit the wells quarterly to collect measurements on water temperature, depth, and salinity.
All but one of the aquifers have a relatively thick freshwater section, with a smaller brackish transition zone. The well in Halawa near Red Hill, is "a little unusual," Casey said. It has just 100 feet of freshwater over an unusually thick brackish zone.
"We have an up flow of brackish water from somewhere, we don't know where. It displaces the freshwater," he said.
Commissioner Paul Meyer asked whether there is any geological reason why the brackish layer should be so thick.
"USGS has spent some time looking into this. It's a mystery that hasn't really been unravelled. … In our studies at Red Hill, we're finding it's a very complex geologic setting. Things are not as simple as we thought it might be," Casey said.
"This might be a very local phenomenon because we don't see it anyplace else. … USGS is very curious about this. Some thought and some energy being is put to trying to explain it," he continued.
Commissioner Mike Buck asked Casey what he thought will happen to water levels as the level of sea water rises.
Casey said whether influenced by climate change or overall pumpage, the aquifer area is huge and water levels do not change rapidly. Trends may develop, "but what causes them could be a number factors," he said.
— Teresa Dawson