COVID-19 Pandemic Impacts Spur DLNR
To Consider Rent Deferrals, Fee Waivers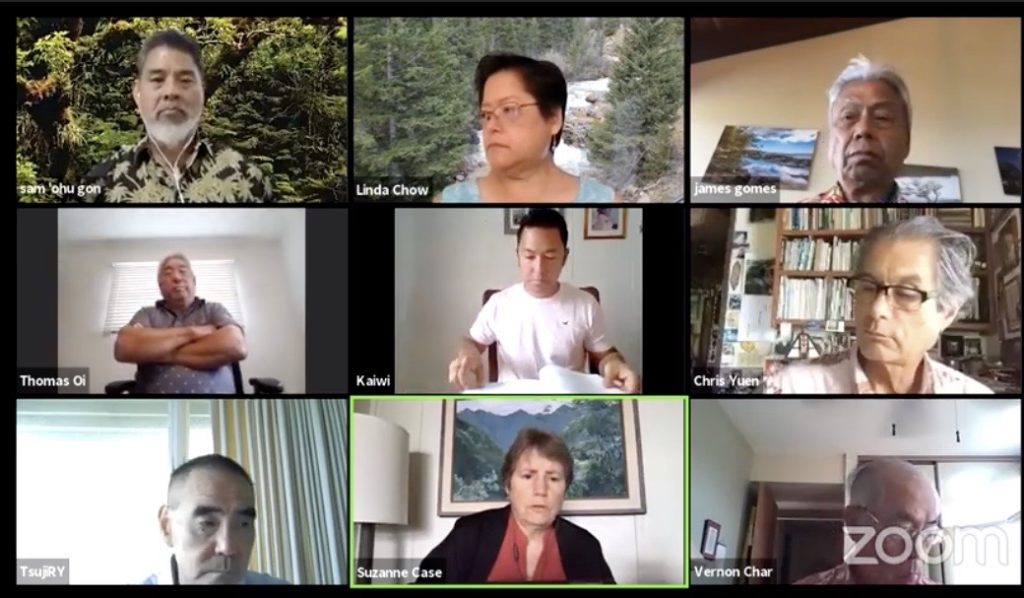 Surf schools, concessionaires, and other businesses that pay rent or fees to the Department of Land and Natural Resources have pleaded for leniency, as government orders issued to control COVID-19 have hampered or eliminated their ability to operate.
On April 9, via Zoom, heads of the department's Land Division, Division of State Parks, and Division of Boating and Ocean Recreation (DOBOR) briefed the Board of Land and Natural Resources on how the coronavirus pandemic is affecting their permittees and lessees, as well as the divisions themselves.
Department director and Land Board chair Suzanne Case said the agency does not have the authority to waive rent, but it can defer payments. She said some divisions are willing to do so for lessees or permittees who apply for federal funds allocated to the Payroll Protection Program.
In late March, President Trump signed the CARES Act, which provided $350 billion to the program for loans covering payroll, rent and other business expenses. Due to high demand, those funds were exhausted within two weeks. On April 24, the president approved a bill allocating another $310 million to the program, but those funds were expected to dry up even more quickly.
Case said her department would grant rent deferrals on a case-by-case basis to businesses that prove they are experiencing financial hardship. Rent deferrals would only last as long as the hardship and the divisions would not impose any late fees, "as long as the payments resume with a payback schedule at the end of the deferral," she continued.
For businesses that can't operate at all because of state and/or county orders banning non-essential business, the divisions may not charge rent or fees so long as those orders are in effect.
The beach concessions at Duke Kahanamoku beach in Waikiki, fronting the Hilton Hawaiian Village, for example, had to shut down because of a directive issued by Honolulu Mayor Kirk Caldwell. Hilton Hawaiian Village usually pays about $600,000 a year to the DLNR in rent and permit fees, according to Land Division administrator Russell Tsuji.
"When I think about it, personally, a waiver might be warranted for the time period of the closure," Tsuji said.
From all of its properties across the state, the Land Division generated roughly $17 million in fiscal year 2018-2019, Tsuji said. With less than a quarter to go in the 2019-2020 fiscal year, he said his division has seen a 12 percent decline in revenue due to COVID-19. "I anticipate as much of 30 percent or more going into FY21," he said.
DOBOR receives an average of $300,000 to $400,000 a month in rents, according to division administrator Ed Underwood, who said he, too, is willing to consider deferrals.
"If people are still mooring their boat, those rates are going to continue. It's where we have prohibited commercial operations [that] we're modifying payments due," Case said.
Like Tsuji, Underwood also envisioned waiving fees it collects from surf schools, kayak companies, and the like for commercial use of the ocean. For those, he said, "we're prorating their commercial fee for March and waiving it for April. … We shut them down completely. We didn't think it was fair to make them pay."
With all of the state parks now closed, the same situation is occurring with concessionaires and companies that collect parking and entry fees. The Division of State Parks is also losing income from camping permits, said administrator Curt Cottrell.
"Our camping permit income averages $95,000 a month," he said. With the quarantines and shut-downs due to COVID-19, people from around the world who have paid for camping permits are asking for refunds totaling $150,000 to $200,000, he said.
In total, he said his division is facing a $500,000-a-month income loss, which will affect its ability to pay salaries and fringe benefits for 43 employees whose pay comes from the State Parks special fund. "Our first quarter payroll cost is $820,000. We're short to make payroll," he said.
To make up for the losses, he said he is looking to suspend four county lifeguard contracts for state parks, which cost the division $3.3 million a year. He added that his division has also asked to suspend fourth-quarter invoices. "That will save us a little bit of bank we can roll over into the first quarter in the fiscal year," he said.
His division had planned to increase its park fees, but that effort has been suspended, he said.
Case said the state Department of Transportation is also proposing to defer rents for April, May, and June, and require repayment to occur next January through June.
"I want to emphasize, the state does not have a source of funds. We don't have the benefit of the federal fund," she said.
Board member Chris Yuen said he was concerned about how DLNR staff was going to determine whether or not a business was experiencing financial hardship. "It seems like you have hundreds of situations. It's going to be really hard to evaluate on any kind of a case-by-case basis. Some businesses are obvious. They're shut down." In other cases, he continued, business are not shut down, but their revenue has declined significantly.
Tsuji said he never envisioned his staff having the authority to determine whether or not a business gets a rent deferral. Those decisions would be left up to Case, after reviewing material presented by staff, he said. "We're looking mainly at the deferrals at this time, with conditions of having applied for funding that's out there," he said.
"Some food businesses have gone into major home deliveries and are doing great. … Our Sand Island businesses, how are we going to handle that?" Yuen asked, noting that all of the business there are covered under one master lease.
Tsuji noted that the executive director of the Sand Island Business Association, which holds the lease, was the first to ask his division for rent relief. Tsuji said he directed him to have its tenants apply for the federal funding.
The 113-lot Sand Island Industrial Park generates $8 million a year in lease rent, which makes up a huge portion of the Land Division's income and goes into a Land Development Special Fund. That fund is the sole source of revenue for the division and for the DLNR's Office of Conservation and Coastal Lands, and it also supports the Commission on Water Resource Management and other agencies.
The simplest thing would be for the tenants to talk to their banks about a loan, Case said. If the banks approve loans to the tenants to cover rent, "if the payments qualify it's a possibility of it becoming a grant," she said.
She said her department would consider the rent deferrals and fee waivers one month at a time. "We want to just watch the situation closely. Even if this stay-at-home thing stopped soon … it might be a while before business [ramped up]," she said.
"Everybody's got to lobby the federal government," Yuen added. "Hawai'i is going to be probably among those hurt most badly. … There's only one entity in the country that can make up this hole," he said.
"It's obviously a very, very hard situation. We really feel for everyone who's impacted, particularly the businesses we want to come out on the other end of this," Case said.
Tsuji informed Environment Hawai'i that his division has recently sent letters to tenants who have sought rent waivers offering them the ability to instead defer the equivalent of two months rent with repayment occurring next January through June, similar to the DOT's plan.
"For those with periodic rental payments (quarterly, semi-annual or annual) which are our long-term leases, we gave the option of choosing the above, or just to move the periodic payment in full (like semi-annual payment) back two months. The tenant needs to choose and send the selection back to us, which we are currently awaiting," he stated.
As of press time, only one business, the Westridge Shopping Center in Aiea, O'ahu, had received a rent deferral from the Land Division. The DLNR had not provided any information about deferrals or waivers for the other divisions by press time.
---
Legacy Land Projects Win Approval,
But Full Funding Isn't Guaranteed
On April 24, the Land Board approved grant awards to ten projects under the state Legacy Land Conservation Program, knowing that only the top two were likely to receive any money.
The program has a spending cap of about $5 million. Because $1.5 million is deducted every year to pay down the debt service associated with the state's purchase of lands at Turtle Bay on O'ahu's North Shore, only $3.5 million is available every year to purchase the fee or easements over other lands worthy of protection.

While Gov. David Ige sought legislative approval this year to raise the spending ceiling to $10.2 million, the suspension of the current session due to the coronavirus has left a number of potential awardees in limbo.
Dave Smith, administrator for the DLNR's Division of Forestry and Wildlife, explained that his agency usually asks the board to approve a suite of projects even if funding isn't available for all of them, just in case any of the highest-ranked projects fall through.
Smith suggested that this year, funding for even the top-ranked projects isn't secure. "I wanted to note that due to the fiscal situation, we don't know how this is going to play out. We have contract restrictions [and] other fiscal hurdles going forward with regard to actually expending these funds. … We'll see if we can get the funding allocated," he told the board.
Although she did not specifically mention coronavirus impacts to state resources, DLNR director and Land Board chair Suzanne Case later explained, "There's a lot of budget review going on. We don't know what the next step is. DOFAW wanted to go ahead and move things forward at this level, but where they go from here, we don't know."
Legacy Land program specialist David Penn noted that his agency had received 20 written testimonies, half of which were against a proposal to acquire 1,363 acres at Kaunamano, located in Ka'u on Hawai'i island. That proposal, which sought $2.4 million in Legacy Land funds, was ranked first by the Legacy Land Conservation Commission, which advises the Land Board.
The applicant is the Ala Kahakai Trail Association, which recently purchased 2,200 acres at nearby Waikapuna with assistance from the Legacy Land program.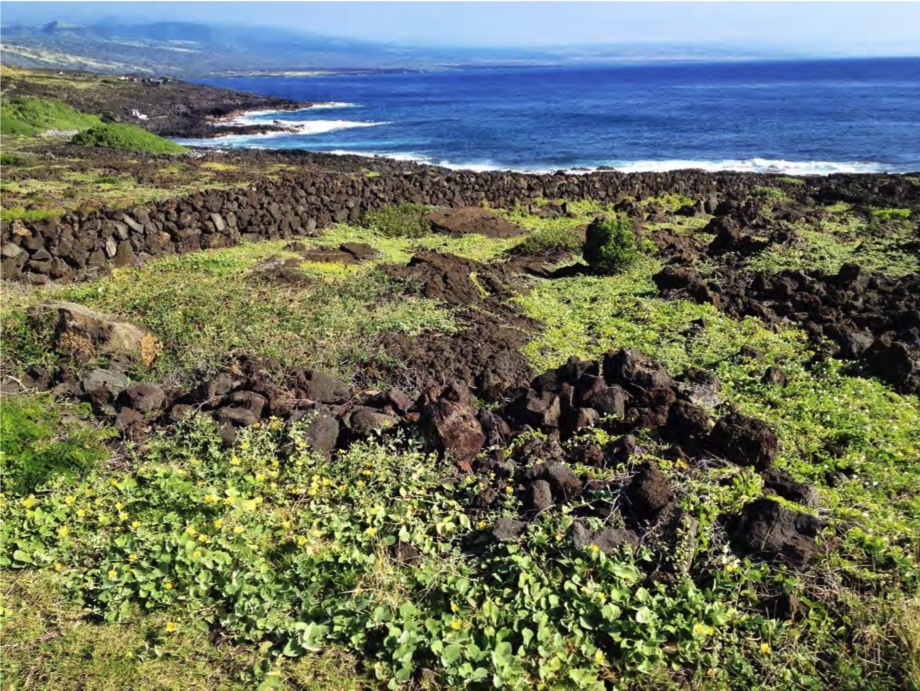 A DOFAW report on the Kaunamano property states that it stretches almost two miles from the shore to the 600-foot elevation. "In ancient times, the land supported a thriving community with vast resources including fertile soil, prime fishing grounds and underground freshwater springs. The land contains a high concentration of cultural sites including two large settlement areas at Pa'ula and Pauku, numerous heiau, habitation caves, a rock paved anchialine pool, a lua training area associated with the nearby makahiki grounds, and almost three miles of the ala kahakai trail. Since the plantation era, the land has been used for cattle grazing," it states. It is currently leased to Kuahiwi Ranch.
The second-ranked project is the purchase by Moloka'i Land Trust of 1,818 acres at Mapulehu. The trust applied for $1.1 million in Legacy Land funds.
"The lower property contains the platform of 'Ili'iliopae Heiau, which was a training area for Kahuna and a sacrificial heiau. The lower property was also used for kalo cultivation and was likely to some extent in lo'i along Mapulehu Stream and its tributaries. The upper property is largely watershed, which was likely more robust before western contact, the introduction of cattle and other invasive species, and climate changes that reduced precipitation on East Moloka'i," the report states.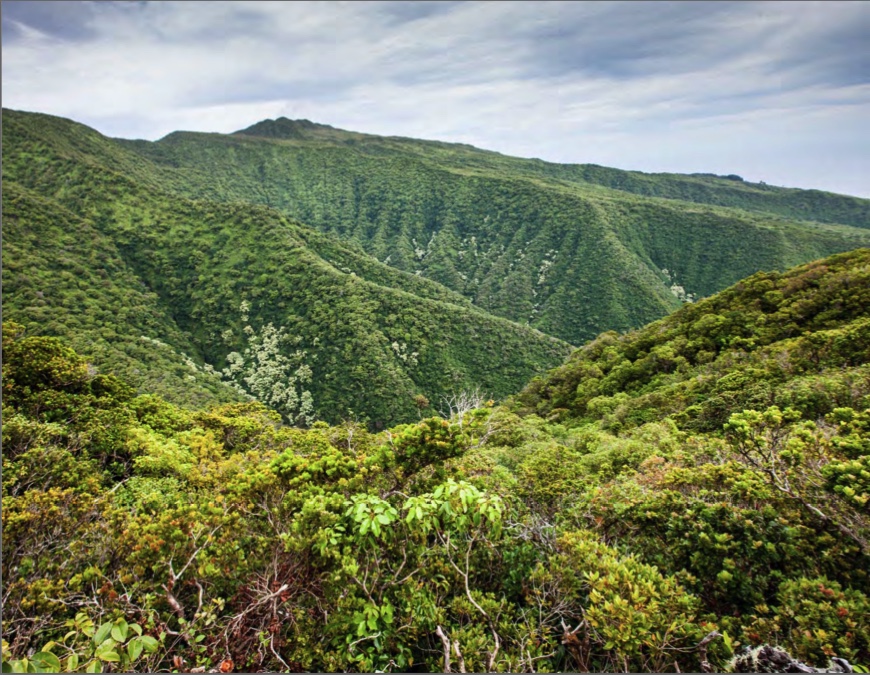 It also notes that both projects meet all nine of the program's preservation purposes, including agricultural production and the protection of the watershed, habitat, and cultural and historic sites.
Both areas are also vulnerable to development. According to Davianna McGregor of the Moloka'i Land Trust, despite the efforts that have been made to preserve the land at Mapulehu, its owner has recently put it on the market for more than $3 million.
If the Kaunamano purchase goes through, ranching would continue on the property. Kuahiwi Ranch testified in favor or the project, as did the Office of Hawaiian Affairs, the Trust for Public Land, The Nature Conservancy of Hawai'i, state Rep. Richard Creagan, and other groups and individuals. A number of people, mainly Ka'u residents, testified against the proposal, expressing their concern that they would be denied access to the shoreline.
Thomas Dean Kaniho, who says he was born and raised in Ka'u, stated in his testimony, "I have talked to many other people here in Ka'u and we are requesting that no more lands be put into Ala Kahakai Trails so-called hands. It's not right that they can dictate and control lands they never paid for and in fact the Waikapuna Lands are paid for by us! The taxpayers of Ka'u! And they allow none to enter those lands that many deemed necessary to survive. Many residents have fished that area and now are told it's KAPU! Keeping people off of land that they nurtured, lived and died on! I find this shameful."
Because the Waikapuna and Kaunamano lands are actively ranched, they are gated to keep the cattle in, Ala Kahakai Trail Association member Keoni Fox explained to the board.
He said most of the public access through Kaunamanao is for fishing and the ranch does allow for pedestrian access. Once the lands are purchased, he said the association wants to make the historical trail available for use by the community for subsistence fishing and gathering.
He said that over the years, a lot of the properties along the coast had been purchased and access excluded. "There's a lot of sore feelings. I can understand where that comes from," he said. With regard to how long-term access will be managed at Kaunamano, he said the association wants to hear from the community before making decisions.
He added that there are a lot of sensitive sites on the property and the association wants to make sure they are protected from visitor use or overuse. He said konane boards that were once "all over the place" at the ancient fishing village have been looted.
Finding the balance between facilitating access and protecting sites is a challenge, Land Board member Chris Yuen acknowledged, adding that he hoped the association deals with it in a way that doesn't exclude the public.
"People are going to misbehave. They'll find a way to do it. The looting occurred with limited, restricted public access," Yuen pointed out.
In the end, the board moved to approve a motion by Yuen to accept DOFAW's recommendations, with an amendment that any contract the state makes with the association for the Kaunamano purchase contain a clause requiring that after some community engagement, reasonable, managed mauka-makai and lateral public access be allowed.
"I want to make sure the public has access, especially if we're funding something with public money," he said.
"It's not going to be a free-for-all. People will have to go through a gate," Case said.
Fox said he was fine with the amendment. "I don't have any concerns over pedestrian access, more concerns over vehicular access. We have liability. [We pay] $6,700 a year in insurance for Waikapuna," he said.
—Teresa Dawson