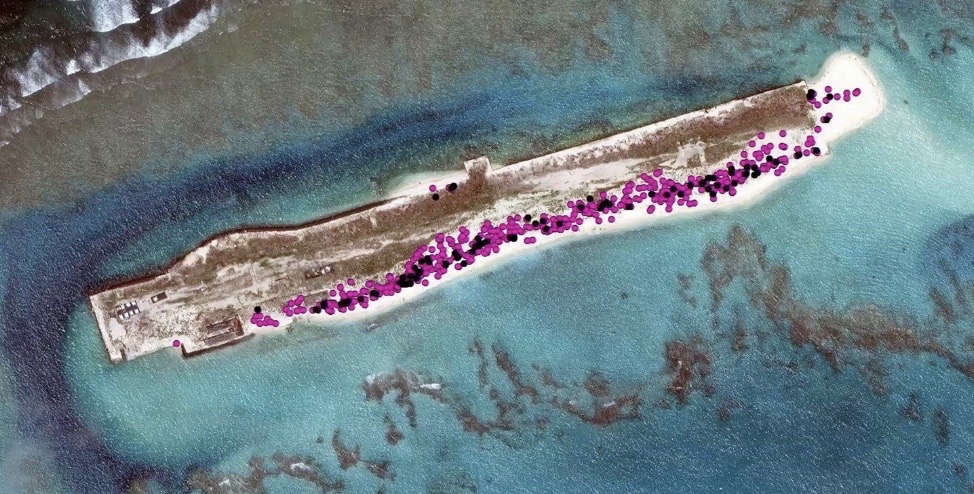 The Hawai'i population of green sea turtles is federally listed as threatened and in 2018, Hurricane Walaka destroyed much of the turtles' preferred nesting habitat in the Northwestern Hawaiian Islands (NWHI). But according to T. Todd Jones of the Pacific Islands Fisheries Science Center, they have since shown how adaptable they can be.
Jones told the council last month that nesting on East Island, one of the main turtle nesting islands at French Frigate Shoals (FFS), is likely no longer viable, because it is now inundated by waves and tides after being decimated by Walaka. However, he said, the turtles have shifted some of their nesting to Tern Island, also at FFS. (See our January 2020 Board Talk item for more on this.)
However, as we reported in January, the habitat at Tern is not great. A map Jones presented of all the nests that were deposited at Tern last year showed that hatchlings emerged from only a fraction of them.
To help determine where else the turtles might be nesting, Jones said his agency is training monk seal researchers how to observe and tag green sea turtles throughout the NWHI.
"What we are most likely seeing in real time is the intrinsic mapping capability of female turtles. In 2019, 2020, 2021, you will have returning females and new females that have no prior knowledge of what happened at East," he said.
In the past, turtles used to bask on one island and nest on another. "Intrinsically, the animals had a map of French Frigate Shoals," he said.
He added that most of the turtles used to forage in Main Hawaiian Islands and nest in the NWHI, but more are now staying in the north full-time. "We're seeing their plasticity in their ability to use multiple islands [and] use nesting resources up and down the chain," he said.
Given the challenges the turtles are facing in the NWHI, council executive director Kitty Simonds — who drove the development of the Association of Hawaiian Civic Clubs' 2012 petition to delist the turtle — asked NMFS's Mike Tosatto what his agency was doing to improve the turtles' population so that it can be delisted.
"Obviously, I'm interested in the green sea turtles. … In terms of the recovery, any different kinds of things going on in terms of being able to take it off the threatened list?" she asked.
In 2015, NMFS broke up the then-threatened green sea turtle population into 11 distinct population segments, or DPSs. The Hawai'i DPS remained threatened, while those for American Samoa, Guam, and the Commonwealth of the Northern Mariana Islands were uplisted to endangered. Tosatto informed Simonds that NMFS has not written a new recovery plan for the DPSs.
"Recovery criteria might not necessarily be broken up into 11 pieces yet. No, we don't have criteria for delisting yet," he replied.
"So you're going to be working toward criteria for delisting threatened species?" she pressed. "It's my understanding that our Hawaiian green sea turtle was not removed because of climate change and turtles drowning in the Northwestern Hawaiian Islands. … Interested parties will be investigating how to go about removing it from the threatened list, and we're interested in cultural takes, as well," she said.
(In 2014, the National Oceanic and Atmospheric Administration directed the council to investigate the extent to which federal grant funds were misused by council staff involved in preparing the 2012 delisting petition.)
— Teresa Dawson