Tibouchina Biocontrol: The state Department of Agriculture has released a draft environmental assessment for the statewide release of a small Brazilian beetle, Syphraea uberabensis, to controlcane tibouchina, a noxious weed, and related species.
According to the draft EA, noticed inthe Office of Environmental Control'sJanuary 23 Notice, the beetle "is a natural herbivore of Tibouchina herbacea in the plant's native range in Brazil." Tests to see whether the beetle might harm other species of plants, including those having economic or environmental value in Hawai'i, showed it was unlikely to affect those species.
"Because S. uberabensis is specialized on a few species of melastomes, all of which are invasive, the environmental consequences of its release are expected to be beneficial to the native forests and agricultural economy of Hawai'i, and adverse effects are expected to be negligible," the draft EA states.
Comments on the draft document are due by February 24.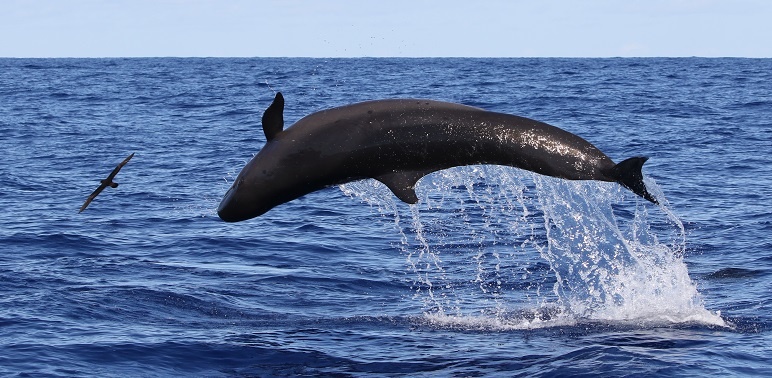 Three Strikes: The National Marine Fisheries Service has determined that all three of the false killer whales hooked by the Hawai'i deep-set longline fleet last November were released with serious injuries that would likely result in their deaths. That brings the 2019 total of false killer whale interactions in federal waters around Hawai'i that resulted in mortalities or serious injuries (M&SI) to five.
Under federal regulations, two M&SI interactions within one year triggers theclosure of a large section of fishing ground south of the Main Hawaiian Islands known as the Southern Exclusion Zone (SEZ). The zone was closed early last year and remains closed for now.
When or whether NMFS decides to reopen the SEZ this year remains to be seen. The Hawaiian false killer whale take reduction team, which advises NMFS, was scheduled to meet via teleconference on January 31 to discuss the circumstances surrounding the whale interactions and possible amendments to the federal take reduction plan, among other things.
On the high seas around Hawai'i, outside the 200-mile U.S. ExclusiveEconomic Zone, the fleet hooked an additional eight false killer whales and one blackfish. Two of the animals died on the lines, four were released with serious injuries, one — caught in December —- had yet to receive an injury determination by press time, and the rest were released with non-serious injuries.
All four of the whales determined to have been seriously injured on the high seas were cut free or escaped with at least 10 meters of fishing line attached. In allof those cases, the captains ordered the crew to cut the lines, but in one case, the line broke beforehand.
(For more on this, see our January 2020 article, "Hawai'i Longliners Continue to Hook False Killer Whales in Federal Waters," available at environment- hawaii.org.)