In recent months, juries around the country have awarded hundreds of millions of dollars to people who claim that their use of glyphosate, the active ingredient in Roundup, has caused cancer or even death to them or their loved ones.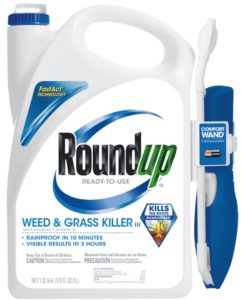 Now Hawai`i is on the Roundup litigation map, with two claims against Monsanto alleging that the use of Roundup caused non-Hodgkin's lymphoma in three individuals, with a fourth fearing that she, too, may contract the disease.
On July 24, a Hawai`i resident, Michal Pizl, through his attorney Brian Mackintosh, filed a complaint in federal district court in Honolulu, claiming that the use of the herbicide Roundup on his nearly two-acre property resulted in him being diagnosed in 2006 with non-Hodgkin's lymphoma. When he could no longer do yardwork, his wife, Sherin McClure, took over that chore. In 2015, she, too, was diagnosed with non-Hodgkin's lymphoma, eventually succumbing to the disease.
On August 9, Michael Green, representing Lawrence Dixon and his wife, Anne Dixon, filed a similar lawsuit. Lawrence Dixon owned a landscaping company, Larry's Yard Service, the complaint states, and from 2012 to 2018 he purchased and sprayed Roundup on a near-daily basis as part of his work. He would also apply Roundup to a gulch near their residence to control weeds. In mid-2017, he was diagnosed with non-Hodgkin's lymphoma, stage 4. Anne Dixon then took over the landscaping work, including the regular use of Roundup. She is now "living in apprehension" that she, too, may be a cancer victim as a result, the lawsuit says.
Pizl is seeking compensatory and punitive damages as well as costs associated with litigation. Although the complaint filed with the court does not specify an amount, the initial filing indicates the plaintiff is seeking an award of $2 billion, the same amount that a jury in Oakland, California, awarded to a married couple that claimed Roundup had caused their cancers.
No dollar amount is mentioned in the Dixon complaint, which seeks special and actual damages, punitive and/or treble damages, and future earnings, among other things.
— Patricia Tummons