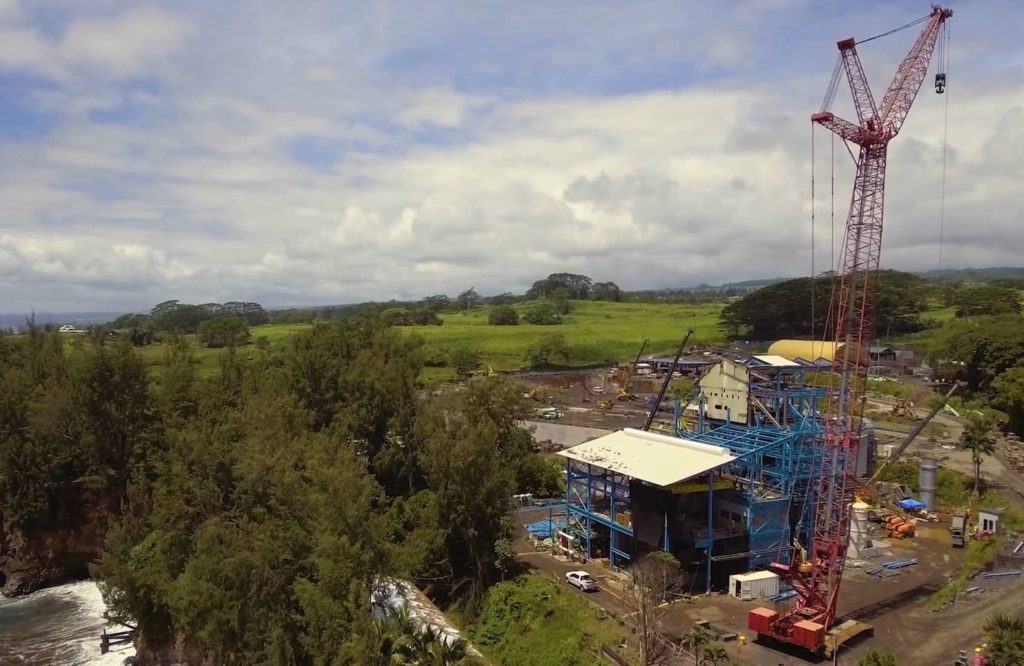 On June 6, Judge Greg K. Nakamura of the 3rdCircuit Court in Hilo heard arguments on several motions to dismiss a lawsuit filed last fall by Claudia Rohr. It was the second complaint that Rohr had brought in an effort to derail Hu Honua, the power plant on the Hamakua Coast that is intended to use eucalyptus and other logs as its primary fuel source
Rohr, the owner of a bed-and-breakfast establishment in the Keaukaha neighborhood of Hilo, was acting on her own behalf, with no attorney representing her. Lined up against her were three attorneys, including Rex Fujichaku of Bronster Fujichaku, who represented Hu Honua. For Hawai`i County, there was deputy corporation counsel Kaena Horowitz. And for the state, representing the Department of Health and the Department of Land and Natural Resources, was Edward Bohlen.
This wasn't Rohr's first time before the judge. Last September, Nakamura had dismissed a similar lawsuit she had brought against several Hawai`i County agencies, on the ground that it was untimely.
She then filed the present complaint, which challenged permits issued by the Department of Health in June and September, Hu Honua's drainage plans, county oversight of compliance with floodplain management, and other agency actions and non-actions. (Environment Hawai`ireported on this in our November 2018 edition.)
In response, attorneys for the defendants all filed motions to dismiss. Fujichaku and Horowitz based most of their argument on the doctrines of res judicataand collateral estoppel – i.e., that Judge Nakamura's ruling in the previous lawsuit filed by Rohr barred her from raising the same issues in the more recent complaint.
Bohlen took a different route, arguing that Rohr's claim that an environmental assessment or impact statement needed to be done for the Hu Honua project was mistaken. "By statute, Chapter 343" – the state's environmental policy act – "needs a trigger… There's no trigger here," Bohlen told Nakamura. As to Rohr's claim that Hu Honua would release stormwater and heated wastewater in violation of federal and state regulations, Bohlen said that these were "conclusory accusations" only, and that the Department of Health was still in the process of evaluating Hu Honua's permit requests.
When given the opportunity to argue against the motions to dismiss, Rohr opened the plastic storage box she had brought with her and began to cite, chapter and verse, the precedents and documents that proved persuasive to Nakamura.
Fujichaku had stated that Rohr should be barred from challenging the June 2018 permits issued by the Department of Health, since that action occurred before final judgment was issued in the earlier case.
"This could have been raised by Ms. Rohr. She could have included it within her prior lawsuit," Fujichaku said, adding that it was "manifestly incumbent" on her to have done so. That she did not meant she could not raise the issue now.
Rohr drew from her files the copy of an advisory that Nakamura himself had issued last August 29, in advance of his final ruling. After Rohr sought to raise the matter of those DOH permits in a supplementary motion, Namakura denied it in the advisory, stating that "claims for relief may be addressed" in a subsequent complaint.
When Nakamura clarified from the bench that this was not an order, Rohr replied, "As far as I was concerned, I was advised to file a new complaint."
In addressing the state's motion, Rohr argued that the Hu Honua did in fact pull Chapter 343 triggers by its use of state land (in discharging stormwater) and damage to a public trail.
After hearing the arguments, Judge Nakamura addressed the parties. He noted that there was a trend to "stricter enforcement of environmental laws" and that the courts should exercise restraint in resolving matters of environmental importance on a summary basis.
Also of concern, he said, was the state Supreme Court's remand of Hu Honua's power-purchase agreement with the Big Island utility back to the Public Utilities Commission with instructions to take greenhouse-gas emissions into account.
With that, he denied the motions to dismiss and instructed Rohr to write the order.
— Patricia Tummons