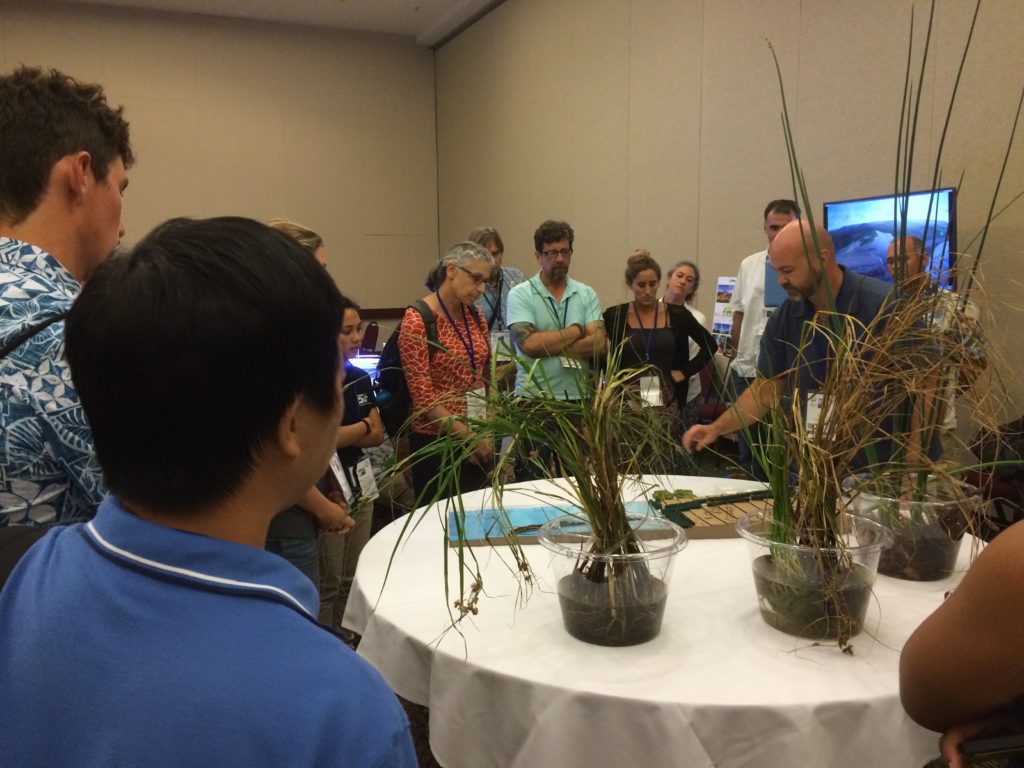 Marti Townsend, director of the Sierra Club's Hawai'i Chapter, asked the audience crammed into a state capitol conference room last month to imagine a world in which fossil fuel companies in the 1980s took the warnings of its scientists about the dire future that lay ahead, "and acted responsibly, and acted as we expected they should have acted."
"They did the exact opposite. We would be living in a very different world right now," she said.
Townsend was the final speaker at a forum held May 3 by the William Richardson School of Law's Environmental Law Program on the potential local effects of the climate crisis, the science pinning those effects to the oil industry, and the role litigation might play in getting the companies responsible to help pay for mitigation.
Speaker Alyssa Johl of the Center for Climate Integrity had earlier detailed how records from those companies dating back to the 1950s show that they knew the potential effects of fossil fuel burning back then, and how remarkably on-target their scientists' predictions were. For example, one internal research document from Exxon predicted that noticeable climate changes would likely start occurring in 2010, as carbon dioxide concentrations reached 400 parts per million. Johl pointed out that that threshold was reached just a few years later, in 2014. "They were making these projections in 1979," she said.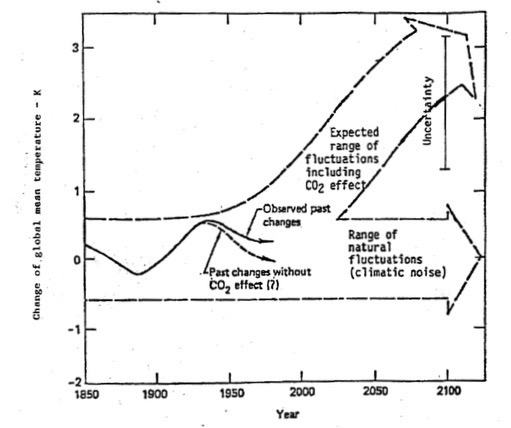 Not only did the industry not disclose these findings, it concealed them and launched "coordinated, multi-dimensional campaigns to discredit climate science," she said.
All of these campaigns stood in stark contrast to what they knew, Johl said, noting that oil companies were actually raising drilling platforms to protect them from sea level rise.
The Lawsuits
That deception, that failure to warn, is a key component of the dozen or so lawsuits that have been filed in recent years by cities and states seeking compensation for damages resulting from global warming, said forum speaker and California attorney Vic Sher. Sher is assisting plaintiffs in ten of those lawsuits, as well as one brought by an association of Dungeness crab fishers who claim the fossil fuel companies' actions have harmed their industry.
Half of all of the oil and gas industry's greenhouse gas emissions occurred after the late 1980s, "during a period of culpability and knowledge," Sher stressed. "Knowledge of the conduct is an independent and qualitative factor a jury may consider in determining if conduct is a substantial cause of the problem. The emissions are not the wrong here. … The wrong is the deception," he said.
In one of the cases, filed by the city of Oakland on behalf of the people of California, the city asked the court to order the fossil fuel companies to fund a climate change adaptation program. That program was estimated to cost billions of dollars to cover "the building of sea walls, raising the elevation of low-lying property and buildings and building such other infrastructure as is necessary for Oakland to adapt to climate change."
In her opening brief, city attorney Barbara Parker raised many of the points Johl did.
Parker described how in 1980, an American Petroleum Institute (API) task force on climate change invited climate expert Dr. J.A. Laurman to make a presentation attended by scientists and "executives from Texaco …, Exxon and SOHIO (a predecessor to BP)."
"Dr. Laurman informed the API taskforce that there was a 'Scientific Consensus on the Potential for Large Future Climatic Response to Increased CO2 Levels.' He further informed the API task force in his presentation that, though exact temperature increases were difficult to predict, the 'physical facts agree on the probability of large effects 50 years away.' His own temperature forecast was of a 2.5 °C [4.5°F] rise by 2035, which would likely have 'MAJOR ECONOMIC CONSEQUENCES,' and a 5 °C [9°F] rise by 2067, which would likely produce 'GLOBALLY CATASTROPHIC EFFECTS.' He also suggested that, despite uncertainty, 'THERE IS NO LEEWAY' in the time for acting. API minutes show that the task force discussed topics including 'the technical implications of energy source changeover,' 'ground rules for energy release of fuels and the cleanup of fuels as they relate to CO2 creation,' and researching 'the Market Penetration Requirements of Introducing a New Energy Source into World Wide Use,'" she stated.
Parker then described how the fossil fuel companies "borrowed the Big Tobacco playbook in order to promote their products." For example, an industry group called Global Climate Coalition (GCC) spent millions of dollars on campaigns to discredit climate science, including $13 million on one ad campaign alone, she wrote. As part of its campaign, the group provided hundreds of journalists with a video that claimed carbon dioxide emissions would increase crop production and feed the world's hungry, she continued.
This, despite the fact that a science primer for GCC members drafted in December 1995 by the group's Science and Technology Advisory Committee concluded that the arguments the group was making in these campaigns "do not offer convincing arguments against the conventional model of greenhouse gas emission-induced climate change."
"Due to this inconvenient conclusion, at its next meeting, in January 1996, the [committee] decided simply to drop this seven-page section of the report," Parker wrote.
Attribution
Today, scientists generally believe that the burning of fossil fuels is extremely likely to be the dominant cause of climate change, according to Union of Concerned Scientists (UCS) senior strategist and corporate campaign advisor Nancy Cole, who also spoke at the forum last month.
In 2013, Richard Heede published "Tracing Anthropogenic Carbon Dioxide and Methane Emissions to Fossil Fuel and Cement Producers, 1845-2010," in the journal Climatic Change. A similar emissions-tracking study by scientists with the UCS, the University of Oxford, and North Carolina State University was published in the same journal in 2017.
These researchers have found that emissions between 1880 and 2010 associated with 90 companies contributed to 57 percent of the increase in carbon dioxide in that time, almost 50 percent of the rise in surface temperature, and 25-30 percent of sea level rise, she said.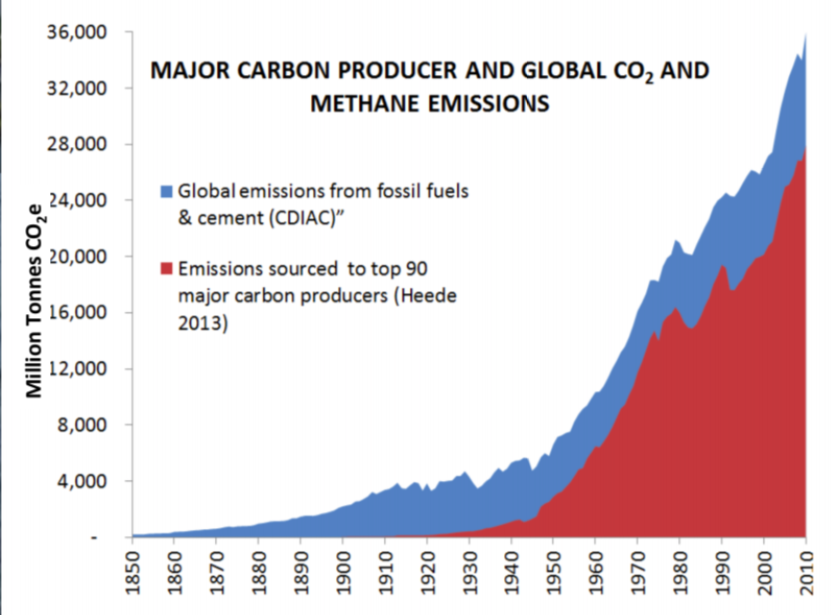 Sher called Heede's work brilliant, but conservative. "If you look at Chevron, he only looked at crude oil it took out of the ground… but Chevron refines so much more oil than it extracts itself and it wholesales more than it refines and if you understand that the wrong here is the over-marketing … you have to look at these companies as the vertically integrated retail extraction companies that they are," he said.
Cole said that scientists have also been doing some "amazing work" on attributing extreme events to climate change. She said they've found that Hurricane Harvey, which devastated Houston in 2017 and caused $125 billion in damages, was three times more likely to have happened because of climate change and rainfall was about 15 percent greater than it otherwise would have been.
In light of these kinds of conclusions, Cole said fossil fuel companies have now expressed a willingness to pay some kind of carbon tax.
"They are basically saying, 'We'll agree to pay a carbon tax, pay a price on carbon and you protect us from all these lawsuits these cities and states are threatening and stop any action by the EPA," she said.
She seemed doubtful a carbon tax would ever pass under the current administration, but suggested one might might come up in 2021.
"They're looking at a whole world's worth of damage that they may need to be held accountable for and they're worried," she said.
As Sen. Brian Schatz said later in the forum, "It is not just that Big Oil uses the same techniques and tactics as [Big] Tobacco. It's literally the same human beings, same law firms, same lobbyists … It's the same gang. And I think that's why they know this whole thing is going to come crumbling down." (Two decades ago, tobacco companies agreed to severely restrict their product promotion, and to pay more than $200 billion as part of a settlement with 46 states and the District of Columbia, which had sued them over the health effects of tobacco products on their citizens.)
He said that while he's not sure whether Republican colleagues who've expressed interest in climate legislation are also cracking,"this is the first time they are feeling political pressure to have an answer."
"Color me – as they say as the first printout comes out on election night – cautiously optimistic," he said.
Local Costs
In the Oakland lawsuit, the city claims that it will cost between $22 billion and $38 billion to replace property lost due to projected sea level rise. In addition to threatening its low-lying airport, sea level rise threatens to "prevent water from discharging properly from the sewer system, which will cause sewage to back up and flood certain sections of the city," the brief states.
At the climate forum in Honolulu, Chip Fletcher, associate dean for academic affairs at the University of Hawai'i's Department of Earth Sciences, ran through the long list of climate change effects already being seen in Hawai'i: The ocean and all four seasons have gotten hotter. Average daily wind speeds declined 6 percent per decade over the last 30 years. There's less rain, particularly on the Kona coast of Hawai'i island, and streams are suffering for it. Avian malaria threatens Hawaiian forest birds, as rising temperatures expand mosquito habitat.
And then there is the increase in extreme weather events, such as the rain bomb that swamped O'ahu and Kaua'i in April 2018, which he said caused $124 million in damages.
Kapua Sproat, director of Ka Huli Ao Center for Excellence in Native Hawaiian Law, also described how those changes affect Hawaiian cultural practices. Declining stream flows and rising sea levels threaten coastal plain agriculture, affect voyaging, devastate subsistence fisheries, fish ponds, in particular, she said. Rain bombs can hinder the growing of kalo, which is a food staple, and declining forest health will affect natural resources and the ability to gather them, she continued.
"Global warming jeopardizes our ability to live our culture," she said, noting that she comes from a long line of akule fishers, who traditionally operate in the summer. "Two months ago, in March, the akule are in. Traditional cycles are out of whack. … If you talk to many native Hawaiian practitioners, there are many concerns about the changes taking place now," she said.
University of Hawai'i law school professor Richard Wallsgrove asked whether a price tag could ever be put on the biological and biocultural losses Fletcher and Sproat described.
"Some amount will be put on it. Is it enough? Is it sufficient?" Sproat said. She noted that a lot of the work that's been done on valuing the local cost of climate change deals with more urban environments, such as Waikiki.
Sproat, a self-described country girl from Kaua'i, said she was also concerned with what's going to happen to rural communities, where there is just one road in and out.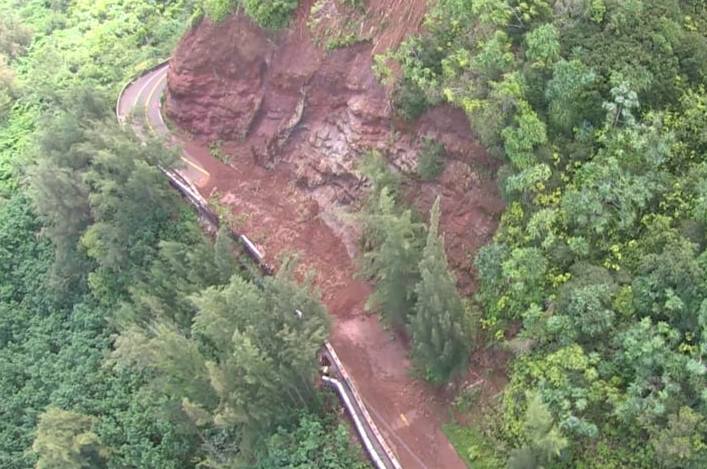 University of Hawai'i Department of Urban and Regional Planning chair Makena Coffman added, "Putting numbers on cultural resources is very sensitive and not often a good idea." However, she supported the idea of valuing damages otherwise, especially the major ones. "If we don't … then I think we're at this point where we'll say everything that's priceless is costless," she said.
She continued that little is known about the economic cost of the projected physical damages to Hawai'i as a result of climate change.
"We only have little slivers here and there and we need to think about this much more," she said, adding that the state's Sea Level Rise Vulnerability and Adaptation report released in late 2017 is probably the best touchstone for understanding the economic effects to Hawai'i of a 1-meter rise in sea level.
The report estimated that a sea level rise at that height could cause $19 billion in losses to property values throughout the state. The cost of damages to infrastructure was not included.
The state Department of Transportation's Ed Sniffen recently informed the state Climate Change Mitigation and Adaptation Commission that it costs $7.5 million to repair a single mile of damaged road. Given that, Coffman said, the true cost of sea level rise is going to be a much larger number very quickly. And that's just considering transportation infrastructure. As Environment Hawai'i has reported, the Honolulu Board of Water Supply expects sea level rise to accelerate corrosion of its transmission system in certain coastal areas.
She added that the expected drop in value of properties within the report's sea level rise exposure area on O'ahu could result in an 8 percent drop in property tax revenues to the City and County of Honolulu.
"It struck me as both big and small. Yeah, we can plan for it, but if we don't, that's a lot," she said.
If cities fail to consider climate change effects in their infrastructure projects, their bond ratings will likely be downgraded, raising the cost of borrowing, she continued. That could be a huge problem for areas trying to rebuild after a disaster event, as will inadequate insurance.
"Catastrophe bonds are a thing now," she said, adding that what the city of Honolulu has in insurance coverage — about $200 million — is wildly insufficient. "That's nothing if you're talking about a big disaster event," she said. Coffman noted that 1992's Hurricane Iniki caused $8.9 billion in damages (in 2018 dollars). And according to Fletcher and other experts, the hurricane threat to Hawai'i is expected to increase with global warming.
Coffman reported that at a recent meeting of the world's largest insurers and reinsurers, it was acknowledged that the world is on its way to becoming uninsurable. "This industry might not be able to function. Expect premiums to go up," she said.
To the Sierra Club's Townsend, fossil fuel companies needed to "pay for their contribution to this problem."
To date, the lawsuits that have been filed have met with mixed results in the courts. The Oakland case was dismissed by a federal judge, but that decision has been appealed (with Hawai'i Sen. Mazie Hirono joining in an amicus brief filed by several Democratic senators).
Townsend did not say whether her organization planned to initiate a lawsuit here, but did encourage those who attended the forum to go for it. "Yes, please, go sue. It takes lots and lots of tries. … There should be a homeowners' association saying, 'All our houses are falling into the ocean … pay up.' I think that's completely legitimate," she said.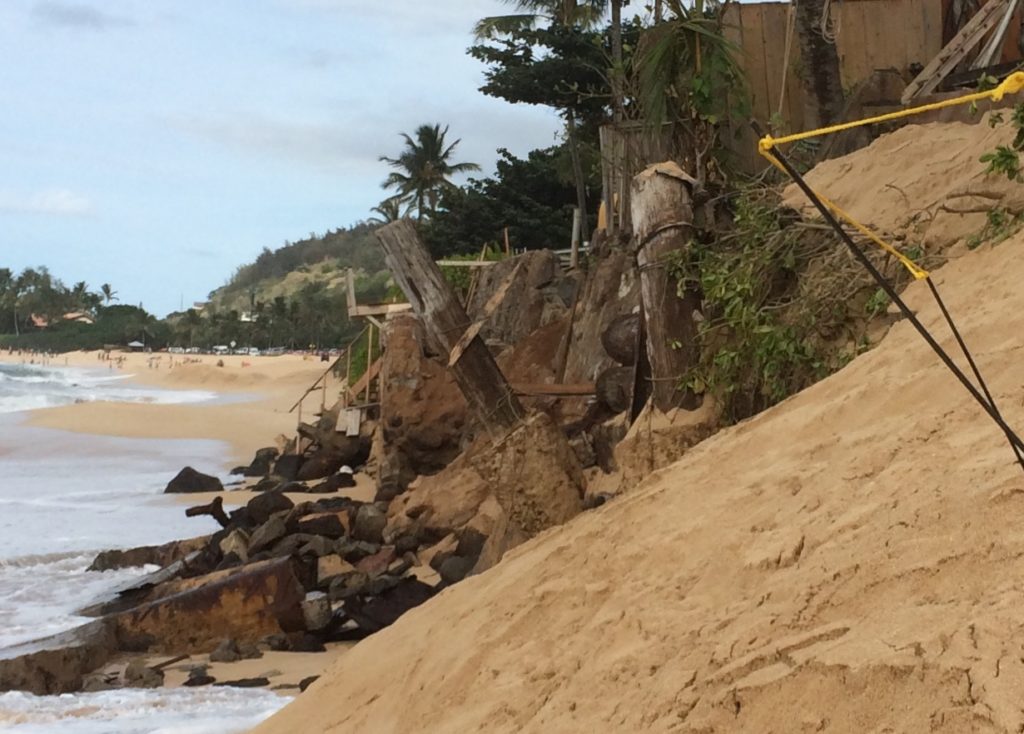 The Rebuttal
What could a local plaintiff expect to encounter by, as Sher put it, poking the tiger? The Oakland case provides some clues.
In their 2018 motion to dismiss the Oakland lawsuit, BP, Chevron, Conoco- Phillips, Exxon Mobil, and Royal Dutch Shell argued that before a court could assess the reasonableness their alleged conduct, it would need to find that greenhouse gas emissions unreasonably interfered with a public right. But the authority to make that determination rests with the Environmental Protection Agency, they wrote.
The companies, through their 26 attorneys, also argued that the public nuisance claim under federal common law fell short in that the city didn't and can't allege that the companies' conduct was unauthorized. "To the contrary, the production of fossil fuels is specifically authorized, and even encouraged, by numerous federal, state, and local laws," they wrote.
What's more, the companies didn't control the fossil fuels when they were burned "and thus cannot be held liable under black-letter nuisance law," they continued.
They added that the city's claims "depend on an attenuated causal chain including billions of intervening third parties—i.e., fossil fuel users like Plaintiffs themselves—and complex environmental phenomena occurring worldwide over many decades."
With regard to the relief being sought, they called the abatement fund "damages by another name," and argued that damages can be awarded only for harm actually incurred, not for "speculative future harms that may never eventuate."
Awarding such damages would violate the companies' constitutional due process rights "by imposing massive retroactive liability for conduct that was legal—in fact, encouraged—at the time it occurred (and still is today), as well as for protected First Amendment activities," they wrote.
The companies didn't speak to whether or not they misled the public about the effects of their product, but instead argued that misleading advertising is regulated by federal statutes, not common law, and that "the speech that Plaintiffs seek to punish, whether commercial advertising or political discourse, is constitutionally protected."
Aftermath
Days after the forum, UH law professor and associate dean Denise Antolini, Fletcher, and Johl co-authored an editorial in the Honolulu Star-Advertiser making the case for climate change litigation in Hawai`i.
The industry responded on May 10. In a letter to the editor, Phil Goldberg, counsel to the Manufacturers' Accountability Project, accused Antolini of spreading propaganda. The project was created in 2017 by the National Association of Manufacturers, which includes BP, ConocoPhillips, ExxonMobil, and Shell as members. The association has spent more than $163 million lobbying the federal government since 1998, according to the Center for Responsive Politics.
Goldberg's letter stated that the U.S. Supreme Court unanimously decided in 2011 that "there is 'no room' for litigation over climate change public policy." He also claimed that "several federal courts and judges refused to blame America's energy manufacturers for global climate change, saying there is no legal wrong that needs to be remedied." (Nearly all of the cases were originally filed in state court, but some were moved to federal court as a delay tactic by the companies, according to Sher.)
Goldberg had made similar arguments in a May 2 email to Antolini.
In a May 21 response, Antolini accused him of misappropriating "the quote — and gravitas — of Associate Justice Ruth Bader Ginsberg (who authored the 2011 decision), deliberately, it seems, to create confusion in the mind of the reader."
Ginsberg's statement that there is "no room for a parallel track" was made in the context of the Environmental Protection Agency's rule-making proceedings to regulate fossil fuel-fired power plants."That context matters," Antolini wrote. She added that Goldberg also ignored the fact that Ginsberg was referring only to federal common law and that she stated in the decision's last paragraph that the court was leaving the matter of whether a claim could be made under state nuisance law "open for consideration on remand."
With regard to Goldberg's claim about the positions of several federal courts on such lawsuits, Antolini had this to say: "[Y]ou omit any mention of the six lawsuits that were remanded to state court for further proceedings, which seems to contradict your overall point."
— Teresa Dawson