Landfill Violations Alleged: The City and County of Honolulu and Waste Management of Hawai'i, Inc., are being sued by the federal government and the state Department of Health for violations at the Waimanalo Gulch landfill, which Waste Management operates for the city.
The civil complaint alleges multiple violations of the landfill's National Pollutant Discharge Elimination System permit and its Storm Water Pollution Control permit (SWPCP). Many of those are related to storm water runoff that occurred in late 2010 and 2011, when torrential rains hit the leeward coast of O'ahu.
As the complaint notes, in August 2010, without DOH approval and in violation of the existing NPDES permit, two 48-inch-wide corrugated metal pipes, which were to divert rainwater flows from upstream of the landfill around the landfill itself, were replaced by one 36-inch polyethylene pipe. When heavy rains came in late December, the 36-inch pipe was not adequate to capture and channel storm water from up canyon of the landfill, the lawsuit states. Storm water collected in a cell of the landfill, where it came into contact with solid waste; an open manhole then allowed the water, now contaminated with solid waste, to flow to the ocean.
A similar chain of events occurred when another rainstorm hit the area in January 2011.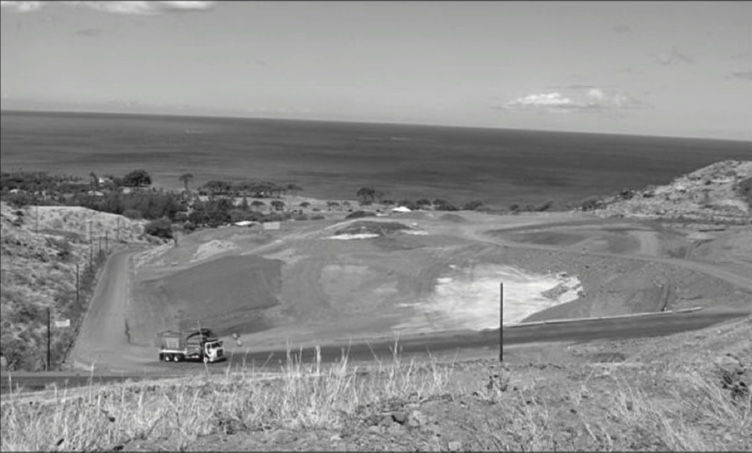 In relation to the 2010 and 2011 events, criminal charges were filed against Waste Management and two of its employees in 2014. The plea agreement, however, left open the possibility that civil or administrative actions might yet be filed.
The lawsuit filed on April 29 allegesthat the city and Waste Management "have not taken all steps necessary to ensure that during future large storms, storm water contaminated by contact with municipal solid waste and garbage will not again be released into Waimanalo Gulch." It notes that in relation to the federal violations, the defendants may be liable for up to $37,500 per day for each discharge of a pollutant in violation of the NPDES permit, and that under state law, they may face civil penalties of up to $25,000 per day.
A spreadsheet attached to the court filing lists 69 different violations of NPDES permit terms between December 23, 2010 and November 23, 2015.
(Environment Hawai'i reported on the 2010 and 2011 incidents in March 2011.)
Hawaiian Legacy Hardwoods Case:Litigation brought in 2015 by a consultant against Hawaiian Legacy Hardwoods,LLC (now known as HLH), four affiliated companies, and Jeffrey Dunster, has been resolved with an arbitrator's decision that goes largely against the consultant, Streamline Consulting Group, LLC.
Soon after the lawsuit was filed in federal court, it was referred to an arbitrator.The arbitrator did find that one of the companies, Legacy Carbon, LLC, had failed to pay invoices under a services agreement with Streamline and that Hawaiian Legacy Hardwoods had violated an independent-contractor agreement.
Overall, however, in a ruling handed down on May 10, federal Judge Susan Oki Mollway upheld the arbitrator's finding that, when all the awards and attorneys fees to the various parties were added up, "Streamline ended up owing defendants $343,414.06.
"Because this amount exceeded the reasonable fees and costs allowed by the arbitrator, the arbitrator reduced this amount to $273,930.14, plus applicable fees and costs of the arbitration."
(Environment Hawai'i reported on the lawsuit in February 2016.)