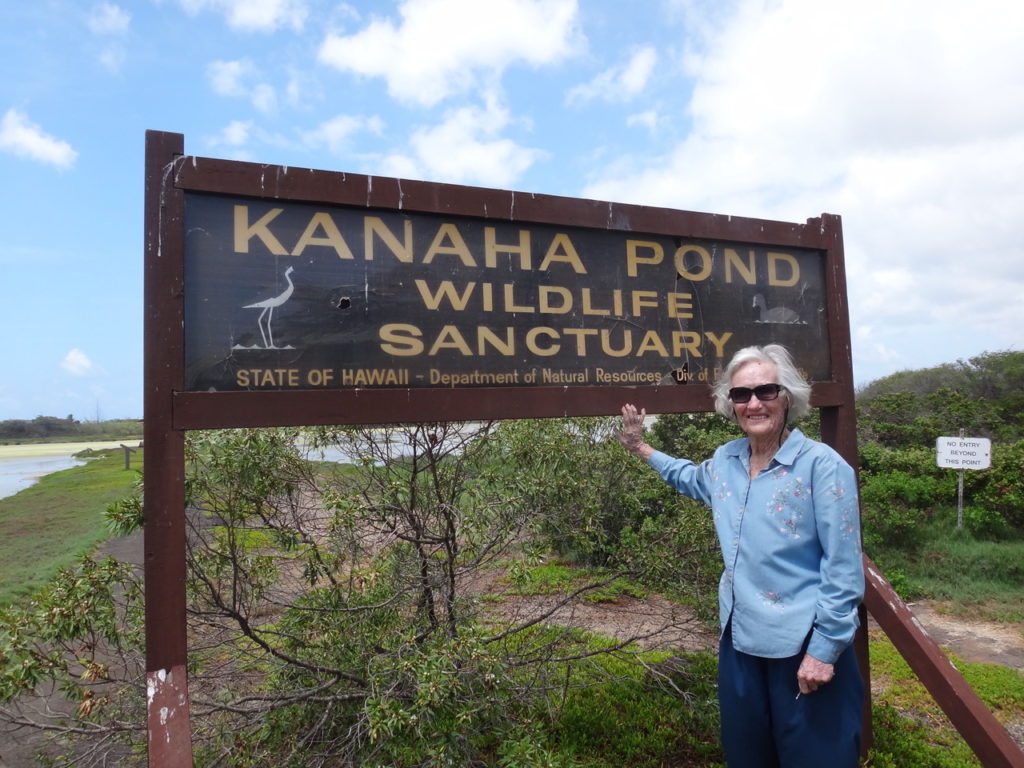 Mary Evanson died last month. She was 97 years old.
In those 97 years, Mary lived more than most people could do in twice that time. It's hard to think of an environmental group on Maui that she did not help to found or volunteer with, or on whose board she did not serve.
Also, for 27 years, Mary served as a director on the board of Environment Hawai'i.
Up until 2006, when she was just a few months shy of her 85th birthday, Mary would regularly hike into and out of Haleakala crater, a place near and dear to her heart. She helped out in one of the early censuses of silverswords, when they were so scarce as to be on the brink of extinction. And she was thrilled to see them return in more recent years. Mary defended the drive to eradicate goats from Haleakala National Park, even though she was known to cave when it came to the orphaned kids. She adopted more than one as pets, and they helped keep down the weeds on the steep slopes of her garden near Makawao.
Mary was a founder of the group Friends of Haleakala National Park and served on its board for many years. She instigated its "adopt-a-nene" program, which not only raised funds for the park, but also educated countless visitors and residents about the park's vital role in protecting the island's natural beauty and resources.
She railed against the proposed extension of the Maui airport runway, which she feared would hasten the introduction of harmful plants and animals. She was instrumental in saving and transforming the Maui Nui Botanical Garden. She helped form the group State Park @ Makena (SPAM), which lobbied for the protection of a long swath of coast from Makena to La Perouse Bay. Kealia Pond owes its protection as a national wildlife refuge, in no small part, to Mary.
Mary McEldowney was born on O'ahu, where her father, George, worked for the Hawaiian Sugar Planters Association experiment station. The family lived in Wahiawa, where there was a forest nursery ("all aliens!" Mary lamented in an interview with Valerie Monson years later).
When Pearl Harbor was bombed, Mary recalled, she could see the smoke. To ensure her safety, her parents put her on "the first ship to the mainland."
After the war, she returned to O'ahu and taught school for many years, moving to Maui in the late 1970s after her children were grown. She settled into a home in a remote valley near Makawao, surrounded by giant koa trees and dozens of other native plants.
Monson recalled Mary fondly: "She was active physically and mentally throughout her life, which obviously contributed to her longevity and youthfulness.
"Until recently, she climbed a ladder to her bedroom loft every night. A couple of years ago, I phoned her and asked what she was doing. 'I'm re-reading Steinbeck,' she said."
Mary is survived by daughter Carol, son Bill, and her beloved dog, Pip.