Board Rejects Plan To Dump Rocks Along Lanikai Seawall
On October 26, the state Board of Land and Natural Resources denied the owners of a $9 million beachfront lot in Lanikai a Conservation District Use Permit to dump a sloped pile of small rocks over a 2,000-square-foot section of the beach fronting their deteriorating seawall to keep it from failing.
The Department of Land and Natural Resources' Office of Conservation and Coastal Lands (OCCL) had recommended rejecting the permit, mainly because it failed to meet its criteria for Conservation District Use Permits and because the state has a policy that generally prohibits private protection structures seaward of the shoreline.
"We feel that if the homeowners want to improve their armoring, then they should do it on their property in this case," OCCL administrator Sam Lemmo told the board. The property, owned by Elizabeth Rice Grossman, spans more than 22,000 square feet. To allow the installation of a rock apron on the public beach would set a bad precedent for his office, he added.
Sea Engineering's Chris Conger, however, tried to explain how the rock apron might actually bring more sand into the area. He noted that in 1968, a rock scour apron was legally installed across the subject and neighboring properties, but the rocks fronting Grossman's property were removed in 2004 to avoid having to obtain an easement for them from the DLNR.
Conger said that neighbors who retained the 1968 scour apron have more sand fronting their seawalls, and a 1995 paper by University of Hawai'i scientists found that in Lanikai, in general, dissipative structures had more sand fronting them than vertical seawalls.
"This might be the right place to do a sand apron," he said.
Board member Keone Downing questioned the wisdom of focusing on the seaward side of the seawall when Grossman's primary objective was to protect the upland development. Given that the mauka side of the seawall reportedly suffered from sinkholes, Downing asked what Grossman was doing inside her property to protect her wall. "Putting riprap is not stopping water going under," he said.
Conger said the riprap's main purpose was to relieve wave pressure on the wall. "If you can stop the beating, you can prevent some undermining," he said.
Conger's Sea Engineering colleague added that a geotextile material beneath the riprap would slow water from penetrating beneath the wall.
Despite the consultants' explanations, some board members remained unconvinced the project was worthwhile. "Why don't you improve your wall? That's the simplest thing. It's on your land," Kaua'i board member Tommy Oi asked. "What's going to stop the owners all the way down from asking for the same thing?"
"There is a precedent question. Yes sir," Conger replied.
Board member Chris Yuen, a former head of the Hawai`i County Planning Department, was open to the proposal. "My internal policy is, I want to be tough on people who don't have seawalls and want to build them, but allow people who have seawalls to repair them," he said.
Yuen noted that an OCCL report shows that the section of beach fronting the property is eroding and asked Conger whether any effort to retain sand in the area was hopeless.
"At this point, there's not enough sand for it to ever create a new beach. … What we're talking about is an incremental improvement," Conger replied.
While the Lanikai Association, a community group, supported the project, Teresa Parsons of the Kailua Neighborhood Board reported that the board did not offer its support when first presented with the proposal years ago.
When it came time for the Land Board to vote, Lemmo discouraged the board from basing its decision on the hope that the rock curtain was going to allow for sand accretion.
"The reasons to not [approve] are more important for me. Everybody in Lanikai is watching this. Trust me. We're going to be getting into a sloping rubble love-fest. The reality is, when you have a chronically eroding shoreline like Lanikai, it's unlikely that anything is going to make a difference. … Plus we have a situation with sea level rise.
"I don't know if you want to go down this road, authorizing rock blankets. It's not the end of the world if you do it, but I just think it's a weak argument," Lemmo said.
Yuen asked Lemmo about approaching the project as an experiment: Let Grossman dump the rocks. If sand doesn't accrete, she removes it; if it does, the rocks stay.
Lemmo said he didn't think such an arrangement was fair to his staff. "If it doesn't work out, do you realize how much energy it will take to get them to take it out? It's extremely, extremely onerous on everybody," he said.
Whether or not the rock curtain would work was not the main issue of concern to Lemmo, anyway. "Are we going to keep armoring the shoreline, when they have a perfectly reasonable option?" he asked.
Downing cited the many ways the experiment idea was problematic: "What's the line to take out or leave in? Who's going to decide? How many years [before a decision is made]? If we do get to that point, who makes the call?. … You point to him; the other guy says no. We go into court about it. … For some reason, the history of us putting stuff in the water, it never comes out even when we're supposed to take it out," he said, adding that rocks are not easy to move.
In the end, the board voted 6-1 to support Lemmo's recommendation.
Downing said there was no guarantee the riprap would hold sand. Oi and board member Stanley Roehrig expressed their concern about creating a bad precedent after the department has fought for so many years against shoreline hardening.
"On North Shore, at Sunset Beach we've been 'geeving it to them'. Sometimes they take desperate measures. Boy, do they get fined," Roehrig said, referring to past enforcement cases against landowners who installed emergency measures without authorization from OCCL.
Yuen was the only no vote. "It may be hopeless in the end. The beach in this area is most likely doomed to sea level rise [but] I think the applicant made a good presentation," he said.
***
Board Issues Fine
For Kane'ohe Seawall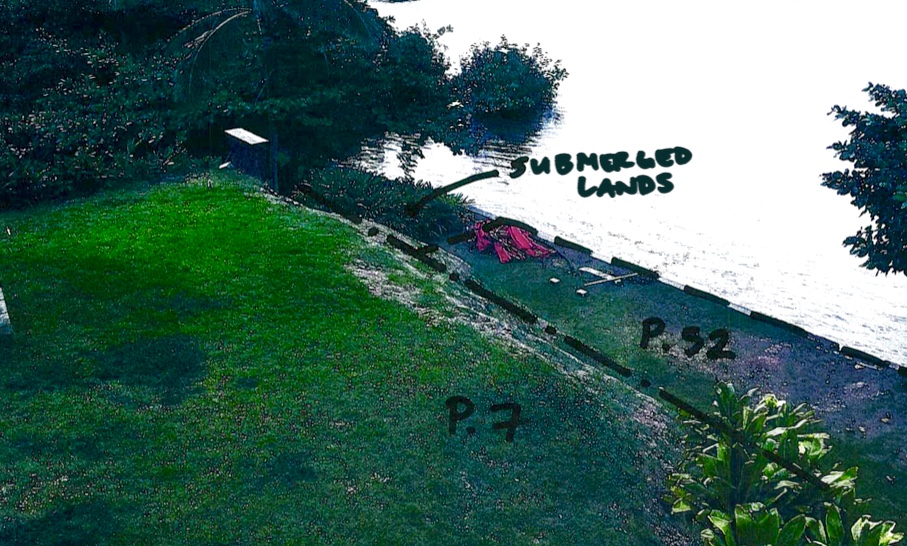 On September 28, the Land Board fined a Kane'ohe Bay homeowner $10,750 for building a seawall on state Conservation District land after the Office of Conservation and Coastal Lands (OCCL) told him not to.
In 2011, the office received a complaint about unauthorized mangrove removal fronting a small parcel owned by the state, as well as a larger lot owned by Charles Tsu Yew Wong. After investigating, the OCCL sent him a letter ordering him to clean up any mud or silt on the land and do no additional work, including seawall repair or construction. Even so, when Wong's contractor finished cleaning the land, Wong directed him to restore the seaward area to what it was like before the mangrove work was done. A rocky embankment, which Wong argued was installed several decades ago, originally fronted the land. Rather than restore it, he had a proper seawall built.
"I'm sorry. It's a ripple effect of a chain of events that I didn't foresee," Wong told the board, noting that he had, in good faith, called a number of state offices for advice on the mangrove removal before starting his work.
OCCL administrator Sam Lemmo, however, claimed that Wong erected the seawall to aid his efforts create two developable lots, an accusation Wong vehemently denied. A few years after the work was done, Wong asked the DLNR about buying the 400-square-foot state parcel. He told the board that he later found out the purchase wouldn't benefit him because the parcel is in the Conservation District and would not add to his total developable area.
Lemmo recommended imposing a maximum fine of $15,000 for the unauthorized seawall, plus an administrative penalty of $750. Land Board member Chris Yuen, however, was more sympathetic and recommended Wong pay $10,000 for the violation plus the administrative penalty and also remove the 28-foot seawall along the state's property. The board unanimously approved the motion. (Our September 2018 New & Noteworthy item details Wong's efforts to develop his lot.)
—Teresa Dawson