On September 18, the state Commission on Water Resource Management approved groundwater reservations for the Department of Hawaiian Home Lands (DHHL) totaling more than 13 million gallons a day (mgd) and spanning 20 aquifers across the islands of Lana`i, Kaua`i, Maui, and Hawai`i. The action brought the total amount of water reserved for the department statewide to about 27 mgd.
The additional reservations reflect the agency's mid-range water need projections through 2031 that were identified last year in the State Water Projects Plan. Due to funding constraints, the plan focused solely on the DHHL, the largest landowner among the various state agencies whose needs were inventoried in the plan. The agency was singled out also because its water needs "are an identified public trust purpose and have priority under the State Constitution and Water Code," a Water Commission staff report states.
In his testimony supporting the additional reservations, DHHL acting planning program manager Kaleo Manuel told the commission that the agency's requirements would increase once its projects are fully built out. He added that while he appreciated the commission's work in helping establish the reservations, he lamented the fact that they don't necessarily result in the actual delivery of water.
"One of the things we struggle with is, we have this reservation, but it's paper water. How do you get into wet water [and] ensuring that counties honor reservations? … That's where the rubber hits the road," he said.
Some county water departments, "they treat us like a developer, which we're not. … We're training them to treat us like a customer," he said, adding that often times, counties will resist developing a well to meet the agency's needs because they believe it's not their responsibility.
"It shouldn't be on the backs of DHHL," he said. DHHL water reservations are considered by the Water Commission and by counties in their calculation of authorized planned use. And according to the Water Commission report, the Honolulu Board of Water Supply has verbally committed to providing water service to DHHL tracts in the Wai`anae, Waipahu-Waiawa and Waimanalo areas.
But in some cases, Manuel said, counties aren't rejecting their obligations outright, but they simply don't share the DHHL's priorities. A clear example is Ka'u on the island of Hawai`i, he said. "It's not a priority for them, but it's a priority for us. We've been trying to get them to make it a priority CIP [capital improvement project] … We've been trying to get them to partner with us. Historically, the [DHHL] pays for everything," he said.
With the DHHL's outreach to the counties, Manuel said, "the climate is changing. It is better, but there are still historic issues we're trying to fix."
He recommended that when the Water Commission reviews the Water Use and Development Plans (WUDPs) developed by each county as part of the state Water Plan, it should make sure that the DHHL's needs are reflected in them.
"Don't forget about us, basically," he said.
He said that the DHHL spends about $1.3 million a year maintaining its existing water use systems. The largest system, on Moloka`i, has 600 customers; the smallest has 49. With regard to the latter, Manuel said developing a water system for such a small number of people is not fiscally responsible, "but it's an obligation, so we do it at an extreme cost."
In addition to ensuring the DHHL's needs are reflected in county WUDPs, Manuel said he has asked commission staff to consider including a condition in well construction permits (in aquifers not designated as water management areas) that would require some of the well water to be used to meet the DHHL's needs.
To this, commission geologist Roy Hardy said he thought adding such a condition would probably need approval from the full commission. "I'm sure we would get a lot of pushback if we did it ministerially," he said.
(For background on the DHHL's recent water struggles, see, "Board Directs Land Division To Help Permittees, DHHL Meet Water Needs," in our February 2018 issue.)
***
Water Meters Critical In
Implementing West Maui IIFS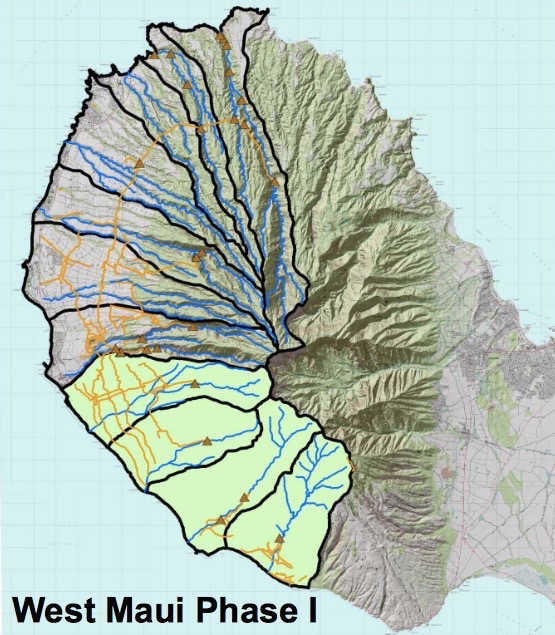 Despite worries from the Launiupoko Irrigation Company, Inc. (LIC) and its customers that interim instream flow standards set (IIFS) on March 20 by the Water Commission for streams in West Maui would leave them wanting, stream and ditch flow data collected over the past several months suggest otherwise, according to a presentation last month by Ayron Strauch of the commission's stream protection and management branch.
The IIFS of 3.36 million gallons a day (mgd) for Kaua`ula Stream concerned the LIC and its customers the most, as that is their main source of water. (The company also has the ability to divert water from Launiupoko Stream). To allay some of those concerns, the commission decided to implement the IIFS incrementally, initially restoring only 1 mgd to the stream at LIC's diversion and 0.8 mgd at a siphon.
LIC started the controlled release of 1 mgd on March 28 and immediately claimed it left insufficient water in the ditch system. LIC project manager Heidi Bigelow wrote in emails to commission staff shortly after the release that the reservoir level had dropped by two feet.
In an April 4 letter to its customers, the LIC stated that the release should have left the company with 2.6 mgd to distribute, but, in fact, left it with "substantially less than 1 mgd."
"If the new IIFS are implemented before alternative solutions are put in place, LIC will be allowed to divert an insufficient supply of water, and must invoke its PUC Tariff no. 1, RULE III Conservation Measures and Interruption of Water Supply requiring ALL customers of LIC within its service area to immediately reduce their water usage by 80 percent," it warned.
The company then appealed to commission staff to hold off fully implementing the IIFS for six months.
Initially, Strauch balked, arguing in an April 12 email to Bigelow that even if only 3.5 mgd flowed in Kaua`ula Stream above the initial diversion — a conservative estimate, he wrote — there should be more than enough water to meet the needs reported by LIC.
After returning 1 mgd to the stream and sending 1 mgd to users who aren't LIC customers, LIC would still have access to 1.5 mgd, "plus water diverted from Launiupoko Stream (0.4 mgd)," he wrote. Given that, he continued, the LIC should be able to meet the 1.3 mgd in distribution needs identified in its Public Utilities Commission (PUC) permit, even with a system loss of 20 percent. "[T]here should be plenty of water. Where is the problem?" he asked.
The commission ultimately agreed to wait until late September to increase the amount of water released to the stream to 2 mgd. The delay would provide for "a reasonable time period for both LIC and the Water Commission to measure and assess added flows in the stream, allowing us to work together for both good stream health and adequate water for LIC needs," wrote commission depute director Jeffrey Pearson in a May 7 letter to LIC.
At the Water Commission's September 18 meeting, Strauch reported that measurements taken over the past several months at LIC's ditch intake and the stream below the diversion showed that an average of 2.44 mgd would be available from Kaua`ula Stream for offstream use if the 3.36 mgd IIFS was fully implemented and 0.47 mgd would be available from Launiupoko Stream, for a total of 2.91 mgd.
"This is definitely meeting their stated needs," Strauch said. Even so, he reported that nearly 100 LIC customers have sought to connect their non-potable water systems to the area's potable water system to ensure their water needs are met.
In June, the Mahanalua Nui Homeowners Association, Inc., Makila Plantations Homeowners Association, Inc., and Pu'unoa Homeowners Association, Inc., Steve Strombeck and the Strombeck Family Revocable Trust sought a contested case hearing on the IIFS, claiming that they would be left without sufficient water. The commission rejected those requests at its June 19 meeting, but not before the Office of Hawaiian Affairs' Wayne Tanaka questioned the petitioners' claim that they needed 1.8 mgd for small farms spanning 88 acres.
"When Launiupoko Irrigation Company petitioned the Public Utilities Commission to become a public utility, they said they would need 1.3 mgd for a fully developed 6,000-acre service area. Somehow this 88-acre area of agriculture is exceeding by 500,000 gpd what Launiupoko said they would need for 6,000 acres for fully developed ag lots," he said, adding that if 1.8 mgd really was being used, "the Commission should look into potential water waste that is going on."
Maui resident Tiare Lawrence also testified that Launiupoko was filled with "gentleman estates, million dollar mansions, fancy pools." "Barely any real, sustainable, diversified farming takes place in Launiupoko," she said.
At the commission's September meeting, Strauch said that of the 98 LIC customers seeking crossover connections, 50 were ready to have theirs installed and the rest were at various stages in the inspection process. One application was not processed because the customer lacked access to a potable connection.
He also reported that the U.S. Geological Survey is expected to install its own gages in the stream and ditch, which will provide the commission with real-time data.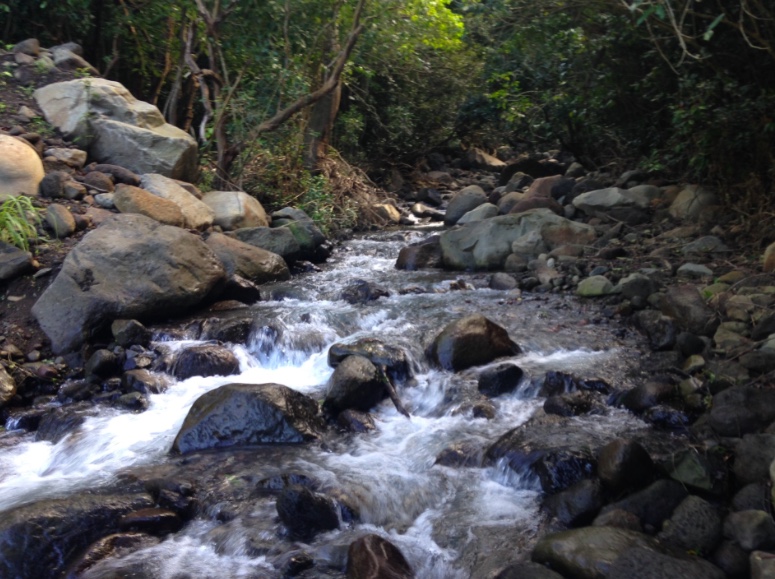 "The operator of the system has accepted this as the way forward. They're still evaluating non-potable needs. It's clear there was a lot of use that wasn't in compliance with the PUC permit," he said, adding that he understood the company was in discussions with the county regarding its development plans and zoning requirements.
***
Kawa Stream
Awaits Healing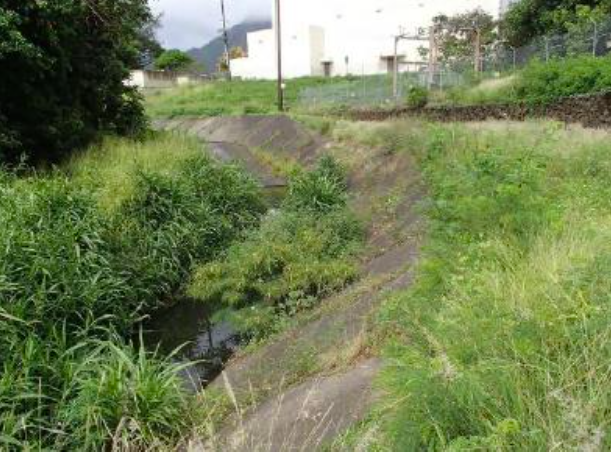 Last month, the Water Commission granted the City and County of Honolulu a stream channel alteration permit (SCAP) for maintenance and erosion control work along Kawa Stream in Windward O`ahu to protect private properties along the stream banks.
About 88 cubic yards of material will be excavated from several sections of the stream/ditch. Concrete and rubble will be used to repair and patch weak spots.
While he didn't object to the permit, the fact that the city wasn't doing more to protect the stream itself seemed to rankle David Penn, a former Department of Health (DOH) official who years ago was tasked with establishing the total maximum daily loads (TMDL) of contaminants in Hawai`i streams. Now he is head of the state Department of Land and Natural Resources' Legacy Land conservation program. Penn, testifying as a private citizen, expressed his impatience with the pace of the city's efforts to remedy some of the harm done to the stream over the decades.
A perennial stream that empties into Kane`ohe Bay, Kawa was heavily channelized with concrete in the 1960s and 70s and is considered impaired by the DOH and the Environmental Protection Agency with regard to its water quality.
"When I started as TMDL coordinator for DOH, this was my first assignment, Kawa Stream. It was meant to be a drainage superhighway. Unfortunately, back in those days, we didn't have the foresight to put conservation districting around the state's 365 perennial streams," Penn said. The result: People were allowed to build their homes right up to the bank of the stream.
"The first time I went up there, I thought the best approach would be to rip everything out and start over," he said.
A few years ago, the city developed a plan to rehabilitate the stream that included "stabilizing, repairing, and/or reconstructing the stream bed and stream banks along most sections of the Kawa Ditch and Kawa Stream for the purpose of flood control, minimizing erosion, as well as enhancing the natural functions of the watercourse," a 2015 environmental assessment states. Completion of all phases of the plan depended on the funding available.
At the commission meeting, Penn asked when the latter phases were going to occur. The work in those phases would alleviate pollutant impacts by "installing concrete and rock features along the channel bottom, replacing some concrete side slopes with permeable alternatives, and installing native vegetation mats on side slopes. Respectively, these installations would serve to reduce flow velocity, allow for percolation of ground water, and retain water within vegetation. All serve to limit the transfer of pollutants into the local fresh water and ocean systems while at the same time reducing the erosion of the stream bed and surrounding land," the EA states.
"I really wanna know, when is the good stuff coming for stream health? Stream health is kinda like human health," Penn said, adding, "This poor little stream has been hammered."
One of the major "surgeries" Kawa stream has undergone is the burying of the spring at its headwaters, he said.
Water Commissioner Neil Hannahs asked Penn if there might be a condition the commission could include in the SCAP the city was requesting that would help.
Penn replied that it could try to set a deadline for the city to do the rest of the work in the plan, "but I don't think you can do that."
— Teresa Dawson