Discord Stalls Hearings on Rules For Moloka'i Subsistence Fishing Area
The volunteer group Hui Malama O Mo'omomi has led efforts to protect and educate people about the marine resources on Moloka'i's North Shore since the mid-1990s, teaching hundreds of children from throughout the state about conservation and traditional Hawaiian fishing practices. But even though the state Board of Land and Natural Resources voted on April 13 to send to public hearings rules that would give teeth to the group's practices, sentiment — held by state Rep. Lynn DeCoite and others — that the proposal did not come from the community and that some of its provisions were unreasonably strict seems to have stalled the rule-making process for now.
At the board's meeting, the Department of Land and Natural Resources' (DLNR) Division of Aquatic Resources (DAR) described the collaborative process that led to the creation of the proposed rules to establish a Community-Based Subsistence Fishing Area (CBSFA) at Mo'omomi. The Hui had submitted an initial proposal to the department last year, and DAR later held a number of scoping meetings on the island before bringing a final draft of the rules to the board for permission to take them to public hearings. The proposed CBSFA would span an 18-mile stretch of ocean from the northwestern tip of the island at 'Ilio Point, past Mo'omomi, to Nihoa Flats, just before Kalaupapa National Park, and extend a mile out to sea.
With a few tweaks, the Land Board unanimously approved DAR's recommendation. But that was only after the board considered written and oral testimony from dozens of people in support, including the Office of Hawaiian Affairs, as well as those who were strongly opposed. Among the latter were ten fishermen who were flown in to Honolulu by chartered helicopters. They described their experiences with the Hui's leader, Kelson "Mac" Poepoe, and some of his cohorts, as being downright foul.
"We've been pushed around and harassed from the Hui Mo'omomi. … By passing this, you're pretty much putting this into their hands. … I think it's gonna get ugly. It's been that way for the past 25 years," Lolly Agliam told the board.
University of Hawai'i ethnic studies professor Davianna McGregor, who helped develop the Moloka'i subsistence study in the early 1990s that laid the groundwork for the statewide CBSFA program, countered that Poepoe has long been vilified by "those who feel they can do whatever they want."
"I've never seen Mac behave like that to anyone. … He has become the center and target of attack, unjustly, I feel," she said.
Before approving the request to take rules out to hearings, board members made it clear that they were not about to referee the disputes that had obviously been festering for years.
"There's no way to deal with a blow-by-blow incident, who's right and who's wrong," board member Chris Yuen said.
Board member Stanley Roehrig later added, "We're not into the power trip. That's not our kuleana. We're not going to pick sides. This is not a boxing match." He continued that if the rules are adopted, "people like Mac, the other strong personalities, you all gonna lose power. It's going to be the kuleana of the state government. The DLNR is going to have to come in and make sure all of our DOCARE [Division of Conservation and Resources Enforcement] officers are not bullies, they're well trained, and when they go down the beach, they enforce the laws fairly [and] no back their friends."
Whether or not Roehrig's clarification allayed all of the fishermen's concerns remains to be seen. Retired commercial diver Walter Rawlins, for one, seemed fine with the idea of state management. "Let DLNR handle it. I got not problem," he said. (He did, however, question one of the proposed restrictions: "Only two uhu? … That's not gonna work," he said.)
As of late July, no hearings had been scheduled and DeCoite's concerns apparently led Gov. David Ige to fly to Moloka'i to discuss the issue with some of the rules' opponents. At the Hawai'i Conservation Conference held last month, Ige hinted that the rules may not be going anywhere anytime soon. "I wanted to ensure we could have a better start of that process," he said, adding that he looked forward to ensuring that any rules going forward came from the community and that "all voices are heard."
Should the rules go out as approved by the Land Board, it did require that hearings be held on all of the main Hawaiian islands, not just those in Maui County. And once they've been held, the board committed to making sure that its final vote on the rules is held on Moloka'i.
New Limits
The 1994 Governor's Moloka'i Subsistence Task Force report that McGregor helped author found that the populations of whitesaddle goatfish (kumu) and spiny lobster (ula) in the proposed CBSFA area had nearly collapsed, and according to the Hui's 2017 proposal, more recent monitoring suggested that the lobster population had still not recovered.
But at the Land Board's meeting, DAR staff presented data highlighting the fact that surveys done in 2017 found that the reef fish biomass of North Moloka'i was higher than anywhere else in the state, barring the uninhabited Northwestern Hawaiian Islands.
"Mean total biomass on North Moloka'i is nearly 3.5 times higher than the statewide average … and over 15 times higher than the north shore of heavily fished O'ahu," a DAR report by scientists Whitney Goodell and Alan Friedlander stated. The report also noted that for three of the species to be covered under the CBSFA regulations — kole, kumu, and uhu — their mean biomass in North Moloka'i was 1.5 to 2 times higher than other north shores in the Main Hawaiian Islands, particularly O'ahu.
Fisherman Aaron Boswell and others seized upon this new data as proof that no new fishing regulations were needed.
In a scoping recent meeting with a DLNR representative, Boswell said attendees were informed that the fish at Mo'omomi was plentiful, almost double other areas, he said. "My question for him was, 'Why do we need you?' Boswell asked.
McGregor argued that despite the overall bounty of the area, the handful of species covered under the rules are still at risk of overfishing. Indeed, Goodell and Friedlander wrote in their report, "[L]ong-term community fishers have expressed concerns with what they observe as recent declines in overall catches, as well as declining fish size.
As resources throughout the state decrease, it is likely additional pressure will be placed on the resources of this area. As a result, it is increasingly important to consider future management plans that will help maintain the quality of this ecosystem in the face of increasing effort."
Testifiers who helped create the state's first and only CBSFA a couple of years ago at Ha'ena on Kaua'i's North Shore expressed their support for the Mo'omomi proposal, noting that there is already evidence that the restrictions at Ha'ena have increased the number and size of fish there.
The Mo'omomi CBSFA rules would establish the following:
Parrotfish, or uhu: A prohibition on the take of uhu 'ele'ele and uhu uliuli, a closed season of April 1 through June 30 for uhu palukaluka and uhu ahu'ula, and a total daily bag limit of two for those species. The board approved similar rules for the island of Maui years ago.
Whitesaddle goatfish, or kumu: A daily bag limit of two, a maximum size limit of 16 inches, and a closed season of January 1 through March 31.
Goldring surgeonfish, or kole: A daily bag limit of 20, a minimum fork length of 5 inches, and a closed season of April 1 through June 30.
Pacific threadfin, or moi: A maximum size limit of 18 inches in fork length, and a gear restriction allowing take only by hook and line, spear, or throw net. (The existing daily bag limit is 15.)
Spiny lobster, or ula: A daily bag limit of two, and harvest allowed only by hand or hook.
Limpet, or opihi: A prohibition on take or possession while diving.
Seaweed, or limu: A prohibition on taking with holdfast or roots attached.
General regulations: Except for torching, no take or possession of marine life would be allowed while night diving from 6p.m. to 6a.m. No SCUBA spearfishing or commercial fishing would be allowed, except trolling and bottomfish fishing in waters deeper than 40 fathoms.
Kawa'aloa Bay Protected Area Regulations: No fishing or gathering would be allowed, except for hand-harvest of a'ama crab, shoreline limu gathering during the day, throw netting during the day, and hook and line fishing from shore during the day, using only artificial lures.
Restricting Access
O'ahu's Randy Cates said he first visited Mo'omomi some 40 years ago and has been diving there nearly every year since. And when the Legislature approved a small-scale, two- year pilot subsistence fishing project there in 1995, Cates said, he testified in support of it. The implementation of that project, however, backfired, at least for him, personally.
"I saw acts of violence increase, especially on me," he said. While the proposed rules had been touted by then-DAR administrator Bruce Anderson and others as merely a means to control excessive fishing — and not to control access to the fishing grounds — Cates argued that was not the case.
"You're going to ban spearfishing with SCUBA and have a bag limit, but allow gillnets. But with a gillnet, you can't tell two kumu to go into the net. It's not based on science," he said, asserting that the SCUBA fishing ban was really just a way to restrict access.
A SCUBA spearfishing ban would force him to free dive or snorkel, which would, in turn, force him to fish right next to the shoreline, which he said is disrespectful to the fishers onshore. What's more, it puts him at risk of violence, he said, noting that he had an altercation with someone there as recently as late last year.
Cates added that free diving, especially for older people, is not the safest or smartest thing to do, suggesting that by banning SCUBA- aided fishing, the DLNR would effectively be barring him from the area.
"If SCUBA is somehow giving you an advantage [to catch more fish], then why allow gillnets? … If truly the gear type is the concern, why would you allow a gear type that's indiscriminate?" he asked.
In 2007, the Land Board banned the use of gillnets statewide, except in waters around Moloka'i, where residents vehemently opposed such regulation. (More than 1,700 Moloka'i residents had signed a petition opposing any rule changes to gillnets.)
Land Board member Roehrig, at least, was swayed by Cates' argument. In making a motion to approve DAR's recommendation, Roehrig noted that he wanted the proposed rules to be amended to ban the use of gillnets, or cross nets, as he called them.
DAR's Anderson reminded the board that "the entire island of Moloka'i rejected the lay gillnet rules" and under the proposed rules they would continue to be allowed, except in the Kawa'aloa Bay nursery area. "The community chose not to recommend any rule on limits on lay gill nets," he said.
Land Board member Yuen agreed with Roehrig that gillnets do take a huge amount of fish compared to other methods, but discouraged the board from touching "a hot button that the group that's promoting this decided not to include."
"There's reasons from a community level for not pushing things that sound good to us. I think we should probably leave that one alone," Yuen said.
Roehrig recounted that when he used gillnets when he was younger, "we would have to carry a hammer in our shorts because nets would get stuck on the coral. … That's not a good thing either. If it's an area that doesn't have a smooth bottom, cross netting is problematic."
Shae Kamaka'ala, CBSFA coordinator for DAR, noted that the ocean floor in the area is mostly sandstone.
With regard to access, she noted earlier in the meeting that it was one of the main issues raised during DAR's scoping meetings on the rules, particularly vehicular access to Kawa'aloa Bay. While much of the coastline along the CBSFA is owned by the Department of Hawaiian Home Lands, which does not restrict access, significant portions are controlled by the Moloka'i Land Trust, The Nature Conservancy of Hawai'i, and Moloka'i Ranch, which do.
"Access has always been an issue in our community," McGregor testified. "The reason TNC closed off weekend access is because fences were cut, huge amounts of oipihi taken for commercial use, and a turtle was killed. … Ka'awaloa Bay was a nesting beach for turtles. That was the last straw," she said.
Board Discussion
Early in the meeting, Kaua'i board member Tommy Oi questioned DAR staff about how they planned to enforce rules for 18 miles of coastline. He noted that at the Ha'ena CBSFA, "they live in the area. They're the eyes of the area. This area [on Moloka'i] is so big. There's no residents along the shore."
Kamaka'ala replied that DAR partners with the non-profit Makai Watch, which is a program that trains members of the public how to spot, document, and report violations. "We did it for Ha'ena twice with the community there," she said.
DAR's Anderson admitted that the two DOCARE officers on Moloka'i were certainly taxed as it is, but said that with educational outreach to the community, "compliance should be as good as anywhere."
State Rep. DeCoite, who represents the area most affected by the rules, stressed the need for the DLNR to beef up its enforcement on the island. "It should never be one family telling another you cannot catch this. … It needs to be the department," she said.
To Roehrig, the concerns raised by DeCoite and others highlighted the need to give people a chance to voice their concerns "out in the open" and smooth out the rules "so it's more pono," he said before making his motion to approve DAR's request.
"As far as access is concerned, it's a two- edged sword. It's a blessing and a curse," he added. He relayed that at his nearshore home on Hawai'i island, raiders come in the middle of the night and take turtles, sea slugs, "everything. They just loot. They're not from our neighborhood and they take everything."
Board member Keone Downing chose not to offer any amendments, but expressed some concerns about the rules as proposed. For example, with regard to the ban on SCUBA spearfishing, he echoed a complaint similar to one raised earlier by Cates.
"I'm 64. Diving 25 feet three to four times a day is a lot easier with a tank. … We're eliminating a whole group of people who grew up diving. [SCUBA fishing] allows us to feel important to go and dive and not have someone else go and dive for you," he said.
Taking care not to name names, Downing seemed to also suggest that Poepoe should step away from his lead role in stewarding the area. "Everybody has been talking about personality and the personality they talking about believes from listening from their side, this person put a lot of time in. If you really care about Mo'omomi, they should start thinking about an exit strategy for that person so the island can heal and move forward," Downing said.
To the general complaints made about the Hui, Yuen noted that the proposal before the board was "a set of rules of how much fish people can take, not who gets power." He acknowledged that there were things that needed to be worked out in the community, but if the rules are enacted, "they will be the DLNR's rules and enforced by the DLNR's people."
(For more background, read, "Moloka'i Group Awaits Decision From BLNR on Subsistence Fishing Zone," from our February 1999 issue.)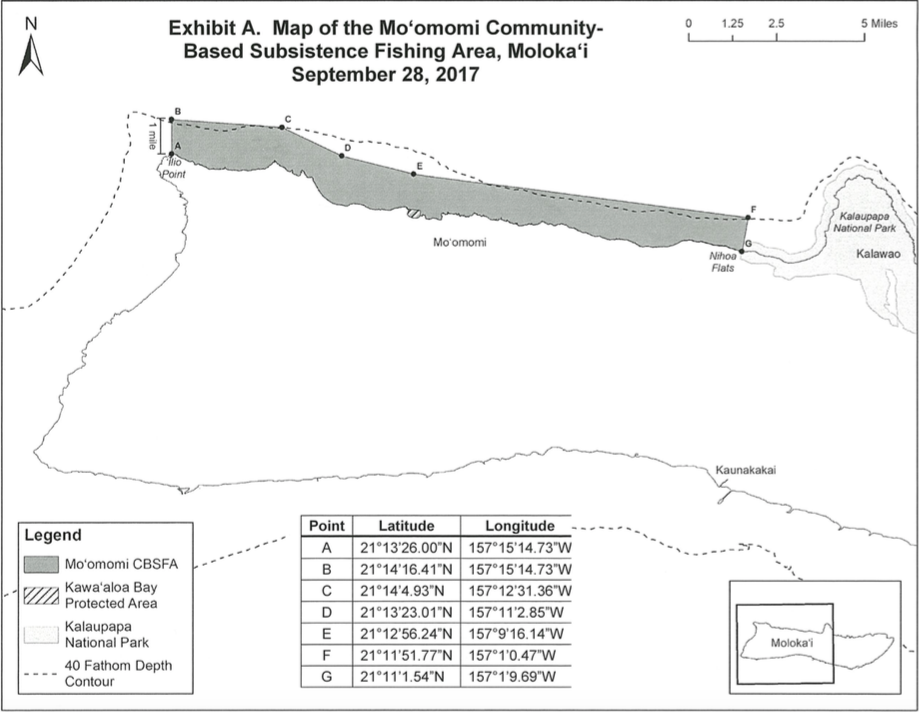 (This story has been corrected to fix an editing error.)
***
Ban on Rock, Coral Take
Stalls Seawater Air Conditioning Project
At the same April 13 meeting, the Land Board granted another, far less controversial request from DAR to send rules out to public hearings. The division sought to amend rules that prohibit the take of coral or live rock in order to exempt renewable energy projects, which would include those that reduce the consumption of non-renewable energy. The proposed rule changes would also allow the division to require mitigation for any coral or live rock removed or damaged by a renewable energy project.
In its report to the board, DAR explained that it has received proposals in the past decade for offshore wind turbines, wave generation buoys, and deep-seawater air conditioning systems, all of which might require infrastructure to be placed in areas covered with stony coral or live rock.
The Land Board has already issued a Conservation District Use Permit for a seawater air conditioning project in Honolulu, but according to then-DAR administrator Bruce Anderson, it can't proceed without the proposed rule changes.
The project has been planned for a decade, but 30 pieces of coral the size of a microphone stand in the way, he continued.
"If we want to support these projects, there's often no alternative to disturbing coral," he said. He added that if the rules are adopted, the state will be able to require greater mitigation than is called for under permits issued by the U.S. Army Corps of Engineers for these same projects.
Board member Keone Downing seemed skeptical of the need for the air conditioning project's take of coral. "Why haven't they looked at going into deeper water? … Why aren't they going under the surface?" he asked. He added that when telecommunications cables were installed in Makaha on O'ahu's west shore, installers made sure they exited in the sand, not in coral.
Anderson tried to assure Downing that his division was very diligent in seeing to it that any damage to coral is properly mitigated. "We charge a lot of money for any coral damage, $250 for half a meter of coral is charged." In this case of the seawater air conditioning project, mitigation will include the transplanting of impacted corals.
"Believe me, the state's taking some leadership, nationally. … I assure you, we're not allowing people to indiscriminately come in and take corals," he said.
Board member Chris Yuen made a motion to approve DAR's request. "It seems like a very reasonable approach to take. There is a difference between telecommunications cables and pipes. … If this project goes through, it prevents a lot of greenhouse gas from going into the atmosphere. If we can't do something about that, there aren't going to be corals anyway from coral bleaching," he said.
To this, Anderson noted that 60 percent of building energy costs come from controlling temperature, so by cooling them with seawater, "we're saving a lot of fuel when we look at that."
Before the vote, board member Stanley Roehrig informed Anderson that the next time he comes to the board to seek permission for such a project, "come with some proof that it's de minimus or a small matter if you're going to break up coral." (The rules, if approved, would allow the department to permit the taking of coral for a renewable energy project without coming to the Land Board. Also, Anderson is no longer DAR administrator; he's head of the state Department of Health.)
The board ultimately approved the motion, with Downing dissenting.
***
Title Cloud Results In
Gratis Addition to Ka'ena NAR
More than six years ago, the Land Board approved a Division of Forestry and Wildlife request to spend $86,450 from the state Land Conservation Fund toward the purchase of three-fourths of an acre of sand dunes on the Mokuleia side of the Ka'ena Point Natural Area Reserve (NAR) on O'ahu.
The Natural Area Reserves System Commission has recommended that the area be added to the NAR. According to a report by the DLNR's Land Division, the parcel "contains basalt benches with numerous tide pools and a diverse intertidal flora and fauna, [and] rare coastal sand dune communities." Monk seals have been known to rest there, and the acquisition of the land would allow the department to better control invasive species as well as illegal human activities, the report added.
The Tom family (Gordon, Clayton, and Randall Tom and their spouses) were the would-be sellers, but a title search conducted by the department following the board's approval uncovered a significant cloud on the title, specifically, "an undocumented transfer of the fee interest in the property purportedly made by the initial Royal Patent Grant recipient," a Land Division report states. "Given the significant passage of time since the unrecorded conveyance, resolving the title issues would be prohibitive to both the landowner and the department due to the significant costs incurred," it states.
The Tom family offered to continue with the transfer if the state just paid off their outstanding property taxes. The state was prevented from doing so by the clouded title. The North Shore Community Land Trust then stepped in, offering to pay the back taxes. As of last month, taxes due on the property totaled $6,143.45.
At its June 8 meeting, the Land Board approved a request by the Land Division to acquire the property from the Toms via a quitclaim deed, since it would come at no cost to the state.