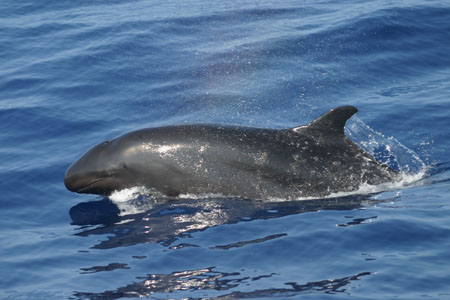 There's a good chance that the Hawai`i deep-set longline fishery for bigeye tuna will soon be restricted from a 112,575 square nautical mile area south of the main Hawaiian islands known as the southern exclusion zone (SEZ). Under National Marine Fisheries Service (NMFS) regulations, the SEZ becomes off-limits to the fishery if it kills or seriously injures two false killer (FKW) whales within federal waters around the state in a calendar year.
NMFS determined earlier this year that a FKW interaction that occurred in federal waters on February 8 resulted in a mortality or serious injury.
The agency is now working to determine how badly three more false killer whales hooked by the fishery in late May and early June were hurt. And it looks bad. In all three cases, the whales were released with branch lines and wire leaders trailing from their mouths.
In the past, NMFS has considered FKWs released with gear trailing from their mouths to be seriously injured, and it only needs to make such a finding in one of these new cases to trigger the closure of the SEZ.
Once closed, NMFS will only reopen the SEZ if certain criteria are met.
In April, the False Killer Whale Take Reduction Team debated at length the conservation value of the SEZ. The team — which includes representatives from the longline industry, scientists, and conservationists — ultimately failed to reach an agreement on how to refine existing protection measures, which, by all accounts, don't appear to be working very well. For more on this, see our May cover story, "False Killer Whale Team Fails to Reach Consensus on New Protection Measures."
— Teresa Dawson