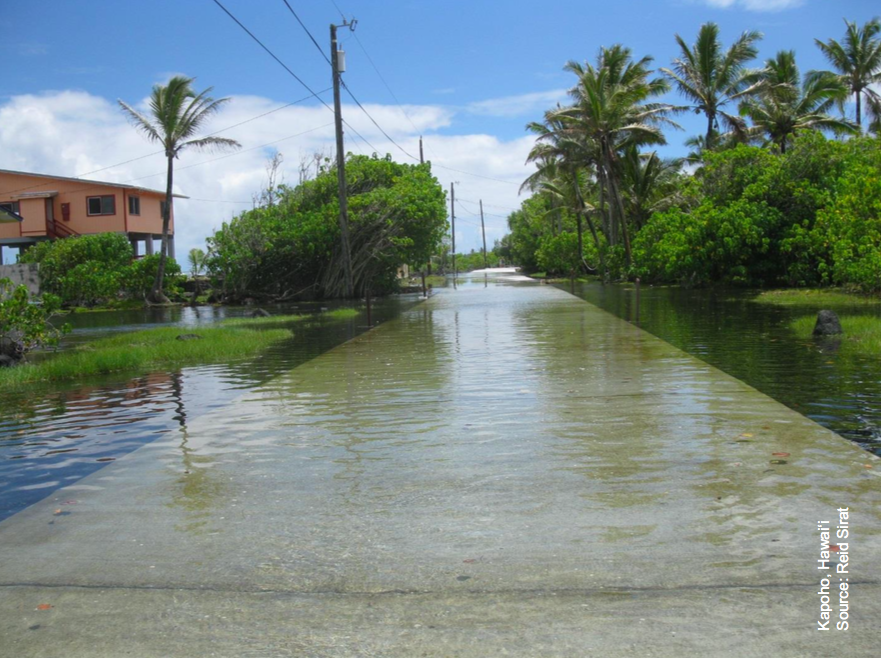 "We have to be aware. It think it's quite likely, and probably in the lifetimes of our children, the removal of structures that are uninhabitable because of sea level rise is going to be a big government issue. The state is going to have to insist the property owner remove them or we're going to be out billions of dollars. … I think people are going to walk from properties. People are going to create shell companies that are going to hold properties they think they're going to abandon. It's not just the ocean coming in. The groundwater comes in and it becomes flooded. I think that's what we're going to be looking at in the future," said Chris Yuen, a former Hawai'i County planning director, at the January 12 meeting of the Board of Land and Natural Resources.
Days later, the Department of Land and Natural Resources issued a press release linking to the new Sea Level Rise Vulnerability and Adaptation Report drafted by the Hawai'i Interagency Climate Adaptation Committee (ICAC), which predicts that more than 6,500 structures in Hawai'i would be compromised or lost with a rise in sea level of 3.2 feet, displacing more than 20,000 residents. The value of projected flooded structures and lands amounts to more than $19 billion statewide, the report stated.
With some hope of discouraging landowners from abandoning their doomed properties — and the structures they built — Yuen voted with the rest of the board that day to urge the Legislature to at least hold hearings on bills the Department of Land and Natural Resources has tried for years to get passed that would allow it to charge less than fair market value for shoreline encroachment easements.
The department's Land Division has had to pursue such easements with increasing frequency over the years, as erosion — whether caused by sea level rise, shoreline hardening, or other causes — has eaten away at coastal properties, leaving legally built, private shoreline structures on public land. Under the Department of the Attorney General's interpretation of case law, as shorelines move inland, so do property lines, and anything seaward of the highest wash of the waves is state land.
Under current law, the DLNR must seek fair market value for the use of state lands, except in limited circumstances. The department also wants easements in place to limit the state's liability for structures that landowners wish to retain. The high cost of those easements and the fact that they often need to be expanded with each new shoreline survey have raised concern among a number of Land Board members who question the fairness of charging so much and so often for legally built structures.
As reported last March in Environment Hawai'i, bills supported by the department to reduce — or even eliminate — costs for shoreline encroachment easements failed for the fifth year in a row. The main argument keeping the bills from going anywhere has been this: Making it easier for landowners to retain structures located below the shoreline encourages development too close to the ocean at a time when movement inland should be encouraged. The state Office of Planning has repeatedly raised this point in testimony to the Legislature.
The bills introduced last year — Senate Bill 986 and House Bill 1120 — were deferred to this session. This year, at the urging of board members, the DLNR's Land Division drafted a letter for the board to sign, encouraging the Legislature to at least weigh in on the matter.
Board member and former legislator Stanley Roehrig, however, said he could not support a letter recommending passage of the bills because he objected to language in them that disclaimed state ownership of shoreline encroachments covered by the easements. He seemed to believe that the state owns the structures if the shoreline is set inland of them and that no easements were actually required in those cases. Land Division administrator Russell Tsuji and board chair Suzanne Case argued that is not the case. The state only owns the land beneath the structures, not necessarily the structures themselves, they said.
"There are different opinions on the what is the public interest here. I have a different opinion from you," Case told Roehrig.
"I'm happy to sign and just say, 'I don't concur,'" Roehrig replied.
"[Then] why would we send a letter?" Case asked.
"Why do we have to have a poison pill in there?" Roehrig countered, referring to the objectionable bill provisions.
"To me, it's only a poison pill for a plaintiff's attorney," Yuen answered, adding that some of the normal clauses included in the easements the department has issued are that the owner maintain insurance and cover the state's liability. "That's a reasonable approach to maintain insurance to compensate anybody who gets hurt," he said.
Before finalizing the language of its letter, the board discussed what the easements would cost if the bills actually became law.
"How does a board determine [the] amount, if it's not fair market?" asked Maui board member James Gomes.
Tsuji replied that it would be whatever compensation the board decided on, adding that landowners would not like to pay anything for it.
"The option would be to waive the fee. Anything in between would be more complicated. … If there's any reason why something in between makes more sense, we could evaluate it at that time," Case said.
"If we have the right to arbitrarily decide what to pay, you're going to run into problems with litigation," board member Keone Downing interjected. He recommended that the board establish some kind of fee structure to apply to easements should the bills become law.
"If we're going to create more problems because we don't have a formula to use …" he warned.
Tsuji said that granting the easements for free may create even more opposition to the measure. "You're giving away state land," he said. He then assured the board that his division would think about developing a fair method to determine the easement cost.
During public testimony, O'ahu resident Sam Monet recommended that the Land Board set a minimum easement cost high enough to discourage people from hardening the shoreline or to encourage them to move seawalls inland. "If you encourage the property owners to move the wall back, it allows for global warming … and beach access," he said.
He also agreed with Yuen's prediction about what's going to happen as sea levels rise. "When these guys who built these walls get old … they'll walk. And we are stuck with it. Our kids. … Make it expensive. It's our money, and we're gonna need that money later to take it down. Put it at such a price they'll decide, 'I don't want to go out that far,'" he said.
In the end, the board approved a brief letter to the Legislature endorsing the concept of modifying the state's land use law "to allow the assessment of less than fair market value by the Land Board when granting easements for shoreline structures that were legally constructed on previously private property but are now on public property due to erosion and other causes. We request the measures such as Senate Bill 986 and House Bill 1120 be heard and considered in committee."
We Pay Them
While the DLNR's easement scheme deals with shoreline structures that landowners want to keep, ICAC's sea level rise report focused more on ways to prevent development too close to the shore or to get landowners to move improvements inland, especially along "legacy beaches," such as Sunset Beach on O'ahu's North Shore.
The climate adaptation committee suggested that the state's Legacy Lands Act, which allocates a percentage of conveyance taxes for the acquisition of lands or conservation easements to protect them from development, be amended to "set aside funding for preserving priority coastal lands … to enable legacy beaches to persist."
"The Federal Coastal and Estuarine Land Conservation Program can also provide matching funds to acquire property from willing sellers either through fee simple purchase or through conservation easements," the report stated.
The committee also recommended that government agencies "consider the feasibility of a buy-out program for residential property owners vulnerable to sea level rise."
"Managed retreat has long been avoided in public dialogue as an adaptation strategy. Yet when weighed against the magnitude of risk faced by coastal and riverine communities, retreat should be included in the toolbox of strategies for climate adaptation. While there do not appear to be any existing residential land acquisition programs for sea level rise vulnerability, there are corollary programs at the federal level that could provide us with lessons and tools.
"The Flood Mitigation Assistance Grant Program (FMA) provides funding to states and local communities for projects and planning that reduces or eliminates long-term risk of flood damage to structures insured under the NFIP [National Flood Insurance Program]," the report states.
"The state could develop a policy for prioritizing areas for acquisition within the statewide vulnerability zone and model it after the FMA program. However, timing of such a program presents new challenges since a goal would be to preemptively move development from areas of increasing flooding and erosion risk before catastrophic losses occur, rather than compensating people after a disaster event. Nevertheless, a buy-out program for at-risk coastal properties needs serious discussion, given our expanded understanding of present and future risks of erosion and flooding risks through this report and other data tools referenced herein," it continued.
— Teresa Dawson
For Further Reading
"Board Talk (Board Facilitates Removal of Encroachments, While Expanding an Easement for Another)," July 2015;
"Letter: UH Expert Urges Protection Of Beaches, Not Seawalls," and "Board Talk: Shark Cull Permit, Palolo Violation, and Another Seawall Problem," June 2015;
"Board Talk (After Board Orders Seawall Removal, Landowner Agrees to Easement Terms)," June 2012;
"Board Talk (Standoff Over Seawall Nears Resolution)," March 2012;