Tour Operator is Fined $70K For Damage
To Historic Wharf, Conservation District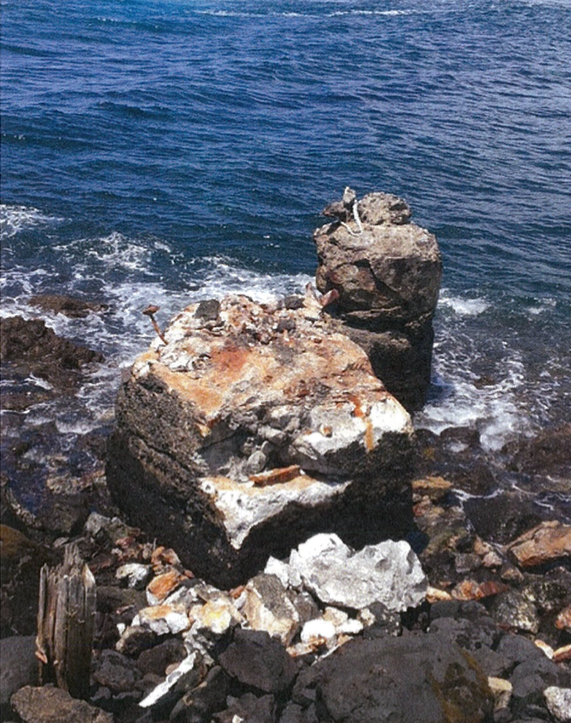 Simon Velaj didn't seem to think it was that big of a deal. In late June, without permits of any kind, he had taken a backhoe to features of a wharf built in 1916 at Punalu'u black sand beach in Ka'u, Hawai'i, causing some damage to the area and angering several locals who later reported him to the Department of Land and Natural Resources. Velaj claimed he didn't touch any pilings and was just removing hazards, such as abandoned car batteries and protruding metal, from the shoreline area to make it safe for future customers of his tour boat company, Hang Loose Boat Tours, LLC.
Others, however, including state officials, seemed to think he might have actually been trying to build a new ramp to accommodate his 24-passenger boat so that it could launch directly from private land owned by SM Investment Partners (a.k.a Roberts Hawai'i), which had allowed him to use its land. The nearest boat ramp may have been too steep, a report by the Department of Land and Natural Resources' Office of Conservation and Coastal Lands (OCCL) suggests.
In one afternoon, Velaj appeared to have not only damaged historic sites, but also areas within the state Conservation District. So at the Land Board's October 27 meeting, OCCL administrator Sam Lemmo recommended that the board fine Velaj $15,000 for unauthorized grading, disturbance of land, demolition and alteration of existing structures, and causing a permanent change to land in the Conservation District. Lemmo also recommended that Velaj pay an additional $2,000 to cover administrative costs. What's more, the state Historic Preservation Division (SHPD) recommended fining him $40,000 for damaging four historic wharf features: 1) a concrete footing/ pad with two large bolts, 2) a concrete foundation, 3) a rock retaining wall, and 4) a concrete pillar; $10,000 for the injury to the historic feature as a whole, and $2,165.52 in administrative costs. In total, the penalties proposed by the two DLNR divisions came to $69,165.52.
Concerned about soil Velaj had placed near the water, the OCCL asked Roberts Hawai'i — one of the largest and oldest tour companies in the state — to clean up the material, which Velaj later did on the company's behalf.
When it came time for the Land Board to question staff, the first thing board member Stanley Roehrig asked Lemmo and SHPD's Alan Downer was if they had had any discussions with the Department of the Attorney General to determine whether any individuals or entities besides Velaj might be responsible for the damages. Neither had. "I think Mr. Velaj was properly cited, but I'm concerned we have not considered the bigger picture of the entity that hired him," Roehrig said, adding that the fact that Velaj had been required by the landowner to have insurance coverage of up to $2 million suggests that "the landowner had full knowledge this was going to be a controversial matter and it was a matter that was going to be hotly contested by the local people."
Roehrig continued that the Sea Mountain golf course adjacent to where Velaj would be launching his vessel is owned by a partnership "apparently owned by the Iwamoto family that runs Roberts tours," which potentially stood to benefit from Velaj's operation. Roehrig noted that the license agreement between SM and Velaj specifically allows for parking and launching a vessel to conduct lava viewing tours, which shows that the landowner was fully aware of Velaj's intent to "streamline the shoreline" so he could get his boat in. "To suggest they didn't know the nature of it I don't think is accurate," Roehrig said.
He asked Lemmo and Downer why the landowner was not considered for fines as well. "For me, Velaj … he's just the boots on the ground. The landowners are equally responsible for his conduct. … They got off scot-free," Roehrig said before suggesting that the AG's office investigate the matter and make its own recommendation to the Land Board.
Velaj testified that he never touched any pilings or damaged any sites with the backhoe, contrary to the allegations that had been made.
"If they can prove it, I want to see it. They want $10,000 for one piling. That is absolutely retarded," he told the board. "All I'm trying to do is work. What is the problem? I don't understand. They requested a $2 million policy. It requires me to make it [the launch area] clean so they will insure me. I mean, c'mon. I ask you to drop this case and let me move on with my life. That's it," he said.
Board member Keone Downing, for one, didn't seem interested in simply dropping the case. He asked Velaj, if a $10,000 fine per piling was ridiculous, "what's a fair price?"
"None. I didn't touch it," Velaj replied.
Downing: "I didn't ask you that. … What would be a fair price for a piling if $10,000 is ridiculous?"
Velaj: "I don't know what a piling is worth in that area."
Downing: "So you don't know what it's worth, but $10,000 is ridiculous. … I'm not saying you did anything. … There needs to be a price, not, 'I didn't do it.'"
Roehring continued to try to pin down SM's role in the affair. He pointed out that Hawai'i County had fined SM $15,000 for some of the same work, but that was under appeal. He asked Velaj what kinds of discussions he had with the landowner before starting work with the backhoe, and who he talked to. Velaj responded that he had spoken to Jean Fujimoto, the person who gave him the lease.
"I told them I would bring a machine in there and clean it up. They knew I could not work if I didn't clean it up. I had used car batteries. I took tons of stuff … I'm a 5-star company in Kona. I'm a professional, hard-working guy. … I want to make sure my customers don't get hurt and not trip on batteries," Velaj said.
"You did tell them you would use heavy equipment," board member Chris Yuen tried to confirm.
To this, Velaj disputed that the backhoe was "heavy equipment."
"My little truck is bigger than the backhoe," he said.
Yuen asked Velaj if he was trying to make another boat ramp.
"Absolutely not," he replied, explaining that he was going to use the ramp that was there, but wanted to remove four pieces of metal that were sticking out.
"That's all that was removed. … Yes, the locals got upset," he said.
Velaj's apparent dismissiveness of the fact that he had altered the site seemed to prompt board chair Suzanne Case to ask if he understood the Conservation District and historic preservation laws that he had violated.
"Now I do. I never was told it was a conservation place, it was a sacred or historical place. I never was told. To me, it was a private property rented to me. … If I had to do it all again, obviously I would not be there," he replied. Still, he added, "those two pilings, pins, that I touched … There was, under the grass, metal sticking out. Now people could walk around.
"I will pay for four pins. I think they're worth five bucks apiece. … I'm not gonna pay for anything I didn't touch," he said.
Velaj's seeming lack of remorse also struck island resident Keoni Fox, whose family is from Ka'u. After visiting the site on June 24, Fox told the board, "it was obvious he intended to create a boat ramp," given the debris clearing and grading that had been done. He added that the existing ramp is too steep and the waters are too shallow for Velaj's boat, which is 34 feet long.
"He told people he was building a new boat ramp," he continued, contradicting Velaj's earlier statement.
As to Velaj's professed ignorance of the applicable laws in this case, Fox posed this question: "Let's assume he didn't know about laws. Is this the guy we want to ensure the safety of people near an active lava flow? … He continues to be defiant today."
Fox added that with Ka'u becoming a hot spot for tours, helicopters, and development, there needs to be strong enforcement of land use regulations.
The OCCL's Lemmo said that when he prepared his report to the board, he didn't feel he had evidence at the time to go after the landowner, but that could certainly change if his office found information that SM authorized Velaj to conduct illegal work. "I'm a little bit surprised what he said about him telling them what he's doing. That's interesting," Lemmo said of Velaj's testimony that day.
Yuen made a motion to approve the OCCL's and SHPD's recommendations. "This is a serious violation and we need to treat it seriously. In 2017, we can't accept the idea that someone will go out and grade the Conservation District without there being a serious violation," he said.
Roehrig seconded the motion but again stressed his desire to see a broader investigation of all parties that might bear responsibility.
"Figure out who else should have got fined and get everybody and not just the hanahana man on the backhoe. There were other entities up the food chain. It's a big golf course. … It's a multi-million dollar operation, not small potatoes. If we're going after the people on the backhoe, we have to show the public, be transparent, and go after everyone," he said.
Downing agreed and suggested that the department seek the AG's opinion on whether the landowner is liable.
The board unanimously approved Yuen's recommendation.
"I will take this to federal. This is not legal," Velaj warned before he stormed out.
***
Three Protesters Arrested
After Disrupting Meeting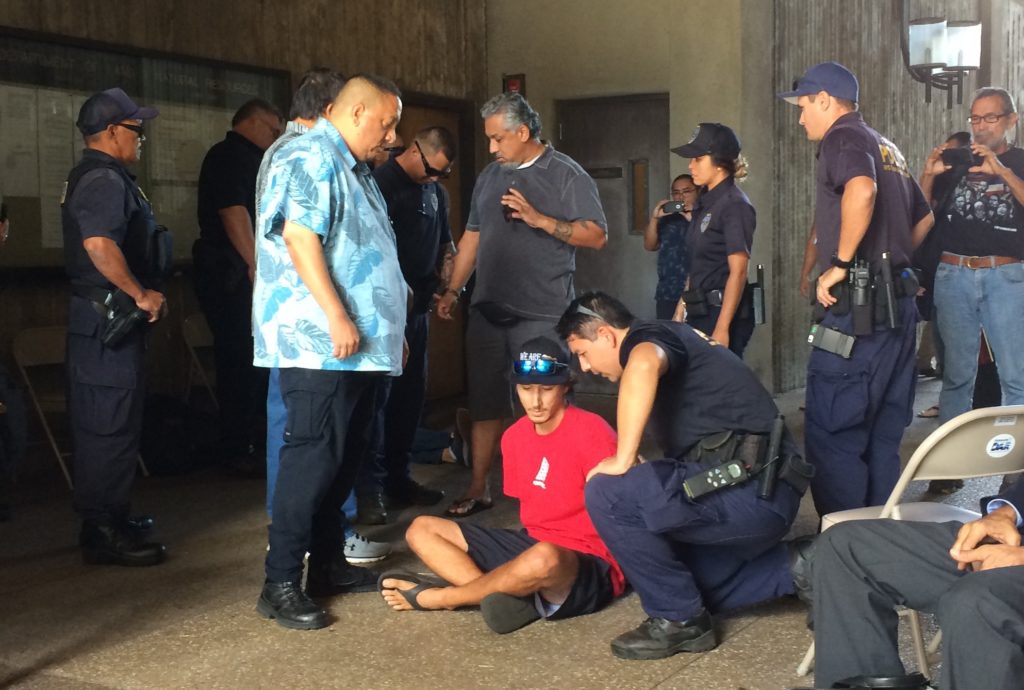 "It's part of the job," one Department of Land and Natural Resources enforcement officer said to his colleague on the morning of October 27, shortly before both moved in to help their fellow officers carry away a protestor stationed on the ground outside the Kalanimoku building in downtown Honolulu, where the Board of Land and Natural Resources was scheduled to meet.
The DLNR's Division of Conservation and Resources Enforcement officers arrested three men that day — Kaleikoa Ka'eo, Chase Kanuha and Andre Perez — for disorderly conduct at the start of the Land Board's meeting. The three men, as well as a small cadre of supporters, had come to the meeting to call for the resignation of member Sam Gon, senior scientist for The Nature Conservancy of Hawai'i and the board's designated expert in Hawaiian culture. (The law that establishes the Land Board – Section 171.4 of Hawai'i Revised Statutes – says that at least one member "shall have demonstrated expertise in Native Hawaiian traditional and customary practices." Although not a native Hawaiian, Gon has studied Hawaiian culture extensively, speaks the language fluently, and does have "demonstrated expertise" in Hawaiian practices.)
All three men had previously been arrested for trying to block telescope construction on mountains they and many other native Hawaiians consider to be sacred. Ka'eo was arrested earlier this year as he tried to stop a mirror from being transported to the largely complete Advanced Technology Solar Telescope atop Haleakala on Maui. Kanuha and Perez were arrested on Hawai'i island during the 2015 protests against the construction of the Thirty Meter Telescope (TMT) on Mauna Kea.
Their opposition to Gon's presence on the board stems from the fact that he had recently voted with the majority of the Land Board to approve a controversial Conservation District Use Permit for the TMT, which, for the last five years, had been the subject of a contested case hearing initiated by several Hawaiian cultural practitioners and others.
"We demand that Sam Gon step aside. … We demand we have a true kanaka, a true aloha 'aina represent our people on that board," Ka'eo said. Others chanted "Sam Be Gon. Sam Be Gon," and called Gon a "sellout."
After the Land Board meeting had ended, chair Suzanne Case, Gon's former boss at TNCH, issued a statement defending him.
"Sam 'Ohu Gon is held in the highest respect by innumerable people. As a scientist and as a recognized expert in native Hawaiian traditional and customary practices, Sam brings tremendously valuable perspective and integrity to the Land Board decisions. No Land Board member is appointed as a representative of or advocate for any particular group.
"It is disappointing and frankly offensive that some who disagree with the Land Board's recent decision on the TMT telescope choose to aim personally at 'Ohu or any board member. This is not peaceful protest. We must simply reject this kind of divisiveness in Hawai'i as well as nationally and globally, and practice respect in our public discourse no matter our views," she stated.
***
Board Renews Permits
For Maui Stream Diversions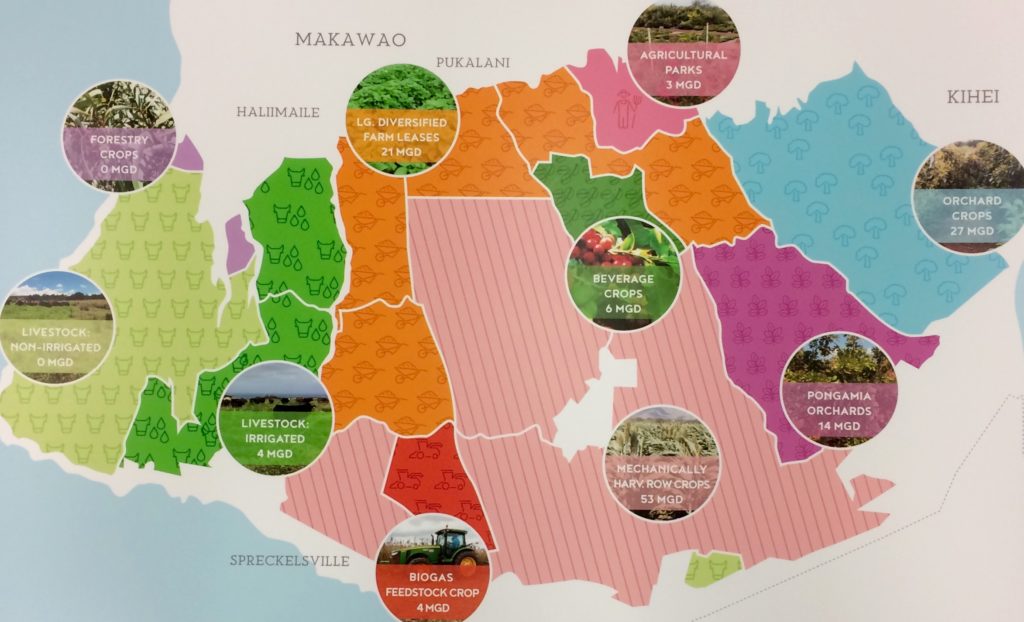 For the second year in a row, the state Board of Land and Natural Resources approved four one-year holdover permits allowing Alexander & Baldwin, Inc. and its subsidiary, East Maui Irrigation Co., Ltd., to continue diverting up to 80 million gallons a day of stream water from East to Central Maui.
The board made its decision under Act 126, which the Legislature passed in response to a circuit court decision invalidating the revocable permits that had governed A&B's and EMI's diversions for more than a decade. Under Act 126, the board may grant up to three consecutive one-year permits to continue water diversions for which long-term dispositions are pending, so long as they are consistent with the public trust doctrine.
A&B/EMI is awaiting a decision on its May 2001 application for a 30-year lease for the four water license areas covered by the permits — Nahiku, Huelo, Honomanu, and Ke'anae. That application has been the subject of a contested case hearing that is still not resolved.
Before the Land Board can authorize a public auction for the lease, the state Commission on Water Resource Management must first decide how much water must remain in about two dozen East Maui streams that environmentalists and native Hawaiians have long sought to be restored. A&B must also complete an environmental impact statement for its proposed lease.
In the meantime, A&B has been trying to entice farmers and ranchers help the company keep its Central Maui lands in agriculture now that the sugarcane plantation run by its subsidiary Hawaiian Commercial & Sugar has closed down. It argues that although its current needs, and those of Maui County, for diverted water have been drastically reduced to about 20 million gallons a day (down from a historic average of 160 mgd), it must have access to much more than that to provide assurance to prospective tenants that they will have sufficient water.
At the Land Board's November 9 meeting, A&B general manager for diversified agriculture Rick Volner, Jr., and retired EMI manager Garret Hew presented a new map of its proposed diversified agriculture plan for former sugarcane lands.
Since the closure of HC&S's plantation in December 2016, Volner said his company has met with nearly 200 parties interested in growing everything from coffee, to orchards, to biodiesel. A&B currently has 4,500 acres under lease or some kind of active operation and was in negotiations with possible tenants for another 15,000 acres. It also plans to provide 800 acres to the county to expand the Kula agricultural park, he said.
Volner assured the Land Board that A&B had complied with all of the conditions placed on the permits granted last year. Those included restoring streams identified for restoration by the Water Commission and not wasting any of the diverted water, among other things.
Representatives from the Maui mayor's office, the county Department of Water Supply, and various farming and ranching associations and companies all testified in support of renewing the permits. Some of them argued that it was critical that water continue to be provided to Central Maui to keep the island, and even the state, on its path toward food sustainability.
"The Department of Water Supply relies on stream water flows as an integral part for Nahiku, Makawao, Olinda, Pukalani, all of Upcountry," said DWS director Dave Taylor, noting that the 6 mgd A&B provides to the county directly serves more than 6,000 customer connections, and at times up to 10,000, as well as 31 farm lots at the Kula ag park.
"We have no other short- or medium- term alternatives for this water. … What I lose sleep over, if we don't have enough water to pressurize the system, there may be no water, no fire protection … It would be a public health crisis for the DWS. I flew over just to say that," he said.
To this last point, Native Hawaiian Legal Corporation (NHLC) attorney Camille Kalama, representing the contested case petitioners, pointed out that the circuit court decision invalidating the permits explicitly stated that the water the county uses would not be affected by the ruling, and that the Land Board is well aware of that.
Stream Restoration
With regard to last year's permit condition that certain streams be restored, Huelo resident Lucienne de Naie argued that it has not been met, at least with regard to the stream in her community.
"We really need you to work with us to have some accountability. Most of the year our stream has been dry," she said. She claimed A&B was still waiting for permits to weld a steel grate that would enable more water to flow freely.
"You give permits with no enforcement. It is not a management situation anyone should be proud of," she said before urging the board to set firm deadlines for A&B to complete its applications to restore streams.
Former NHLC attorney David Frankel pointed out that the DLNR lacks a point person to oversee whether the holdover permit conditions are being met. He recommended that the board or its chair assign staff with the department's Division of Aquatic Resources to work with Water Commission and Land Division staff to ensure those conditions are being met.
"There needs to be better coordination among branches," he said. He added that the Land Board should also initiate a study — paid for by A&B — to monitor the streams where water has been restored.
"As unhappy as many of us were last year, we know more water is in streams. It's not perfect but it's better than it was … Why are you not doing this? You don't have the money. Make A&B pay for the studies. Why not make it a condition of the RP asking for a specific amount of money so you can monitor the quality of aquatic stream life?" he asked.
How Much?
Several testifiers, as well as some Land Board members, tried to pin down — or at least get a better grasp of — the amount of water A&B used last year and what it will need in the coming year, largely to no avail.
Board member Keone Downing asked a cattle rancher who's been on A&B's lands for the past several months how much water he uses. The answer at first was, "it depends," but, eventually, he admitted, "Honestly, I don't know."
Stephanie Whalen of the Hawai'i Agriculture Research Center testified that it didn't really make sense to assign a specific amount of water for the uses anticipated over the next year.
"Crops will change. Saying you'll need this much water is not realistic. … it really depends on the weather," she said.
De Naie, who is also with the Maui Tomorrow Foundation, estimated the company would need just 10 mgd to 10.8 mgd plus 6 mgd for the county's needs, if the board took into account only those lands for which A&B had signed contracts with tenants.
Wayne Tanaka of the Office of Hawaiian Affairs argued that whatever A&B's water needs, it was particularly important that the company explain why it hadn't used the 53 mgd of stream water that it diverts from its own lands, or the 70 mgd available from its own wells in Central Maui.
"There is nothing in this [Land Division] submittal on these alternative sources," he said.
He also pointed out that there appeared to be no need to issue permits for the Nahiku and Ke'anae license areas, as the board last year required A&B to comply with a July 2016 Water Commission order that the streams in those license areas be restored.
Tanaka, Kalama, and Frankel all called for meters to be installed on the stream diversions so that the Land Board could get a basic accounting of what's being removed so that it can determine whether the permits' prohibition on wasting water is being observed. "We've asked repeatedly [for meters]. … The board's condition against waste can't be effectively monitored unless you know how much is diverted and used," Kalama said.
"You can have a flow meter above, below [a diversion], you subtract. It's not rocket science. It's aquatic science," Frankel said. He argued that the board should reject the permit request because it didn't have enough information.
"How much did A&B use this year? Don't you think you should ask them? How much water do they need next year? This is a one-year RP (revocable permit). How much water in their greatest fantasy … will they need this year after pumping 70 mgd from its own wells?" he asked.
If the board chose to grant the permits, Frankel recommended that it reduce the maximum limit to 10 mgd "after they pump 70 mgd."
"Don't let us subsidize their profits. … It costs them money, a lot more money [to pump water]. … They certainly paid their officers enough money to afford to pump their own water instead of us paying for it," he said.
"Why should we leave it at 80 [mgd] instead of 20?" board member Stanley Roehrig later asked Volner, noting that there is a significant amount of suspicion among people who feel the water has been robbed from their watersheds.
Roehrig added that efforts on Hawai'i island to transition from sugarcane to diversified agriculture have met with limited success. "Some things succeeded and some things didn't," he said. The governor at the time had assembled a Kohala task force to oversee the transition and "solve all of our diversified ag problems." What actually happened was that few farms survived, despite the expenditure of millions of federal and state dollars, he said.
"This history of trying to find something new is not a really good one in Hawai'i," he warned Volner.
"We recognize that," Volner replied.
A Motion
In the end, board member Chris Yuen made a motion to approve the Land Division's recommendation to renew the holdover permits with the same conditions as last year, with some amendments.
First, he recommended that should the Water Commission issue a decision on the interim instream flow standards for about two dozen of the diverted East Maui streams, the Land Board's permit conditions should be revised so they are consistent with it.
He also amended the wording of a condition regarding the modification of diversions so that the movement of biota up and down the stream is not impeded, and added a condition that A&B provide a more specific report on progress on removing the diversions and fixing pipe issues before the end of this holdover period.
On this question of how much water A&B should be allowed to take under the permits, Yuen said he was satisfied with the conditions as they were proposed.
"We already have a limit. They have to make productive use of the water and there's no waste. That turned out to be 20 mgd," Yuen said.
He also adopted a recommendation made by Kalama, Frankel and others that A&B be required to clean up garbage and debris within the permit areas.
Kaua'i board member Tommy Oi seconded, but echoed sentiments expressed earlier by Roehrig that A&B should provide the board with more detail in the future.
"I would like to see in the next report more detail. … It just said they met the public trust doctrine. I would like to know how they met the public trust," he said.
Board member Downing ultimately voted in favor of the motion, but not before voicing his many concerns about the status quo.
For one thing, "if we are going to bank water waiting for something to happen, I don't think that's fair," he said.
He also lamented the paucity of information from A&B.
"Why do we have to come to A&B and ask for fulfillment of parameters?" he asked, adding that the company on its own should meet those conditions "for the people on Maui and not bring it to where we have people coming from Kula ag park thinking that they're going to lose water."
"We shouldn't be having to ask for information because, if it's the truth, everybody wins," he said.
"If this doesn't get cleaned up by next year, I'm going to be the biggest advocate for no holdover. … EMI can teach people how to do it … They're not going to starve Kula from water. They've got somebody living there that they care about," Downing said.
He fantasized that there may come a time when the water goes to a cooperative, rather than a corporation. "I don't know. Maybe it's just a dream. We gotta get to a point sooner or later; we got to sit down together and trust each other again."
Before casting his vote in favor, Roehrig told A&B's representatives, "You gotta make an effort to install meters. That's not rocket science. The computer age is well on us. You gotta show us some proof you're not fudging. It's gotta be objective because there's a lot of suspicion. We're going to have to know next year … because the last year, the third year, may be a zero."
"I have feelings that A&B shouldn't have the water forever on Maui. Maybe that's my bias. I'm not in favor of 80 mgd. I'm at 50," he said.
Despite some of the board members' reservations, the board voted unanimously to approve Yuen's motion.