Kaua'i Council Moves to Remove Some Exemptions From Shoreline Ordinance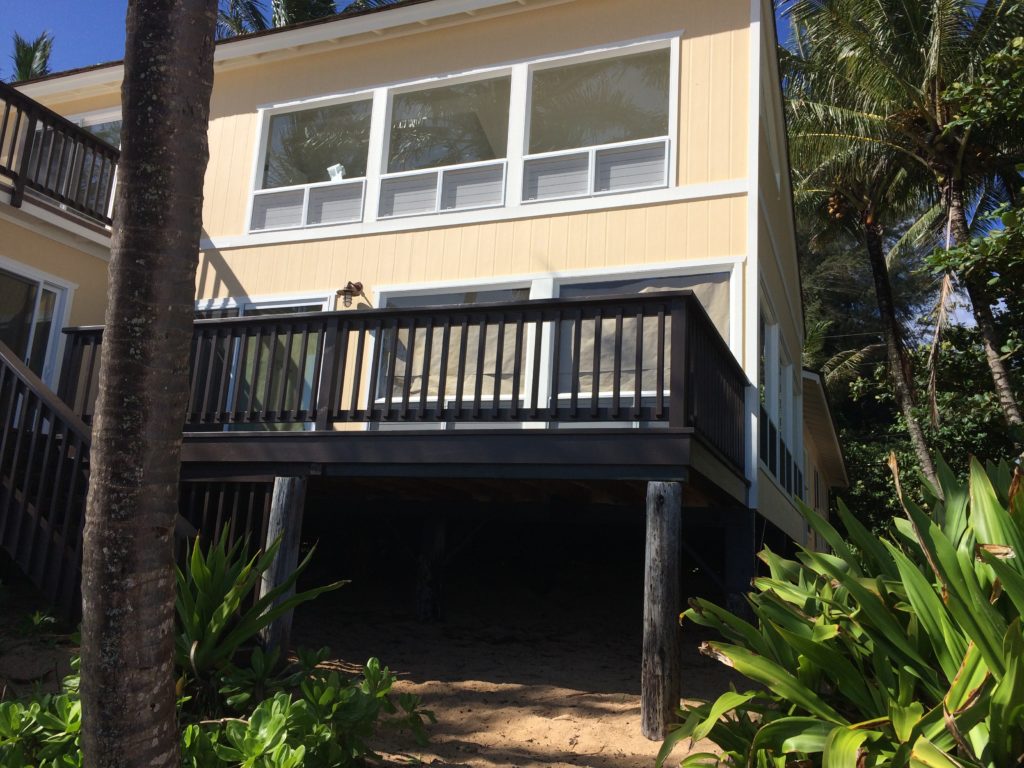 On October 18, the Kaua'i County Council accepted the introduction of a draft bill aimed at reversing amendments made in 2014 to its shoreline setback ordinance that have turned out to be somewhat problematic, according to Caren Diamond, a longtime advocate for protecting and preserving public beach access.
Last month, we reported on the perceived problems with the county's current ordinance, in particular, the fact that it allows landowners to avoid the shoreline certification process if they can convince the planning director that work they're proposing won't affect public access or beach processes, or contribute to coastal erosion or hazards.
Diamond found that once that exemption was added to the law, dozens of landowners used it and were rarely, if ever, turned down. In most cases, the work involved was located more than 100 feet from the shoreline. But in at least one case, an exemption was granted to a homeowner whose structure fell well within the high wash of the waves. The owner claimed the work entailed only interior repairs, and because he was not required to obtain a certified shoreline determination from the state, no encroachments were discovered. In addition to whatever interior repairs he did, the beachfront two-story house — which is used as a vacation rental — was lifted.
Others that claimed they were going to only do interior repairs also lifted and significantly modified the exteriors of their homes.
The proposed ordinance amendments, drafted by Diamond and introduced to the council by members Mason Chock and Mel Rapozo, eliminates the provision that would allow structures and activities on lands abutting the shoreline to be exempt from the shoreline certification process. Improvements on properties that do not abut the shoreline, but are within 500 feet of it, however, would be eligible for the exemption.
Any exemption determination by the planning director regarding structures and activities would not be final until accepted by the Planning Commission, under the proposed ordinance.
Reservations
Planning director Michael Dahilig suggests the current ordinance isn't as bad as it has been made out to be.
"Many potential requests under the old ordinance would require actions like changing windows, re-roofing and replacing toilets to obtain a certified shoreline survey. These surveys cost between $10,000 to $20,000 and higher. Requiring a $20,000 survey for a toilet replacement serves no rational purpose. Particularly, with our limited resources, we need to focus on those situations that can greatly impact our shoreline environment. The current ordinance allows us to sort out situations like windows and toilets and rather focus on those things actually impeding natural progression of our public coastlines," he stated in an email.
He added that many of the exemption approvals stem from an effort to align the county's code with a federally-mandated flood ordinance. "Consistent with FEMA [Federal Emergency Management Agency] principles, allowances are made for a landowner to keep their legal structure in good repair by allowing 50 percent of the value to be repaired and replaced over a rolling 10-year period," he said.
Addressing the problems raised by Diamond, he said that his agency has caught individuals "representing to us one action and in fact doing another, leading to citations by us."
Dahilig also noted that some feel that the ordinance's 50 percent threshold is too much over a 10-year period.
"How much repair can be balanced with not abusing the system is a question for policy," he said.
While the ordinance may need tweaking, he said his agency has significant concerns with how the proposed draft bill would be implemented.
"I do understand that there have been a handful of cases along the shoreline that were approved as maintenance yet appear to be anything but, and there could be an opportunity to tighten that section of the current shoreline setback ordinance. However, the current proposal casts such a wide and punitive net: It would require minor modifications like bathtub replacements be accompanied by a $20,000 shoreline survey, or even in the case of the Koloa Mill that sits on a large shoreline abutting property," he said.
"For example, if a farm tenant near Koloa Mill (which is approximately 2 miles from the shoreline) wants to put in a fence post, under the current draft proposal my department would have to require the farmer first certify the property's shoreline. That property is fairly large; so that farmer would be looking at hundreds of thousands of dollars to conduct a survey for a fence post. We cannot support such requirements," he continued.
Should the county council decide that it's important to require a certified shoreline, "I would be duty-bound to implement those requirements," he said.
"I would also add that the proposed draft bill actually shrinks the mandatory shoreline setback area from 60 feet to 40 feet, encouraging closer development to the shoreline. To date, Kaua'i is the only County meeting the increased setbacks encouraged by the State of Hawai'i Plan," he said. The new bill does, indeed, reintroduce a shoreline setback chart that allows properties 100 feet deep or less to have a setback of only 40 feet.
***
Settled In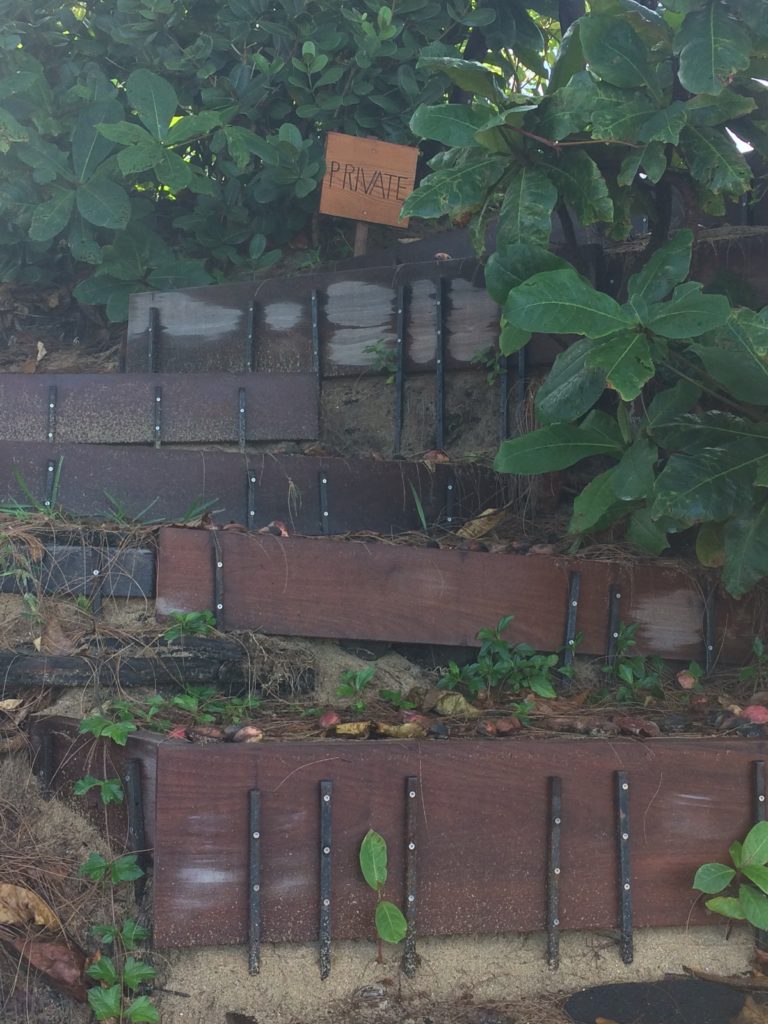 Last month, Environment Hawai'i revisited the issue of the emergency sandbag revetment installed 20 years ago across several beachfront properties in Ha'ena, Kaua'i. The state last year rejected the landowners' shoreline certification application because it found that the entire revetment encroached within the high wash of the waves and the landowners' surveyor failed to remedy the encroachment before the deadline to process the application. An attorney for the landowners filed an appeal, but the Department of Land and Natural Resources had yet to grant standing or set a briefing schedule by late September. It has still not done so by press time.
While the future of the revetment is in limbo, that doesn't appear to have stopped some of the landowners from installing an irrigation system to foster the naupaka that now blankets most of it, as well as a set of stairs to the beach. A decade ago, during a shoreline certification inspection, an unauthorized irrigation system was discovered and eventually removed. None was apparently found during the state's inspection last year.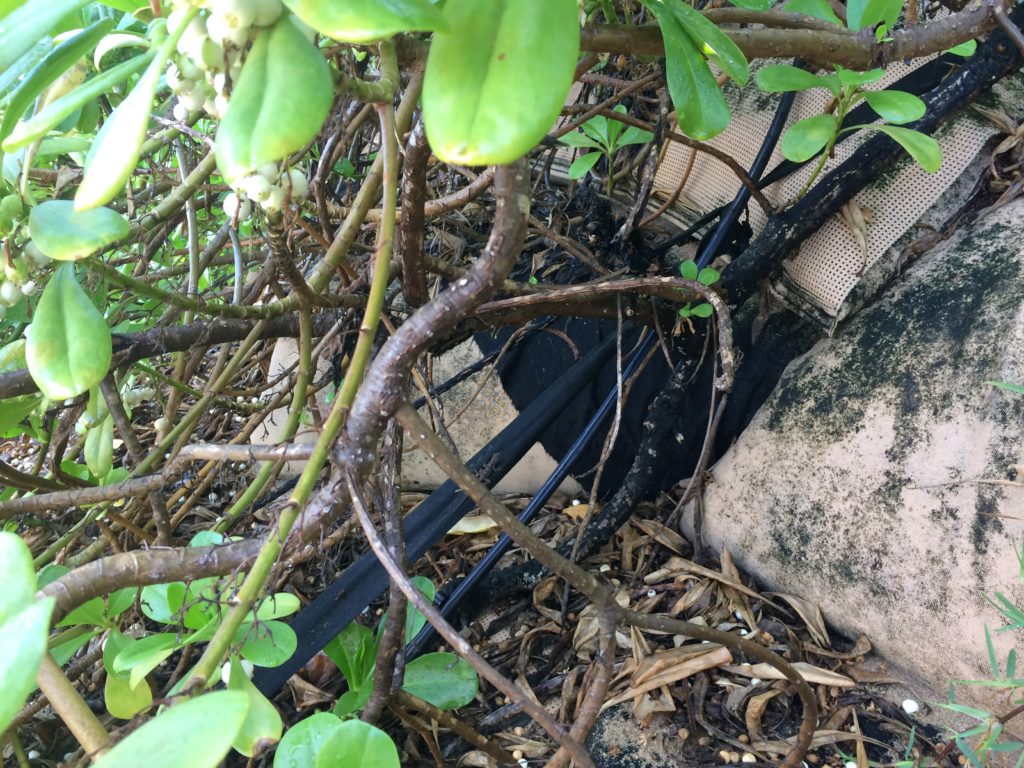 — Teresa Dawson