Koke`e Cabin Squatter Case Highlights DLNR's Property Management Defects
What happens when the state Department of Land and Natural Resources doesn't have sufficient staff to properly manage its properties and permits?
In 2015, agents on loan from the department's Land Division helped the Division of Boating and Ocean Recreation — which had been without a property manager for years — discover that more than two dozen of its revocable permits hadn't been officially renewed since at least 2011 and that rents had been set piteously low for no apparent reason.
More recently, having acquired two new property managers, the department's Division of State Parks has also been identifying cases where tenants have been occupying properties improperly for years and/or not paying any rent at all. Parks administrator Curt Cottrell presented one of the more egregious cases at the March 10 meeting of the Board of Land and Natural Resources.
In that case, a squatter and his many dogs were found to have been living full-time — which is illegal — in one of the division's 130 or so recreational cabins at Koke`e State Park in West Kaua`i. He claimed to have been given permission to live there from one of the cabin's lessees, Dennis Riker. Neither Riker nor his co-lessee Paul Kyno had paid the $4,500 annual rent on the cabin for years nor had they provided proof of required liability insurance. And according to Cottrell, what had once been "a cute, little, quaint Koke`e cabin with a beautiful yard" has become severely degraded and decayed.
Cottrell recommended terminating the lease, retaining the $5,000 deposit, and authorizing the Department of the Attorney General to collect the remaining $15,000 or so in outstanding rent and fees.
When asked by Kaua`i Land Board member Tommy Oi how the delinquent rent was allowed to get so high, the division's deputy administrator Alan Carpenter admitted that the division had been remiss in its duties. The lessees had been notified in 2013 to pay back rent owed at the time, which they did, but the division had not pursued any unpaid rents since then.
"This is partially due to the loss of our property manager," Cottrell explained, referring to the passing of former property manager Steve Soares. Cottrell added that his staff had been more focused on chasing down larger sources of income, but now that he has two new property managers, they're able to do more "deep dives" on some of the messier cases.
"There are other violations at Koke`e. This is by far the worst," Carpenter said.
Carpenter said that Kyno — who at one time had been paying the rent on his own, but stopped after Riker moved onto the property (in violation of the lease) — indicated he'd like to keep the cabin, but that wasn't an option. Kyno did not attend the March 10 board meeting.
"He would rather put this behind him. While he would rather not pay, … he realizes it may come to that," Carpenter said.
With regard to Riker, Carpenter said the division can't find him and Kyno has no idea where he is, either.
The Land Board approved Cottrell's recommendations, but lamented the extent to which rent defaults seem to be occurring. Maui member Jimmy Gomes said that with regard to the Land Division's properties, he's been seeing the same names of people in default for the past three years.
"Why hasn't that been addressed? Is it the same thing that Curt had, no property management? The stack is an eighth of an inch thick," Gomes said, referring to the lists of those in default that are provided to all Land Board members.
Land Board chair and DLNR director Suzanne Case suggested that the division simply doesn't have enough staff. According to her Maui land agent, his branch has 400 pending default cases, Case said, adding that that number excludes active cases.
"It's a capacity issue," she said.
"We're way less than 400. Thank God," Cottrell added.
Whatever the reason for the backlogs, Land Board member Chris Yuen stressed the need for prompt and decisive action when dealing with rent defaults. He noted that the Land Division has an automated system that immediately identifies when a lease or permit term has not been met."If X does not happen, it's supposed to show up on a report and action should happen," he said. Addressing concerns raised by Land Board member Stanley Roehrig in the Koke`e cabin case about whether or not proper notice had been given, Yuen said, "We have to not play defense lawyer for the lessees when they bring it to the board." If the divisions don't take timely action, word gets out, and lessees may decide they have better uses for their money and wait until next year to pay the state, he said.
"These things cannot be let go. There are things that are less important, but when they don't pay their rent, we gotta get on them," he said.
* * *
Land Board Renews
Ha`ena Curator Agreement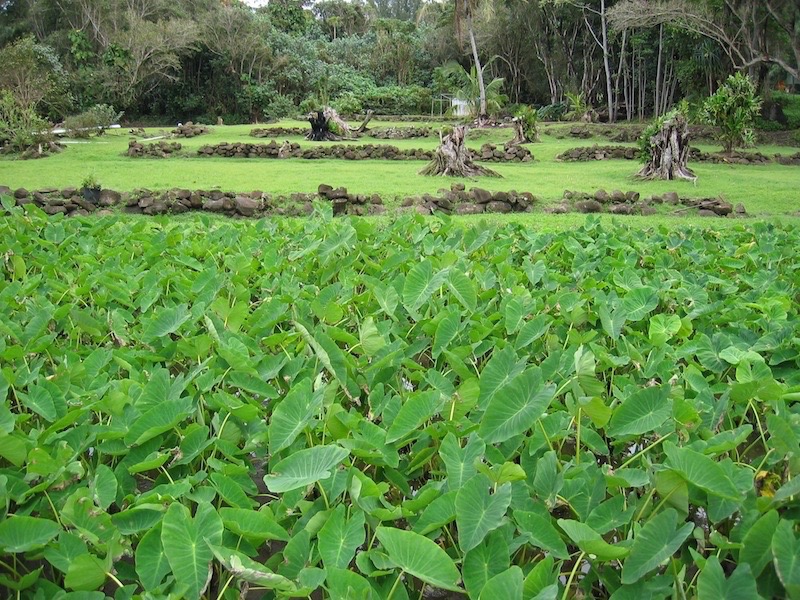 While State Park properties at Koke`e and elsewhere may be suffering as a result of short-staffing in the division, that doesn't seem to be the case at Ha`ena State Park, where the non-profit group Hui Maka`ainana o Makana has cared for and enhanced the resources there under a curatorship agreement first granted in 2000 to restore several taro patches, or lo`i kalo.
When State Parks administrator Curt Cottrell recommended to the Land Board in late January that the agreement with the group be renewed for another five years, he noted that it was "nice to be able to come before the board when something is working really well."
"Since 2000, the role of the Hui has expanded to include restoring and caring for additional sites in the park, assisting with the master planning for Ha`ena State Park, and serving as an active advocate for the Ha`ena Community Based Subsistence Fishing Area located offshore of the park," a staff report to the Land Board states. "The Hui has hosted numerous educational and cultural groups from Hawai`i and the Pacific, received several awards for their service and restoration projects, and continue to donate over 6,000 volunteer hours annually to the restoration and maintenance of the cultural sites in the park."
"I wish I could clone them and place them in other parks," Cottrell told the board.
Group president Presley Wan said that the hui has a long history of taking care of the place. If one were to put a price on the amount of time and effort the group has spent caring for the park in just the last five years, "it's over a million dollars," he said.
The Land Board unanimously approved the agreement's renewal. In the next five years, the group is expected to open an additional six lo`i, assist with the repair and restoration of two historic house sites, and help the division with plans for a cultural gathering area in the park, among other things.
* * *
Kohala Ahi Farm 
Finally Bows Out
In October 2009, Hawaii Oceanic Technology, Inc. (HOTI) won Land Board approval for a Conservation District Use Permit for its proposed bigeye tuna fish farm off the North Kohala coast of Hawai`i island. A year later, the Land Board approved the issuance of a 35-year ocean lease for 247 acres to the company. HOTI originally planned to raise the fish in 12 untethered ocean spheres that would remain stationary via thrusters powered by ocean thermal energy conversion.
The novel project faced strong opposition from members of the native Hawaiian and conservationist communities concerned about the environmental impacts of such an unproven technology.
By 2012, the company was struggling to meet financing and construction conditions of its permit and lease. The Land Board granted some relief over the next year or so by extending HOTI's construction deadlines and easing its performance bond requirement, despite the fact that the Department of Land and Natural Resources' Office of Conservation and Coastal Lands had received hundreds of letters in opposition. Even with the amendments, however, HOTI never built or installed a single fish cage, and this past January, the Land Board approved the mutual cancellation of the lease.
HOTI CEO Bill Spencer told the Land Board that the main reason for the farm's failure was the difficult permitting process.
"l would say that, number one, financing for the project was made difficult by the fact that it took eight years to get all of the permits," he said, noting that four of those permits were from the U.S. Army Corps of Engineers.
"They were concerned that every 'T' was crossed and 'I' was dotted so they wouldn't get sued by environmental organizations and others. That was also true of EPA," he continued.
Spencer said that the project still could have pulled through, but he blamed the controversy over the development of the Thirty Meter Telescope (TMT) on Mauna Kea for scaring away a potential investor.
"I would say last year we were being considered to be acquired by a Fortune 50 company … but things were going on with the Big Island regarding the TMT tended to dampen their enthusiasm for a project like this. … The precautionary principle can sometimes be a paralyzing principle with something new and different," he said.
— T.D.
For Further Reading
These articles on the fish cage project appear in past issues of Environment Hawai`i:
"Board Talk: Fish Cage Project Gets Extension," June 2013;
"Board Talk: Board Reduces Fish Farm Bond, Extends Its Deadline for Construction," April 2012;
"Board Talk: Keawakapu Reef, Ha`ena Rentals, Kohala Fish Farm, and More Maui Windmills," December 2010;
"Tuna Cage Project off Kohala Coast Wins Conservation District Use Permit," December 2009.