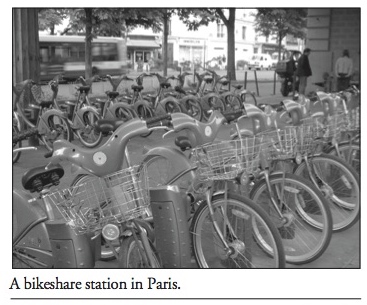 Cycle City: Honolulu's King Street now has a dedicated bicycle lane, and, if all goes according to plan, it will soon have its own bikeshare program, financed through the Department of Health's Healthy Hawai`i Initiative.
Last month, the Chronic Disease Prevention and Health Promotion Division of the DOH, which administers the Healthy Hawai`i Initiative, asked the state procurement officer to approve a bid exemption request for the program.
According to the bid exemption request, the agency had sought expressions of interest from bicycle vendors and organizations that encourage bicycle sharing, operate such share systems, or provide equipment for bicycle sharing.
"Only one response was received by the deadline," the DOH stated, and that was from Bikeshare Hawai`i, a tax-exempt organization formed early in 2014 to promote a bikeshare system in Hawai`i.
The request for bid exemption states that the system will follow the outlines of a plan developed by the City and County of Honolulu a couple of years ago. That plan, said to have been endorsed by then-Governor Neil Abercrombie and Mayor Kirk Caldwell, called for "a scalable public/private business model." A non-profit organization, the DOH stated, "would contract with a private operator for the bike share that would carry the liability, and the organization would rely on a combination of public, private, and grant funding."
News reports last year said Bikeshare Hawai`i was anticipating a system of around 1,700 bicycles at 180 stations around Honolulu.
A pilot bicycle-sharing program, Hawai`i B-cycle, was launched in Kailua, O`ahu, in 2011. It, too, was underwritten by the DOH Healthy Hawai`i Initiative. About a dozen bicycles were deployed at two stations in Kailua town.
Recently, the operation shut down. A statement posted on its now-defunct website notified readers that Hawai`i B-cycle "is temporarily closed as the program transitions to new management."
Dismissed! Charles Barker III, involved with several companies that are seeking to import biofuels to the Big Island, has had his federal court case against former business partners dismissed.
The lawsuit, filed in May 2013, alleged any number of illegal and unethical acts by companies and individuals with whom Barker was involved in an effort to develop a wood products facility near Honoka`a, on the Hamakua Coast of the Big Island.
Judge Leslie E. Kobayashi dismissed his case two times without prejudice, allowing Barker the opportunity to perfect his legal claims. Barker's third filing was rejected on October 24, with prejudice, when Kobayashi granted the defendants' motion to dismiss.
As Environment Hawai`i reported last month, Barker filed a request for reconsideration as well as a motion to have Judge Kobayashi be disqualified from the case.
In December, Kobayashi issued an order dismissing the request that she be disqualified, and on January 13, she signed the order denying Barker's motion for reconsideration of his third amended complaint.
Back in Business: Hu Honua Bioenergy, the company that is attempting to convert the old Pepe`ekeo Sugar mill into a state-of-the-art biomass-fueled power plant, has reached an agreement with Hawaiian Dredging Construction Co. Hawaiian Dredging, which had claimed in lawsuits to be owed some $35 million in unpaid labor and equipment charges, reached an out-of-court settlement with Hu Honua in December.
In mid-January, work resumed at the site, just north of Hilo.
Quote of the Month

"[T]he rule of law, it had sharp edges. … Part of our role here is not just to say, 'This is the law.' Part of our role is to smooth off the edges a bit." — Stanley Roehrig, Land Board