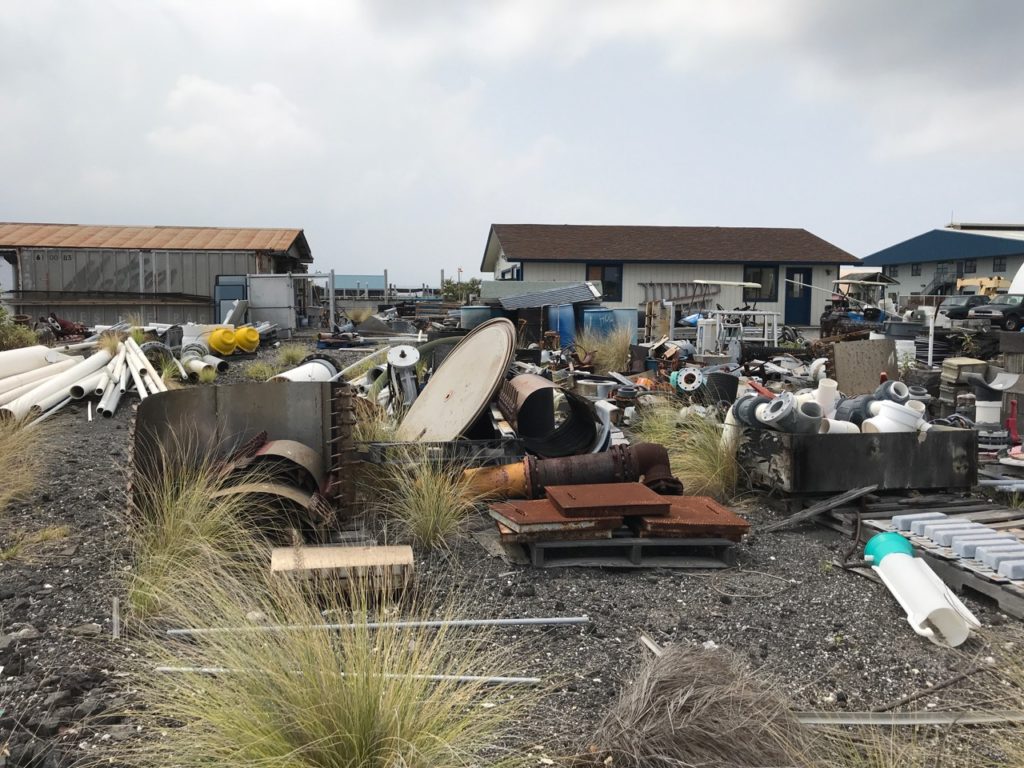 The Natural Energy Laboratory of Hawai`i Authority (NELHA) occupies around 870 acres of ceded land on the Kona coast of the Big Island, between the Keahole airport, immediately to the north, and the town of Kailua-Kona, eight miles to the south. In directions that most Big Islanders would understand, NELHA is roughly five miles to the north and west of Costco.
NELHA leases the area from the state Department of Land and Natural Resources. To accommodate its tenants, it subleases land to them or grants them so-called Facility Use Agreements (FUAs), depending on the length and type of occupancy they need and the resources they desire. Those resources include pipelines that can deliver both deep (very cold) and shallow (warm) seawater to practically the entire NELHA acreage, all the way to Queen Kaahumanu Highway, proximity to the Kona airport, as well as abundant sun for solar power and a dry, lava-paved landscape that offers a sterile palette for aquaculture enterprises.
As the name suggests, NELHA was founded to help develop natural energy sources; the pipelines into deep water were initially laid down to provide cold seawater to support demonstration ocean thermal energy conversion projects. Soon, though, the seawater pipelines allowed the development of marine aquaculture – everything from the grow-out of cold Maine lobsters to the culture of abalone exported to Japan to the production of health supplements made with marine algae.
Then came the water bottlers. Deep seawater, desalinated via an energy-intensive reverse osmosis process, is bottled and sold as a nostrum in Asian markets, for the most part. For years, NELHA touted this as the highest-value "food" export produced in Hawai`i. A decade ago, there were seven tenants who produced or proposed to produce bottled seawater. Today, the number of bottlers is three.
Terms of the original lease to NELHA required the approval of the Board of Land and Natural Resources for each sublease, a process that was observed mostly in the breach. To expedite approvals, in 2001, the Land Board approved a change allowing its chairperson to exercise this authority – and, at the same time, it gave after-the-fact consent to nearly 40 subleases that had already been executed by NELHA.
But that process, too, was regarded as imposing too heavy a burden on NELHA and the Department of Land and Natural Resources' Land Division. So, in July of 2006, the Land Board gave up even the appearance of exercising any authority over NELHA and allowed it to enter into subleases with no oversight at all. The DLNR does have one voting member on NELHA's board of directors; in recent years, that has been Bruce Anderson, who headed up the department's Division of Aquatic Resources and who is now director of the state Department of Health. Replacing him is Bob Masuda, who attended his first meeting representing the DLNR just last month.
The Result
Thanks to the changes in lease language, the state landlord has no clear idea of how many tenants are at NELHA, what they produce, or what rent they pay. NELHA does not provide a tenant list to either the DLNR's main Land Division office in Honolulu or to the DLNR's district land office in Hilo.
NELHA does pay to the Office of Hawaiian Affairs what it says is 20 percent of the rental income it receives from its tenants on ceded land. For the most recent fiscal year, that came to about $330,000, which is about $75,000 less than what NELHA had forecast in its budget, based on expected lease payments – and around $200,000 less than a decade ago.
In the case of one tenant, the water-bottler Savers Holdings, NELHA has written off back rent and other fees that amount to more than $1 million. In another case, the hugely touted Sopogy plant consisting of solar-energy-collecting troughs, went out of business owing nearly $52,000 to NELHA. At the moment, another tenant, Cellana, owes around $240,000 in back rent.
As of June 30, when the 2017-2018 fiscal year ended, arrearages were put at around $300,000.
Overall, rental income (including percentage rents and royalty payments, for use of the Kona trademark on bottled water) in fiscal year 2017-2018 was 18 percent less than what had been budgeted, owing to delinquencies and the departure of Hawai`i Deep Marine, a water bottler.
Environment Hawai`i was able to review lease files for some of the tenants that had racked up arrearages or voluntarily terminated their leases early. Here's what we found:
Sopogy/Keahole Solar Power
More than 1,000 mirrored, heat-collecting troughs that were once part of Sopogy's efforts to develop an alternative energy source at Keahole still stand on land alongside the busy Queen Ka`ahumanu Highway, at the mauka border of NELHA and just to the south of NELHA's Gateway Center, the iconic building with the Erector-Set-like superstructure that is a landmark on the way from the airport to Kailua-Kona.
The troughs are all that remain of the plan of Sopogy, led by entrepreneur Darren Kimura, to build a 1-megawatt power generating facility at NELHA. Sopogy subsidiary Keahole Solar Power last made rent payments to NELHA in October 2013. In March 2014, with back rent, late charges, and interest amounting to $44,953.44, NELHA executive director Greg Barbour attempted to inform Sopogy that it was being given "one final chance to address your past due account."
The letter, sent by FedEx to Harry Jackson, KSP/Sopogy president, was returned to the shipper, undeliverable as addressed.
But by that time, Sopogy was foundering. In mid-April 2014, it liquidated all its assets. Even before that, the Keahole Solar plant at NELHA had been transferred to a new owner, the alternative-energy giant SunEdison. For five years (from 2012 through 2017), SunEdison purchased the required liability insurance for Sopogy's operations, continuing the coverage for years even after Sopogy no longer existed and the lease had been terminated. The list of "named insured" on the policies includes "Keyhole [sic] Solar Power, LLC" at "Keyhole Point, Kailua-Kona."
In 2016, SunEdison itself filed for bankruptcy protection and as one of Sopogy's creditors, NELHA received notice of the filing. It failed to register its claim with the bankruptcy court – and, according to a handwritten post-it note on the bankruptcy notice, no one at NELHA seems to have been aware that SunEdison now held title to Keahole Solar Power's assets, such as they were. "Keahole Solar Power never informed NELHA of any acquisition," Barbour told Environment Hawai`i. "It was therefore not immediately clear that NELHA would be able to file as a creditor."
Only in late January of this year did NELHA write off the Sopogy debt as uncollectible. In a form filed with the attorney general's office on January 29, Barbour states that it is "unknown" if the debtor has filed for bankruptcy. In response to the question, "Is debtor a corporation?" the response, puzzlingly, is "no."
A final puzzle in the Sopogy file is the presence of a letter, sent on October 12, 2016, from a collection agency purporting to represent the U.S. Department of the Treasury, Bureau of Fiscal Service. The letter, from Pioneer Credit Recovery, Inc., states that NELHA owes $1,276,035.22 to the Treasury Department. The debt includes $958,105.80 in principal, $6,194.88 in interest and $311,734.54 in other, unspecified charges. No information on the nature of the debt is provided by Pioneer. Barbour was asked about this: "We suggest that you contact Pioneer Credit Recovery directly," he responded.
In the latest twist, the mirror troughs abandoned by Keahole Solar may be put to a new use. In June, NELHA announced it had received a $2 million grant from the Department of Energy to use the troughs in a project to desalinate up to 132,000 gallons per day of seawater. At the May NELHA board meeting, Barbour described the project as costing $4.2 million.
Environment Hawai`i asked Barbour how that $2.2 million deficiency would be made up. The DOE grant is actually $1.9 million, he replied. "NELHA proposed a total cost share of $2,311,938. Of that, Trevi [Systems, of Petaluma, California] will contribute $1.3 million. NELHA will contribute $800,000, and Cyanotech will contribute $200,000."
Cyanotech has also agreed to purchase the fresh water produced at the plant, which, Barbour told the NELHA board, will allow the new gas station/restaurant/convenience store proposed at the NELHA entry to rely on county water. For some years, NELHA withdrawals from the county Department of Water Supply system have exceeded its allotment.
Savers Holdings
The largest write-off of debt by far is that of Savers Holdings, a Korean-owned company that had hoped to sell desalinated deep-sea water to Asian markets.
Savers was one of the early entries in the bottling business. Its lease began in 2004 and was terminated only in 2013.
But in the nearly 10 years that it was billed for rent and other fees, Savers never shipped out a single bottle, much less a case or a shipping container, of desalinated water. It never erected a building on the six acres it leased. About the only evidence of the company's presence is a partly leveled and graded lot.
Initial rental rates were $200 per acre per month, but an escalation clause in the rent raised that tenfold, to $2,000 per acre per month, after six years. Late fees and interest (1 percent per month on unpaid balances) caused Savers' arrearage to grow quickly.
By 2009, Savers was deep in debt to NELHA. But time and again, its principal, Dal Hwan Joo, continued to express to then-NELHA director Ron Baird his confidence that a group of investors would come forward with the funds needed to build a thriving water-export business on the bare land. And time and again, Baird agreed to let the debt ride.
By October 2011, back rent, late fees, and interest had accumulated to nearly half a million dollars. On October 25, at the U.S. Embassy in Seoul, Dal signed a promissory note, pledging to pay a total of $469,882.59 (representing $388,800 in rent and $81,082.59 in interest) to NELHA in a series of payments over the next 18 months.
Dal continued his efforts to raise funds, at one point appearing to line up a pledge of at least $7 million from an investment fund established by the South Korean government.
Yet a year after the promissory note was signed, Dal had failed to bring Savers' account current.
Finally, in 2013, Barbour, the new executive director of NELHA, sent a notice of termination to Dal. At that point, the arrearage was $672,145.33.
The arrearage remained on NELHA's books for the next three years, with interest and late fees continuing to mount. By the time NELHA sought to write this off as an uncollectible obligation in January of this year, the total due came to $1,060,083.69.
Barbour was asked if NELHA had ever used a collection agency in an effort to reduce arrearages. No, he replied. "The Department of Attorney General has a branch charged with this responsibility." Yet it seems as though NELHA has never employed the AG to pursue debt. As to the delay in writing off the Savers Holding and Sopogy debts, Barbour said that the attorney general "also requires a debt to exist for a minimum of two years before a write-off procedure can be started." In Savers' case, the debt had accumulated some seven years before being written off.
Destiny Deep
This water bottler, originally known as Enzamin, has now apparently turned most of its operations over to the production of plastic bottles used by other bottlers at NELHA. Regardless of its revised business plans, it has struggled for years to keep current on its payments.
As of mid-July, its arrearage came to just over $38,300.
That arrearage can't hold a candle to what Destiny Deep owes the County of Hawai`i. For years, the company has not paid property taxes on its land and improvements, which have a total taxable value of nearly $1.9 million. As of last month, its tax bill came to just under a quarter of a million dollars.
Hawai`i Deep Marine
The Japanese-owned Hawai`i Deep Marine began water-bottling operations in 2004 on 4.5 acres of land. At one point, its "Kona Nigari" water – desalinated water, brine, and salt – was being sold in Japan for more than $400 per 750-ml flask. If that were too pricey, it was also available in a two-ounce bottle, selling for a mere $33.50, advertised as a "seawater concentrate" to mix with regular water for drinking.
For more than a decade, Hawai`i Deep Marine was in operation, shipping its products to foreign markets in Asia and South America.
In 2017, however, HDM was, in the words of Barbour, "unable to fulfill its original intended business plan for water desalination and salt production." It "walked away from the project and forfeited all ownership interest," he added. At the time it surrendered the lease, the company was current in its obligations to NELHA.
According Barbour, an appraiser has estimated the depreciated value of the abandoned building to be $2.785,413, with the reverse osmosis equipment valued at around $63,000 and brine-drying structures at $65,000.
Meanwhile, another Japanese-owned company, KOWA, which is taking over the lease and operations of NELHA tenant, Big Island Abalone Corporation, is also proposing to move into the building left behind by Hawai`i Deep Marine. It has asked the NELHA board for approval of a 30-year commercial lease on the site, where it wants to grow out hirame (a type of flounder), shrimp and nori, and possibly have a restaurant on the site as well. Barbour says the company has proposed purchasing the building for $3 million.
KOWA has no interest in either the reverse osmosis equipment or the brine-drying trays, however. In April, NELHA listed both on Craigslist. At the time of the May meeting, NELHA staff reported that a "local company" was interested in purchasing some of the reverse osmosis equipment for $5,000. NELHA itself might be able to use some as part of its "forward osmosis" project.
As for the rest, it could well end up in the equipment graveyard of NELHA, about an acre of land near the coast where for three decades the abandoned pipes, barrels, pallets, file cabinets, and other detritus from former tenants have languished.
— Patricia Tummons