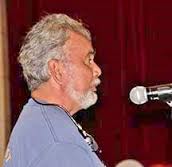 In the press release it issued at the conclusion of its June meeting, the Western Pacific Fishery Management Council led off with comments from former council chair Manny Duenas.
For years, Duenas represented Guam on the council. When he stepped up to the microphone to deliver remarks, the time for public comments had already passed, but the chairman, Ed Ebisui, was happy to yield the floor to Duenas.
According to the press release, Duenas' comments "covered a gamut of issues facing Guam's fishermen, including competition with purse seiners for tuna; tiger shark attacks on net fishermen; competition with Micronesian fishermen from the U.S. Freely Associated States who reside on Guam; the inability to continue socio-cultural traditions related to sharing of green sea turtle; and the threat of losing prime fishing grounds due to military buildup, among others."
Duenas' comments were, in fact, far more inflammatory than the press release author, council public information officer Sylvia Spalding, suggested.
Duenas complained bitterly about conservation measures being pushed by environmental groups. "I would like to take these environmentalists outside the reef and give them a little cut and see how their families cry for them," he said.
"I know the environmentalists get paid a lot of money. One organization said they had $270 million to work on issues in the Pacific. I asked for a little. The guy who was talking was making more than $200,000 – more than Kitty," Duenas said, referring to Kitty Simonds, the council's executive director.
Duenas suggested that the Chamorro population of Guam was losing so many of its traditions that the "Chamorro people will have their own museum in Washington, probably behind the Holocaust Museum." The younger generation, he said, was not able to learn the tradition of serving green turtle as a sign of respect to elders and leaders. "It's not served to you guys back here," he said, pointing to the audience, "only to you guys," referring to the council.
He singled out the U.S. Coast Guard for special treatment. He denounced the area commander for failing to attend a blessing for boats during the recent Safe Boating Week. "We had this whole function, set up with priests and everything. Only two people showed up. We went through the process, paying priests, But your commander" – he pointed to the Coast Guard representative at the meeting – "is too good for us."
At the end of his comments, in which he managed to insult not only environmentalists and the Coast Guard, but also Micronesians, the U.S. military and the government of Palau, Duenas received an enthusiastic ovation from council members and the audience.
— Patricia Tummons
Volume 27, Number 1 July 2016