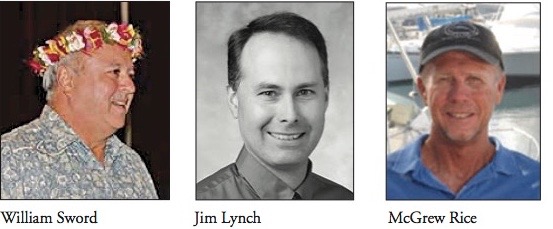 The Magnuson-Stevens Act gives wide leeway to members of the eight regional fishery management councils when it comes to voting on matters in which they, their spouses, or their minor children might have a financial interest. It does, however, require the appointed members to disclose the nature of those interests. For example, do they own a fishing vessel or have a stake in a company that markets or processes fish caught under the jurisdiction of the council they belong to? Do they provide essential services or legal or lobbying representation to a fishery that is in the respective council's wheelhouse? These are among the questions that appear on the financial disclosure form that all appointed council members and members of the Scientific and Statistical Committee are required to fill out.
But a review of the required financial disclosure forms on file with the Western Pacific Fishery Management Council (Wespac) suggests not everyone takes the disclosure with the same degree of seriousness.
William Sword
In the case of William Sword, whose third term on the council ended with the June council meeting, the financial disclosure forms he signed for the last two years are silent about his relationship with Pacific Energy. Sword, a civil engineer by training, is country manager for Pacific Energy, a subsidiary of the giant Pacific Petroleum. He himself described his company's relationship to the fishing industry in comments submitted last year on a proposed rule published in the Federal Register. "Pacific Energy is one of two fuel suppliers servicing the needs of American Samoa including the fishing fleet," Sword wrote.
Yet in response to a question asking if he was an employee of any entity that provided essential services to a fishery under the council's jurisdiction, Sword checked "No."
Although Sword is ending his service as a council member, he is continuing his involvement with council activities. At the June meeting, the council voted to appoint Sword to the Advisory Panel for American Samoa.
Jim Lynch
Another member of the council family required to submit a financial disclosure form is Jim Lynch, a member of the council's Scientific and Statistical Committee.
Lynch has a master's degree in fisheries science, according to his home page on the web site of his employer, the law firm of K&L Gates in Seattle. But nowadays, his home pages states, he focuses on litigation involving the application of the Magnuson-Stevens Act, the Endangered Species Act, and the National Environmental Policy Act, among other measures affecting the management of natural resources.
According to the information on his home page, cases that Lynch has been involved in include:
"A fishery association" – not named, but in fact the Hawai`i Longline Association – "in District Court and Appellate Litigation challenging fishery regulations under the ESA, MSA, NEPA, and APA [Administrative Procedures Act];
"A fishery association" – HLA again – "in developing fishery management regulations under the MSA and ESA;
"A fishery association" – HLA – "in District Court and Ninth Circuit litigation defending a NMFS biological opinion concerning the pelagic longline fishery;
"A fishery association in matters pertaining to the development of the Northwestern Hawaiian Islands Marine Reserve and Marine Sanctuary…."
At the time these cases were being litigated, in the early- to mid-2000s, Lynch worked for the firm of Stoel Rives. Ryan Steen of that firm continues to represent the HLA in challenges to the regulations under which the longline fishery is pursued.
Lynch's involvement in that litigation may well be regarded as ancient history, so far as financial disclosure is concerned. However, for several years, K&L Gates listed the Hawai`i Longline Association as one of the clients on whose behalf it was lobbying in Washington, D.C. That relationship did not end until mid-2015, according to K&L Gates' filings with Congress, well after the time Lynch joined the SSC.
Question 1.2.4 in the Employment section of the financial disclosure form asks whether the individual has employment "with any company, business, or other entity that provides [lobbying or advocacy] services related to any fishery under the jurisdiction of the council concerned?"
Lynch checked the "No" box.
The next question asks whether he is employed by "any entity that either owns (wholly or partially) or is owned by (wholly or partially) another entity providing [consulting, legal, or representational services] … in any fishery under the jurisdiction of the council concerned?"
Again, Lynch checked "No."
Environment Hawai`i asked Lynch via email about his responses on the financial disclosure forms. He was also asked if the HLA compensated him for the time he spent on the SSC. No response had been received by press time.
McGrew Rice
McGrew Rice, an appointed council member from Kona, Hawai`i, is a charter boat captain. He and his crew, licensed by the state as commercial fishermen, regularly catch fish that are included as managed species in the council's management plan for pelagic species, including mahimahi and marlin.
Yet on his most recent financial disclosure form Rice does not mention any involvement in a fishery that falls under the council's jurisdiction.
When asked about this, Rice denied he owned a charter boat. In filings with the state Department of Commerce and Consumer Affairs, however, Rice is identified as the secretary and director of Ihu Nui Sportfishing, Inc.
His ownership interest in the company, if any, cannot be known from the DCCA filing. But if Rice has any interest at all in a company that is involved with a regulated fishery, including employment, that is supposed to be identified on the financial disclosure form.
In 2013, in fact, Rice did identify himself as a captain for Ihu Nui Sportfishing, which he stated engaged in charter fishing and trolling. Rice declined to say why he did not include this on his more recent financial disclosure forms.
Rice was also asked if he had an ownership stake in Ihu Nui. He did not respond by press time.
Ed Ebisui
In contrast to Rice, Ed Ebisui, council chair and an appointed member from Hawai`i, is a "weekend warrior" fisherman. Yet Ebisui has fully disclosed his participation in the fishery. He provides the name of his vessel (Alissa's Pelican, a 29-foot fiberglass fishing vessel) and the type of fishing he does ("deepwater bottomfish, pelagic troll, kona crab, and opelu/akule hook and line").  He also acknowledges that, as an attorney, he may "represent fishers in legal proceedings, but not relating to any fishery under the council's jurisdiction."
Michael Goto
The Hawai`i longline fleet has always had a representative on the council. In the past, this has been Jim Cook or Sean Martin. The two seemed at times to trade off; whenever the term of one ended, the other was appointed to take his place.
In recent years, however, that seat has been held by Michael Goto, who is, according to his disclosure form, director and treasurer of the Hawai`i Longline Association (HLA) and vice president of Quota Management, Inc., the corporation owned by HLA that negotiates payments to the U.S. territories that sell their bigeye tuna quotas to the HLA. Goto also has an ownership interest (greater than 1 percent) in the Honolulu fish auction house, United Fishing Agency. The DCCA filing by United Fishing Agency also reveals that Goto is an officer and director of the company.
Julie Leialoha
Julie Leialoha, an appointed member from Hawai`i, is transparent, almost to a fault, in disclosing her interests, even when not financial.
In answer to a question about "ownership" in a "company, business, or other entity" that provides lobbying or advocacy services related to a fishery under the council's jurisdiction, Leialoha indicates she has such an interest, inasmuch as she is "currently vice-president of Conservation Council for Hawai`i, a 501(c)(3) non-profit." Since CCH is a non-profit, it cannot really have owners, so Leialoha was not required to disclose this relationship.
Michael Duenas
Guam member Michael Duenas has been employed by the Guam Fishermen's Cooperative Association since 1997, which he discloses in answer to the question about his involvement with any entity that is engaged in the harvesting, processing, or marketing of fish under the council's jurisdiction.
Duenas occupies the seat held for many years by his father, Manny Duenas, who also represented the Guam Fishermen's Cooperative Association.
Claire Tuia Poumele
American Samoa council member Claire Tuia Poumele is director of the territorial government's Department of Port Administration. Before her appointment to that post, in 2013, she was the territory's school system administrator.
Her disclosure form indicates she has no ties to any company engaged in harvesting, marketing, or processing any fish nor does she have any association with an entity engaged in representing, lobbying, or advising any company that is involved with a fishery under the council's jurisdiction.
As port director, however, Poumele has discretionary authority over the berthing of all vessels entering Pago Pago's busy harbor. Whether this authority – the authority to assign berthing space – is sufficient to trigger an affirmative answer to the question of being employed by any entity that provides services essential to the harvesting, marketing, or processing of fish under the council's jurisdiction is something that probably should be considered by the parties reviewing her disclosure statement.
John Gourley
The appointed council member from the Commonwealth of the Northern Mariana Islands is John Gourley, owner of a consulting firm.
In response to the question on the financial disclosure form about any ownership he might have of a company that provides consulting services to a fishery under the council's jurisdiction, Gourley acknowledges this relationship. "I am owner and principal of Micronesian Environmental Services who has a NOAA Fisheries data collection contract for reef and bottomfish landed on Saipan since 2010."
Federal Guidance
In 2014, the National Marine Fisheries Service published Instruction 01-116-01, "Procedures for Review of Fishery Management Council Financial Disclosures," intended to provide "guidance necessary to ensure a successful and thorough vetting process to review the completeness and accuracy of information in financial disclosure forms…"
The procedures set forth are, first, that NMFS' Office of Sustainable Fisheries is to perform an initial review of the completeness of the forms. Then the forms are to go to NMFS' Office of Law Enforcement, which is "to determine and verify any connections to fishing vessels or other interests."
After that, the forms "will be considered properly reviewed. No further revisions to information in the forms will be required unless the [council] nominee notifies NMFS of a change." The forms then go to the regional administrators, who are given the opportunity to review and comment on the forms. Once that is done, the forms are forwarded to the council executive directors and made public on council websites.
Once a nominee's appointment is final, the financial disclosure forms need to be filed annually. At that point, initial review is done by the council's executive director, "to ensure they are properly completed to the executive director's knowledge." NMFS regional offices are then to review the forms and "verify the information on the forms against readily available information."
The Magnuson-Stevens Act does set forth penalties for "knowingly and willfully" failing to disclose or falsely disclosing a financial interest. In addition to civil penalties, such failure could result in removal of the individual from the council or SSC.
— Patricia Tummons
Volume 27, Number 1 July 2016