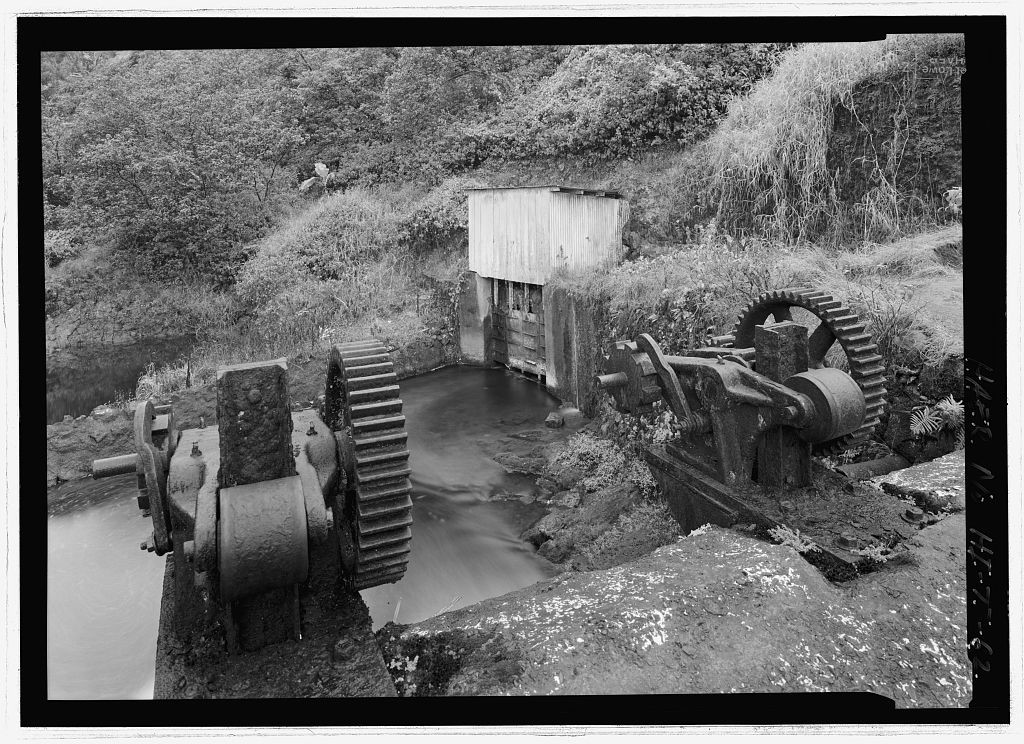 In the coming months, the state Commission on Water Resource Management is expected to hear oral arguments on contested case hearing officer Lawrence Miike's January 16 proposed Findings of Fact, Conclusions of Law, and Decision and Order regarding Na Moku Aupuni o Ko`olau Hui's 2001 petition to amend the interim instream flow standards (IIFS) of more than two dozen East Maui streams currently diverted by Alexander & Baldwin (A&B) and its subsidiary, East Maui Irrigation Co., Ltd.
Although written exceptions to his recommendations were not available by press time, it was clear from recent testimony before the state Legislature that Na Moku, a group of East Maui taro farmers and native Hawaiian cultural practitioners, isn't thrilled with A&B's decision in January to announce the closure of its Hawaiian Commercial & Sugar Company (HC&S) after the contested case hearing ended months earlier. The move now forces the Water Commission to base its vote, in part, on water needs for a very thirsty crop that will soon no longer be grown.
"We question why this was not included in the contested case hearing. It was a material fact," Na Moku's Mahealani Wendt told the state Senate Committee on Water, Land and Agriculture last month during a hearing on Senate Bill 3001, which would have created a "holdover permit" to allow A&B to continue to divert the streams while waiting for a long-term water lease from the state Board of Land and Natural Resources. Because the decision to close HC&S was made public after the hearing closed, "we were told it cannot be taken into consideration," she said. "It is very disheartening."
A&B's representatives, on the other hand, testified that although the company is ending its sugar operation this year, it still needs all of the water it's currently diverting — some 150 million gallons a day —to irrigate its final cane harvest and whatever diversified crops it might grow in the future.
"There are many times when the ditch goes down to 10-20 million gallons a day," said A&B vice president Meredith Ching. Addressing arguments that the company could use brackish well water instead of East Maui surface water, she noted that sugar is a very hearty plant that can withstand some salt, but many of the crops her company is looking into may not be as tolerant, adding that well water is expensive.
Commission staff has estimated that total diversions by EMI range from 134 mgd in the winter to 268 mgd in the summer, averaging about 167 mgd. Should the Water Commission choose to adopt Miike's recommendations unamended, several million gallons a day more water would be returned to steams than would under the IIFS adopted in 2008 and 2010, and A&B — and possibly the Maui County Department of Water Supply (MDWS) — may be forced to look for alternative water sources to meet their needs when what's left in EMI's ditches falls short.
Reasonable, Beneficial Uses
Because stream flow naturally varies and may dip below the IIFS in dry periods, "guaranteeing that a specific flow is always in the stream and still meets the objective of the IIFS is not possible," Miike wrote in his recommendations. Even so, after weighing the water needs of HC&S, the Maui DWS, and water rights holders and native ecosystems in East Maui, Miike recommended new IIFS for about a dozen of the streams cited in the petition that would result the restoration of between 18 and 19 mgd.
Miike found that when the Water Commission first attempted to deal with part of Na Moku's petition in 2008, it restored only enough water to some streams to allow for continuity of flow, but not growth, reproduction and recruitment of native stream animals. He noted it wasn't until 2009 that the Water Commission staff even had access to a habitat availability study indicating the minimum flow level necessary for the stream animals to thrive.
Miike also found that commission staff probably had, in many cases, overestimated what natural stream flows would be, which led the Water Commission to set IIFS that could simply not be met even if EMI opened its sluice gates.
Whatever the reasons, recent monitoring showed that in the streams where there had been an attempt to implement the amended IIFS, the biota didn't exactly bounce back.
"The correlation between return flows, habitat and biota was weak," he wrote. "This may have been due to a number of factors including: changing environmental conditions (e.g. rainfall, drought, flash flooding), short monitoring period (< 4 years), and/or that summer flows were detrimental to gains in habitat and biota from the winter flows."
As for the needs of East Maui taro farmers and others with appurtenant rights, Miike found that the initial acreage claimed by Na Moku as being either in taro or cultivable agriculture and fed by Honopou, Palauhulu, Waiokamilo, and Wailuanui streams (136.18 acres) was likely an overestimate.
"Na Moku's own expert witness conceded that these acreages are overstated by an unknown amount," he wrote. However, he eventually concluded that approximately 94.721 acres in East Maui do have appurtenant rights — 49.805 acres for taro and 44.916 acres for other types of agricultural uses — and that "appurtenant and riparian rights-holders have demonstrated actual harm to their reasonable use of the waters of Palauhulu, Waiokamilo, Wailuanui, Honopou, Hanehoi, and Makapipi streams."
Although an agreement with EMI provides the DWS with a little more than 8 mgd of diverted water for domestic and agricultural needs in the Upcountry area of Maui, Miike determined that the department has been using only about 7.1 mgd.
Finally, with regard to HC&S's water needs, Miike wrote that the company's calculated usage of 5,064 gallons per acre per day (gad) in the winter and 10,128 gad in the summer was too high according to commission staff, which found instead that the average irrigation needs for sugarcane ranged from 1,400 to 6,000 gad.
Basing his decision, in part, on the amount of water HC&S uses on its West Maui fields, Miike determined that a reasonable amount of water needed for the company's East Maui sugarcane fields was 4,844 gad.
Total reasonable, beneficial offstream uses, according to Miike: 140.19 mgd for sugarcane, 7.1 mgd for the Maui DWS's Kamole Water Treatment Plant and Kula Ag Park, 6.66 mgd for HC&S industrial uses, and 34.95 mgd in irrigation system losses due to seepage or evaporation. The grand total: 188.9 mgd.
If brackish water supplied 83.32 mgd, HC&S would only need 105.58 mgd of EMI ditch water, he noted. (Although HC&S has wells that can provide 115 to 120 mgd, Miike found that to avoid increasing aquifer salinity, only 83.32 mgd of brackish water could be safely pumped. Based on the 4,844 gad needed for HC&S's East Maui cane fields, the wells could service about 17,200 acres of the 28,941 acres serviced by the EMI ditch system, he wrote.)
"On average, the total amount of stream flows diverted by EMI's ditch system has been 114 to 167 mgd, and the proposed [IIFS] amendments would reduce that amount to 96 to 149 mgd, compared to a need of 105.58 mgd of stream waters. … Therefore, there would be no more than a 10 mgd or 9 percent shortfall some of the time, and still more surface water than needed most of the time," Miike concluded.
He added that the Maui DWS's use of 7.1 mgd would seldom compete with the increased IIFS he proposed, "and if such competition occurs, it would be for only a few days a year."
Should competition over the water escalate to more serious levels, Miike pointed out that resource protection doesn't necessarily trump other public trust purposes, particularly the provision of drinking water for the general public.
"Reason and necessity dictate that the public trust may have to accommodate offstream diversions inconsistent with the mandate of protection, to the unavoidable impairment of public instream uses and values," he wrote. "For MDWS's use of East Maui stream waters, there is a potential conflict between the public trust doctrine and the common law. Under the public trust doctrine, there is a presumptive favor of trust purposes, and competing water uses must be weighed on a case-by-case basis. Under the common law, MDWS's use must not actually harm the established right of appurtenant and riparian landowners. While some appurtenant rights-holders are also likely to have traditional and customary Hawaiian rights in their exercise of appurtenant rights, and also have a presumption in their favor, they do not have priority over MDWS as a purveyor of domestic water uses of the general public, and competing uses must still be weighed on a case-by-case basis according to any appropriate standards provided by law."
In One Year …
Should the Water Commission approve Miike' recommendations, commission and Division of Aquatic Resources (DAR) staff, as well as the parties to the contested case hearing, would be required to provide the following status updates one year from the date of the decision:
Commission staff must report on whether or not continuous flow could be established in Makapipi streams and all other aspects of the implementation of the amended IIFS.
DAR shall basically report on whether or not the IIFS implemented for East and West Wailuaiki, Waikamoi, and Waiohue that were intended to improve habitat for native biota did, in fact do that. It must also report on reconnaissance of Kualani (Hamau) and Ohia (Waianu) streams, which have never been diverted for a qualitative assessment of the abundance of native stream animals.
Na Moku shall report on the adequacy of water deliveries to Pauluhu, Waiokamilo, Wailuanui, Honopou and Hanehoi/Puolua streams; taro loi from which outflows continue to lower loi or return to the stream and loi from which outflows are not reused or returned; maintenance, irrigation and farming practices for more efficient use of stream waters; Na Moku members' activities as konohiki for the streams they use for irrigation and/or domestic uses, including managing their uses so that the downstream IIFS for habitat restoration are met.
EMI shall report on modifications to diversions to meet the amended IIFS and water deliveries at Honopou and Maliko Gulch, and any changes EMI ascribes to the amended IIFS.
HC&S shall report on surface, pumped, and total water usage.
Maui DWS shall report on water deliveries at the upper Waikamoi flume including any amounts ascribed to reduced losses from replacing the flume and the status of plans for a 100-million or 200-million gallon reservoir at the Kamole water treatment plant.
— Teresa Dawson