Since 1987, the United States has had a treaty arrangement with 15 small South Pacific island states plus New Zealand and Australia. Every year, American taxpayers pony up a certain base amount to give the U.S. purse seiners the right to fish in the island states' EEZs, while the purse seiners themselves pay an additional sum for each day they fish in those waters.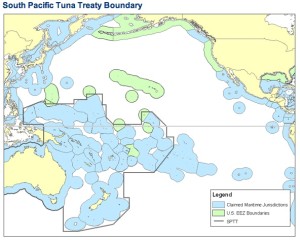 Over the last couple of years, renewal of the treaty has been fraught with difficulties over terms of fishing rights and agreement on a long-term arrangement has proved to be elusive. Only last August did NMFS hammer out terms allowing the U.S.-flagged South Pacific purse seiners to fish through 2016.
According to a press release from the Parties to the Nauru Agreement – a consortium consisting of Federated States of Micronesia, Kiribati, Marshall Islands, Nauru, Palau, Papua New Guinea, Solomon Islands, and Tuvalu – the U.S. government will provide subsidy payments totaling $21 million as the cost of entry into the area, which, divided among the participating states, comes to $680,397 apiece. In addition, each vessel will pay $12,600 per fishing day in the EEZ waters – which is expected to bring in another $68,271,350 to the island states. In 2015, that fee was $9,380.
By law, no more than 40 purse seiners can participate in the U.S.-flagged South Pacific fleet. At present, the number of active vessels stands at 38.
Ten purse seiners are affiliated with Tri Marine and are owned by Cape Fisheries Holdings, majority-owned by Renato Curto and based in Bellevue, Washington. Tri Marine is a vertically integrated operation, not just catching the fish, but also processing it and distributing it to wholesale markets. (Tri Marine also operates five purse seiners that fish entirely within the EEZ of the Solomon Islands and deliver the catch to a processor there, under a partnership agreement with that country's government.)
The South Pacific Tuna Corporation has 14 purse seiners in its fleet. Although the SPTC's chief operating officer is Douglas Hines, who was once closely affiliated with Bumble Bee brand tuna, SPTC has no direct ownership in canneries or processing facilities. Instead, it customarily offloads tuna in South Pacific ports closer to the fishing grounds. (As recently as 2009, the president and CEO of Bumble Bee, Christopher Lischewski, also held a 5 percent interest in 12 SPTC vessels.)
Four of the U.S. purse seiners are affiliated with Trans Global, a company that traces back to the Chen family of Taiwan. Two are owned by AACH Holdings, an enterprise of the Antonio Alvarez family. It has extensive fishery interests in South and Central America as well as the United States.
One is tied to Dongwon, one of the largest tuna processing companies in the world (and owner of the StarKist cannery in Pago Pago).
— P.T.