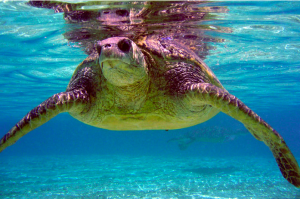 The National Marine Fisheries Service and the Fish and Wildlife Service are extending the public comment period on their proposed revisions to the status of the green sea turtle under the Endangered Species Act, or ESA. The revisions, first published last March, had an initial comment period ending on June 22. It was then extended to July 27, and extended again in July to August 26. Today's extension will end on September 25.
The action came about in response to a petition by the Association of Hawaiian Civic Clubs in 2012 to remove federal protections from the Hawai`i population of green turtles (Chelonia mydas). Rather than looking exclusively at the Hawai`i population, however, the agencies undertook a review of turtle populations globally.
As NMFS noted in its Federal Register notice of August 26, "we found that the green turtle is composed of 11 distinct population segments (DPSs) that qualify for listing under the ESA. We proposed to remove the current listings and, in their place, list eight DPSs as threatened and three as endangered." The relief sought by the Hawaiian Civic Clubs is not granted in the proposed revisions.
NMFS also provided its reasons for extending the comment periods: "On July 27, 2015, we extended the public comment period … due to a typhoon and the loss of internet in Saipan, Commonwealth of the Northern Mariana Islands. On August 17, we received a request to further extend the public comment period due to another typhoon and the loss of electricity in CNMI."
Comments may be submitted through the federal rule-making portal, http://www.regulations.gov. Enter NOAA-NMFS-2012-0154 in the search block to be taken to the website for this proposed rule. Comments made earlier need not be resubmitted, NMFS states. It is also possible on that site to read the 300-plus comments that have been submitted since NMFS accepted the Association of Hawaiian Civic Clubs' petition more than three years ago.