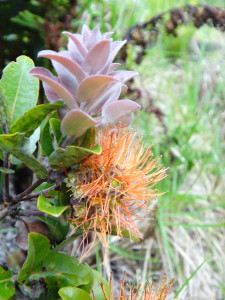 One of the most recently identified invasive species — a microscopic fungus called Ceratocystis fimbriata — doesn't sound that frightening. But if unstopped, it stands to wipe out the state's iconic `ohi`a trees, which make up fully half of the biomass of Hawai`i's native forests, whether dry or wet, low-elevation or high.
The devastation can already be seen in the Big Island district of Puna, where `ohi`a in thousands of acres of mostly native forest have succumbed to disease caused when the fungus infects a tree. First sign of the disease is the wilting of green leaves on one branch. Gradually, more and more leaves wilt and turn brown, leaving eventually only the skeleton of the dead tree.
J.B. Friday, extension forester with the University of Hawai`i College of Tropical Agriculture and Human Resources, has established a website with more information on Ceratocystis: http://www2.ctahr.hawaii.edu/forestry/disease/ohia_wilt.html So far, the disease, which scientists are calling Ceratocystis wilt of `ohi`a, has been confirmed in Puna and as far north as Hilo, but not on any other island.
Environment Hawai`i will have more on this subject in our June issue. In the meantime, show some love to your favorite `ohi`a.